Welcome to Telli Marin! Sign in | Create a login

Tiburon Challenger
A US Pro Circuit Event
Address:
1600 Mar West St.
Tiburon, CA 94920
Phone:
415-789-7900
Welcome to the Tiburon Challenger!
Tiburon Challenger, Tiburon, CA USA
$80,000
1-8 October 2023

Day 1
The big day is amost here! The Tiburon Challenger begins tomorrow, Sunday, October 1, with qualifying matches. Here's the order of play.
GROSSMAN-KENNEDY STADIUM start 10 a.m.
Qualifying - [6] F. Gomez (ARG) vs [WC] E. Burnett (USA) 
Qualifying - [Alt] E. Quinn (USA) vs [9] A. Mayo (USA) 
Qualifying - [2] S. Mansouri (TUN) vs [WC] H. Rivera (USA) 
Qualifying - [1] B. Holt (USA) vs C. Kingsley (USA) 
COURT 1 start 10 a.m.
Qualifying - [5] C. Langmo (USA) vs N. Basavareddy (USA) 
Qualifying - [3] O. Kumar (USA) vs [WC] G. Johns (USA) 
Qualifying - [Alt] A. Perez (USA) vs [7] S. Kirchheimer (USA) 
Qualifying - [WC] T. Svajda (USA) vs [12] E. Escobedo (MEX) 
COURT 2 start 10:00 a.m.
Qualifying - A. Cozbinov (MDA) vs [11] A. Holmgren (DEN) 
Qualifying - T. Kwiatkowski (USA) vs [8] E. Moller (DEN) 
Qualifying - [PR] B. Schnur (CAN) vs [10] C. Chidekh (FRA) 
Qualifying - [4] E. Zhu (USA) vs N. Ponwith (USA)
Check out the week's action at https://www.tiburonpc.org/tiburonchallenger

_______________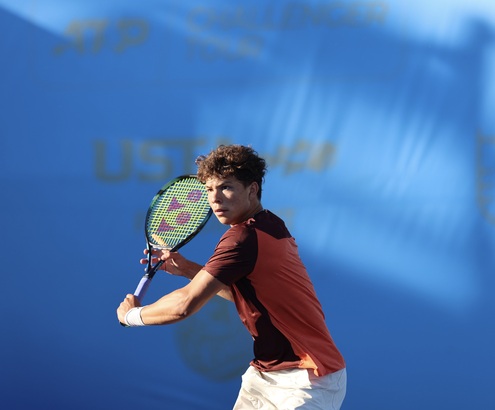 Today's quarter-final at the U.S. Open brings back memories for Bay Area tennis fans: the match pits Ben Shelton against Frances Tiafoe, a favorite at the Tiburon Challenger, and Shelton, who played his first professional match in July 2022 and was the second-place finisher in Tiburon on Oct. 9, 2022, his 20th birthday.
Shelton and Tiburon Challenger winner Zach Svajda delivered excitement and the unexpected in 2022, as they consistently eliminated older, seeded players from competition, advancing to the finals and putting the talent of a new generation on display.
Now in its sixteenth year, the Tiburon Challenger is a proving ground for rising stars in men's tennis. Among the past champions who have moved on to higher-profile tennis events are Tommy Paul, Michael Moe and Cameron Norrie, also competitors in this year's U.S. Open.
Tiburon Challenger 2023 takes place from Sun., Oct. 1, to Sun., Oct 8, and we hope you'll join us.

To get tickets, volunteer or find more information, please go to https://www.tiburonpc.org/tiburonchallenger

To share information or photos, and to request media passes, contact Judy Wilson, Media Aide, at judith@telli.com.
Photos by Natalie Kim
_______________

Looking back at 2022

Day 8 — Finals Sunday
Expect to see superior tennis in the final match, which pits Ben Shelton [4] of Gainesville, FLA, who turns 20 today, against 19-year-old Zachary Svajda of La Jolla, CA. Game time is 1 p.m., following a wheelchair tennis exhibition.
Fleet Week in San Francisco makes a flyover by the Blue Angels likely at today's finale.

Strategy, finely-honed skills and athleticism were on full display on the courts at the Tiburon Peninsula Club on Saturday. First Leandro Riedi of Switzerland and Valentine Vacherot of Monaco outplayed Wild Cards Ezekiel Clark and Alfredo Perez to win the doubles championship.
Next, American Zachary Svajda overcome Alexis Galarneau of Canada in a closely-fought match that had spectators showing  admiration for both players by cheering for their skill and well-played moves. Svajda bested Galarneau to go to the finals.
In a high-anticipated match, betwen Tiburon Challenger veteran Denis Kudla, an American who's a native of Ukraine, took on fellow American player Ben Shelton, who Brad Gilbert predicts will be one of the world's top five. Kudla won the first set, and Shelton took the second, but then Kudla retired when an injury forced him to withdraw.
Day 6
Zach Svajda, who defeated number-three seed Michael Mmoh, knocked out Ernesto Escobedo, seeded 7, and goes to the semifinals, along with Denis Kudla [1], who eliminated Enzo Couacaud from competition. Alexis Galarneau also moves forward after beating highly regarded Paul Jubb, while Ben Shelton, son of University of Florida tennis coach Bryan Shelton, overcame Mitchell Krueger [8], a Tiburon Challenger veteran, to earn a spot in the semifinals.
In doubles, Wild Cards Ezekiel Clark and Alfredo Perez face off against Leodro Riedi and Valentin Vacherot in the doubles finals, which begin at noon. Singles semifinals follow. Saturday promises to be an exciting day for tennis!
Can't make it in person? See the action on live streaming at https://www.usta.com/en/home/pro/pro-tennis-events/usta-pro-circuit-men-s-live-streaming.html.
Tiburon Challenger Top 10
Interested in statistics? Here are some of the Tiburon Challenger's Top 10, with France's Enzo Couacaud  (above) scoring the most aces.

Day 5
Alexis Galarneau defeated Stefan Koslov on Thursday, knocking another seeded player out of competition. Galarneau takes on Paul Jubb in the quarterfinals on Friday in what promises to be an exciting match between two up-and-coming players to watch who are newcomers to the Tiburon Challenger. Unseeded Zachary Svajda, who defeated Michael Mmoh in a tight match, faces [7] Ernesto Escobedo today.
In doubles play, the Wildcard team of Siddhant Banthia and Carl Emil Overbeck face Leandro Riedi and Valentine Vacherot.

Day 4
Zachary Svajda (above) upset 3rd-seed Michael Mmoh—2018 Tiburon Challenger champion—in singles play, in a demonstration of the talent and skills young players are bringing to the Tiburon Challenger. Svajda come back from a 1-5 deficit in the third set to defeat Mmoh; 6-3, 5-7, 7-6(4). "The level of tennis throughout the final set was of Grand Slam quality," said tournament director Adam Gagnon, adding that it took more than 30 shots of power and precision from both players to earn a point. Svajda moves on to Friday's Round of 4.

Among Thursday's highlights, Leandro Reidi takes on No. 1 seed Denis Kudla, and Paul Jubb and Qualifier Alex Michelsen face each other, as they vie for spots in the Round of 4.

REACTIONS
A range of emotions emerges on the courts when play becomes intense
.
        Alex Michelsen
        Carl Emil Overbeck and Siddhant Banthia
        Michael Mmoh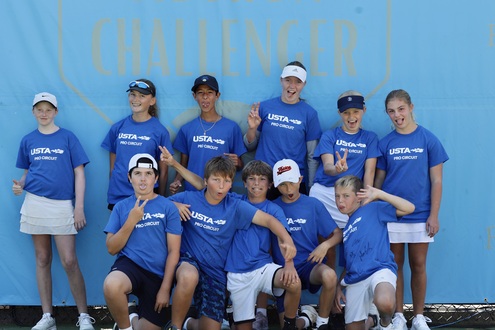 Ball kids having fun
Who's Coming?
Rising stars in men's tennis from around the world come to Tiburon for the Challenger. Past competitors include Frances Tiafoe and Jack Sock (2012 Tiburon Challenger winner), who defeated Roger Federer and Rafael Nadal in the last match of Federer's career. Cameron Norrie (above), who performed well in this year's U.S. Open and Laver Cup, won the trophy in 2018.
The top seeds coming to Tiburon in 2022 are Jason Kubler (AUS), Jordan Thompson (AUS), Denis Kudla (USA) and Stefan Koslov (USA).
The draw is 32 for singles and 16 for doubles, and we're looking forward to a very exciting week.
Cameron Norrie photo (above) by Cornelia Grimes