Welcome to Telli Marin! Sign in | Create a login

Tiburon Challenger
The Bay Area Men's Pro Circuit Tennis Tourmament
Address:
1600 Mar West Street
Tiburon, CA 94920
Phone:
415-789-7900
Tiburon Challenger
Monday, September 23, to Sunday, September 29, 2019
The Tiburon Peninsula Club welcomes rising stars in men's professional tennis from around the world at the end of September. It's an opportunity for tennis fans to see an amazing level of play live and up close, and some locals get into the act too and some of the Challenger's special events. This year's format is new, and we have a new sponsor. Thanks to First Republic for making the Tiburon Challenger possible.

Look who's coming!
Get ready! The Challenger opens on Monday, September 23—just a few days to go. Tournament Director Brendan Curry's watch list includes defending champion Michael Mmoh and previous champions and former champions Darian King (2016) and Peter Polansky (2012), as well as runners-up Denis Kudla (2015) and Ryan Harrison (2010).
"Denis Kudla is the number-one seed for the 2019 Tiburon Challenger and leads a tough field of players including Thanasi Kokkinakis, 6' 5 Australian who had a win over Roger Federer in the 2018 Miami Open!" says Brendan. Other players to keep your eye on will be Chris Eubanks, who has been steadily climbing the rankings, Ernesto Escobedo, Bjorn Fratangelo, and Mitchell Krueger, along with Ryan Harrison, 2017 French Open Doubles Champion, and Donald Young, who have both been as high as #40 in the world. 
Check for daily results and the next day's schedule of play, beginning at the end of the day's play on September 23.
Altamirano, Collin USA 316                                           Kokkinakis, Thanasi AUS 203
Aragone, JC USA 283                                                   Korda, Sebastian USA 296
Arevalo, Marcelo ESA 301                                            Krueger, Mitchell USA 174
Bangoura, Sekou USA 368                                           Kudla, Denis USA 111
Brooksby, Jenson USA 394                                          Kwiatkowski, Thai-Son USA 204
Couacaud, Enzo FRA 169                                            Mmoh, Michael USA 196
Cressy, Maxime USA 223                                             Paul, Tommy USA 114
Escobar, Gonzalo ECU 363                                          Peliwo, Filip CAN 299
Escobedo, Ernesto USA 206                                        Peniston, Ryan GBR 400
Eubanks, Christopher USA 188                                    Polansky, Peter CAN 192
Fanselow, Sebastian GER 331                                     Quiroz, Roberto ECU 246
Fratangelo, Bjorn USA 117                                           Redlicki, Michael USA 350
Galan, Daniel Elahi COL 207                                        Sarmiento, Raymond USA 369
Gaston, Hugo FRA 385                                                 Shane, Ryan USA 391
Giron, Marcos USA 151                                                Smith, Roy USA 327
Gomez, Emilio ECU 171                                               Torpegaard, Mikael DEN 173
Gomez-Herrera, Carlos ESP 316                                  Tseng, Chun-hsin TPE 357
Griekspoor, Scott NED 382                                           Watanuki, Yosuke JPN 229
Harrison, Ryan USA 288                                               Wolf, J.J. USA 279
King, Darian BAR 179                                                   Young, Donald USA 197
_______________

Pre-Tournament Events, Sunday, September 22
USTA NorCal Kids' Play Day
Pro-Am Tournament
Welcome BBQ
Schedule of Play
Main Draw: Mon., Sept. 23
Main Draw: Tues., Sept. 24

Main Draw: Wed., Sept. 25

Main Draw: Thurs., Sept. 26

Quarter Finals: Fri., Sept. 27

*Semifinals: Sat., Sept. 28

**Finals: Sun., Sept. 29

*Special Olympics demonstrations takes place between semifinal matches

**Junior tennis demonstration and wheelchair tennis take place between finals matches
_____________________

Sponsors
Sponsors play a big role in making the Tiburon Challenger special. Thanks to the following for their support:
Title Sponsor: First Republic
Fiscal Sponsor: USTA Norcal
Platinum Sponsors: Marin Health-UCSF Health, Jackson Square Partners
Gold Sponsors: Compass, RH
Courtside Sponsors: Harbor Point Charitable Foundation, LVVH Consulting, The Club at Harbor Point, Silicon Legal Strategy
Eastside Skybox Sponsors: Martin Ray Winery, Battle of the Bay Classic, Gazor Group, Vintage Contractors Incl, Jamba Construction, Oasis Physical Therapy & Aquatics, Astoria Software, San Remo Hotel, Fior d'Italia, Tennis Safari, the Law Offices of Paul H. Nathan
In-Kind Sponsors: Pizza Antica, Woodlands market, Sol Food, Servino Ristorante, West Coast Tennis, Foodniks, The Foundation for Reed Schools, Marin Pizza, High Tech Burritos
To find out how to become a sponsor, get priority courtside, attend the special sponsors' dinner and meet the players, go to www.tiburonchallenger.com.

_______________
Looking Back — Tiburon Challenger 2018

Finals Sunday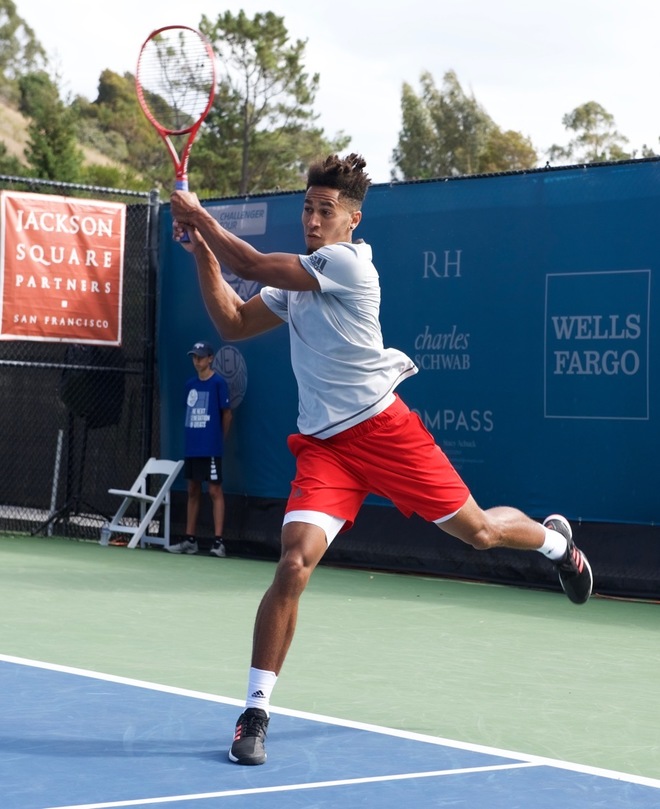 Michael Mmoh, Tiburon Challenger Champion 2018 (photos by Adam Gagnon)
Can you believe it's over? What an incredible day! What an incredible tournament! I am so thankful to all for your support, contributions, time and effort, which you have so graciously offered during this event and in the weeks and months leading up to it.
Did you hear the comments made by the players? And it's not the first time we've heard it from players and tournament officials also. From Michael Mmoh himself: "Tiburon Challenger is the best Challenger on Tour." And it is thank you to all of the core volunteers and the teams of people that they rally to make this event possible. Without you this tournament would not happen.
Sofia Perozzi once again kicked off proceedings with a most beautiful performance as she sang the National Anthem. Her voice is incredible; what a start to the day!
Men's Doubles Final (l. to r.) Pedro Martinez (ESP), Gerard Granollers (ESP), Hans Hach Verdugo (MEX) and Luke Saville (AUS).

First match up —doubles finals—went the way of the qualifying team of Hans Hach Verdugo (MEX) and Luke Saville (AUS), who were simply the better team today, 6-3 6-2. Last year we saw the tournament wildcard team go all the way and win the tourney. This year the qualifying team takes the title. Why ? Because the quality of all these players is so high, on a given day they all have a shot.
Our wheelchair tennis players put on a great show today. David van Brundt and Michael Yousefi, thank you for coming out and showing us all what you're capable of.
Before the match (l. to r.): Michael Mmoh, ball girl Maya Mosher and Marcel Granollers
And then there was the finals showdown — it could not have been teed up any better!
No. 1 seed, Spain's Marcel Granollers vs no.5 seed American Michael Mmoh — this match up was always going to be exciting and certainly did not disappoint. Mmoh continued his good form, which has now seen him take back-to-back Challenger Tour titles. Here today, and last week in Columbus, Ohio.
Mmoh's ability to keep the ball coming back added pressure to the transition game that Marcel is so strong at. First set Mmoh 6-3. Granollers had a few break points in the second set, and the crowd was getting fired up at the prospect of this match being extended to a third. On one shot, Marcel executed the smoothest, most cunning sneak approach, completely taking Mmoh by surprise, but an uncharacteristic missed volley saw Marcel's opportunity erased, and Mmoh rallied to stay even.
In the end, it was Michael's day. He deserved the win, and a very big congratulations to him as he breaks through to the Top 100 in the world, as a result of having won today here in Tiburon! This is a massive milestone in the career of a tennis professional, and we can be proud that he made it happen right here at the Tiburon Peninsula Club.
Record crowds, perfect playing conditions, amazing athletes and great spirit from all involved contributed to this, the 2018 Tiburon Challenger, being the best we've ever had. TPC members, thank you for your support! See you at the club.
_______________
For a post-match interview with Michael Mmoh, go to https://www.atpworldtour.com/en/news/challenger-qa-2018-tiburon-mmoh
_______________