Welcome to Telli Marin! Sign in | Create a login

Rotary Club of Tiburon-Belvedere
Fellowship and Service
Address:
Sam's Anchor Cafe
Tiburon/Belvedere, CA 94920
Phone:
415-789-0161
Rotary Club
of Tiburon-Belvedere

Monday, August 10, 2020

NEWS
Rotary & COVID-19
All in-person Rotary meetings and events have been cancelled or postponed as a result of the COVID-19 pandemic. We will be meeting on Zoom at 4 p.m. on Wednesday until further notice. If you'd like to visit, please send an email to rotary@telli.com requesting a link.

Outreach
The Rotary Club of Tiburon has donated funds to the following local organizations that are serving Marin's most vulnerable residents during this challenging time:
• Ambassadors of Hope & Opportunity www.ahoproject.org
• Canal Alliance https://canalalliance.org/
• SF Marin Food Bank https://www.sfmfoodbank.org/
• St. Vincent de Paul https://www.vinnies.org/
• Whistlestop https://whistlestop.org
In addition:

• To support local business, the club made a donation to the Tiburon Peninsula Chamber of Commerce's COVID-19 Tiburon Small Business Fund. https://www.tiburonchamber.org/
• To assist families need, we purchased 10 boxes of fresh produce from Servino Ristorante to donate to the food pantry at The Ranch. www.servino.com

• To help give kids whose parents are financially challenged a good summer, we donated funding for scholarships to The Ranch's summer camp program. www.theranchtoday.org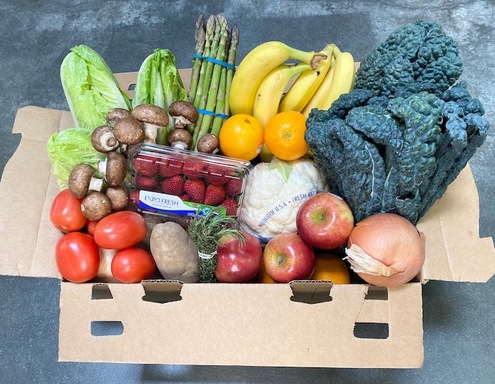 _______________
Welcoming a New Business

Beth LaDove is the co-founder of Ground, a new lifestyles store in downtown Tiburon. "Thank you so much for including me today. The community has given us such a warm welcome," she said. It's in the space that Bayside Nursery used to occupy, and the concept is indoor-outdoor living. They have houseplants and many outdoor plants, just like the nursery did, and they also offer gifts, rugs and other items for the home. Beth's partner, Caitlin McVarish, has a background in textiles and rugs, and "I'm a landscape designer," she said. She is taking a curated approach to plants, so they're grouped together as you would plant them or use them to fill different needs. People have been shopping and visiting, and the store has lots of outdoor space, so the shopping is socially-distanced.
"What went down that Bayside had to leave?"  asked Marshall Gross, who observed that It seems like a lot of space for a new business.
Beth replied that she doesn't know what happened to Bayside. The landlord is Belvedere Land Company, and "They have been very kind to us during this COVID period," she said, explaining that they signed the lease on March1. "We weren't intending to open during this time; it just happened," she said. As a nursery, the store is classified as an essential business, and it opened one month ago.
Angelo Capozzi said he thought the Belvedere Land Company and Bayside couldn't agree on a new lease, and so the Bayside owners decided to retire.
Beth has had other businesses and also had an online garden education company that an NBC affiliate acquired. She has a background in education and wants to offer workshops and classes for families and the community. She has known her business partner for 30 years.
John Kaufmann observd that Bayside was competing with Home Depot. However, "You're doing something different. You should be quite successful," he said.
"I'm concerned about the western Monarch butterfly," said David Albert. "Do you carry milkweed?
Beth said they had it, and one woman bought an enormous amount and cleaned them out. "All of the pollinating plants are something I care a lot about," she said.
"Are you going to have some deer-resistant plants?" asked Bill Lindqvist.
"It all depends where you live and how hungry the deer are," said Beth. "If they're really hungry, and it's a drought year, they have to eat something.
"Do deer eat roses?" asked Marshall Gross.
"They adore roses," said Helen Lindqvist. She added that sometimes Bill leaves the gate open, and the deer go in and have a feast.
Beth has beautiful roses, and the deer usually don't go up the driveway, but sometimes they clean them out.
"You're right across the street from the library," said George Landau, observing that the school bus stops there. He asked Beth if she'd considering offering workshops in gardening and planting after school." Your expertise and the library would be a good fit," he said.
"I'm a master gardener. It's something that's near and dear to my heart," she said, adding that she does hope to do something.
Charlie Oewel asked how many employees they have, and Beth said that so far, she and partner have worked all by themselves. They're bringing some people up to speed now, which allowed her to attend our meeting. Charlie observed that the store is very appealing, and said, "When I drive by, I want to go in. We really want to see you succeed."
Beth said that she would like Yelp or Google reviews.
John Kaufmann asked if Beth be able to identify a branch and order the plant. She responded that she doesn't know everything but has a good network of master gardeners, she could probably get someone to identify it.
Bill Lindqvist reported that Helen is an expert on succulents and is a former president of the San Francisco Cactus and Succulent Association.
John Kaufmann had a neighbor, Herman Schwartz, who was an expert on euphorbia.
Helen added that  business was Strawberry Press, and he published succulent books using that label.
Bill Lindqvist said that Herman's wife, Leah, was a wonderful artist, and he and Helen have some of her paintings of plants.
"What are the qualifications of the people you employ? Would you be interested in hiring local teenagers?" asked Marianne Strotz.
Beth said she has already hired some students, but if they go off to college, she might need more. They need a variety of skills and an interest in plants.
"You certainly have a very, very nice store. … This is the kind of thing we need in Tiburon and Belvedere," said Marianne
"We're very interested. We care very much about what's happening in the center of our town," said Kathleen Defever.
"We're supportive of the Rotary mission and the good work Rotary does," Beth responded.
Beth was a member of a book club at the library, and she became interested in the nursery and noticed that it was gone. She and her business partner had been talking about an indoor-outdoor store, and there's nothing else like it in whole county. "Please come in and introduce yourself," she said, explaining that she's Interested in meeting people in the community.
____________________

Canine Companions change lives
Floranne Fanti is a member of the Northwest Region Board of Directors of Canine  Companions for Independence, and she joined us with Sammy, a black lab who's eight months old. Floranne is also a puppy trainer, who provides dogs to disabled people, with no cost to recipients.
Sit, Stay, Sparkle is the organization's annual fundraiser, and "I invited everyone to our gala," said Floranne. It takes place virtually at 6 p.m. October 3, and will feature a presentation by a Stanford student who was a puppy raiser.
Canine Companions just celebrated its 45th anniversary. It has locations throughout the country, and the Northwest Region is in Santa Rosa. Six of them have training centers. Santa Rosa is one of two on the west coast; the other is in Oceanside. The dogs learn to do tasks such as picking up a phone or keys, closing doors, turning on light switches, and barking to alert neighbors that someone is in distress. A dog serving a hearing-impaired individual will tap the person on the knee and take him or her to the source of a sound, such as a smoke alarm going off. "A lot of our dogs have saved people," said Floranne, explaining that during the fires, they alerted people so they could leave their houses.
A trainer has a a puppy for 18 months, and then instructors work to refine a dog's training. Recipients stay on campus for two weeks to get matched with a dog and learn how to handle it. Not all dogs make it through. If they don't like elevators, for example, and can't accompany a person in a wheelchair onto an elevator, they won't pass.
There are different kinds of dogs. Facilities dogs work in hospitals or a court setting when a child has had a trauma and give kids the courage to talk about their experiences. The Veterans' Administrations told Canine Companions about the need for dogs to help veterans with PTSD. The VA doesn't recognize PTSD, but emotional support dogs change their lives. (The VA is working on a bill to present to Congress to get coverage for vets with PTSD.) Canine Companions built a training room that makes vets with PTSD comfortable, and a PTSD dog will learn different commands. It will block space at the front and back of a person and go into a home and turn on the lights. In addition, if a vet experiences night terrors, the dog will pull off the covers and wake up the individual. Some vets don't like to go out, and the dogs help them so they don't become isolated in their homes.
"We have our own breeding colony of labs and goldens and a vet clinic for breeding," said Floranne. People keep dogs in their homes and keep puppies in whelping boxes. "We've been very blessed with some heroes in our area," she added, explaining that they deliver puppies to regional centers. Volunteers raise them for 18 months and then they turn in the dogs to the regional center. Placements number 350 to 400 a year, and about 2,800 dogs are in service. Once the dogs are placed, Canine Companions does a follow-up to make sure it's a good match, and the dog is healthy.
The application process has several levels, and then applicants go onto a wait list. When they get to the top of the list, they're invited to team rotation in Santa Rosa, get matched with a dog and go through training. Even during the current pandemic, Canine Companions is still placing dogs and keeping the program going.
Floranne added that Canine Companions has a stellar prison program, and inmates do a great job of raising puppies and appreciate the opportunity to do something for others.
Canine Companions gets funding through donations, grants, bequests, living wills and fundraising. "We're supported in many ways," said Floranne. They work closely with the Rotary Clubs of Ukiah, which hold an event, Guitars for the Troops, that raises funds to give guitars to active-service personal and veterans. Canine Companions also receives some money for that event so they can continue the veteran's program.
Canine Companions also works closely the Buck Institute for Research on Aging in Novato.
Questions and Answers
"What is the average age of the recipient?" asked Terry Graham.
Floranne replied that the recipient has to be at least five years old, and a child might have developmental disabilities. Dogs are usually around two when they're placed, and they've been trained on 30 commands and are socialized. She takes the dogs she trains on planes and to work with her at an elementary school. She turns them in so trainers can teach the dogs more advanced skills like turning light switches on and off. Dogs work for about 10 years, and then retire. A recipient then gets a successor dog. "Once they're become dependent on the dog, they need a dog," said Floranne.
Angelo Capozzi asked why the waiting period is usually two years, and Floranne explained that the need is big, and Canine Companions can train only so many dogs. It also depends on whether it's a hearing dog, a seeing dog or a PTSD dog.
"Congratulations. It's a wonderful, wonderful service," said Angelo
Floranne added that they're trying to grow the program to meet the need, and she recommended checking out the website, www.cci.org to see lots of information, including videos.
Terry Graham asked how much it costs to raise a dog, and Floranne said it's about $2,000.
Marshall Gross asked what dogs that have been rejected would be good for, and Floranne said that Canine Companions has placed some dogs with police departments for bomb sniffing, and they also coordinate with other organizations, such as Dogs4Diabetes.
John Kaufmann asked how they match volunteer breeders and puppy caretakers. "I have no say in the breeding," said Floranne. Some people keep male dogs for breeding purposes and deliver the dog to the breeder as required.
Terry Graham asked for some anecdotes or stories, and Florann recalled that when they opened the PTSD training room, it didn't have windows or shrubs, and the environment was safe. At the grand opening, they had vets talk, and one said that before he had the dog, he was housebound. Miraculously, he got a call that he was going to be matched with a dog, and it changed his life. "We were all in tears in the audience, hearing his story," she said. "We take everyday life for granted. Someone in a wheelchair can't do that.
She also talked about a college girl at the University of Washington, who was raising a puppy in her dorm. She was killed in car accident, but the dog survived, and another student took over. The dog went to a student in a wheelchair who was accepted at Stanford University. The dog allows her to be independent without having her mom there with her. "Some of our matches are truly magical," said Floranne.
"Does Stanford let students have dogs in dorm," asked Angelo Capozzi, and Floranne explained that Stanford has to allow the dog to comply with ADA requirements. "All our dogs have public access," she said.
"You have to have a disability to apply for a dog," she added. "If you have a disability and a dog is going to perform tasks for your, you can apply."
Canine Companions' campus is in Santa Rosa, and Floranne will arrange a tour for us after the pandemic. Jean and Charles Schulz donated the property on Dutton Avenue. See more at www.cci.org.
____________________

MARK YOUR CALENDAR
GREAT GUEST SPEAKERS
Meetings will be on Zoom until further notice. If you'd like to attend a meeting or be a guest speaker, please send an email to rotary@telli.com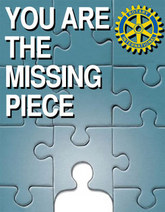 Meetings
We meet at Sam's Anchor Cafe at 5:30 p.m. for an early evening meeting on the first and third Wednesday of the month and for lunch at 12:15 p.m. on the second and fourth Wednesday of the month. Most weeks, either a guest speaker makes a presentation or we have a program. Attendance is $10. Food and drinks are no-host  We welcome guests. If you'd like to hear a speaker, offer to be one or find out more about Rotary, pay us a visit. We'd be happy to make your acquaintance.

Board of Directors Meetings
Meetings of the Board of Directors are open to all members and take place monthly at a time to be announced. For information, please send an email to judith@telli.com.

Contact us at rotary@telli.com.
If you'd like to be a guest speaker, please contact Marianne Strotz at properties@pacbell.net.

Send mail to Rotary Club of Tiburon-Belvedere, P.O. Box 220, Tiburon, CA 94920.


Follow us on Facebook: https://www.facebook.com/tbrotary. Hope you "like" us!
_________________________
Scroll down to see our photo gallery of Rotarians at work and play!
____________________

 ROTARY AT WORK

The Rotary Club of Tiburon-Belvedere supports a wide range of programs, with a focus on youth, literacy and community. We believe that reaching out to others makes a better world and encourage others to join us. Here's what we're supporting in 2019-2020

Youth—Investing in the Future
• Ambassadors of Hope and Opportunity: Support to provide a safety net of stable housing, guidance and community connections for young people 16 to 25, who are homeless or in danger of becoming homeless in Marin County.

• Bel Aire School's Liberia Project: Advice and support for the fifth-grade students' ongoing projects to help their sister school in Liberia, thus encouraging altruism at home and helping children in a disadvantaged country across the world.
• Dave Hutton Rotary Award for Service Above Self: An annual award to a graduating eighth-grader with a record of outstanding community service at Del Mar Middle School.
• Educator of the Year Awards: Annual awards to outstanding educators in local schools, whose unique projects give children a worldview that encourages them to become good citizens
• Global Book Exchange: Sup.port for the Global Book Exchange in San Rafael, which collects lightly-used books and redistributes them to teachers at schools with limited budgets, disadvantaged families and nonprofits that serve children, as well as schools throughout the world.
• Marielos Fund: A scholarship to send a young woman in El Salvador to medical school.
• Marin Youth Sympathy: Support for sending young musicians on a tour to perform in Europe.
• Musica Marin: Underwriting for scholarships for local students to attend events featuring classical music, fine food and a philanthropic purpose
• Rotaplast International: Support for volunteer medical teams to provide life-changing surgery for children with cleft-lip and palate in needy communities around the world.
• Rotary Youth Leadership Awards: Scholarships so high school sophomores and juniors can attend a special camp that guides them to develop their leadership skills.
• Young Performers International: Scholarships for kids to take music lessons and develop their performing skills. Music makes kids smarter!

Meaningful Projects—Service Above Self
• Marin Villages: Support for programs that help seniors age in their own homes. Members pay a small fee and can enjoy social get-togethers and access to volunteers for help with tasks such as getting to appointments, changing light bulbs or assisting with pets.

• Service to the Community Awards: Recognition for people who serve the community in meaningful ways, but don't often get acknowledgement.

• St. Vincent de Paul: Support for helping Marin's neediest residents obtain nutritious food, affordable housing, meaningful employment and a voice in the community.

• Whistlestop: Underwriting for Whistlestop's Thanksgiving Feast for Seniors.

District Designated Funds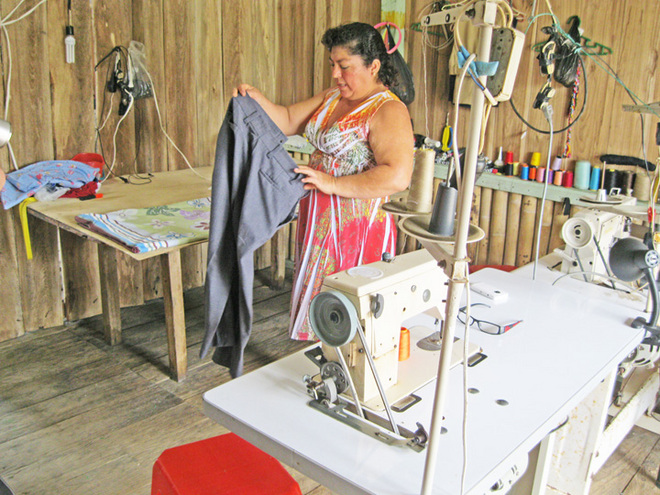 Rotary's District Designated Funds helped establish this sewing shop in Esmeraldas, Ecuador. Photo: Courtesy of Keith and Holly Axtell

Funds from the Rotary International Foundation's annual campaign earn District Designated Funds for our club. This year, we're contributing our international funds to the Rotary Club of Marin Evening's San Jacinto water project in Ecuador. For the past three years, we have contributed our funds to multi-club microcredit projects in Ecuador, Guatemala and Peru to train people in job and entrepreneurial skills and extend microloans to help them start small businesses and become self-sufficient.
District Designated Funds also support local projects, and this year our funds will go to underwrite the cost of school field trips to the Global Book Exchange and Audubon Canyon Ranch. In addition, we're donating portable bluetooth speakers to Canal Alliance so ESL teachers can fully implement the listening exercises that are part of the curriculum for English-language learners.

____________________
Julie Aubrey visited from Rotary International's headquarters in Evanston, Illinois.
(l. to r.) Irene Russell, Kathleen Defever, Helen Lindqvist and Bill Lindqvist at the Tiburon Peninsula Chamber of Commerce mixer at the downtown Tiburon firehouse.
HELPING KIDS GO TO CAMP

President Annette Gibbs presented Jessica Hochkiss with a check for $1,000  for The Ranch from the club's foundation, which will help low-income children attend day camp. "We currently have two large summer camps going on," said Jessica, and she explained that they take kids to Angel Island every day. "The camp has gone on for 40 years," she said, and some of today's campers have parents who attended when they were young.
The Ranch is a nonprofit, and "Every little bit helps," she said, expressing her gratitude.
_______________

Past-president Linda Emberson and incoming President Annette Gibbs at the Installation Celebration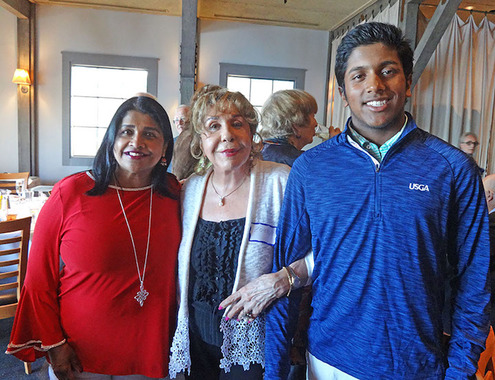 Lata Setty, Zohre Grothe and Lata's son, Deven Ramachandran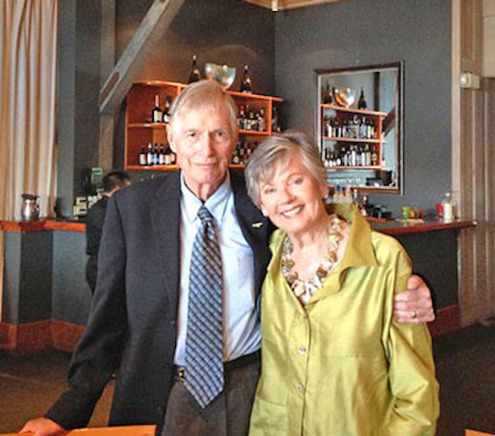 Warren and Irene Russell
_______________

Having fun at the Tiburon Classic Car Show!
Rotary in the community: Cindy Siciliano and Linda Emberson made it look easy, as they spent the day flipping burgers, hot dogs and corn on the cob for scores of happy customers.
____________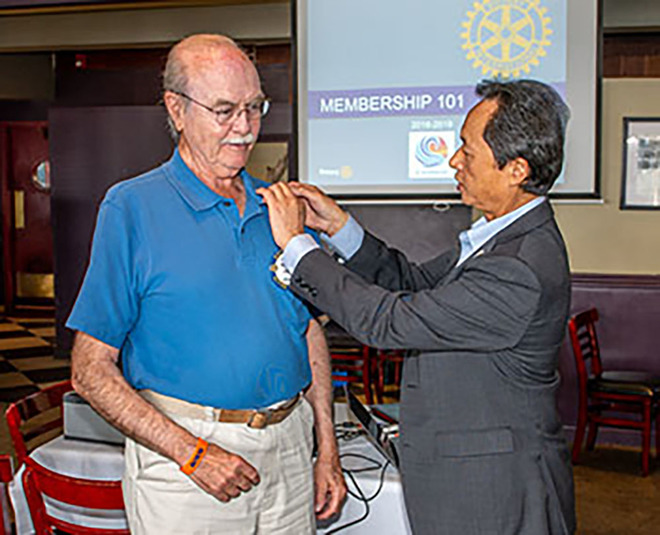 Past District Governor Ron Gin, now district membership chair, presents Mike Keran with a pin in honor of his being chosen Rotarian of the Month for District 5150.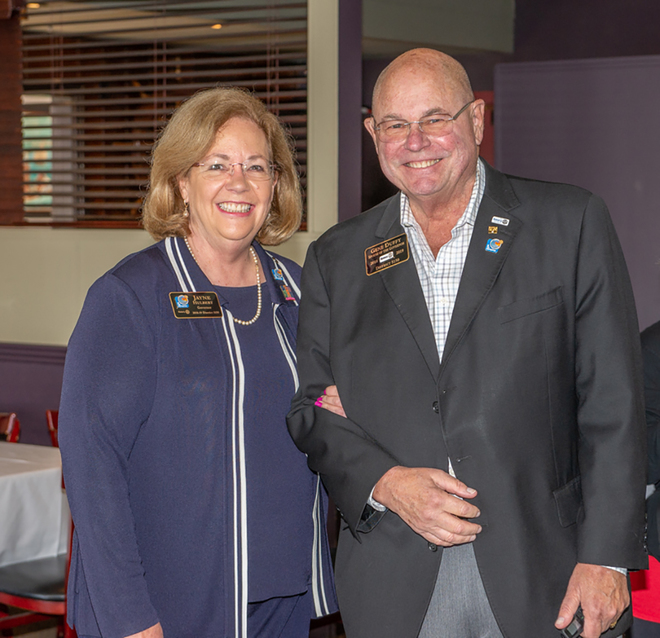 District Governor Jayne Hulbert and First Husband Gene Duffy paid the club a visit.
Cindy Siliciano of the Tiburon Sunset Rotary Club (left) and President Linda Emberson of the Tiburon-Belvedere club get ready to toss goodies to kids at the Labor Day weekend hometown parade. (Photo: Marshall Gross)
_______________

Welcome New Members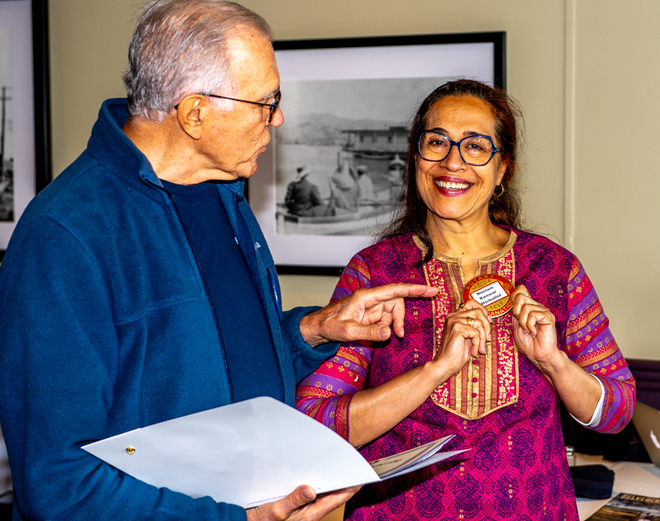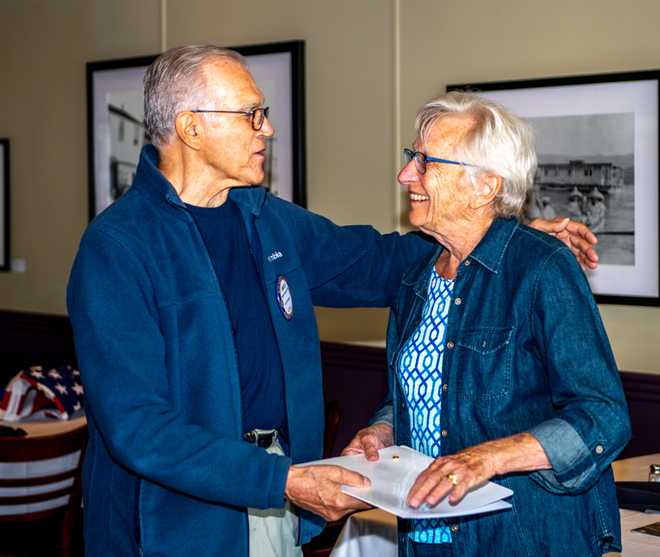 Membership chair Angelo Capozzi welcomed new members Neelam Kanwar (upper photo) and Lynn Spitler (lower photo).
_______________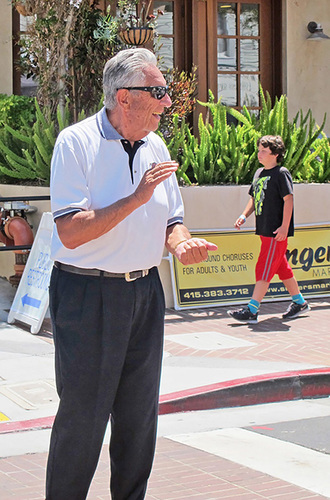 It is with profound sadness that President Linda Emberson announces the passing of beloved member Jim Deitz on Friday, July 13. Jim exemplified Rotary's motto, Service Above Self, and his altruistic spirit was a model for everyone. He was devoted to his family, loved dogs and was one of the best. We'll miss him terribly.
_______________

Good Work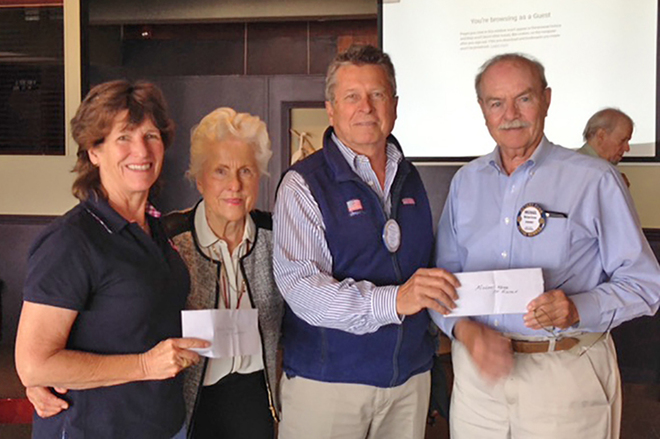 (l. to r.) Lisa Brinkmann of Marin Villages accepts a check from Marianne Strotz, and Michael Heckmann presents a check to Michael Keran for St. Vincent de Paul. Photo: Lynn Fox

_______________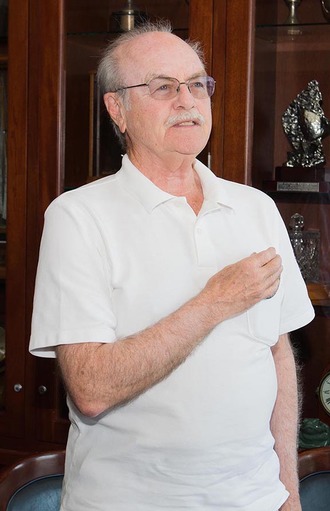 District 5150 named Michael Keran Rotarian of the Month for May. Mike's much-deserved honor is in recognition of his ongoing commitment to St. Vincent de Paul and helping the homeless in Marin County. In addition, he recruits a crew of Rotarians to serve lunch at the St. Vincent de Paul Free Dining Room in San Rafael every month. May marked the beginning of the 12th year of this service project.
_______________

Annette Gibbs (left) and Shelby Gross joined the Rotary contingent and got into the spirit
of this year's first Friday Night on Main
_______________

Celebrating Earth Day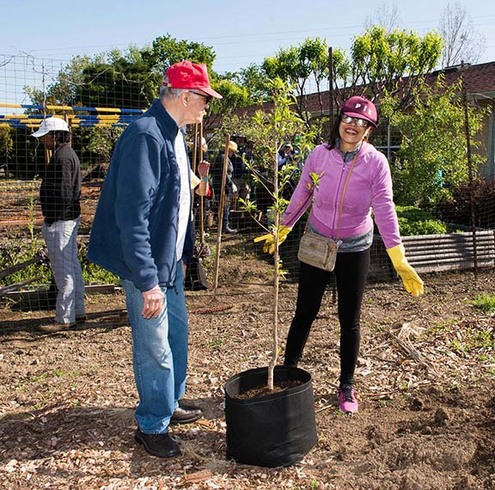 Having Fun at Friday Night on Main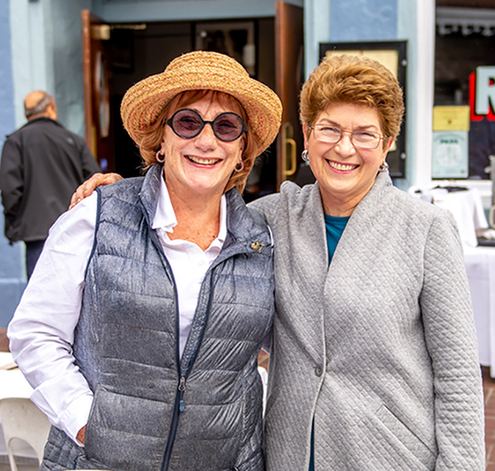 Angelo Capozzi (left) and Neelam Kanwar planted trees at Homeward Bound as part of Rotary International's initiative to plant one tree for every Rotarian. Photo: Marshall Gross
_______________
Lending a Hand at St. Vincent de Paul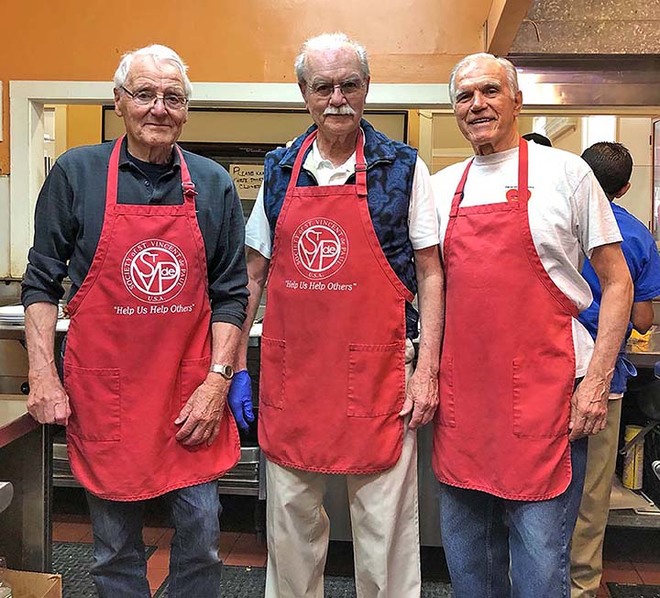 Stalwart volunteers (l. to r.) Klaus Meinberg, Michael Keran and Angelo Capozzi in the kitchen of the St. Vincent de Paul Free Dining Room in San Rafael. The Rotary Club of Tiburon-Belvedere serves lunch on the fourth Thursday of every month and will begin its twelfth year of volunteering, under Mike Keran's leadership, in May. Angelo is team leader for the club's participation in the REST program, and he and Klaus also served dinner to a group of homeless men at St. Hilary's Church the same day. Service Above Self at its best!
_______________

First meeting at Sam's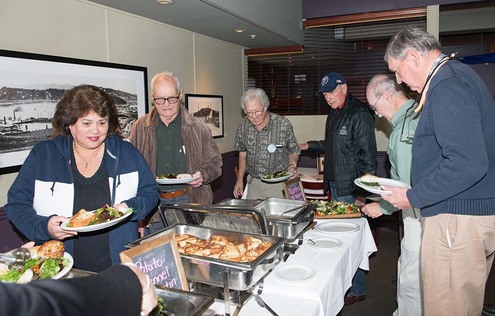 _______________

Rotary does REST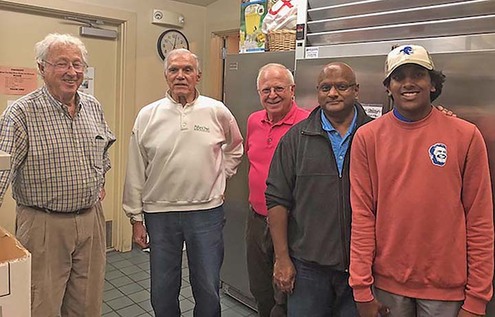 The Rotary Club of Tiburon-Belvedre hosted dinner for a group of 25 homeless men who were spending the night at St. Hilary's Church on Thursday, February 15, as part of the REST (Rotating Emergency Shelter Team) program.
Members of the Rotary crew (above, l. to r.), John Kaufmann, Angelo Capozzi, Brian Walker, Raja Ramachandran and Deven Ramachandran, took a break before serving dinner to guests in Tarantino Hall. Lata Setty, Annette Gibbs, Bill Goldberg, Zohre Grothe, Karl Hoppe and Lata Setty were also on hand to help. The evening featured good conversation, great appetites and uplifting camaraderie, as well as good food.which included homemade lasagna that Deven, Lata's son, helped prepare as a family Valentine's Day project, and Mary Kaufmann'a delicious oatmeal cookies and cupcakes decorated with hearts.
_______________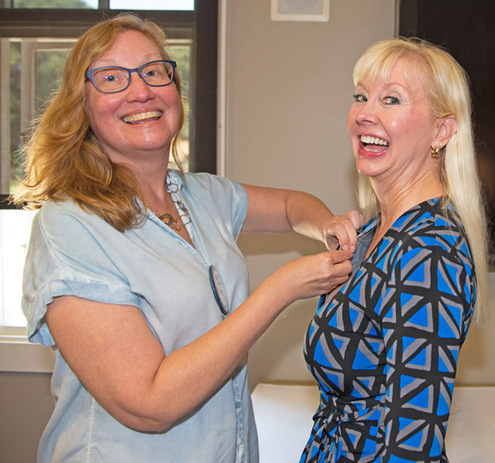 Karen Glader welcomes new member Valerie Marsh to the club and gives her a Rotary pin.
_______________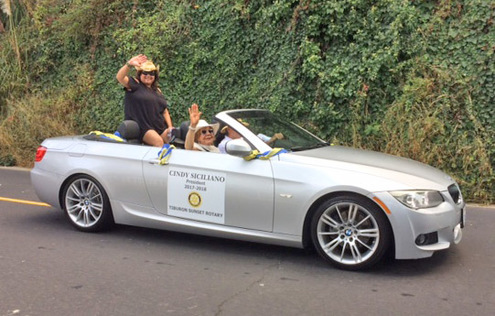 Rotarians have fun in the Day Before-Labor Day parade.
_______________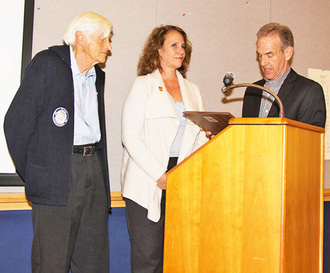 Proclamation
The Town of Tiburon issued a proclamation in honor of the Rotary Club of Tiburon-Belvedere's 40th anniversary, which we will celebrate in June, and the 100th anniversary of the Rotary International Foundation. Pictured, left to right, are George Landau, President Linda Emberson and Tiburon Mayor Jim Fraser. Photo: Marsall Gross.
______________
Visitor from Afar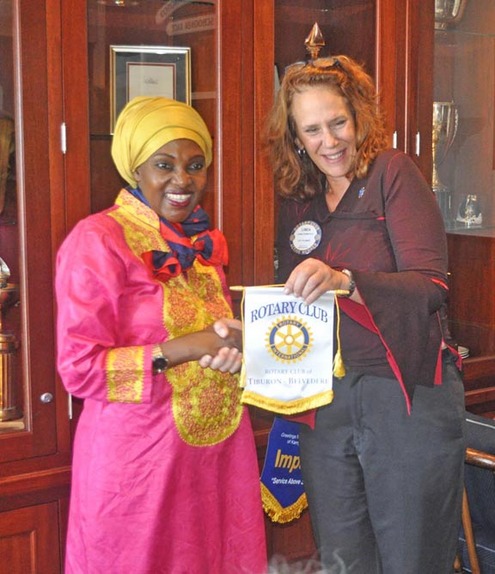 Rehmah Kasule (above left), with President Linda Emberson) is the Immediate Past President of the Rotary Club of Kampala/Impala in Uganda. She took the opportunity to visit us when she was at a conference in San Francisco in October. In 2010, she received recognition at the White House for her work in empowering women and met President Obama. She then wrote a book, From Gomba to the White House. She shared an African proverb: "When you walk fast, you walk alone. When you walk with others, you go far."
_______________

MAKING KIDS SMILE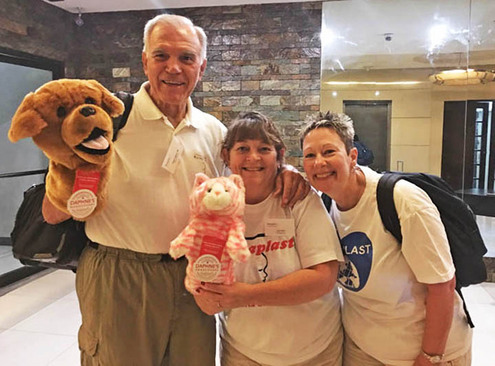 Marshall Gross donated two beautiful puppets that he won in a gift basket to Rotaplast's mission in Cebu City, Philippines. Dr. Angelo Capozzi (with the big dog) reports that the puppets are making kids smile every day before undergoing surgery, and the mission is going well.
______________

Tiburon Challenger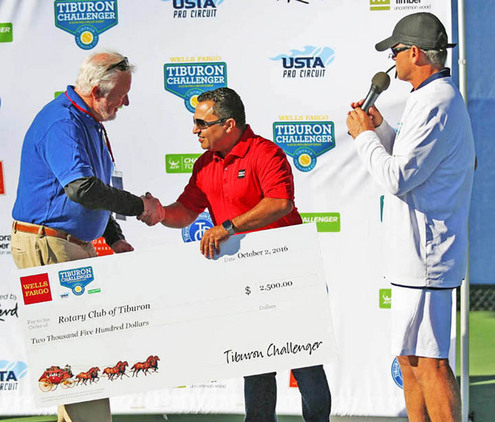 Charlie Oewel, representing the Rotary Club of Tiburon-Belvedere, accepted a generous check from Ashoo Vaid (middle) of Wells Fargo and tournament director Brendan Curry (right) at the conclusion of the Tiburon Challenger. The funds will go to the club's education projects. (Photo: Getty Images for Revd)
_______________

Rotary welcomes Kimberly Brooks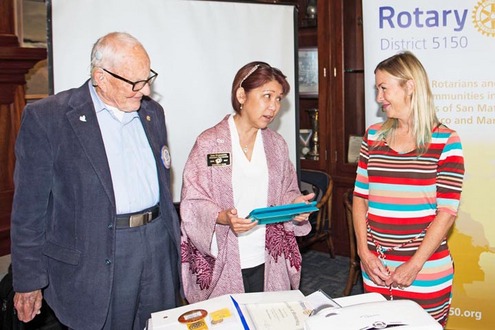 District Governor Jeri Fujimoto (center) inducted new member Kimberley Brooks (right) as Kimi's sponsor, Joe Lavigne, looked on. Photo: Marshall Gross
_____________________
DAY BEFORE LABOR DAY PARADE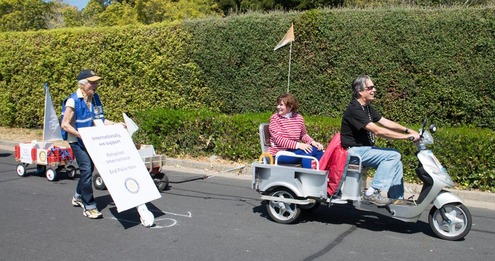 Tari Nix and friend pull wagons with books for kids from the Global Book Exchange, as Marianne Strotz walks alongside, wheeling a Rotary sign. (Photo: Marshall Gross)
To see more photos of the parade, go to www.tiburonrotary.org and click on "Photo Gallery."
____________________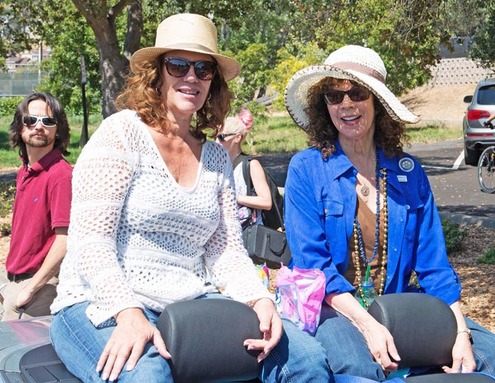 President Linda Emberson (left) of Tiburon-Belvedere and President Marilyn Nemzer of Tiburon Sunset hitch a ride with Michael Heckmann in the Day Before Labor Day Parade. (Photo: Marshall Gross)
Dana and Chester (left), making friends.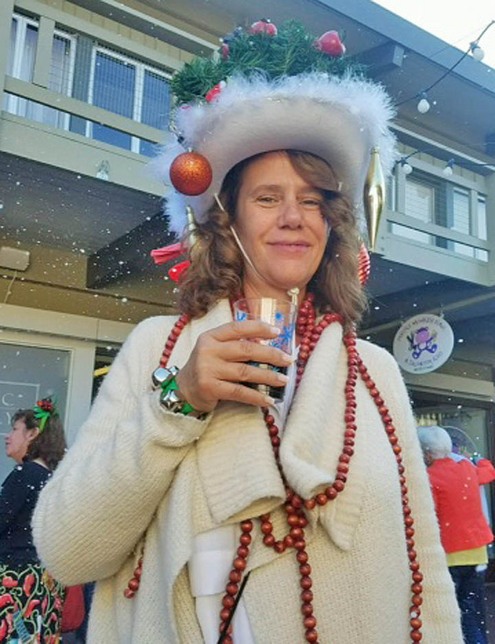 Winter in August was the theme of the Tiburon Peninsula Chamber of Commerce's mixer at the Boardwalk. President Linda Emberson took the prize for the most creative hat.

_______________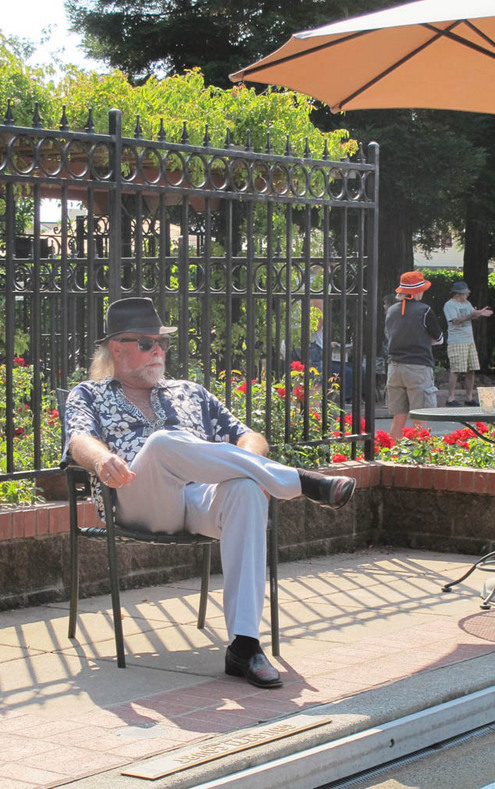 Jon Rankin views the on-court action at the annual Bocce Ball Tournament, a fundraiser for Rotaplast International. (Photo: J. Wilson)

_______________

Changing of the Guard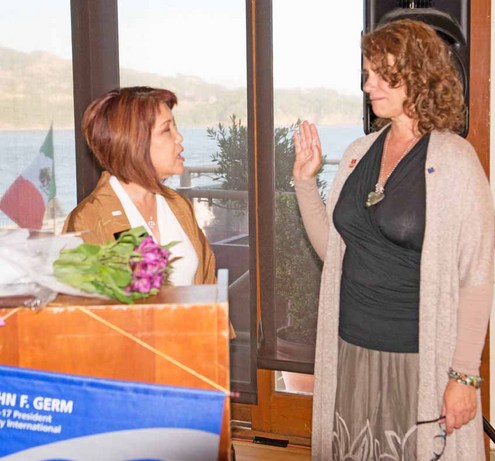 Thanks to President Marianne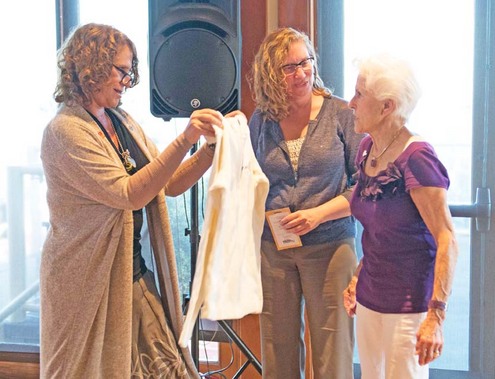 President Linda Emberson (left) thanks outgoing President Marianne Strotz (right) for her two outstanding years of leadership with a special Rotary jacket, as Karen Glader, the club's new secretary, looks on. (Photo: Marshall Gross)
____________________

Honors for Angelo
Dr. Angelo Capozzi (left) and Dr. John Kaufmann with a child who underwent surgery during a Rotaplast mission to Peru in May 2016. (Photo: Courtesy of Rotaplast International)
____________________
Service Above Self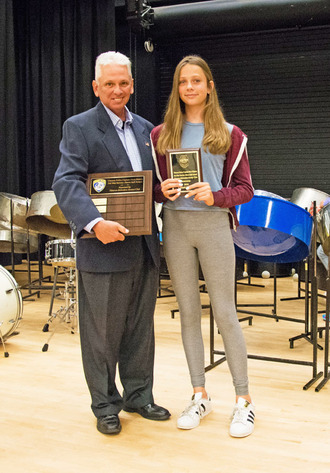 Dave Hutton presents the Capt. Dave Hutton Rotary Service Above Self Award to Kendall Hermann, graduating senior at Del Mar Middle School, for her outstanding performance in community service. The presentation took place at a special awards assembly in June. Photo: Marshall Gross
____________________
Teachers of the Year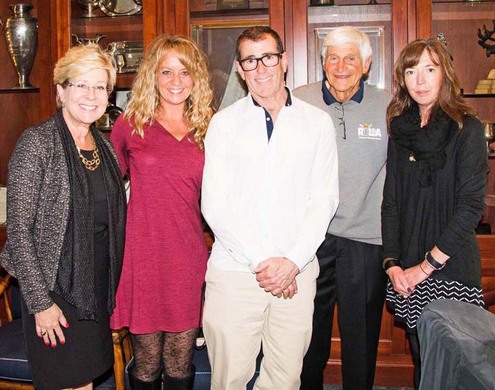 (Left to right) RUSD Superintendent Nancy Lynch, Bel Aire School's Kelly Morphy, Reed School's Ross Modlin, Rotarian George Landau and Erin Turner of St. Hilary School (photo: Marshall Gross)
____________________
Carnaval!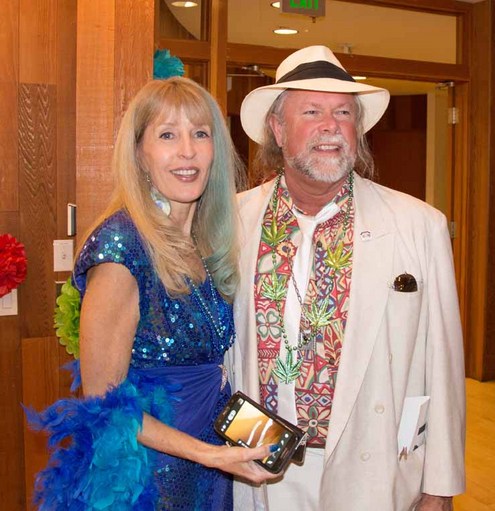 Mary Kaufmann and Jon Rankin got into the spirit of Carnaval, a fundraiser for the Rotary Club of Tiburon-Belvedere. For more, see the photo gallery at www.tiburonrotary.org. (Photo: Marshall Gross)
_______________