Welcome to Telli Marin! Sign in | Create a login

Rotary Club of Tiburon-Belvedere
Fellowship and Service
Address:
1600 Mar West Street
Tiburon/Belvedere, CA 94920
Phone:
415-789-0161
Friday, August 3, 2018

Welcome New Members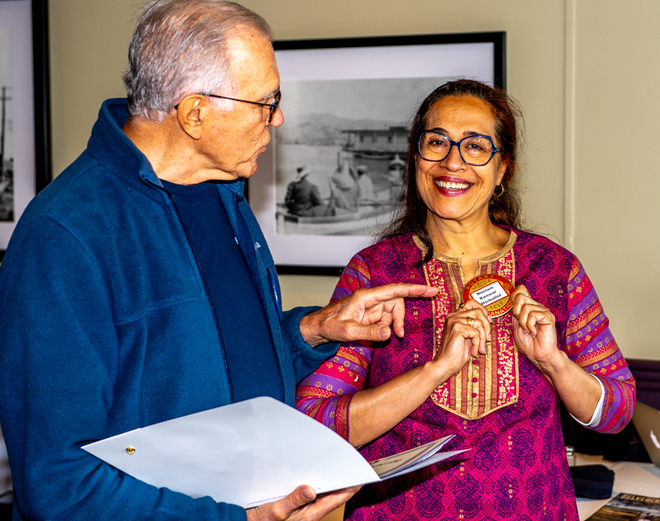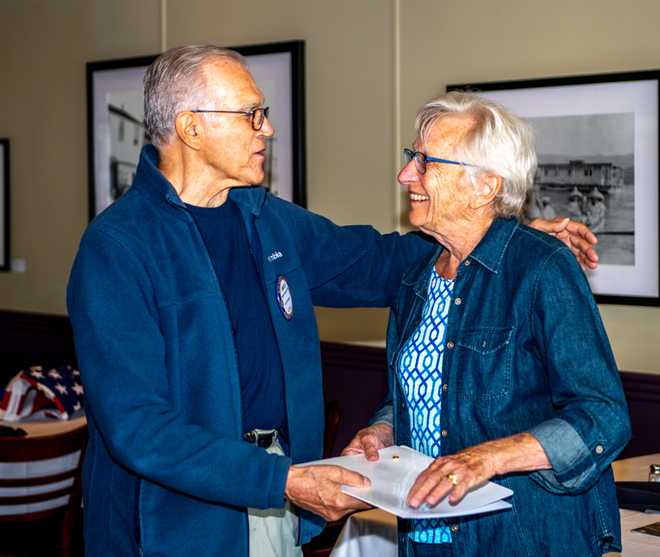 Membership chair Angelo Capozzi welcomed new members Neelam Kanwar (upper photo) and Lynn Spitler (lower photo).
_______________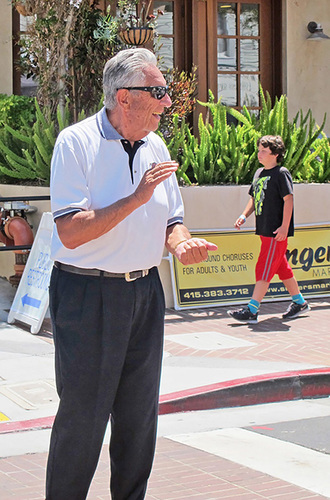 It is with profound sadness that President Linda Emberson announces the passing of beloved member Jim Deitz on Friday, July 13. Jim exemplified Rotary's motto, Service Above Self, and his altruistic spirit was a model for everyone. He was devoted to his family, loved dogs and was one of the best. We'll miss him terribly.
_______________


Monitoring the Health of San Francisco Bay
Estuary & Ocean Science Center
Karina Neilsen is the director or the Estuary & Ocean Science Center, formerly called the Romberg Center, on Paradise Drive. She explained that people didn't know what the Romberg Tiburon Center was, but when they hear Estuary & Ocean Science Center, they know right away. However, she said, "You're welcome to keep calling us Romberg." She pointed out that the acronym for Ocean and Estuary Science is EOS, and Eos is Goddess of the Dawn, who is often pictured as looking over a river.
She asked us how much space Romberg has and got several guesses, none of them correct. If you add up all the deeds and look at the parcels, they have 53 acres, and about 11, which are under water, are called tide lots. "That whole campus we are now formally calling the Romberg Tiburon campus of SFSU. It was Paul Romberg's vision," she said.
"We're part of the San Francisco State University system," she explained, and, therefore, the center is part of a large bureaucracy. SFSU has 30,000 students, and it incudes the campus in the southern part of San Francisco and one downtown. In addition, the Sierra Nevada campus is a field station where folks go in summer to take courses about the Sierra Nevada. The Romberg Tiburon campus is one of the premier centers for ocean science in the university system and the State of California. Nothing else is comparable. "We're kind of unique in that regard," said Karina.
The EOS Center works with two organizations, and so it goes beyond its 53 acres of campus. One is a research group from the Smithsonian Institution that does research on systems in the environment. Its headquarters is located on Chesapeake Bay, which is the largest bay on the east coast, and having an east coast-west coast comparison is useful. The program is collaborative, and they do different things that are complementary. For example, Smithsonian doesn't train students, but Romberg does, and Smithsonian needs interns and research associates.
Education, Research and Service
The marine lab has three components: education, research, and service, which includes outreach and public service. "It's very much under the umbrella of what universities do," said Karina.
Education. The EOS Center is welcoming 14 new graduate students who are starting the master's program. They will spend two to three years in the program, come up with a thesis project and work with a faculty advisor. They will also take interdisciplinary classes in different sciences that feed into marine science, such as geography, oceanography and ecology, which involves the relationship between plants and animals. They will also have to do a required internship at one of a variety of organizations, including BCDC, San Francisco Estuary Institute, California Academy of Sciences, Fishermen's Associations (to study sustainable fishery issues), the business that owns Fish restaurant (to study a sustainable business model) and a trout farm to consider the type of food for the fish they raise. Internships are a very valuable practice for students and sometimes lead to jobs, as well as giving students an expanded professional network. Graduates tend to stay in California, and "We are surprised at the reach of our alumni," said Katrina.
Research. Among the new developments in research, new yellow buoys measure water quality, revealing how salty the water is and its carbonate chemistry. Living shorelines projects explore the possibility of using alternatives to man-made solutions. Researchers might, for example, let a small amount of marsh build out to find out how it reduces erosion and absorbs water during extreme high tides. One of the projects is on the San Rafael waterfront, and another is a living shoreline off Port Pinole. They are experiments to see if they can preserve the shoreline.
Service. The service component includes a program that used to be at Audubon, and it teaches third to fifth graders about the bay. The EOS Center took in that program and is helping to keep it going, as well as increasing the standards teachers have to meet. "The program lives on, and we're very excited about that," said Karina. In other service initiatives, Discovery Day is an open house; an endowment brings in speakers; and staff members volunteer in the community and schools.
National Estuarine Research Reserve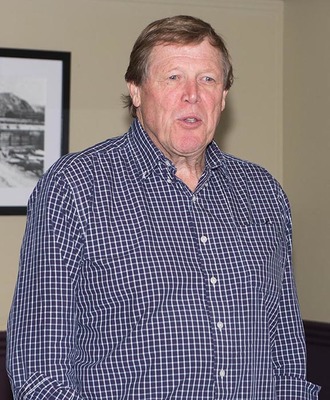 Michael Vasey explained that the National Estuarine Reserves are 29 reserves around the country. "We belong to NOAA," he said, explaining that the whole focus is to identify and formally designate remnants of estuaries around the country.
The San Francisco National Estuarine Research Reserve has two components. One is the lower estuary at China Camp State Park, which is emblematic of what it used to look around here. Another one farther up looks at water that comes from the delta and flows into Suisun Bay, San Pablo Bay and San Francisco Bay. The water is fresher and brackish, but still tidal. The Rush Ranch Open Space Preserve in Suisun City is an area of study.
Michael explained that his agency partners with land management agencies. "We don't just do research. We're really interested in looking at the long-range impacts," he said. They are, for example, looking at how the marsh is holding up in the face of sea-level rise and adding thin layers of sediment to help maintain them.
The education program gravitates to training teachers to develop curricula and data, and they just had 23 teachers for a workshop. They also host workshops for decision-makers, environmental scientists and people who want to learn in more depth and increase their expertise.
One of the challenges at China Camp is North San Pedro Road, a county road that is important for safety and fire access but is built right across the marsh. At king tides, the road floods, creating a dangerous situation. The reserve is interested in managing the marsh and allowing it to adapt to change, but the road is an impediment. The different groups involved had reached an impasse, and so reserve staff held a workshop that included an aide from Marin County Supervisor Damon Connolly's office and neighbors, thus starting a collaborative effort to figure out solutions. They also got funding to take it to the next step and do more research on the ecology. It will allow them to put together a solid proposal to build a road. The progress is a result of bringing various elements together for the first time.
The Richardson Bay Bird Sanctuary is 900 acres, and the Audubon Society manages it. Marine geographers are identifying special places around the world for studies and have selected Richardson Bay. Michael observed that groups are pulling together and making progress.
Questions and Answers
Dave Albert asked if any evidence shows that global warming is affecting the bay. Karina replied that as the water gets warmer, we are getting fishes and fisheries farther north. She reported that dive shops have lost business because abalone fishing is closed, and so people are spearfishing instead. It's a way of adapting.
Bill Lindqvist pointed out that the tidal measuring system on San Francisco Bay has showed little increase, and he also observed that the North Bay doesn't have a tidal measuring system. Michael responded that one is in Pittsburg, but we need more.
Karina pointed out that when you think about climate change, you have to think about more than sea level. Looking at how extreme weather affects things like marshes is an example. "These are your tax dollars," she said, explaining that they are being used to get a better understanding of changing conditions and how they are affecting the system and to build up the shoreline and marshes.
_______________

Deputy Fire Marshall Michael Lantier with Rotarian Lynn Fox. Photo: Marshall Gross

Deputy Fire Marshall Michael Lantier, of the Tiburon Fire Protection District, is concerned about fire safety, which is an important topic for everyone after the wildfires in Sonoma and Napa counties in October 2017. He handed out a homeowner's guide from FIRESafe Marin with good advice for staying safe and protecting our property.
One of the most important measures is clearing defensible space around our homes. A house with a lot of vegetation is a hazard, and if a wildfire strikes, "I'm not going to commit my crew to that particular house." Instead, they'll move on to another one that's more manageable.
"Your home is combustible." It will succumb to embers. "That's a big deal," said Michael. Don't plant flammable vegetation near your house. "Everything is combustible in a wildfire, other than metals." He also showed a photo of some rock and brick that survived.
He told us that the Tubbs fire in 1964 on Tubbs Lane started on Tubbs Lane in Calistoga and reached Santa Rosa in three days. In contrast, the Tubbs Fire in 2017 took only four hours to travel the same distance, because of embers and wind that was gusting up to 70 miles an hour. "Our biggest ember is Mt. Tamalpais," said Michael, and it hasn't burned in more than 80 years, so it's a concern. He added that if a major fire were to break out, TPFDS has only seven members on duty at a time, so the fire department would have to call for resources from other areas.
He emphasized defensible space and said, "I will come to your home and tell you what you need for defensible space." He also shared the following:
• A tree takes all the available water from its roots and moves it up during a fire, but if it doesn't survive, it's fuel, so it's important to cut it down.
• The water system on the peninsula is good, and Marin Municipal Water District is connecting the entire county to a common system. "This is everyone's fight," he said.
• Wildfire is different here, because the bay provides humidity levels in the teens to 20s, making it very low in the northern counties, which is good.
• Power lines and tree limbs don't like each other, and fire districts are trying to work with PGE. "They're doing a great investment in clearing," he said.
He showed us a map of the wildland-urban face and said it's not a good term for the Tiburon Peninsula, because it's not wildland; it's semi-rural and has a high risk for fire. Paradise Cay doesn't accept the map for fire severity zones, because it affects insurance.
Michael said that the fire district is doing reports on properties and sending them to owners. They tell people what they should do. "I can't compel you to do it," he said.  However, it's common sense, and you should do follow the recommendations.  "If you do your part, it will make it easier," he said.
He wants all the homeowners' associations to participate in creating a firewise community. Everyone can contribute by giving a presentation. "We can get some resources going to get some of the dead stuff away from your home," he said adding that millions of dollars are available for fire safety, and associations can apply for grants.
He commended Lynn Fox for making people aware of fire danger and said, "Lynn's fantastic."
Questions and Answers
Marshall Gross commented that the wildland-urban interface map looks like a FEMA map. Michael explained that the designation is different, and FEMA shows areas that are more susceptible to flood than fire.
"What is some of the worst vegetation?" asked David Albert, and Michael pointed out the list on pamphlet. It includes eucalyptus  and cypress, which is terrible and needs to be maintained. Pine doesn't belong here. It was brought from other areas and has a 60 to 70 years life span. "If you have a dead tree. I will verify it and write you a letter saying it's a hazard," said Michael. That means you can cut it down with no permit or review.
John Kaufmann asked who is responsible for easements. Michael explained that if it's not owned by someone, the town owns it by default. Parcelquest.com is a service the fire district pays for, and shows all the lot lines and tells who owns the properties. It's important, because the fire district needs to deal with the property owner who pays the taxes.
John also asked about stucco, and Michael said that it performs far better than wood; however, fire will suck water out of it, causing it to crumble. He added that firefighters need to be at a house within eight minutes and do a good job of getting there.
Mike Keran is in the red zone on the map and has 20 eucalyptus that are 70 years old. "Are they going to die and pose a hazard?" he asked. Michael recommended that he talk to an arborist, although he's not seeing eucalyptus in this area die yet.
Judy Wilson asked about signing up for phone or text alerts, and Michael explained that Alert Marin is run through the Marin County Sheriff's Office. "You have to sign up, but once you're in there, they will alert you with text or calls." Nixle is another one. "It's Twitter for law enforcement. Nixle is fantastic," he said. He added that Nextdoor is the greatest thing ever, because it's neighbors helping neighbors. He strongly recommended that we sign up for these things.
He also mentioned SNAP radio, Tiburon's emergency 840 AM radio station. "We broadcast locally," he said, and you will hear him and Laurie Nilsen, who teaches the Get Ready Program. It's an offshoot of CERT. Once you've done it, you're able to go out and help your neighbors. Michael recommends doing both Get Ready and CERT.
Lynn Spitler lives in Hillhaven, and she asked about water pressure. "Where we have big water tanks, we don't have force. It's a gravity-based system," explained Michael. If you're at the level of the tank, you're not getting the pressure and need a pump to get to the desired level for domestic use. Fire needs are different. Large pipes run along the street, and the fire engine is a pump that hooks up to a hydrant and manages fire flow.
Lynn Fox commented that household pumps are a nice flow. During a power outage, you shouldn't need a large flow for household use, buf it's possible to install a solar panel so pumps will work when the power is out.
"It's a fascinating phenomenon we have," said Michael. In the Midwest, towers are above flat lands. "Having a mountain in the middle of your county is fantastic for views and hiking, but it's a problem for fire safety," he said. He added that Tiburon has two fire stations: one downtown and the other on Trestle Glen.
George Landau told us that Colleen Mahoney designed the downtown firehouse. She used to be a member of our club and now belongs to the Petaluma club.
Michael asked how many people have sprinklers in their homes. "Sprinklers will put wet stuff on the red stuff fast," he said.
Marshall Gross asked about the need for carbon dioxide detectors, and Michael responded that you need them if you use any kind of fossil fuel. If you have electric, you're OK.
He added that a fire detector is probably the most important safety device in your home. Make sure your batteries are operating.
For more information about fire safety, go to www.FireSafeMarin.org.
Sign up for Alerts
Marin residents can receive emergency alerts by phone call, text, email or app from the County of Marin. Go to http://www.alertmarin.org to register, and be sure to register all members of the family.
Nixle is a service within the United States that allows public agencies to send alerts, advisories and community information to local residents by way of phone, email or the web almost instantly. Many local agencies use it, and it's easy to sign up by going to https://nixle.com/register/.
_______________


MARK YOUR CALENDAR
GREAT GUEST SPEAKERS
August 10             Mary Ann Maggiore, Encouraging entrepreneurship in young people

_______________

  NOTEWORTHY EVENTS

Sunday, August 19 , 9 a.m. to 3 p.m., Bocce Ball & BBQ, Rotaplast fundraiser, Marin Bocce, San Rafael
___________________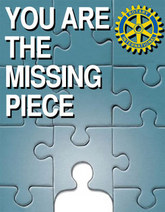 Lunch Meetings
We welcome guests. If you'd like to hear a guest speaker or find out more about Rotary, please pay us a visit. We meet at Sam's Anchor Cafe, 27 Main Streeet, Tiburon, at 11:30 p.m., on Friday for a buffet lunch, and most weeks, and guest speaker makes a presentation. Lunch & Attendance: $30, attendance only: $10.

Happy Hour
We enjoy a social gathering on the third Thursday of every month at 5:30 p.m. at Servino Ristorante, 9 Main Street, Tiburon. This is a no-host event—place and pay for your own order.
Board of Directors Meetings
Meetings of the Board of Directors are open to all members and take place on the second Wednesday of the month at 10:30 a.m.

Contact us at rotary@telli.com.
Send mail to Rotary Club of Tiburon-Belvedere, P.O. Box 220, Tiburon, CA 94920


Follow us on Facebook: https://www.facebook.com/tbrotary. Hope you "like" us!
_________________________
Scroll down to see our photo gallery of Rotarians at work and play!
____________________

 ROTARY AT WORK

The Rotary Club of Tiburon-Belvedere supports a wide range of programs, with a focus on youth, literacy and community. We believe that reaching out to others makes a better world and encourage others to join us. Here's what we're supporting in 2017-2018.

Youth—Investing in the Future
• 10,000 Degrees: Funding for support and mentoring to help low-income students gain access college and succeed.

• Ambassadors of Hope and Opportunity: Support to provide a safety net of stable housing, guidance and community connections for young people 16 to 25, who are homeless or in danger of becoming homeless in Marin County.

• Audubon Canyon Ranch: Support for children from low-income urban neighborhoods to go on field trips and experience nature.
• Bel Aire School's Liberia Project: Advice and support for the fifth-grade students' ongoing projects to help their sister school in Liberia, thus encouraging altruism at home and helping children in a disadvantaged country across the world.
• Dave Hutton Rotary Award for Service Above Self: An annual award to a graduating eighth-grader with a record of outstanding community service at Del Mar Middle School.

• Eagle Scouts: Financial support for Eagle Scout projects, thus allowing Boy Scouts to develop leadership skills and prepare to become tomorrow's leaders.
• Global Book Exchange: Support for the Global Book Exchange in San Rafael, which collects lightly-used books and redistributes them to teachers at schools with limited budgets, disadvantaged families and nonprofits that serve children, as well as schools throughout the world.
• Rotaplast International: Support for volunteer medical teams to provide life-changing surgery for children with cleft-lip and palate in needy communities around the world.
• Rotary Youth Leadership Awards: Scholarships so high school sophomores and juniors can attend a special camp that guides them to develop their leadership skills.

• Educator of the Year Awards: Annual awards to outstanding educators in local schools, whose unique projects give children a worldview that encourages them to become good citizens.
Meaningful Projects—Service Above Self
• Canal Alliance: Support for a program that teaches immigrants to speak English.

• Marin Villages: Support for programs that help seniors age in their own homes. Members pay a small fee and can enjoy social get-togethers and access to volunteers for help with tasks such as getting to appointments, changing light bulbs or assisting with pets.

• Service to the Community Awards: Recognition for people who serve the community in meaningful ways, but don't often get acknowledgement.

• St. Vincent de Paul: Support for helping Marin's neediest residents obtain nutritious food, affordable housing, meaningful employment and a voice in the community.

• Tiburon's Green Team: Support for the volunteers who plant, weed, prune and trim landscaping in public places to keep our community beautiful.
• Whistlestop: Underwriting for Whistlestop's Thanksgiving Feast for Seniors.

District Designated Funds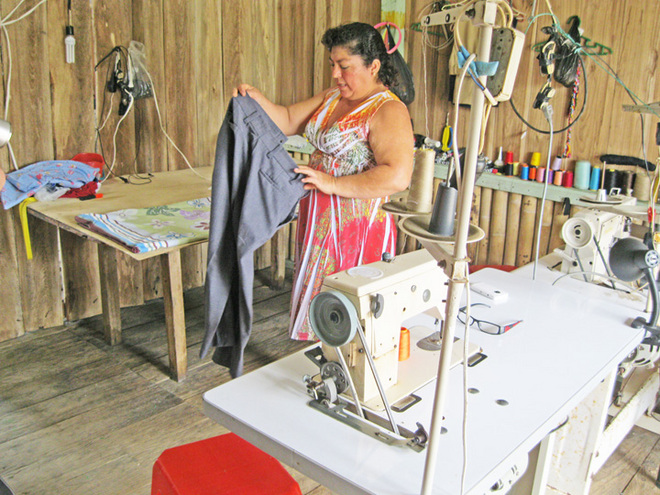 Rotary's District Designated Funds helped establish this sewing shop in Esmeraldas, Ecuador. Photo: Courtesy of Keith and Holly Axtell

Funds from the Rotary International Foundation's annual campaign earn District Designated Funds for our club. For the past three years, we have contributed our funds to multi-club microcredit projects in Ecuador, Guatemala and Peru to train people in job and entrepreneurial skills and extend microloans to help them start small businesses and become self-sufficient
____________________
Good Work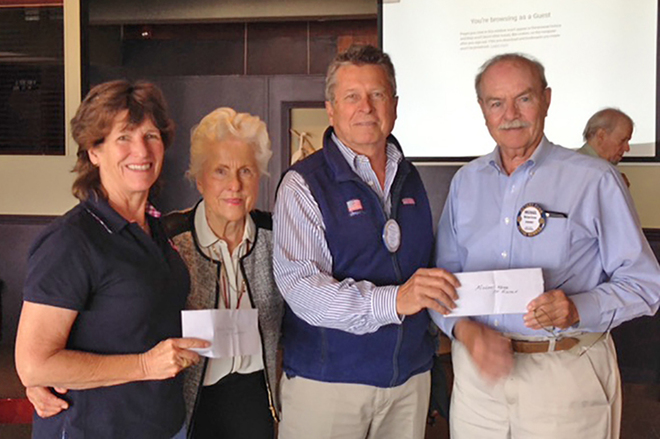 (l. to r.) Lisa Brinkmann of Marin Villages accepts a check from Marianne Strotz, and Michael Heckmann presents a check to Michael Keran for St. Vincent de Paul. Photo: Lynn Fox

_______________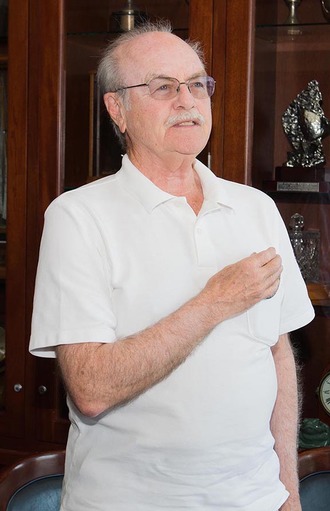 District 5150 named Michael Keran Rotarian of the Month for May. Mike's much-deserved honor is in recognition of his ongoing commitment to St. Vincent de Paul and helping the homeless in Marin County. In addition, he recruits a crew of Rotarians to serve lunch at the St. Vincent de Paul Free Dining Room in San Rafael every month. May marked the beginning of the 12th year of this service project.
_______________

Annette Gibbs (left) and Shelby Gross joined the Rotary contingent and got into the spirit
of this year's first Friday Night on Main
_______________

Celebrating Earth Day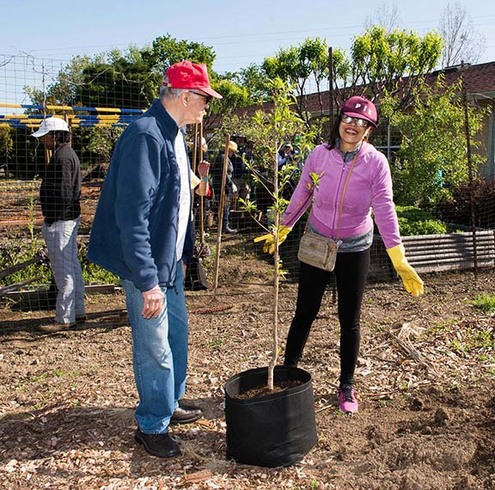 Having Fun at Friday Night on Main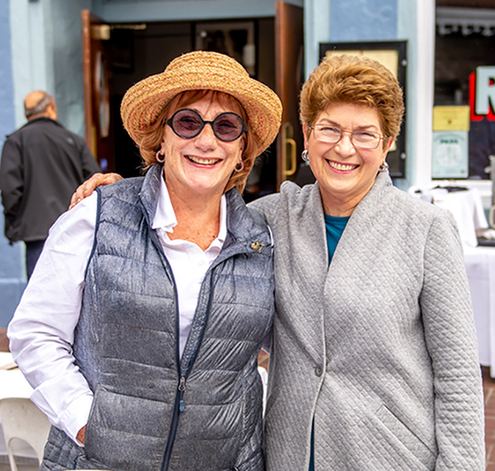 Angelo Capozzi (left) and Neelam Kanwar planted trees at Homeward Bound as part of Rotary International's initiative to plant one tree for every Rotarian. Photo: Marshall Gross
_______________
Lending a Hand at St. Vincent de Paul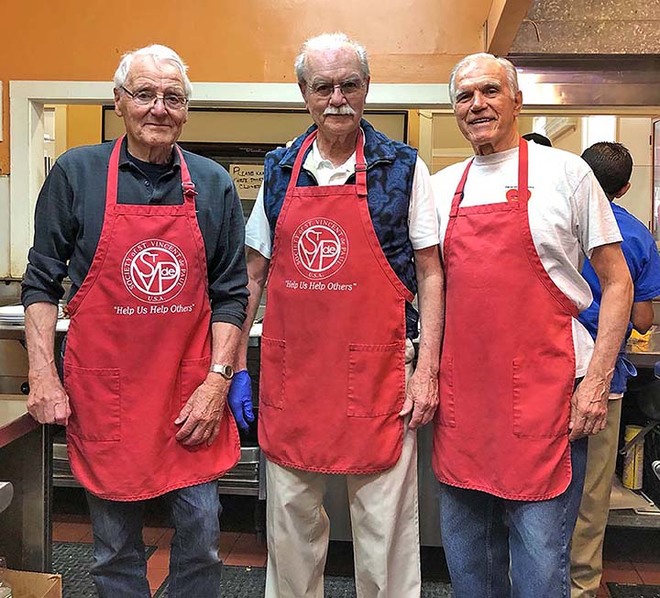 Stalwart volunteers (l. to r.) Klaus Meinberg, Michael Keran and Angelo Capozzi in the kitchen of the St. Vincent de Paul Free Dining Room in San Rafael. The Rotary Club of Tiburon-Belvedere serves lunch on the fourth Thursday of every month and will begin its twelfth year of volunteering, under Mike Keran's leadership, in May. Angelo is team leader for the club's participation in the REST program, and he and Klaus also served dinner to a group of homeless men at St. Hilary's Church the same day. Service Above Self at its best!
_______________

First meeting at Sam's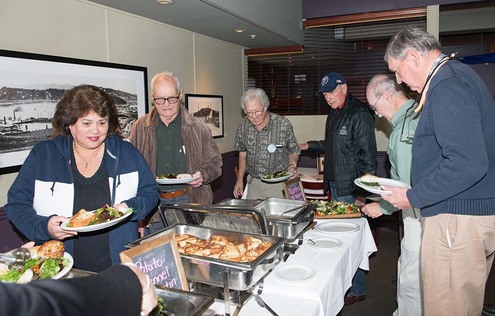 _______________

Rotary does REST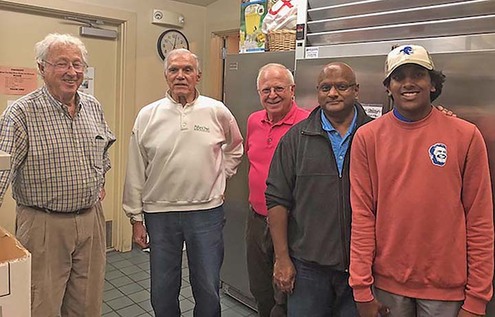 The Rotary Club of Tiburon-Belvedre hosted dinner for a group of 25 homeless men who were spending the night at St. Hilary's Church on Thursday, February 15, as part of the REST (Rotating Emergency Shelter Team) program.
Members of the Rotary crew (above, l. to r.), John Kaufmann, Angelo Capozzi, Brian Walker, Raja Ramachandran and Deven Ramachandran, took a break before serving dinner to guests in Tarantino Hall. Lata Setty, Annette Gibbs, Bill Goldberg, Zohre Grothe, Karl Hoppe and Lata Setty were also on hand to help. The evening featured good conversation, great appetites and uplifting camaraderie, as well as good food.which included homemade lasagna that Deven, Lata's son, helped prepare as a family Valentine's Day project, and Mary Kaufmann'a delicious oatmeal cookies and cupcakes decorated with hearts.
_______________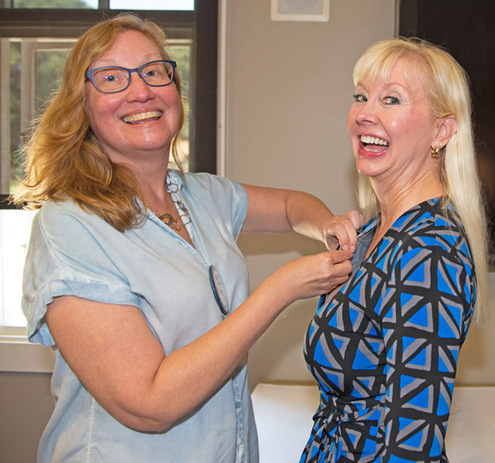 Karen Glader welcomes new member Valerie Marsh to the club and gives her a Rotary pin.
_______________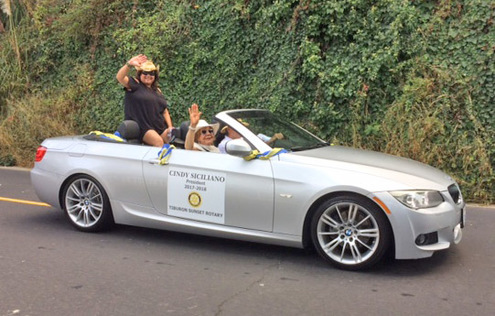 Rotarians have fun in the Day Before-Labor Day parade.
_______________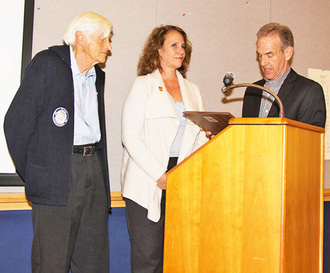 Proclamation
The Town of Tiburon issued a proclamation in honor of the Rotary Club of Tiburon-Belvedere's 40th anniversary, which we will celebrate in June, and the 100th anniversary of the Rotary International Foundation. Pictured, left to right, are George Landau, President Linda Emberson and Tiburon Mayor Jim Fraser. Photo: Marsall Gross.
______________
Visitor from Afar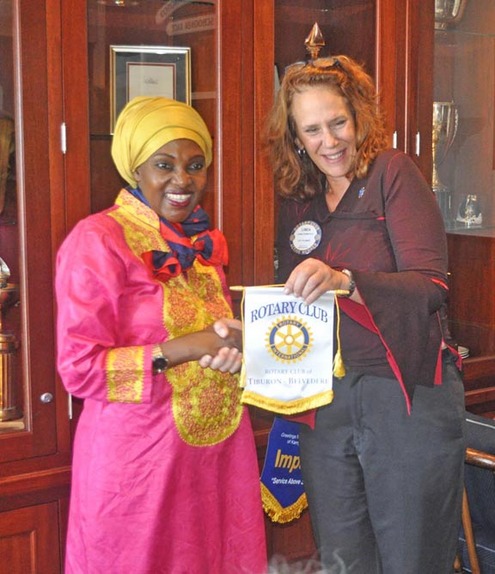 Rehmah Kasule (above left), with President Linda Emberson) is the Immediate Past President of the Rotary Club of Kampala/Impala in Uganda. She took the opportunity to visit us when she was at a conference in San Francisco in October. In 2010, she received recognition at the White House for her work in empowering women and met President Obama. She then wrote a book, From Gomba to the White House. She shared an African proverb: "When you walk fast, you walk alone. When you walk with others, you go far."
_______________

MAKING KIDS SMILE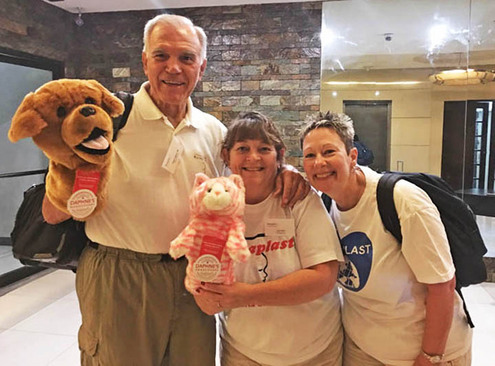 Marshall Gross donated two beautiful puppets that he won in a gift basket to Rotaplast's mission in Cebu City, Philippines. Dr. Angelo Capozzi (with the big dog) reports that the puppets are making kids smile every day before undergoing surgery, and the mission is going well.
______________

Tiburon Challenger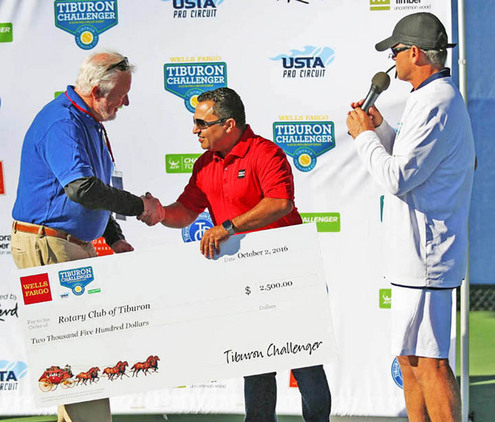 Charlie Oewel, representing the Rotary Club of Tiburon-Belvedere, accepted a generous check from Ashoo Vaid (middle) of Wells Fargo and tournament director Brendan Curry (right) at the conclusion of the Tiburon Challenger. The funds will go to the club's education projects. (Photo: Getty Images for Revd)
_______________

Rotary welcomes Kimberly Brooks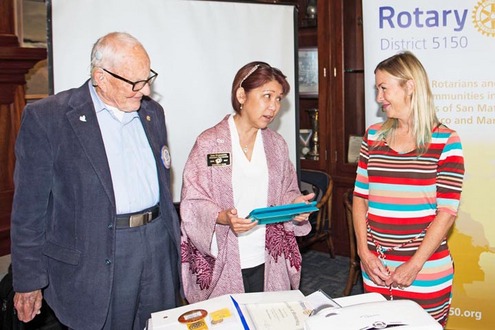 District Governor Jeri Fujimoto (center) inducted new member Kimberley Brooks (right) as Kimi's sponsor, Joe Lavigne, looked on. Photo: Marshall Gross
_____________________
DAY BEFORE LABOR DAY PARADE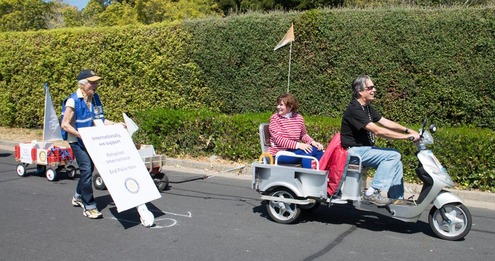 Tari Nix and friend pull wagons with books for kids from the Global Book Exchange, as Marianne Strotz walks alongside, wheeling a Rotary sign. (Photo: Marshall Gross)
To see more photos of the parade, go to www.tiburonrotary.org and click on "Photo Gallery."
____________________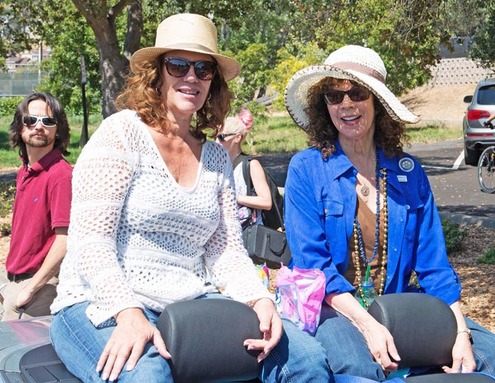 President Linda Emberson (left) of Tiburon-Belvedere and President Marilyn Nemzer of Tiburon Sunset hitch a ride with Michael Heckmann in the Day Before Labor Day Parade. (Photo: Marshall Gross)
Dana and Chester (left), making friends.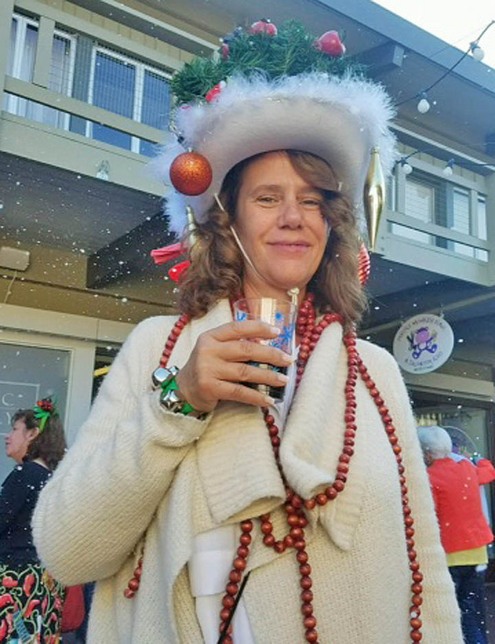 Winter in August was the theme of the Tiburon Peninsula Chamber of Commerce's mixer at the Boardwalk. President Linda Emberson took the prize for the most creative hat.

_______________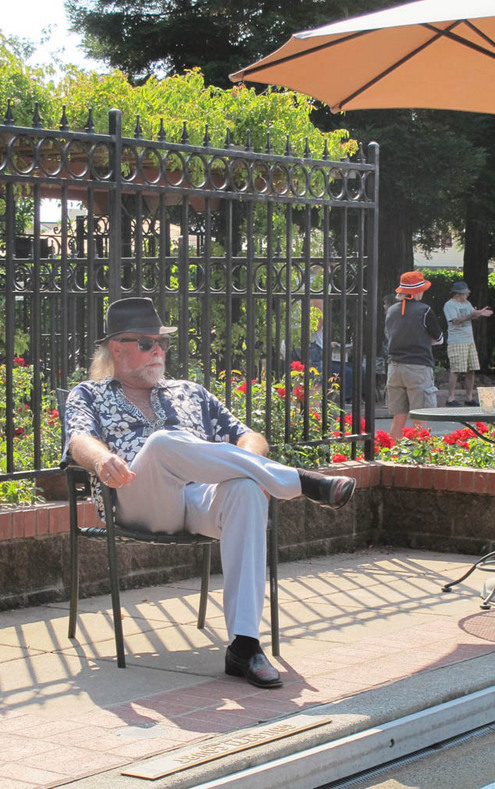 Jon Rankin views the on-court action at the annual Bocce Ball Tournament, a fundraiser for Rotaplast International. (Photo: J. Wilson)

_______________

Changing of the Guard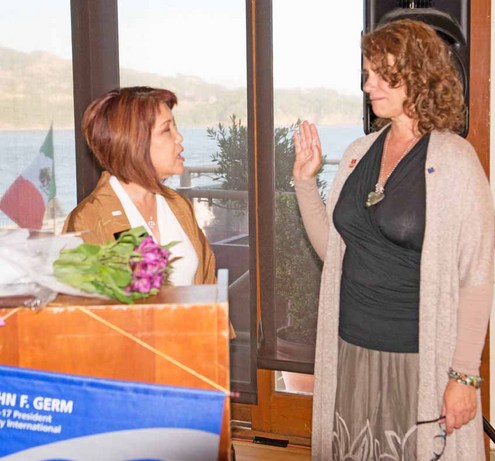 Thanks to President Marianne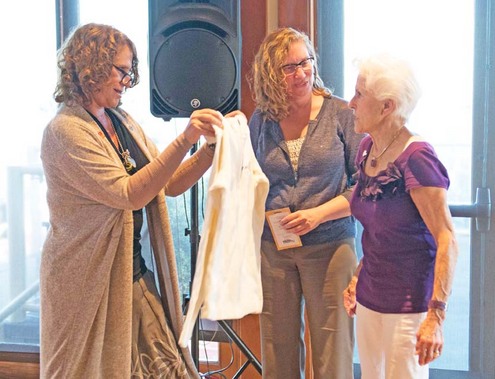 President Linda Emberson (left) thanks outgoing President Marianne Strotz (right) for her two outstanding years of leadership with a special Rotary jacket, as Karen Glader, the club's new secretary, looks on. (Photo: Marshall Gross)
____________________

Honors for Angelo
Dr. Angelo Capozzi (left) and Dr. John Kaufmann with a child who underwent surgery during a Rotaplast mission to Peru in May 2016. (Photo: Courtesy of Rotaplast International)
____________________
Service Above Self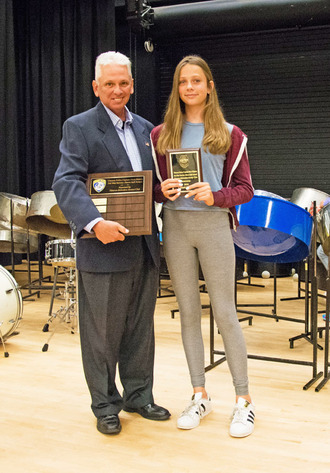 Dave Hutton presents the Capt. Dave Hutton Rotary Service Above Self Award to Kendall Hermann, graduating senior at Del Mar Middle School, for her outstanding performance in community service. The presentation took place at a special awards assembly in June. Photo: Marshall Gross
____________________
Teachers of the Year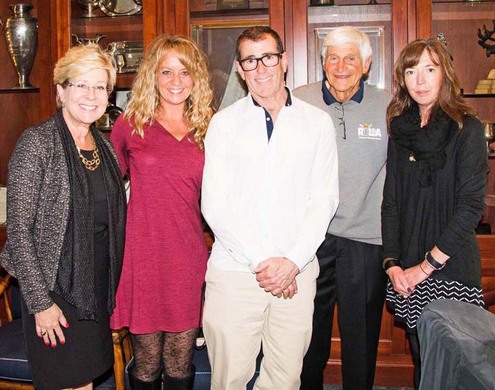 (Left to right) RUSD Superintendent Nancy Lynch, Bel Aire School's Kelly Morphy, Reed School's Ross Modlin, Rotarian George Landau and Erin Turner of St. Hilary School (photo: Marshall Gross)
____________________
Carnaval!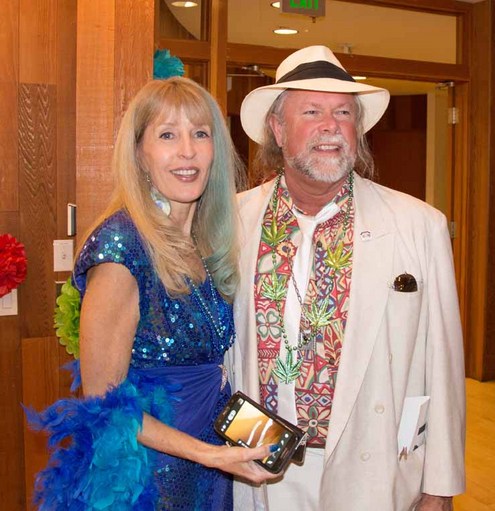 Mary Kaufmann and Jon Rankin got into the spirit of Carnaval, a fundraiser for the Rotary Club of Tiburon-Belvedere. For more, see the photo gallery at www.tiburonrotary.org. (Photo: Marshall Gross)
_______________