Welcome to Telli Marin! Sign in | Create a login

Rotary Club of Tiburon-Belvedere
Fellowship and Service
Address:
PO Box 220
Tiburon/Belvedere, CA 94920
Phone:
415-747-5828
ROTARY
Club of Tiburon-Belvedere
Sunday, September 17, 2023

NEWS
Congratulations ot our team for winning the Bocce Ball Tournament, a fundraiser for Rotaplast International, on Sunday, September 10, at Marin Bocce Federation in San Rafael.

(l. to r.) Charlie Oewel, Stephanie Schmautz, Peter Lagarias, Marshall Gross and Stefanie Cho. Missing from photo: Angelo Capozzi and George Landau.
ROTARY IN ACTION
Welcome! We're the Rotary Club of Tiburon-Belvedere, and we embrace Rotary International's motto, Service Above Self. We've been serving the community and taking on meaningful projects at home and abroad for 46 years. Our focus is on youth, literacy and community, and we believe that reaching out to others makes a better world. Here's what we've supported so far this year.
Rotarians lend a hand at the Richardson Bay Audubon Center and Sanctuary

Youth—Investing in the Future
• Ambassadors of Hope and Opportunity: Support to provide a safety net of stable housing, guidance and community connections for young people 16 to 25, who are homeless or in danger of becoming homeless in Marin County.

• Canal Alliance University Prep: A program to help high school students who will be the first in their families to attend college to achieve their goals.

• Dave Hutton Rotary Award for Service Above Self: An annual award to a graduating eighth-grader with a record of outstanding community service at Del Mar Middle School.
• Dictionaries for Mexico: Sent 50 full-color, illustrated children's dictionaries to students at a school in San Carlos, Mexico, where learning to speak and understand English is a key to success.

• Educator of the Year Awards: Annual awards to outstanding educators in local schools, whose unique projects give children a worldview that encourages them to become good citizens
• Global Book Exchange: Support for the Global Book Exchange in San Rafael, which collects lightly-used books and redistributes them to teachers at schools with limited budgets, disadvantaged families and nonprofits that serve children, as well as schools throughout the world.
• Marielos Fund: A scholarship to send a young woman in El Salvador to medical school.
• Reed School PTA: Funding for playground supplies for Reed School's new Pre-K classes.

• Rotaplast International: Support for volunteer medical teams to provide life-changing surgery for children with cleft-lip and palate in needy communities around the world.
• Rotary Youth Leadership Awards: Scholarships so high school sophomores and juniors can attend a special camp that guides them to develop their leadership skills.
• The Ranch: Scholarships for low-income youth to attend summer day camp.
•  ThinkGlobal Arts: Programs in the for young people in disadvantaged countries, bringing joy and hope into their lives.
• Tiburon Peninsula Little League: Proud sponsor of the Phillies.

Meaningful Projects—Service Above Self
• Belvedere-Tiburon Landmarks Society: Assistance for the community's historial society to do maintenance on the community's landmarks.
• Get Ready to Go 94920: Emergency lanterns for Get Ready to distribute to members at a special event devoted to emergency preparedness
• Homeward Bound of Marin: Support for construction of a new building to house homeless veterans
• Marin Housing for All: Rotarian Cindy Siciliano's program to help Marin County's unhoused population.

_______________

TIBURON CHALLENGER 2023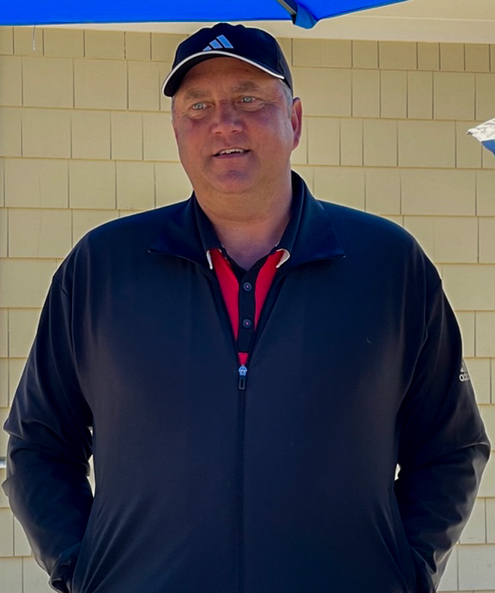 Adam Gagnon (above), tennis director at the Tiburon Peninsula club and Tiburon Challenger tournament director joined us to talk about this year's Challenger. The Challenger is a nonprofit that needs volunteers, and "You guys in years past have been a really big help to us," he said, explaining 250 spots must be filled, and volunteers are essential. Only 60 to 70% of the slots are filled so far, and you can go to the website to choose a position and sign up. (Go to https://www.tiburonpc.org/tiburonchallenger, and scroll down to click on the "Volunteering" box.) Jane Colwell is the member who's managing the slots, and she's the contact if you have any questions. You'll find her contact information on the website.
For many years, the Challenger has generously given our club a check with funds to spend on an education project, and volunteering is one way to show our appreciation.
The Tiburon Challenger is a tournament that is part of the second-tier tour that the Association of Tennis Professionals organizes, and it draws rising stars in tennis. "We have the up-and-coming players," said Adam, explaining that they are working to improve their ranking. Last year, Ben Shelton, who was 19 and a relatively new professional and an unseeded player, reached the final match in Tiburon, coming in second in a thrilling match with another young, unseeded player, Zach Svajda. This year, he played at Wimbledon and reached the semifinals at the US Open. "I'm really excited with the field this year," Adam reported, adding that the number-one seed in Tiburon will rank about 100 in the world.
The Golden Gate Challenger is a new tournament that started at Stanford in August of this year, and the Tiburon Challenger, Golden Gate Challenger and the Fairfield Challenger, which takes place in October, are the only places you can see professional tennis at that level in the Bay Area.
The Tiburon Challenger is a community event, and "The club will be buzzing for sure," said Adam.
Players will be in town beginning September 30, and some are staying at the Lodge at Tiburon, so you'll see them around town. Private housing is a big part of the event, and local residents house officials and ATP staff and players. "The cost of housing is our number one expense," said Adam, and he asked us to reach out to people and let him know if anyone is willing to house people.
Raymond James Financial is the presenting sponsor, and "The whole tournament is funded by our VIP box sales. We've sold all but three or four boxes," he said, adding that the Tiburon Challenger is the second or third most expensive tournament in the world, and boxes bring in about $300,000 in revenue.
TPC members get in for free from Monday to Thursday and get a discount on tickets for quarter, semi and final matches on Friday through Sunday. Volunteers get in for free and can watch from a box in a tented area on the east side. Adam said he would extend the discount to Rotarians who want to purchase tickets.
A kick-off party with a barbecue and band will take place the Friday before the event starts. One of the features will be a draw, in which someone pulls a player's number, and attendees can learn about that player.
The Main Draw begins on Monday, October 2, and competition runs through Sunday, October 8. Free Kids Day takes place on Sunday, October 1, and finals Sunday features Special Olympics and Wheelchair Tennis demonstrations. Find out more at https://www.tiburonpc.org/tiburonchallenger.
_______________

MARK YOUR CALENDAR
SPEAKERS AND ACTIVITIES

Wednesday, September 27, 5:30 p.m., Jody Lewen, President of Mountain Tamalpais College, an accredited community college at San Quentin Prison. Please RSVP to Marianne Strotz at strotzproperties@gmail.com if you plan to attend. Guests are welcome.

If you'd like to be a guest speaker, please send an email to strotzproperties@gmail.com
_______________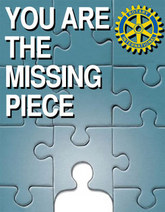 Meetings
If you'd like to visit, we'd be delighted to meet you. Our next meeting takes place on Wednesday,September 27, at 5:30 p.m., and our guest speaker will be Jody Lewen, President of Mount Tamalapais College at San Quentin Prison.

If you'd like to be a guest speaker, at a future meeting please contact Marianne Strotz at strotzproperties@gmail.com or Lata Setty at latapatent@gmail.com
Board of Directors Meetings
Meetings of the Board of Directors are open to all members and take place monthly at a time to be announced, usually on Zoom. For information, please send an email to judith@telli.com.

Contact
Contact us at rotary@telli.com.
Send mail to Rotary Club of Tiburon-Belvedere, P.O. Box 220, Tiburon, CA 94920.


Follow us on Facebook: https://www.facebook.com/tbrotary. Hope you "like" us!
_________________________
Rotary Educators of the Year, 2023
(l. to r.) Ryan Sonneville of Del Mar Middle School, Jawanda Smart, of St. Hilary School, Rotary President Kathleen Defever, George Landau. Photos Marshall Gross
Celebrating Angelo's 90th Birthday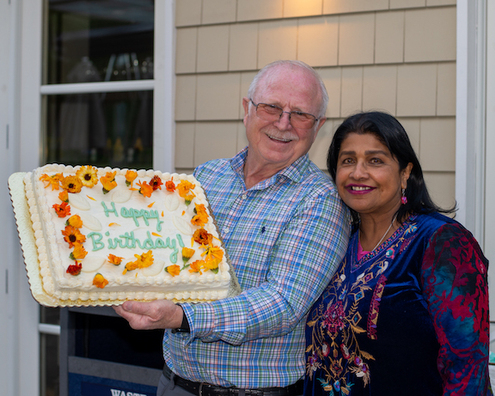 Ambassadors of Hope and Opportunity
George Landau gives a check from the Rotary Club of Tiburon-Belvedere Foundation to Zara Babitzke, executive director of Ambassadors of Hope and Opportunity, a Mill Valley nonprofit that rescues young people at risk of becoming homeless and puts them on the path to successful lives.

_______________

BOCCE BALL TOURNAMENT
Kathleen Defever plays Bocce. Photos: Marshall Gross
Teammates Kathleen Defever and Angelo Servino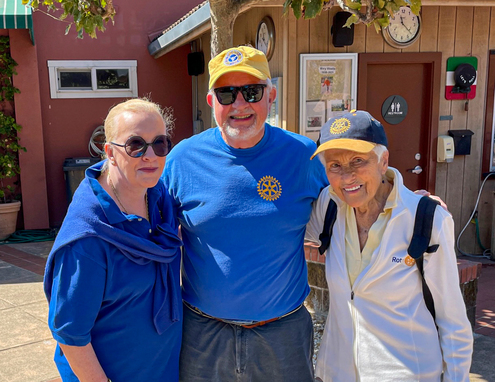 Anastasia Fink, Charlie Oewel and Marianne Strotz
_______________

Scroll down to see our photo gallery of Rotarians at work and play!
____________________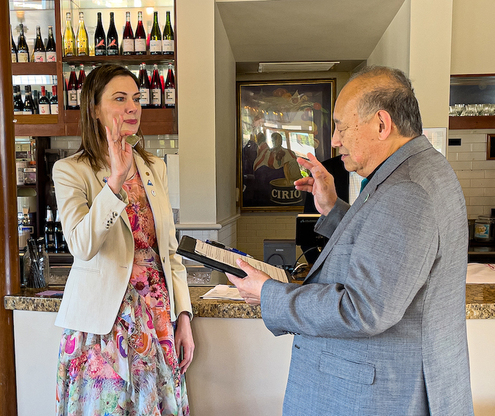 District Governor Gary Chow of the Rotary Club of South San Francisco, administered the oath of office, launching Kathleen Defever's second year as president.
George Landau presented Janet Cerni, teacher/librarian at Del Mar Middle School, with an Educator of the Year award. Her peers in the Reed Union School District selected her for the honor.
Angelo Capozzi and George Landau presented Ben Cambell with an award, a certificate, and a check.


Angelo Capozzi presented Michael Bronson with a Rotary Educator of the Year award at a school assembly.
District Governor Danielle Lallement, Assistant District Governor Anne Sands, President Kathleen Defever (2021-2022) and Past-President Annette Gibbs (2019-2021)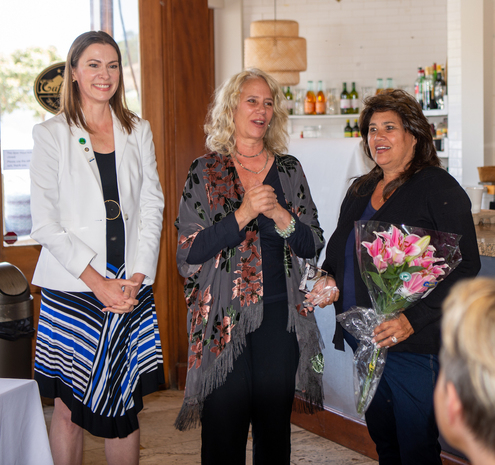 Linda Emberson and President Kathleen presented Cindy Siciliano with a Service to the Community Award for her work helping the homless.
"She is tireless in assisting people who are needier thank herself," said Linda. "She identifies a need and just jumps in and does it."
The Rev. Christine Trainor of St. Stephen's Church assisted in presenting a Service to the Community Award to Sunny Lyrek. "She goes above and beyond and always has a sunny disposition," said Christine, explaining that Sunny helps those at the margins of our community and does it with love and devotion. She has been providing meals for 85 need families since March 2020 and has also been helping the homeless.
Angelo Servino helped with presentation of a Service to the Community Award to brothers Natale and Vittorio Servino of Servino Ristorante and Caffè Acri. "I'm so proud of them," he said. They earned recognition for pivoting the business to create a market and offer items such as hand sanitizer and toilet paper, which local residents were unable to find. They also donated boxes of fresh produce to a local food pantry during the pandemic.
_______________

President Kathleen Defever thanked Annette Gibbs for her service and presented her with native milkweed seeds, a butterfly house, a book about butterflies and a gift certificate so she can create a habitat for Monarch butterflies in her garden. Linda Emberson gave Annette a bouquet of flowers.
District Governor Danielle Lallement gives Kathleen the oath of office. Among the requirements she asked her to repeat: "I will promise to keep healthy, ask for support and above all have fun."
"We wish you an amazing 2021-2022 Rotary year," said DG Danielle. "It is my pleasure to introduce to you your president for the 2021-2022 year."
Angelo Capozzi picking up groceries from the food pantry at The Ranch to deliver to residents of The Hilarita.
Cindy Siciliano, of the Rotary Club of Tiburon Sunset, has been helping the residents of the homeless encampment at Dunphy Park in Sausalito. Linda Emberson and George Landau of the Rotary Club of Tiburon-Belvedere joined her on Sunday, March 7, to prepare and serve a pancake breakfast.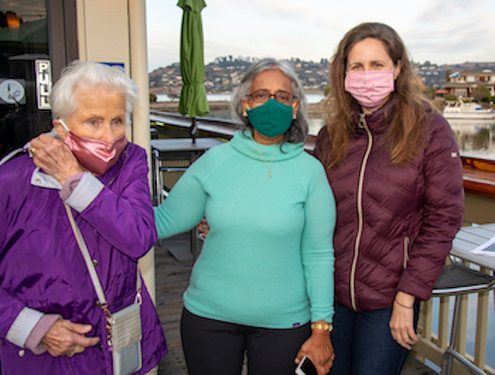 Marianne Strotz, Revati Natesan and Geneva Michaelcheck at Happy Hour at the Club at Harbor Point. Photo: Marshall Gross
_______________

Julie Aubrey visited from Rotary International's headquarters in Evanston, Illinois.
(l. to r.) Irene Russell, Kathleen Defever, Helen Lindqvist and Bill Lindqvist at the Tiburon Peninsula Chamber of Commerce mixer at the downtown Tiburon firehouse.
HELPING KIDS GO TO CAMP

President Annette Gibbs presented Jessica Hochkiss with a check for $1,000  for The Ranch from the club's foundation, which will help low-income children attend day camp. "We currently have two large summer camps going on," said Jessica, and she explained that they take kids to Angel Island every day. "The camp has gone on for 40 years," she said, and some of today's campers have parents who attended when they were young.
The Ranch is a nonprofit, and "Every little bit helps," she said, expressing her gratitude.
_______________

Past-president Linda Emberson and incoming President Annette Gibbs at the Installation Celebration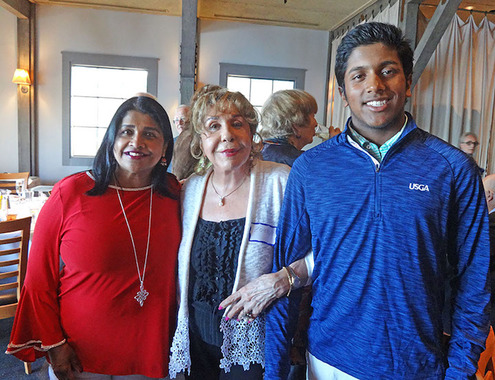 Lata Setty, Zohre Grothe and Lata's son, Deven Ramachandran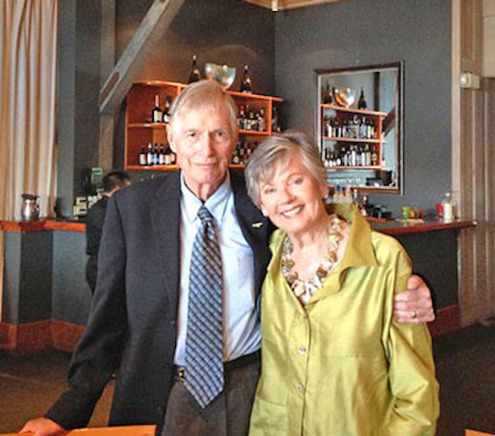 Warren and Irene Russell
_______________

Having fun at the Tiburon Classic Car Show!
Rotary in the community: Cindy Siciliano and Linda Emberson made it look easy, as they spent the day flipping burgers, hot dogs and corn on the cob for scores of happy customers.
____________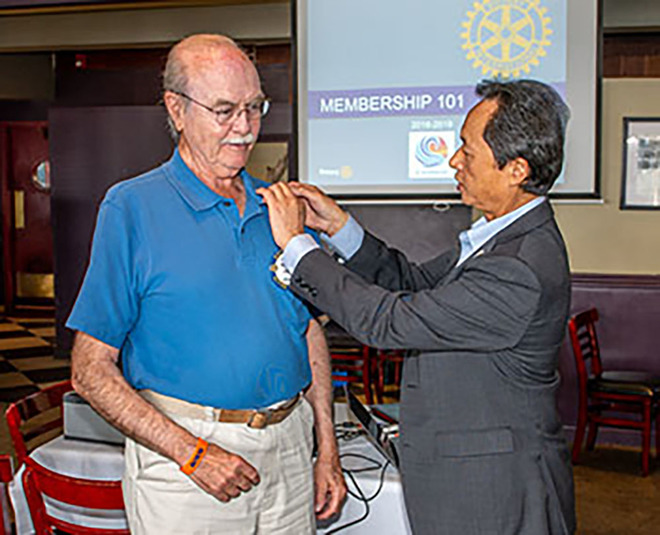 Past District Governor Ron Gin, now district membership chair, presents Mike Keran with a pin in honor of his being chosen Rotarian of the Month for District 5150.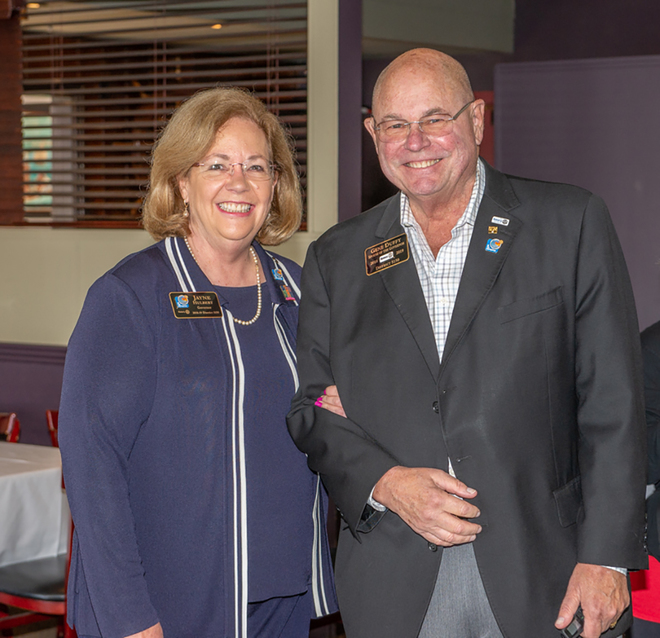 District Governor Jayne Hulbert and First Husband Gene Duffy paid the club a visit.
Cindy Siliciano of the Tiburon Sunset Rotary Club (left) and President Linda Emberson of the Tiburon-Belvedere club get ready to toss goodies to kids at the Labor Day weekend hometown parade. (Photo: Marshall Gross)
_______________

Welcome New Members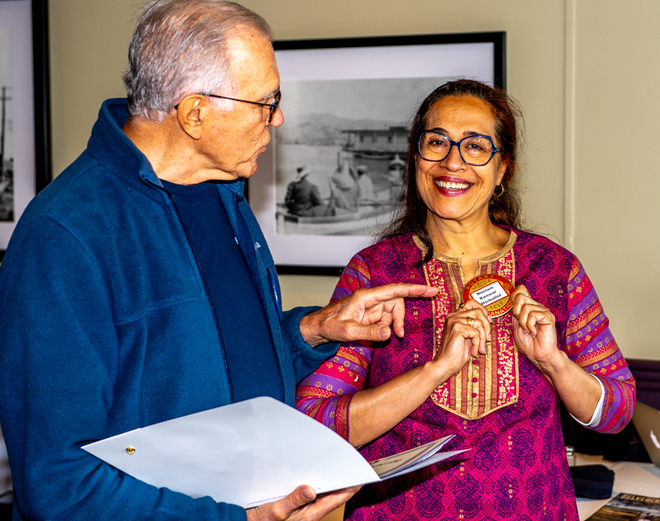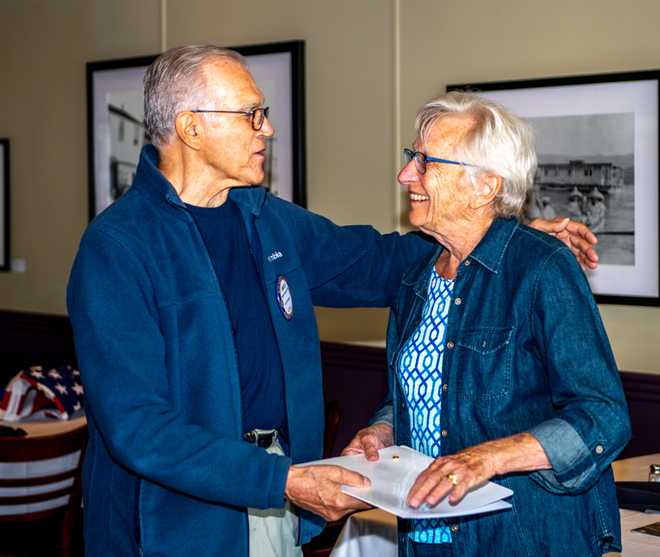 Membership chair Angelo Capozzi welcomed new members Neelam Kanwar (upper photo) and Lynn Spitler (lower photo).
_______________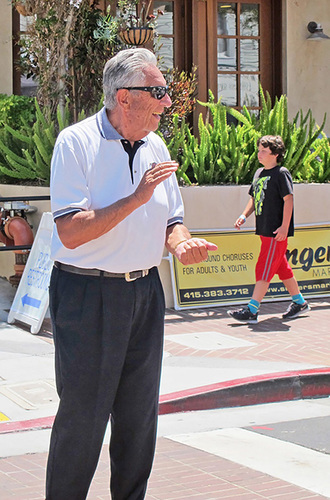 It is with profound sadness that President Linda Emberson announces the passing of beloved member Jim Deitz on Friday, July 13. Jim exemplified Rotary's motto, Service Above Self, and his altruistic spirit was a model for everyone. He was devoted to his family, loved dogs and was one of the best. We'll miss him terribly.
_______________

Good Work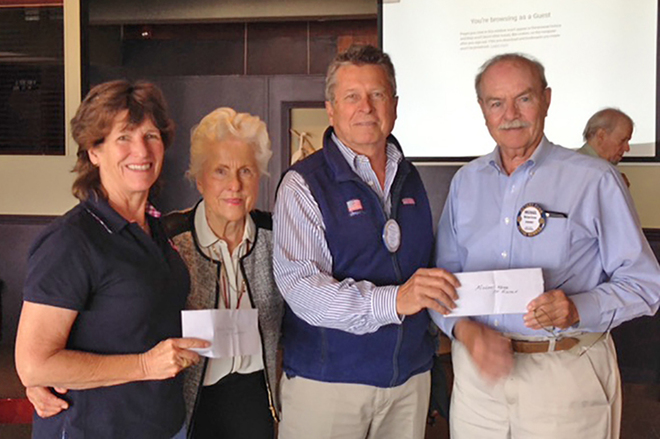 (l. to r.) Lisa Brinkmann of Marin Villages accepts a check from Marianne Strotz, and Michael Heckmann presents a check to Michael Keran for St. Vincent de Paul. Photo: Lynn Fox

_______________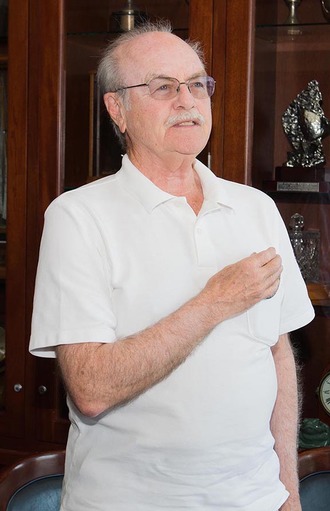 District 5150 named Michael Keran Rotarian of the Month for May. Mike's much-deserved honor is in recognition of his ongoing commitment to St. Vincent de Paul and helping the homeless in Marin County. In addition, he recruits a crew of Rotarians to serve lunch at the St. Vincent de Paul Free Dining Room in San Rafael every month. May marked the beginning of the 12th year of this service project.
_______________

Annette Gibbs (left) and Shelby Gross joined the Rotary contingent and got into the spirit
of this year's first Friday Night on Main
_______________

Celebrating Earth Day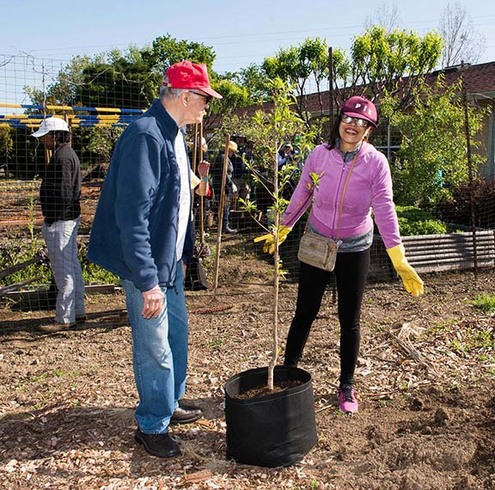 Having Fun at Friday Night on Main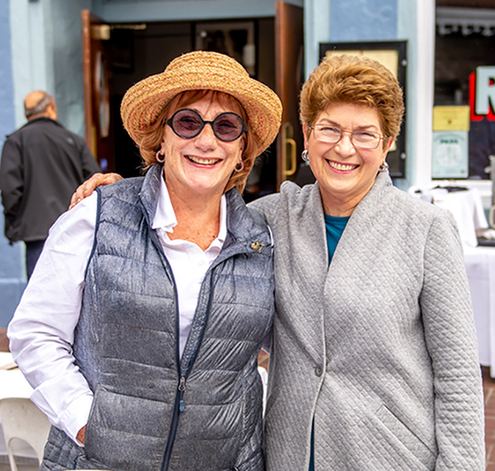 Angelo Capozzi (left) and Neelam Kanwar planted trees at Homeward Bound as part of Rotary International's initiative to plant one tree for every Rotarian. Photo: Marshall Gross
_______________
Lending a Hand at St. Vincent de Paul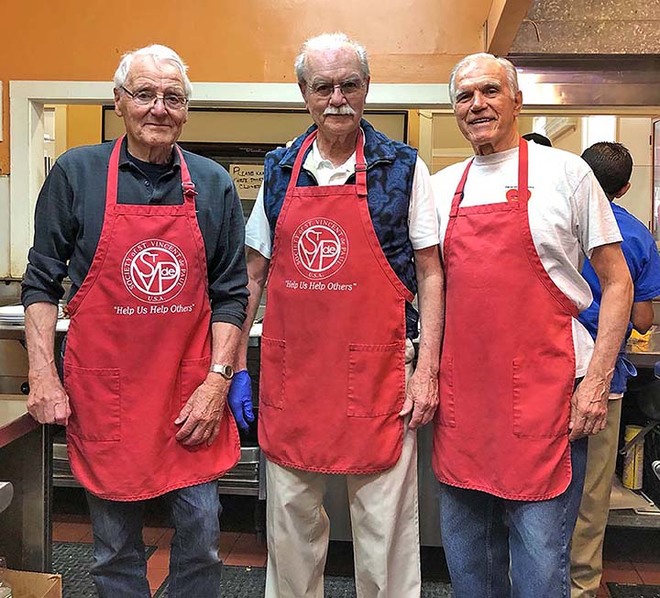 Stalwart volunteers (l. to r.) Klaus Meinberg, Michael Keran and Angelo Capozzi in the kitchen of the St. Vincent de Paul Free Dining Room in San Rafael. The Rotary Club of Tiburon-Belvedere serves lunch on the fourth Thursday of every month and will begin its twelfth year of volunteering, under Mike Keran's leadership, in May. Angelo is team leader for the club's participation in the REST program, and he and Klaus also served dinner to a group of homeless men at St. Hilary's Church the same day. Service Above Self at its best!
_______________

First meeting at Sam's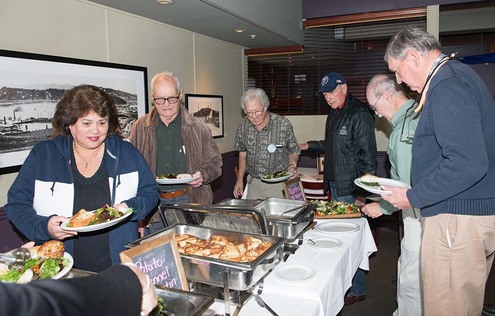 _______________

Rotary does REST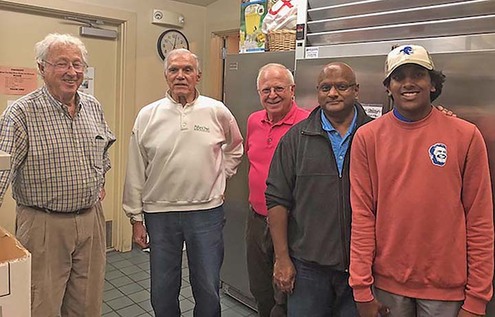 The Rotary Club of Tiburon-Belvedre hosted dinner for a group of 25 homeless men who were spending the night at St. Hilary's Church on Thursday, February 15, as part of the REST (Rotating Emergency Shelter Team) program.
Members of the Rotary crew (above, l. to r.), John Kaufmann, Angelo Capozzi, Brian Walker, Raja Ramachandran and Deven Ramachandran, took a break before serving dinner to guests in Tarantino Hall. Lata Setty, Annette Gibbs, Bill Goldberg, Zohre Grothe, Karl Hoppe and Lata Setty were also on hand to help. The evening featured good conversation, great appetites and uplifting camaraderie, as well as good food.which included homemade lasagna that Deven, Lata's son, helped prepare as a family Valentine's Day project, and Mary Kaufmann'a delicious oatmeal cookies and cupcakes decorated with hearts.
_______________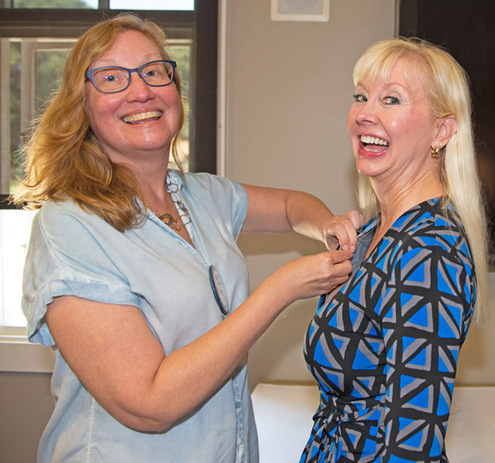 Karen Glader welcomes new member Valerie Marsh to the club and gives her a Rotary pin.
_______________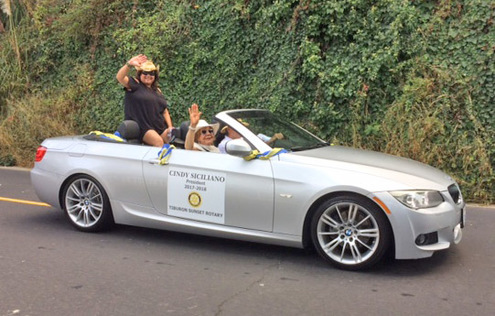 Rotarians have fun in the Day Before-Labor Day parade.
_______________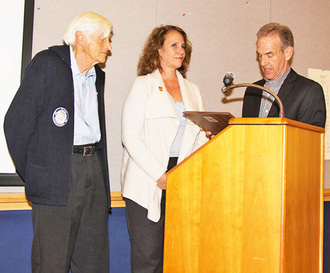 Proclamation
The Town of Tiburon issued a proclamation in honor of the Rotary Club of Tiburon-Belvedere's 40th anniversary, which we will celebrate in June, and the 100th anniversary of the Rotary International Foundation. Pictured, left to right, are George Landau, President Linda Emberson and Tiburon Mayor Jim Fraser. Photo: Marsall Gross.
______________
Visitor from Afar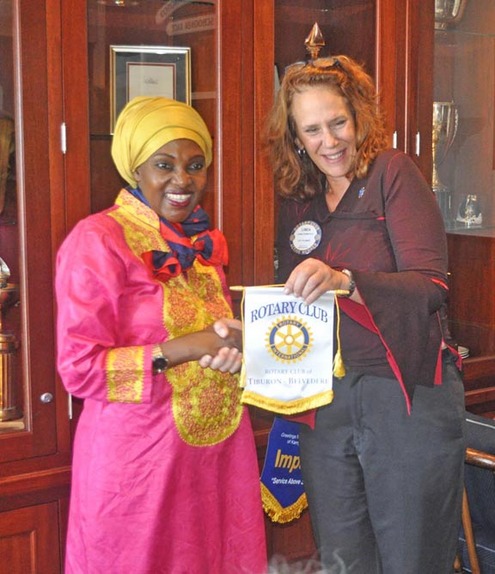 Rehmah Kasule (above left), with President Linda Emberson) is the Immediate Past President of the Rotary Club of Kampala/Impala in Uganda. She took the opportunity to visit us when she was at a conference in San Francisco in October. In 2010, she received recognition at the White House for her work in empowering women and met President Obama. She then wrote a book, From Gomba to the White House. She shared an African proverb: "When you walk fast, you walk alone. When you walk with others, you go far."
_______________

MAKING KIDS SMILE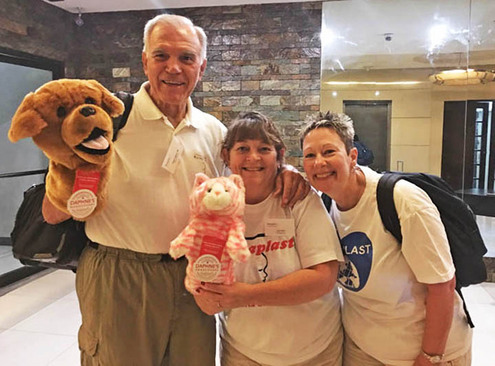 Marshall Gross donated two beautiful puppets that he won in a gift basket to Rotaplast's mission in Cebu City, Philippines. Dr. Angelo Capozzi (with the big dog) reports that the puppets are making kids smile every day before undergoing surgery, and the mission is going well.
______________

Tiburon Challenger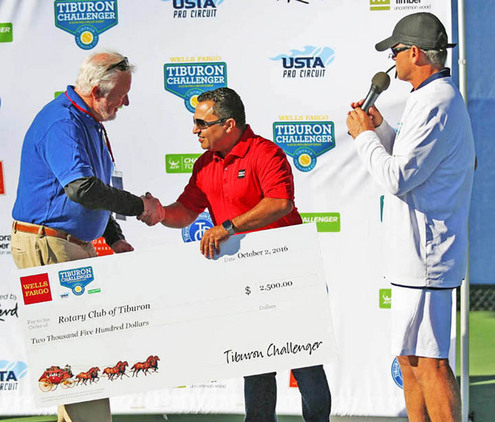 Charlie Oewel, representing the Rotary Club of Tiburon-Belvedere, accepted a generous check from Ashoo Vaid (middle) of Wells Fargo and tournament director Brendan Curry (right) at the conclusion of the Tiburon Challenger. The funds will go to the club's education projects. (Photo: Getty Images for Revd)
_______________

Rotary welcomes Kimberly Brooks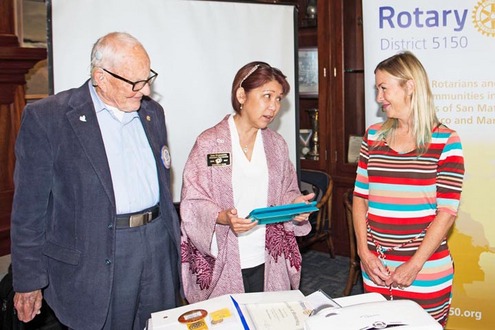 District Governor Jeri Fujimoto (center) inducted new member Kimberley Brooks (right) as Kimi's sponsor, Joe Lavigne, looked on. Photo: Marshall Gross
_____________________
DAY BEFORE LABOR DAY PARADE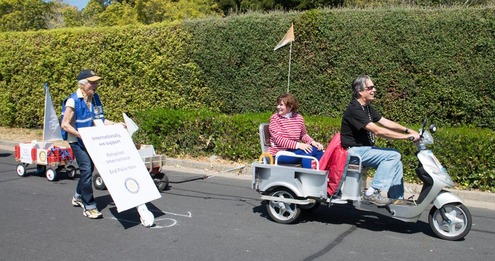 Tari Nix and friend pull wagons with books for kids from the Global Book Exchange, as Marianne Strotz walks alongside, wheeling a Rotary sign. (Photo: Marshall Gross)
To see more photos of the parade, go to www.tiburonrotary.org and click on "Photo Gallery."
____________________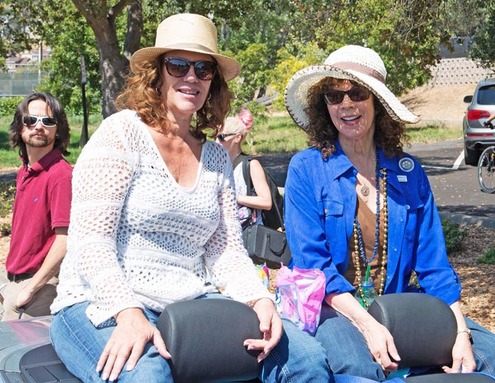 President Linda Emberson (left) of Tiburon-Belvedere and President Marilyn Nemzer of Tiburon Sunset hitch a ride with Michael Heckmann in the Day Before Labor Day Parade. (Photo: Marshall Gross)
Dana and Chester (left), making friends.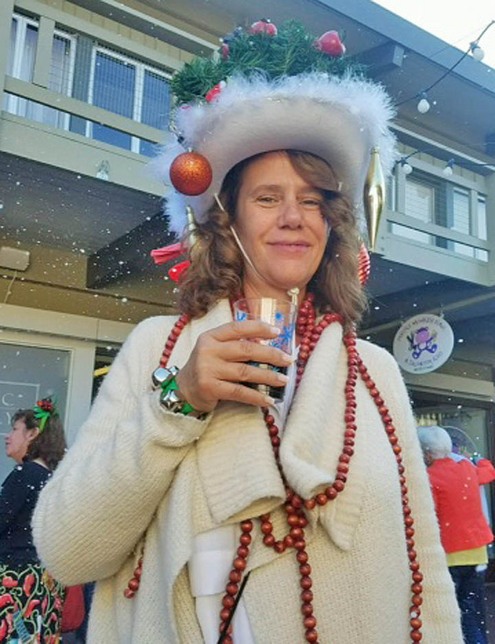 Winter in August was the theme of the Tiburon Peninsula Chamber of Commerce's mixer at the Boardwalk. President Linda Emberson took the prize for the most creative hat.

_______________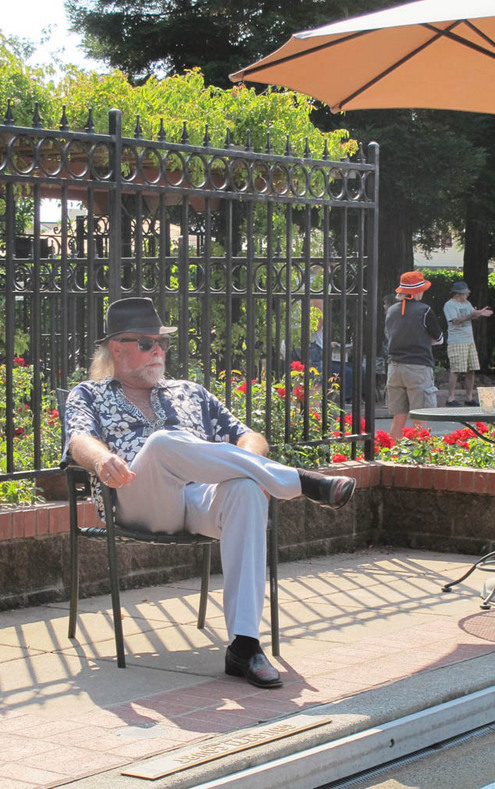 Jon Rankin views the on-court action at the annual Bocce Ball Tournament, a fundraiser for Rotaplast International. (Photo: J. Wilson)

_______________

Changing of the Guard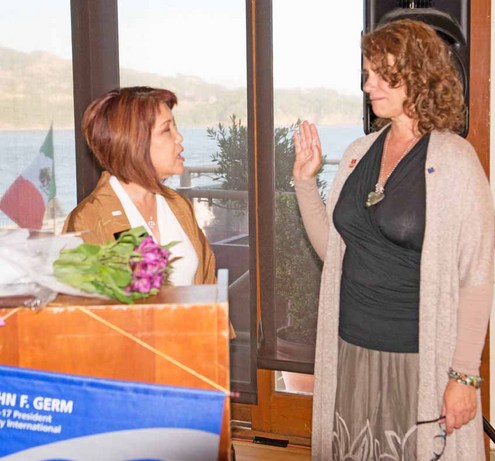 Thanks to President Marianne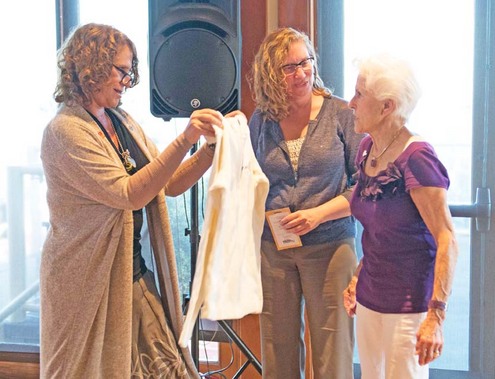 President Linda Emberson (left) thanks outgoing President Marianne Strotz (right) for her two outstanding years of leadership with a special Rotary jacket, as Karen Glader, the club's new secretary, looks on. (Photo: Marshall Gross)
____________________

Honors for Angelo
Dr. Angelo Capozzi (left) and Dr. John Kaufmann with a child who underwent surgery during a Rotaplast mission to Peru in May 2016. (Photo: Courtesy of Rotaplast International)
____________________
Service Above Self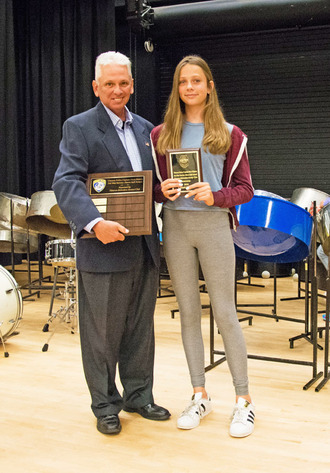 Dave Hutton presents the Capt. Dave Hutton Rotary Service Above Self Award to Kendall Hermann, graduating senior at Del Mar Middle School, for her outstanding performance in community service. The presentation took place at a special awards assembly in June. Photo: Marshall Gross
____________________
Teachers of the Year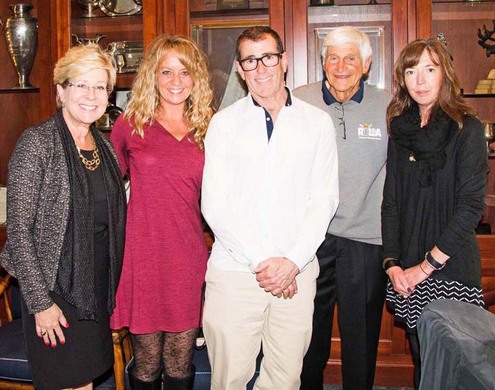 (Left to right) RUSD Superintendent Nancy Lynch, Bel Aire School's Kelly Morphy, Reed School's Ross Modlin, Rotarian George Landau and Erin Turner of St. Hilary School (photo: Marshall Gross)
____________________
Carnaval!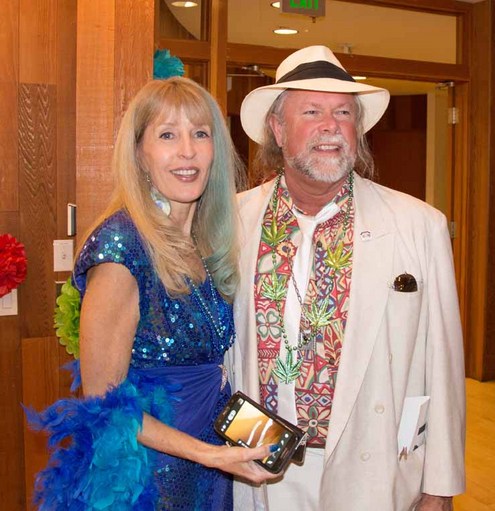 Mary Kaufmann and Jon Rankin got into the spirit of Carnaval, a fundraiser for the Rotary Club of Tiburon-Belvedere. For more, see the photo gallery at www.tiburonrotary.org. (Photo: Marshall Gross)
_______________