Welcome to Telli Marin! Sign in | Create a login

Rotary Club of Tiburon-Belvedere
Fellowship and Service
Address:
1600 Mar West Street
Tiburon/Belvedere, CA 94920
Phone:
415-789-0161
Saturday, February 9, 2019


Ruth Kahn, artistic director of Musica Marin, is a Tiburon resident and Bay Area native. She grew up in Berkeley and started playing violin when she was five and moved on to the viola when she was 15. She finds that it has a richer sound. She attended the Juilliard School and then played with the New York City Ballet and ran two programs. She relocated to the Bay Area and has played with the San Francisco Opera Orchestra.
She began Musica Marin because she wants people to hear music the way the composers intended. Thus, the performances are in small private homes in Tiburon, Belvedere, Mill Valley and Sea Cliff. The events include music by world-class performers, philanthropy, fine wine from Napa and Sonoma counties and wonderful food prepared by top chefs. (Go to https://musicamarin.org to see video clips of past events.)
"Philanthropy defines what we are and what we do," she said, and the aim is to nurture young artists and give them an opportunity to pursue and advance their musica; aspirations, as well as to preserve music culture for all ages. "The money we raise, we give to young artists," she said, adding that young musicians also get a chance to perform with international artists. In addition, they have a composers' competition, and a professional will mentor the winner.
For the food, "We bring in world-class chefs," said Ruth, adding that Edward Martinez is a two-star Michelin chef and Chef Mark Furr oversees the culinary program.
The inaugural festival was last September and "It was an enormous success," she said, explaining that the goal is to have a world-class music festival in Tiburon at beautiful venues. Jazz in January took place last month, and the next event is Love in the Afternoon from 3 to 7 p.m., Sunday, February 10. It features American Mezzo-Soprano Diana Tash from Los Angeles, pianist César Cañón and Ruth on viola, performing pieces by Johannes Brahms and Spanish love songs. Mark Furr is going to prepare delicious appetizers, and wine and champagne are included.
"She has been gracious enough to offer Rotarians a 25 percent discount," said Neelam Kanwar, so tickets will be reduced to $75 from $105. To purchase tickets, go to https://musicamarin.org and use the code Neelam. "It will be in a beautiful home in Belvedere," she added.
A Taste of Spain is next in the three-part series, and it takes place on Saturday, May 11, at a home in Belvedere. "A wonderful flutist is coming from the East Coast," said Ruth. The event will have a Spanish theme and feature the music of Spanish composers, tapas and paella.
Musica Marin International Chamber Music & Culinary Festival takes place from October 18 to 20, 2019. Musica Marin needs both business and individual sponsors, and sponsors get to participate in all festival and pre-festival events.
In answer to questions about a viola, Ruth explained that a viola is a little bit bigger than a violin, and it has an E string, which gives it a higher sound. "It's not standardized like a violin," said Ruth, explaining that it's gone through lots of changes. In addition, a viola's repertoire is very limited compared to the violin. Her viola dates back to 1753 and is in good shape. The best instruments are from Italy. She concluded her talk with a special treat, a performamce of a piece by Italian composer Guiseppe Tartini and another by Bach from his Cello Suite.
To find out more about Musica Marin, go to https://musicamarin.org.
_______________


Electric Cars—Moving Ahead

Nissan Leaf. Photo: Golden Gate Electric Vehicle Association

A few years ago, we had a speaker on electric cars, and the talk got President Jon Rankin's attention. … He looked into it and leased a Nissan Leaf, and despite his reputation for driving big gas guzzlers, he's been driving an electric car almost exclusively for five years.
Why go electric?
Dale Miller, of the Golden Gate Electric Vehicle Association, started out as hobbyist building electric cars. "Our chapter is primarily Marin County and San Francisco," he said. Why an electric car? "It's fun to drive," he said, explaining that electric vehicles have really quick acceleration, respond quickly and handle better, because the batteries are near the bottom, so the weight distribution is low. In addition, electric cars are smooth, quiet and don't smell bad. They also feature single pedal driving.
Electric vehicles are also less expensive to operate. It costs about 3 to 4 cents a mile, whereas gas costs at least 12 cents per mile. If you have solar panels on your house, you can take advantage of special rates, making it even cheaper. Some businesses also have chargers.
Maintenance costs are lower as well, because electric motors have a small number of moving parts, as opposed to the thousands in gas-powered vehicles. Owners take their cars into the shop every couple of years to check to make sure everything is operating properly.
Electric cars are affordable, with the starting price at $29,900, and California offers a $2,500 rebate. An $800 low carbon fuel rebate is available, along with a federal tax credit of up to $7,500. Monthly leases are low, and dealers often have great lease deals. For example, Honda has a car for $199 a month. Used cars are also affordable.
Electric cars have received the highest safety ratings, and self-driving features make them even safer. You never have to go to a gas station. You spend less time taking the car in for service, and you can get a car pool sticker that lasts for four years. "It makes it a little bit easier on 101," said Dale.
Charging
Some models go up to 335 miles on a single charge. An additional six models get more than 226 miles per charge, and almost all models get more than 110 miles. "The average California commute is approximately 40 miles," said Dale, so electric vehicles work well for most California residents.
Charging an electric vehicle is like charging your phone, and half of home charges use standard household outlets in a garage. The load is less than a hand-held hair dryer. You can also have 240-volt home-charging unit in your garage or parking space, and it's like plugging in a dryer or oven. Plugless charging is also an option, and you simply drive over a pad containing a charger in your garage or parking space.
"For road trips, there are plenty of places to plug in," said Dale, and he reported that an App called PlugShare gives the locations of EV stations and tells whether or not they have a cost. Tesla alone has 12,011 connections at 1,422 locations.
"Can anyone charge at a Tesla charging station?" asked Mike Keran.
Dale explained that Teslas have a special connection only for them, so only they can use Tesla stations, but all cars come with a standard charger as well. He added that most chargers have several connections to accommodate different cars. "In Europe they're legislating standards, but we haven't got that far in the U.S. yet," he said.
He drove to Seattle a while back, and his first stop was at Corning, and it took about 20 minutes to charge his car. He gets his car charged while he stops for breaks and meals, and in the time it takes to get a cup of coffee or eat lunch, it's charged. "Charging isn't a problem," he said.
Electric vehicle owners pay a road improvement of $100 a year for a road improvementscar , and at one time, electric cars were actually paying more than some of cars that also use gas, like Prius.
Questions and Answers
"What happens when everybody has an electric car?" asked John Kaufmann.
Dale explained that most of the charging is done at home at night, so it allows the selling of electricity at a time of low-usage. "Everybody's electric bill should get cheaper, because we're using the system better," he observed.
Steve Stein asked about PGE's concerns about accommodating all the electric vehicles in the future.
Dale replied that PGE sees electric vehicles as a way to increase revenue. In addition, solar and wind power are increasing and are less expensive to operate. The grid can handle an increase in electric cars. "The answer we're getting is that it's not a problem," he said.
Steve also asked about swapping batteries, and Dale reported that a company called Better Place in Palo Alto tried it but went out of business. One of the issues was the quality of the batteries.
Batteries are guaranteed for eight years, and they are recyclable and have a use in electrical vehicle warehouses.
Marilyn Nemzer said she's heard complaints that pedestrians can't hear electric cars. Dale responded that Congress has passed legislation requiring electric cars to have noise makers.
President Jon said that the noise maker on his car sounds when he's going 19 mph or lower, allowing people to hear it when he's backing out of a parking space.
Bruce Huff asked about the effect of air conditioning and heating. President Jon said that they take a lot of power, and extra weight does too.
Dale recalled that he was stuck in traffic near Bend, Oregon, after seeing the eclipse a couple of years ago, and the Oregon equivalent of Cal Trans asked if they had air conditioning. He had it on the whole way, and it wasn't an issue.
President Jon added that Triple AAA can't give a car a charge if you run out of power. "You have to get the car towed back to the mother ship," he said. However, he pointed out, you have to overlook a lot of things to make that happen, because you receive lots of messages and warnings.
Dale said that driving electric cars is a big deal for climate change. In Marin about 60 percent of our greenhouse gases come from fossil fuel. In addition to transportation, drilling, fracking and refining are issues.
The most enjoyable driving experience is driving an electric car," said Dale. "It's the most effective change you can make to combat climate change, and electric cars are the most effective means of getting around."
Regarding expense, "It's about $50 a month instead of $500," said President Jon, and he added that range phobia is unfounded.
To find out more, go to www.ggevaorg.
_______________


MARK YOUR CALENDAR
GREAT GUEST SPEAKERS
February 15          Jacques Andre Sochan, Security on the Tiburon Peninsula during a major disaster

February 22          John Ferguson, Rotacare

_______________

  NOTEWORTHY EVENTS

Tuesday, February 12, 11:30 to 1 p.m., The Tiburon Peninsula Chamber of Commerce presents Listen In, an experiential session with Gabriela Buich,designed to increase self awareness and initiate positive change in your life. Servino Ristorante, 9 Main Street, Tiburon. Go to www.tiburonchamber.org to purchase tickets.

Saturday, March 16, 7:30 a.m., District Learning and Leadership Development Assembly, Redwood High School, Larkspur. Register required by March 8 at rotary5150.org/calendar/.
 ___________________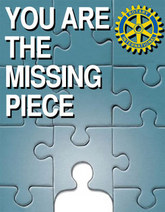 Lunch Meetings
We welcome guests. If you'd like to hear a guest speaker or find out more about Rotary, please pay us a visit. We meet at Sam's Anchor Cafe, 27 Main Streeet, Tiburon, at 11:30 a.m., on Friday, and most weeks, a guest speaker makes a presentation. Lunch & attendance: $30, attendance only: $10.

Board of Directors Meetings
Meetings of the Board of Directors are open to all members and take place on the second Friday of the month at 10:30 a.m., at Sam's.

Contact us at rotary@telli.com.
If you'd like to be a guest speaker, please contact Marianne Strotz at properties@pacbell.net.

Send mail to Rotary Club of Tiburon-Belvedere, P.O. Box 220, Tiburon, CA 94920


Follow us on Facebook: https://www.facebook.com/tbrotary. Hope you "like" us!
_________________________
Scroll down to see our photo gallery of Rotarians at work and play!
____________________

 ROTARY AT WORK

The Rotary Club of Tiburon-Belvedere supports a wide range of programs, with a focus on youth, literacy and community. We believe that reaching out to others makes a better world and encourage others to join us. Here's what we're supporting in 2018-2019.

Youth—Investing in the Future
• Ambassadors of Hope and Opportunity: Support to provide a safety net of stable housing, guidance and community connections for young people 16 to 25, who are homeless or in danger of becoming homeless in Marin County.

• Bel Aire School's Liberia Project: Advice and support for the fifth-grade students' ongoing projects to help their sister school in Liberia, thus encouraging altruism at home and helping children in a disadvantaged country across the world.
• Dave Hutton Rotary Award for Service Above Self: An annual award to a graduating eighth-grader with a record of outstanding community service at Del Mar Middle School.

• Global Book Exchange: Support for the Global Book Exchange in San Rafael, which collects lightly-used books and redistributes them to teachers at schools with limited budgets, disadvantaged families and nonprofits that serve children, as well as schools throughout the world.
• Launch: Support for a local organization that helps young people bridge the gap from school to the working world.
• Marielos Fund: A scholarship to send a young woman in El Salvador to medical school.
• Marin Youth Sympathy: Support for sending young musicians on a tour to perform in Europe.
• Next Generation Scholars: Support for a San Rafael nonprofit that works with youth from low-income families, starting in middle school, to put them on the path to college.
• Rotaplast International: Support for volunteer medical teams to provide life-changing surgery for children with cleft-lip and palate in needy communities around the world.
• Rotary Youth Leadership Awards: Scholarships so high school sophomores and juniors can attend a special camp that guides them to develop their leadership skills.

• Educator of the Year Awards: Annual awards to outstanding educators in local schools, whose unique projects give children a worldview that encourages them to become good citizens.
Meaningful Projects—Service Above Self
• Marin Villages: Support for programs that help seniors age in their own homes. Members pay a small fee and can enjoy social get-togethers and access to volunteers for help with tasks such as getting to appointments, changing light bulbs or assisting with pets.

• Service to the Community Awards: Recognition for people who serve the community in meaningful ways, but don't often get acknowledgement.

• St. Vincent de Paul: Support for helping Marin's neediest residents obtain nutritious food, affordable housing, meaningful employment and a voice in the community.

• Whistlestop: Underwriting for Whistlestop's Thanksgiving Feast for Seniors.

District Designated Funds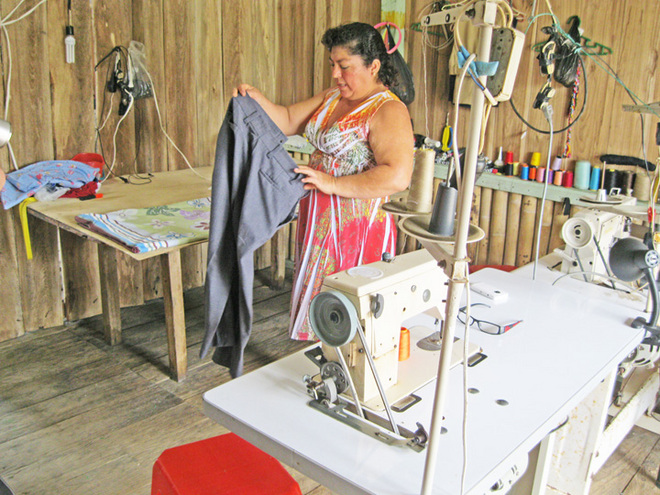 Rotary's District Designated Funds helped establish this sewing shop in Esmeraldas, Ecuador. Photo: Courtesy of Keith and Holly Axtell

Funds from the Rotary International Foundation's annual campaign earn District Designated Funds for our club. For the past three years, we have contributed our funds to multi-club microcredit projects in Ecuador, Guatemala and Peru to train people in job and entrepreneurial skills and extend microloans to help them start small businesses and become self-sufficient
____________________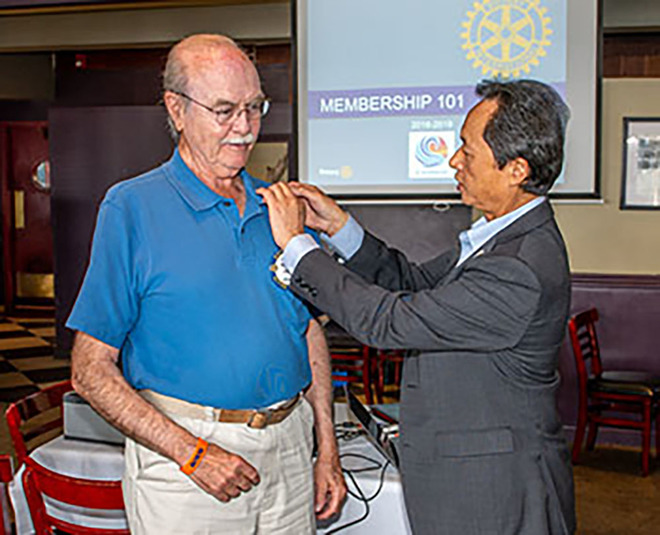 Past District Governor Ron Gin, now district membership chair, presents Mike Keran with a pin in honor of his being chosen Rotarian of the Month for District 5150.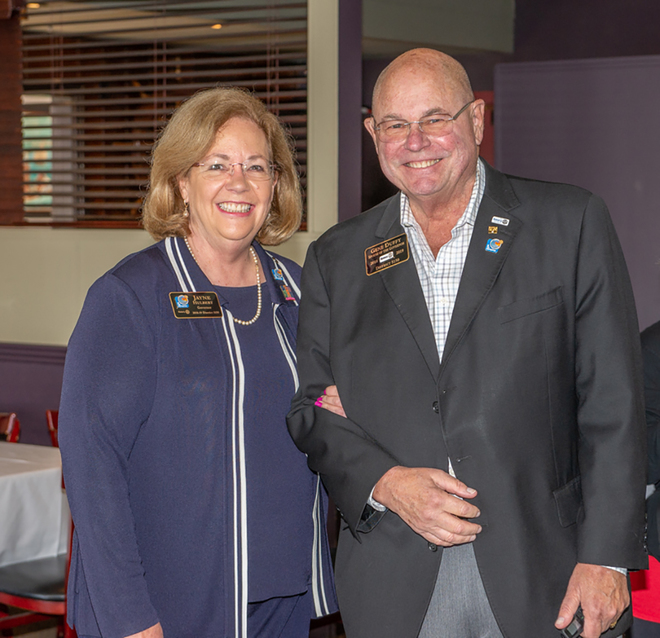 District Governor Jayne Hulbert and First Husband Gene Duffy paid the club a visit.
Cindy Siliciano of the Tiburon Sunset Rotary Club (left) and President Linda Emberson of the Tiburon-Belvedere club get ready to toss goodies to kids at the Labor Day weekend hometown parade. (Photo: Marshall Gross)
_______________

Welcome New Members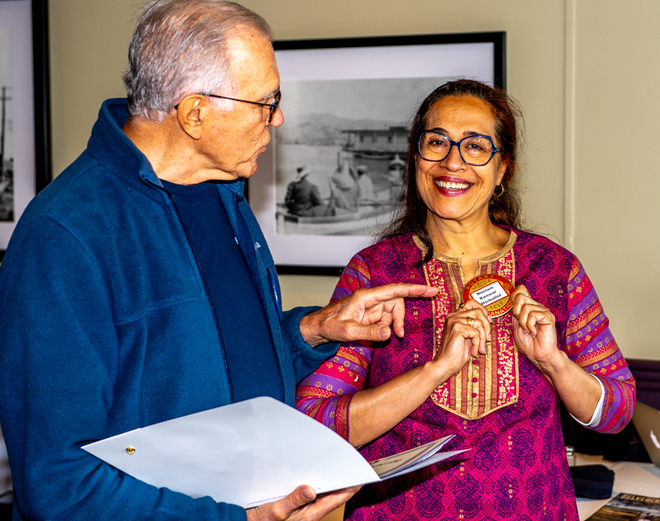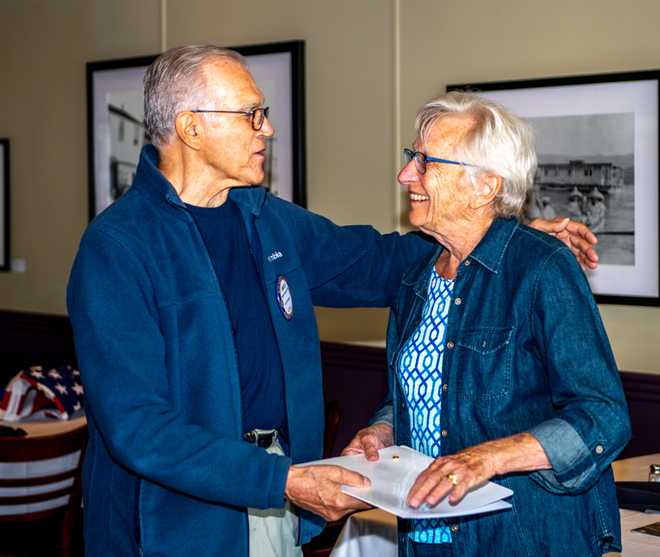 Membership chair Angelo Capozzi welcomed new members Neelam Kanwar (upper photo) and Lynn Spitler (lower photo).
_______________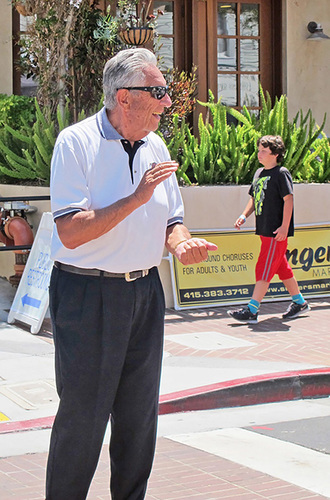 It is with profound sadness that President Linda Emberson announces the passing of beloved member Jim Deitz on Friday, July 13. Jim exemplified Rotary's motto, Service Above Self, and his altruistic spirit was a model for everyone. He was devoted to his family, loved dogs and was one of the best. We'll miss him terribly.
_______________

Good Work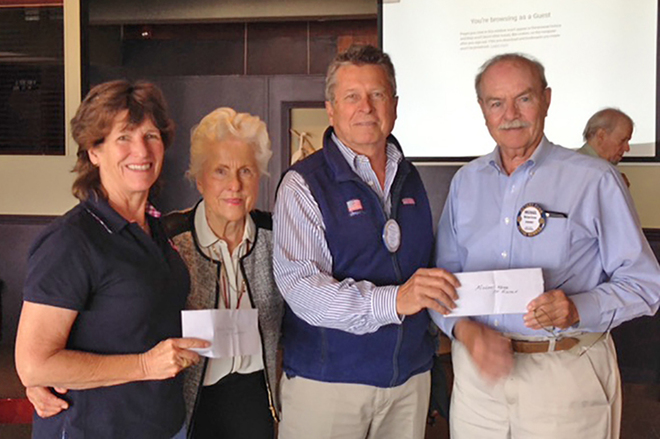 (l. to r.) Lisa Brinkmann of Marin Villages accepts a check from Marianne Strotz, and Michael Heckmann presents a check to Michael Keran for St. Vincent de Paul. Photo: Lynn Fox

_______________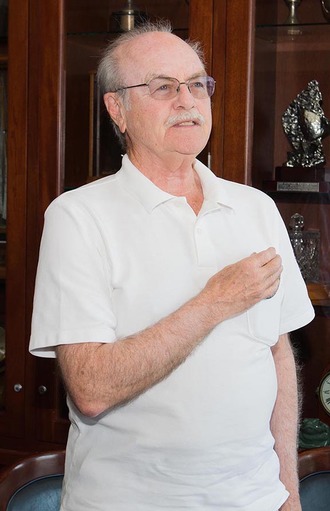 District 5150 named Michael Keran Rotarian of the Month for May. Mike's much-deserved honor is in recognition of his ongoing commitment to St. Vincent de Paul and helping the homeless in Marin County. In addition, he recruits a crew of Rotarians to serve lunch at the St. Vincent de Paul Free Dining Room in San Rafael every month. May marked the beginning of the 12th year of this service project.
_______________

Annette Gibbs (left) and Shelby Gross joined the Rotary contingent and got into the spirit
of this year's first Friday Night on Main
_______________

Celebrating Earth Day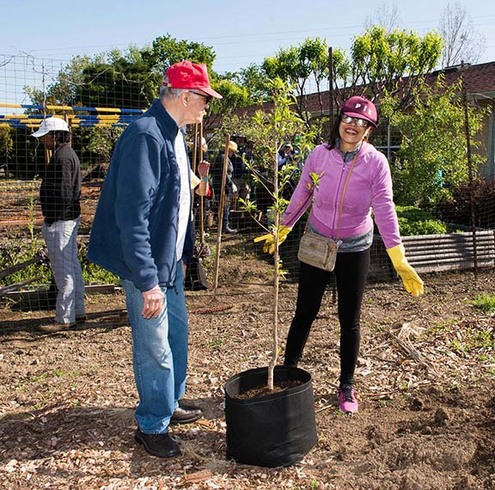 Having Fun at Friday Night on Main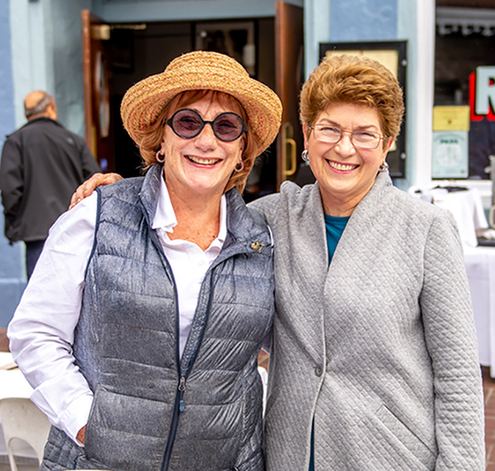 Angelo Capozzi (left) and Neelam Kanwar planted trees at Homeward Bound as part of Rotary International's initiative to plant one tree for every Rotarian. Photo: Marshall Gross
_______________
Lending a Hand at St. Vincent de Paul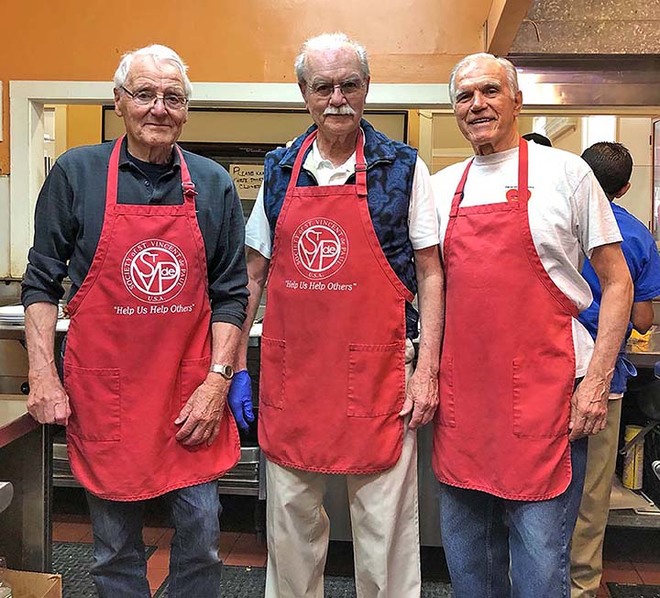 Stalwart volunteers (l. to r.) Klaus Meinberg, Michael Keran and Angelo Capozzi in the kitchen of the St. Vincent de Paul Free Dining Room in San Rafael. The Rotary Club of Tiburon-Belvedere serves lunch on the fourth Thursday of every month and will begin its twelfth year of volunteering, under Mike Keran's leadership, in May. Angelo is team leader for the club's participation in the REST program, and he and Klaus also served dinner to a group of homeless men at St. Hilary's Church the same day. Service Above Self at its best!
_______________

First meeting at Sam's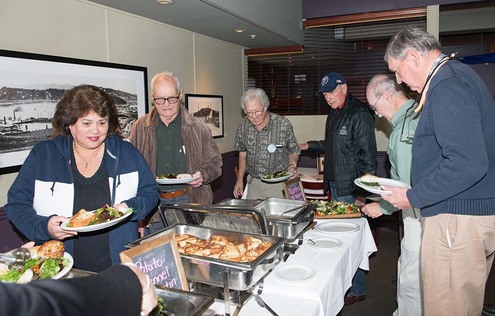 _______________

Rotary does REST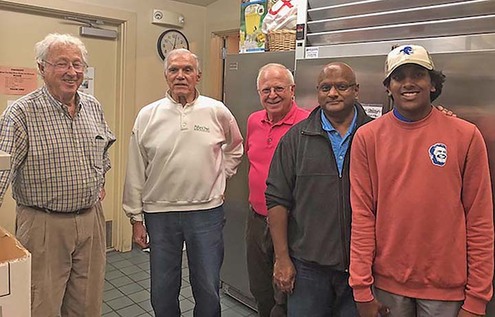 The Rotary Club of Tiburon-Belvedre hosted dinner for a group of 25 homeless men who were spending the night at St. Hilary's Church on Thursday, February 15, as part of the REST (Rotating Emergency Shelter Team) program.
Members of the Rotary crew (above, l. to r.), John Kaufmann, Angelo Capozzi, Brian Walker, Raja Ramachandran and Deven Ramachandran, took a break before serving dinner to guests in Tarantino Hall. Lata Setty, Annette Gibbs, Bill Goldberg, Zohre Grothe, Karl Hoppe and Lata Setty were also on hand to help. The evening featured good conversation, great appetites and uplifting camaraderie, as well as good food.which included homemade lasagna that Deven, Lata's son, helped prepare as a family Valentine's Day project, and Mary Kaufmann'a delicious oatmeal cookies and cupcakes decorated with hearts.
_______________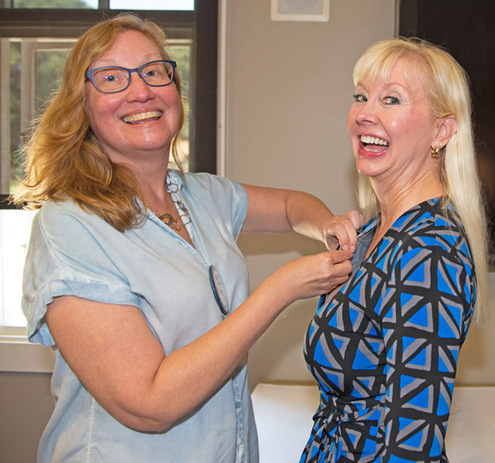 Karen Glader welcomes new member Valerie Marsh to the club and gives her a Rotary pin.
_______________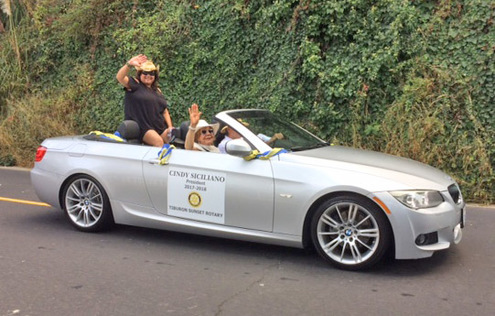 Rotarians have fun in the Day Before-Labor Day parade.
_______________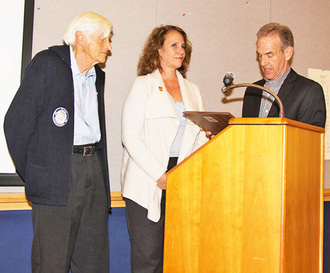 Proclamation
The Town of Tiburon issued a proclamation in honor of the Rotary Club of Tiburon-Belvedere's 40th anniversary, which we will celebrate in June, and the 100th anniversary of the Rotary International Foundation. Pictured, left to right, are George Landau, President Linda Emberson and Tiburon Mayor Jim Fraser. Photo: Marsall Gross.
______________
Visitor from Afar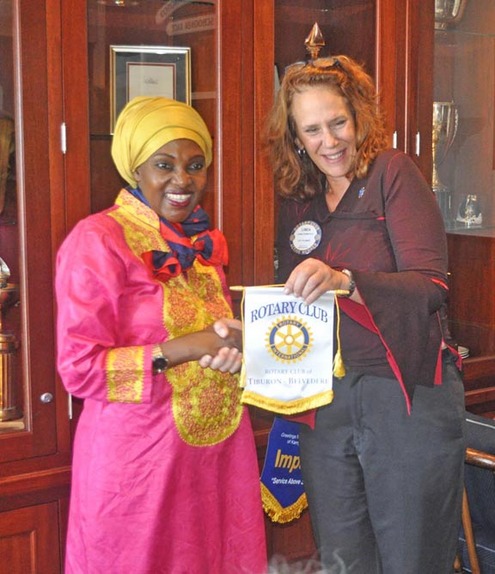 Rehmah Kasule (above left), with President Linda Emberson) is the Immediate Past President of the Rotary Club of Kampala/Impala in Uganda. She took the opportunity to visit us when she was at a conference in San Francisco in October. In 2010, she received recognition at the White House for her work in empowering women and met President Obama. She then wrote a book, From Gomba to the White House. She shared an African proverb: "When you walk fast, you walk alone. When you walk with others, you go far."
_______________

MAKING KIDS SMILE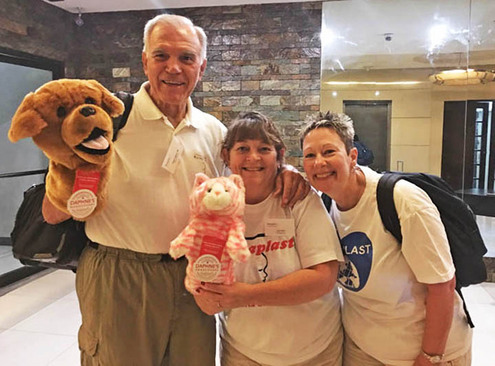 Marshall Gross donated two beautiful puppets that he won in a gift basket to Rotaplast's mission in Cebu City, Philippines. Dr. Angelo Capozzi (with the big dog) reports that the puppets are making kids smile every day before undergoing surgery, and the mission is going well.
______________

Tiburon Challenger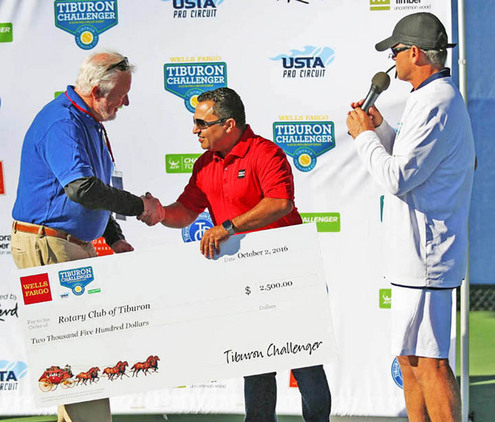 Charlie Oewel, representing the Rotary Club of Tiburon-Belvedere, accepted a generous check from Ashoo Vaid (middle) of Wells Fargo and tournament director Brendan Curry (right) at the conclusion of the Tiburon Challenger. The funds will go to the club's education projects. (Photo: Getty Images for Revd)
_______________

Rotary welcomes Kimberly Brooks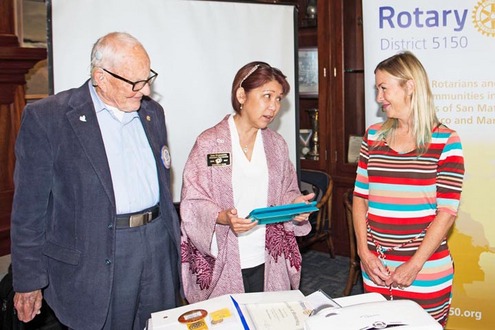 District Governor Jeri Fujimoto (center) inducted new member Kimberley Brooks (right) as Kimi's sponsor, Joe Lavigne, looked on. Photo: Marshall Gross
_____________________
DAY BEFORE LABOR DAY PARADE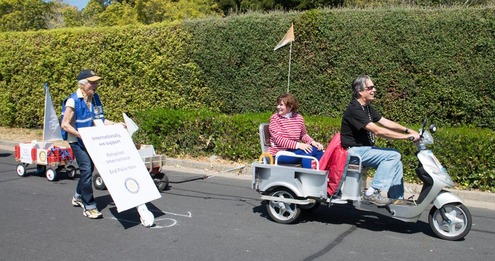 Tari Nix and friend pull wagons with books for kids from the Global Book Exchange, as Marianne Strotz walks alongside, wheeling a Rotary sign. (Photo: Marshall Gross)
To see more photos of the parade, go to www.tiburonrotary.org and click on "Photo Gallery."
____________________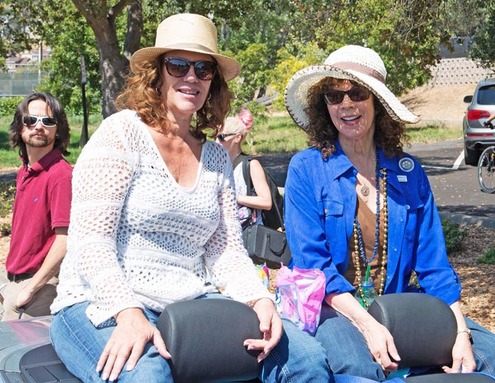 President Linda Emberson (left) of Tiburon-Belvedere and President Marilyn Nemzer of Tiburon Sunset hitch a ride with Michael Heckmann in the Day Before Labor Day Parade. (Photo: Marshall Gross)
Dana and Chester (left), making friends.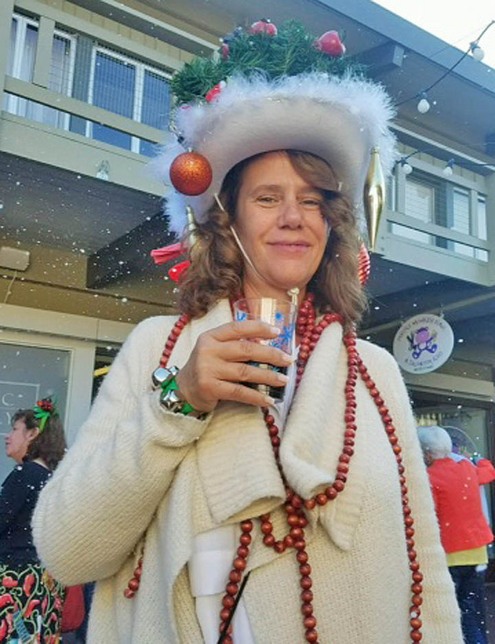 Winter in August was the theme of the Tiburon Peninsula Chamber of Commerce's mixer at the Boardwalk. President Linda Emberson took the prize for the most creative hat.

_______________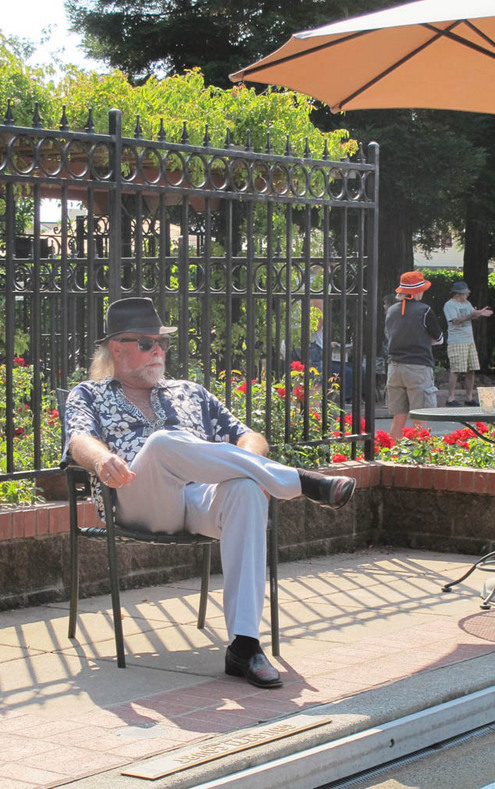 Jon Rankin views the on-court action at the annual Bocce Ball Tournament, a fundraiser for Rotaplast International. (Photo: J. Wilson)

_______________

Changing of the Guard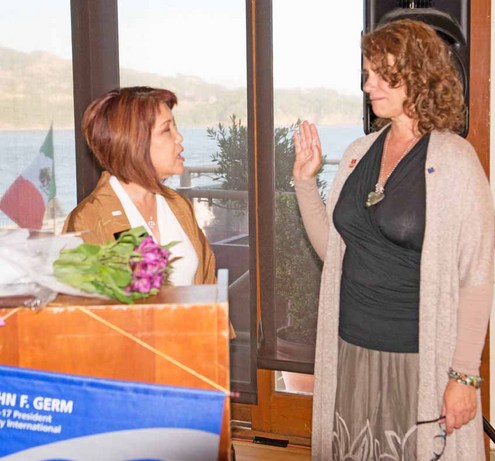 Thanks to President Marianne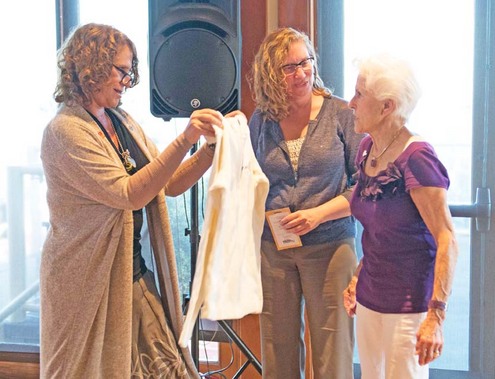 President Linda Emberson (left) thanks outgoing President Marianne Strotz (right) for her two outstanding years of leadership with a special Rotary jacket, as Karen Glader, the club's new secretary, looks on. (Photo: Marshall Gross)
____________________

Honors for Angelo
Dr. Angelo Capozzi (left) and Dr. John Kaufmann with a child who underwent surgery during a Rotaplast mission to Peru in May 2016. (Photo: Courtesy of Rotaplast International)
____________________
Service Above Self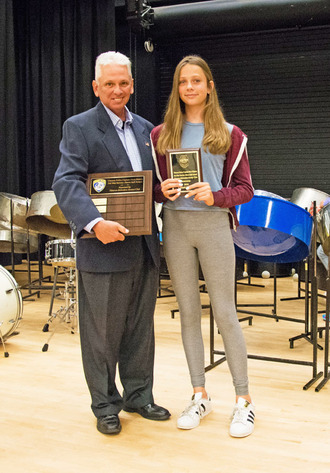 Dave Hutton presents the Capt. Dave Hutton Rotary Service Above Self Award to Kendall Hermann, graduating senior at Del Mar Middle School, for her outstanding performance in community service. The presentation took place at a special awards assembly in June. Photo: Marshall Gross
____________________
Teachers of the Year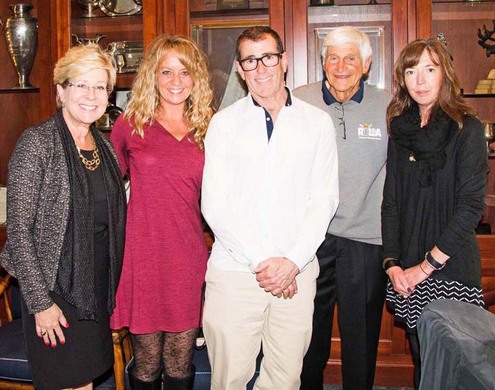 (Left to right) RUSD Superintendent Nancy Lynch, Bel Aire School's Kelly Morphy, Reed School's Ross Modlin, Rotarian George Landau and Erin Turner of St. Hilary School (photo: Marshall Gross)
____________________
Carnaval!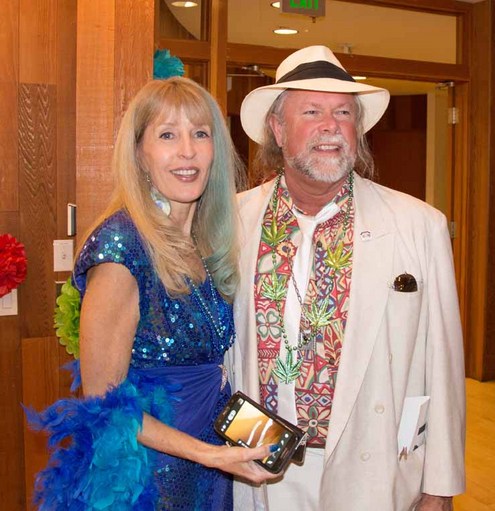 Mary Kaufmann and Jon Rankin got into the spirit of Carnaval, a fundraiser for the Rotary Club of Tiburon-Belvedere. For more, see the photo gallery at www.tiburonrotary.org. (Photo: Marshall Gross)
_______________

A sensory experience
Musica Marin pairs music with tasty food and fine wine