Welcome to Telli Marin! Sign in | Create a login

Rotary Club of Tiburon-Belvedere
Fellowship and Service
Address:
1600 Mar West Street
Tiburon/Belvedere, CA 94920
Phone:
415-789-0161
Monday, October 22, 2018


Belvedere-Tiburon Library—Moving Forward
(l. to r.) Michelyn French, Rachel Hertz and Debbie Mazzolini of the Belvedere-Tiburon Library with Rotary President Jon Rankin (photo: Marshall Gross)

Library Director Debbie Mazzolini has been here for 21 years. When she came, the thought she'd build the library and then go back to Massachusetts. She'd worked in the Boston area at the Belmont library and as assistant librarian for Concord and Watertown. One day at the Concord Library, she dropped a magazine, and when she picked it up, she saw the ad for the position here. She applied, got the position, and everything she wanted to do fell into place.
In the past year, the library has held more than 900 programs for all ages. Programs for children start with Baby Bounce for infants, and the children's and teen departments are popular. "The bus drops off kids outside the library," and it's for kids to go after school. Twenty technology programs on all different aspects of technology from virtual realty to using iPhones teach people skills, and the September programs brochure included "Using Devices," which is a well-attended program. Shop Smarts using Consumer Reports is also popular, and a new art exhibit is on display every month.
 "We've been thinking about a library expansion since we opened the building," said Debbie. She explained that it was built to be part of county system, and so it doesn't have any space for incoming books and other library services. Founders decided that they could run the library independently, given the amount of money local residents contributed to the Marin County Library System. They founded a Joint Powers Authority with Tiburon and Belvedere, and the local library agency was formed. San Rafael, Mill Valley and Sausalito are among the communities that also have stand-alone libraries.
To define the library's needs, a library professional with a nationally recognized reputation did a three-year study. Based on her report, the library agency hired an architect to look at the property and determine how they could achieve the level of space she recommended. The recommended size was equivalent to the size of the Mill Valley Library. Because of the increased cost of construction, however, they decided to downsize and build within their budget, eliminating the proposed second floor. The size goes from 25,000 to 18,000-19,000 square feet, thus downsizing by 6,000 square feet or more.
The plans include a plaza between Town hall and the library, which will be a park. The Town of Tiburon wanted the library to be the first building to move parking from the street to behind the building, in keeping with General Plan. People will see the library and a lovely park at the entrance to downtown. A grass walkway will lead to the park behind Town Hall, and it will have views of the marsh and Old St. Hilary's, as well as benches and gardens.
The library will have a larger children's room and a bigger meeting room, which the community wants. The meeting room will hold around 100 people and be available for use by other groups, who can use it for free. Corner Books will move from the Boardwalk to the library. It will be on the right; the meeting room will be on the left; and the hallway will feature an art exhibit.
The Belvedere-Tiburon Library Foundation has been in existence for 23 years. Michelyn French is the office manager, and Rachel Hertz is the executive director. Rachel lives in San Rafael, where she is involved with the schools. "Rotary is such a critical organization for schools," she said.
She explained the role of foundation, saying, "We're really about raising money." She added that the new marketing and branding campaign is the heart of the library's story. "Libraries mean a lot to people," she said. Private funds go to support programs and services, and it's about providing opportunities. "We raise these funds to support the librarians and the opportunities they're offering," she reported. In addition to raising funds for its annual campaign, the foundation is also in the midst of a capital campaign to raise funds for library expansion "Right now we're in a capital campaign," she said.
Coming events include Blackie's Hay Day, a huge event that raises money for the children and teen program, and the Petrocelli luncheon, a literary luncheon at which Elaine Petrocelli, owner of Book Passage, shares the best books of the year. Pop-up 94920 is a new program.
Local residents will soon receive information about the annual fund. "We will accept any amount," she said.
Questions and Answers
Bill Lindqvist used to downloaded iBooks for use while traveling, but got sick of it and prefers something he can hold. "What have you seen? Has reading books gone up or down?" he asked.
Debbie replied that the library has thousands of E-books for loan, may 200,000. If you have a library card, you can borrow iBook's for free. Reading books hasn't changed. She explained that so many ways of reading books and getting information are available. Libraries have evolved, and are investing in technology services. Among the offerings are audio books, Consumer Reports, free access to the New York Times and business and finance software that people can use for free. You'll find numerous sources of information in all subject areas. "Please go to our website,"" she said.
"Considering you had to curtail the expansion, are you going to facilitate the addition of an expansion in the future to make it easier to add a second story?" asked Angelo Capozzi.
Debbie explained that the architects are just beginning, and Glenn Isaacson is the project manager and has extensive experience.
"The price tag seems extremely high. Why is it so expensive?" asked John Kaufmann, and Debbie explained that the cost of building a facility like a library is high, in addition to an increase in construction costs.
Rachel concluded by announced that a library celebration will take place on Sunday, October 21, with attractions such as food trucks and a bouncy.
_______________


MARK YOUR CALENDAR
GREAT GUEST SPEAKERS
October 26    Ron Gin, Past District Governor, District Membership Chair
November 2  Citizen of the Year Lunch to honor James Demmert of Main Street Research. 11:30 a.m., Servino Ristorante
November 9   Russell Jackman, Information Technology, LinkedIn guru
November 16 Dee Ann Bliss, Executive Director, Tiburon Peninsula Chamber of Commerce
November 23 No Meeting
_______________

  NOTEWORTHY EVENTS

November 2          11:30 a.m., Citizen of the Year Lunch honoring James Demmert of Main Street
                              Research, Servino Ristorante. See more at http://tiburonchamber.wildapricot.org/.
December 7          6 p.m., Holiday Party at Sam's

___________________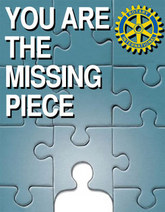 Lunch Meetings
We welcome guests. If you'd like to hear a guest speaker or find out more about Rotary, please pay us a visit. We meet at Sam's Anchor Cafe, 27 Main Streeet, Tiburon, at 11:30 p.m., on Friday for a buffet lunch, and most weeks, and guest speaker makes a presentation. Lunch & Attendance: $30, attendance only: $10.

Happy Hour
We enjoy a social gathering on the third Thursday of every month at 5:30 p.m. at Servino Ristorante, 9 Main Street, Tiburon. This is a no-host event—place and pay for your own order.
Board of Directors Meetings
Meetings of the Board of Directors are open to all members and take place on the second Wednesday of the month at 10:30 a.m.

Contact us at rotary@telli.com.
Send mail to Rotary Club of Tiburon-Belvedere, P.O. Box 220, Tiburon, CA 94920


Follow us on Facebook: https://www.facebook.com/tbrotary. Hope you "like" us!
_________________________
Scroll down to see our photo gallery of Rotarians at work and play!
____________________

 ROTARY AT WORK

The Rotary Club of Tiburon-Belvedere supports a wide range of programs, with a focus on youth, literacy and community. We believe that reaching out to others makes a better world and encourage others to join us. Here's what we're supporting in 2017-2018.

Youth—Investing in the Future
• 10,000 Degrees: Funding for support and mentoring to help low-income students gain access college and succeed.

• Ambassadors of Hope and Opportunity: Support to provide a safety net of stable housing, guidance and community connections for young people 16 to 25, who are homeless or in danger of becoming homeless in Marin County.

• Audubon Canyon Ranch: Support for children from low-income urban neighborhoods to go on field trips and experience nature.
• Bel Aire School's Liberia Project: Advice and support for the fifth-grade students' ongoing projects to help their sister school in Liberia, thus encouraging altruism at home and helping children in a disadvantaged country across the world.
• Dave Hutton Rotary Award for Service Above Self: An annual award to a graduating eighth-grader with a record of outstanding community service at Del Mar Middle School.

• Eagle Scouts: Financial support for Eagle Scout projects, thus allowing Boy Scouts to develop leadership skills and prepare to become tomorrow's leaders.
• Global Book Exchange: Support for the Global Book Exchange in San Rafael, which collects lightly-used books and redistributes them to teachers at schools with limited budgets, disadvantaged families and nonprofits that serve children, as well as schools throughout the world.
• Rotaplast International: Support for volunteer medical teams to provide life-changing surgery for children with cleft-lip and palate in needy communities around the world.
• Rotary Youth Leadership Awards: Scholarships so high school sophomores and juniors can attend a special camp that guides them to develop their leadership skills.

• Educator of the Year Awards: Annual awards to outstanding educators in local schools, whose unique projects give children a worldview that encourages them to become good citizens.
Meaningful Projects—Service Above Self
• Canal Alliance: Support for a program that teaches immigrants to speak English.

• Marin Villages: Support for programs that help seniors age in their own homes. Members pay a small fee and can enjoy social get-togethers and access to volunteers for help with tasks such as getting to appointments, changing light bulbs or assisting with pets.

• Service to the Community Awards: Recognition for people who serve the community in meaningful ways, but don't often get acknowledgement.

• St. Vincent de Paul: Support for helping Marin's neediest residents obtain nutritious food, affordable housing, meaningful employment and a voice in the community.

• Tiburon's Green Team: Support for the volunteers who plant, weed, prune and trim landscaping in public places to keep our community beautiful.
• Whistlestop: Underwriting for Whistlestop's Thanksgiving Feast for Seniors.

District Designated Funds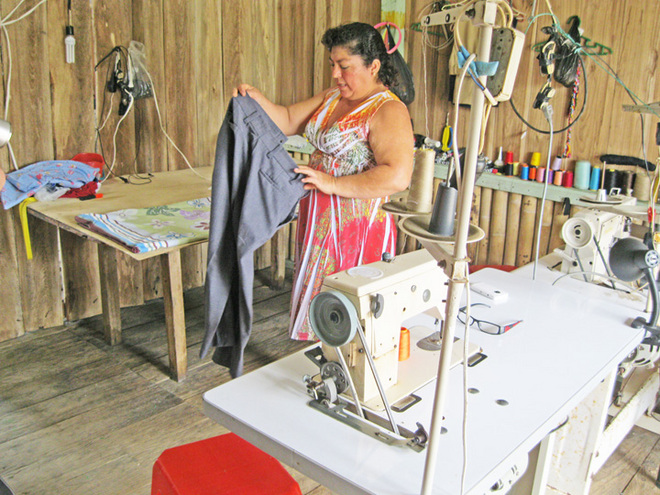 Rotary's District Designated Funds helped establish this sewing shop in Esmeraldas, Ecuador. Photo: Courtesy of Keith and Holly Axtell

Funds from the Rotary International Foundation's annual campaign earn District Designated Funds for our club. For the past three years, we have contributed our funds to multi-club microcredit projects in Ecuador, Guatemala and Peru to train people in job and entrepreneurial skills and extend microloans to help them start small businesses and become self-sufficient
____________________
Cindy Siliciano of the Tiburon Sunset Rotary Club (left) and President Linda Emberson of the Tiburon-Belvedere club get ready to toss goodies to kids at the Labor Day weekend hometown parade. (Photo: Marshall Gross)
_______________

Welcome New Members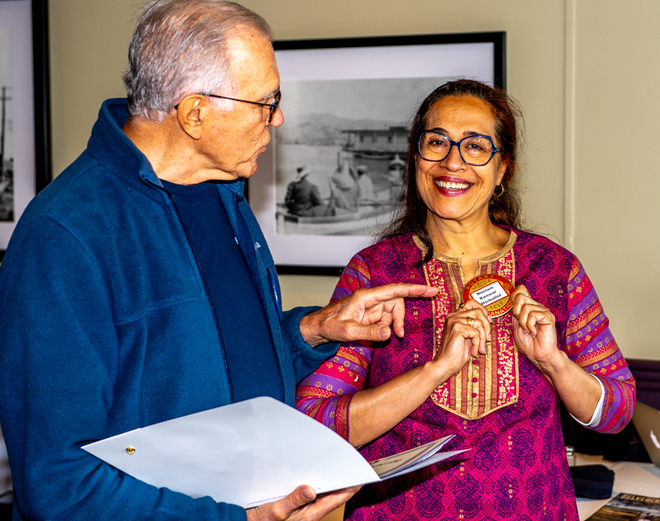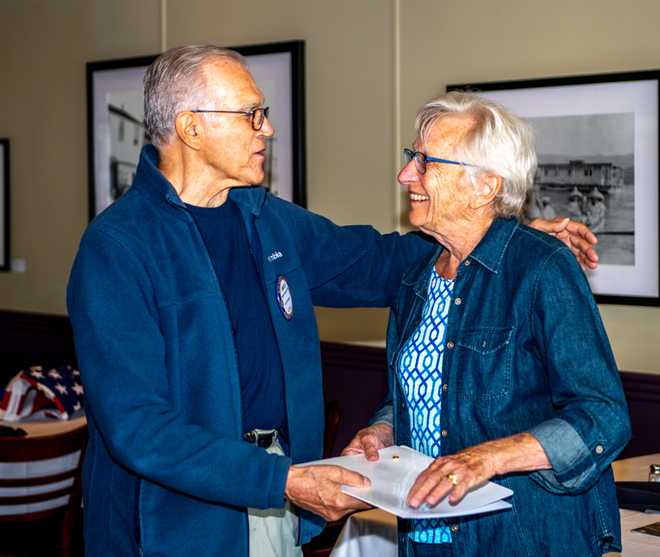 Membership chair Angelo Capozzi welcomed new members Neelam Kanwar (upper photo) and Lynn Spitler (lower photo).
_______________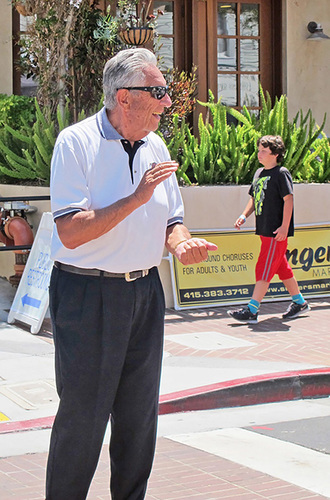 It is with profound sadness that President Linda Emberson announces the passing of beloved member Jim Deitz on Friday, July 13. Jim exemplified Rotary's motto, Service Above Self, and his altruistic spirit was a model for everyone. He was devoted to his family, loved dogs and was one of the best. We'll miss him terribly.
_______________

Good Work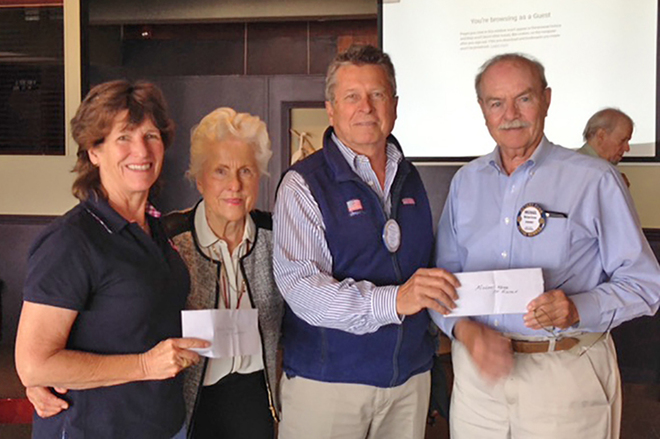 (l. to r.) Lisa Brinkmann of Marin Villages accepts a check from Marianne Strotz, and Michael Heckmann presents a check to Michael Keran for St. Vincent de Paul. Photo: Lynn Fox

_______________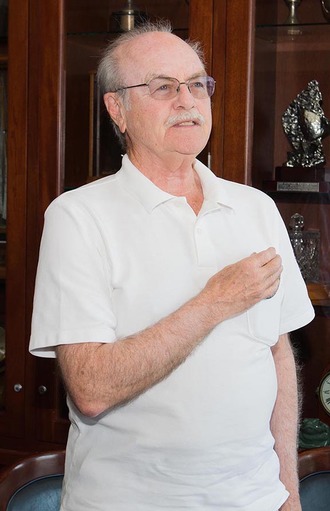 District 5150 named Michael Keran Rotarian of the Month for May. Mike's much-deserved honor is in recognition of his ongoing commitment to St. Vincent de Paul and helping the homeless in Marin County. In addition, he recruits a crew of Rotarians to serve lunch at the St. Vincent de Paul Free Dining Room in San Rafael every month. May marked the beginning of the 12th year of this service project.
_______________

Annette Gibbs (left) and Shelby Gross joined the Rotary contingent and got into the spirit
of this year's first Friday Night on Main
_______________

Celebrating Earth Day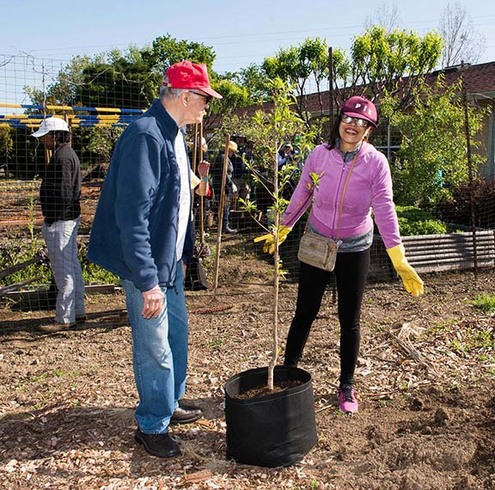 Having Fun at Friday Night on Main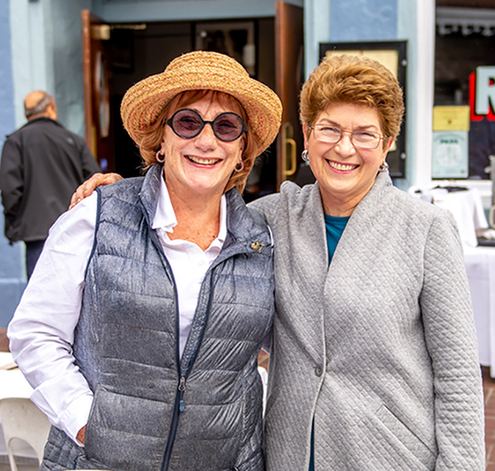 Angelo Capozzi (left) and Neelam Kanwar planted trees at Homeward Bound as part of Rotary International's initiative to plant one tree for every Rotarian. Photo: Marshall Gross
_______________
Lending a Hand at St. Vincent de Paul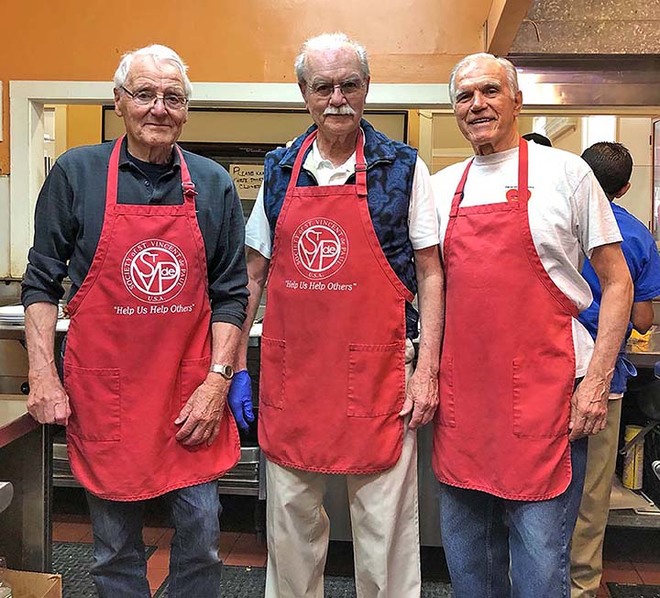 Stalwart volunteers (l. to r.) Klaus Meinberg, Michael Keran and Angelo Capozzi in the kitchen of the St. Vincent de Paul Free Dining Room in San Rafael. The Rotary Club of Tiburon-Belvedere serves lunch on the fourth Thursday of every month and will begin its twelfth year of volunteering, under Mike Keran's leadership, in May. Angelo is team leader for the club's participation in the REST program, and he and Klaus also served dinner to a group of homeless men at St. Hilary's Church the same day. Service Above Self at its best!
_______________

First meeting at Sam's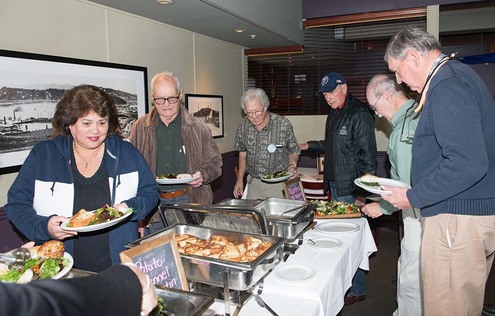 _______________

Rotary does REST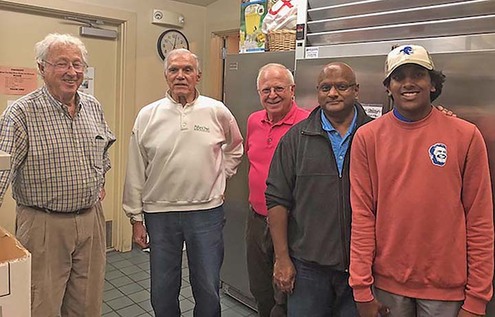 The Rotary Club of Tiburon-Belvedre hosted dinner for a group of 25 homeless men who were spending the night at St. Hilary's Church on Thursday, February 15, as part of the REST (Rotating Emergency Shelter Team) program.
Members of the Rotary crew (above, l. to r.), John Kaufmann, Angelo Capozzi, Brian Walker, Raja Ramachandran and Deven Ramachandran, took a break before serving dinner to guests in Tarantino Hall. Lata Setty, Annette Gibbs, Bill Goldberg, Zohre Grothe, Karl Hoppe and Lata Setty were also on hand to help. The evening featured good conversation, great appetites and uplifting camaraderie, as well as good food.which included homemade lasagna that Deven, Lata's son, helped prepare as a family Valentine's Day project, and Mary Kaufmann'a delicious oatmeal cookies and cupcakes decorated with hearts.
_______________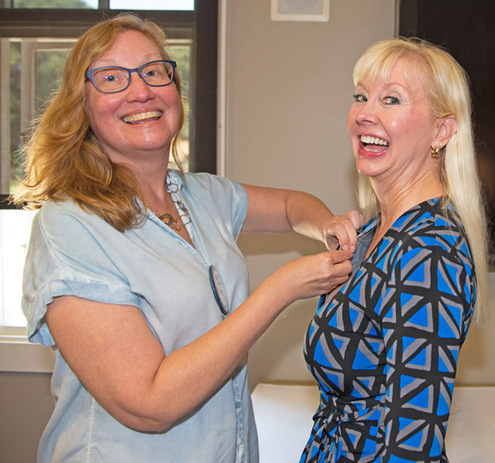 Karen Glader welcomes new member Valerie Marsh to the club and gives her a Rotary pin.
_______________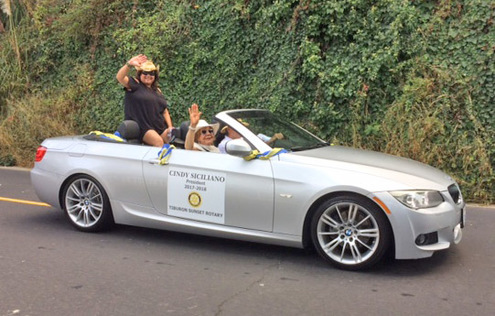 Rotarians have fun in the Day Before-Labor Day parade.
_______________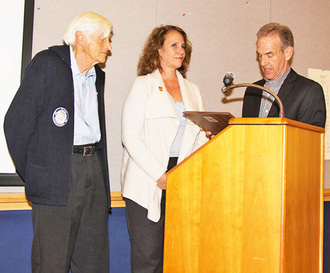 Proclamation
The Town of Tiburon issued a proclamation in honor of the Rotary Club of Tiburon-Belvedere's 40th anniversary, which we will celebrate in June, and the 100th anniversary of the Rotary International Foundation. Pictured, left to right, are George Landau, President Linda Emberson and Tiburon Mayor Jim Fraser. Photo: Marsall Gross.
______________
Visitor from Afar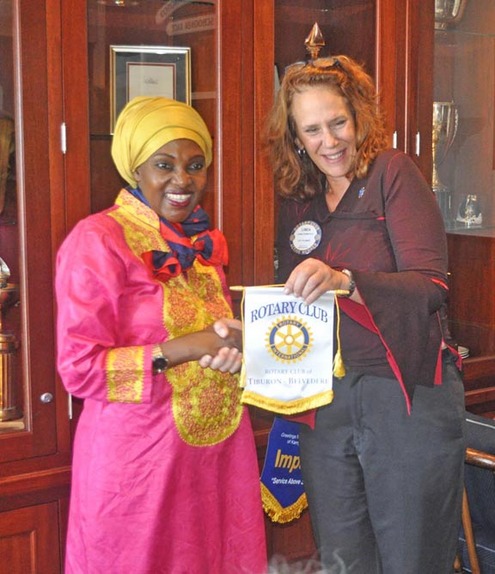 Rehmah Kasule (above left), with President Linda Emberson) is the Immediate Past President of the Rotary Club of Kampala/Impala in Uganda. She took the opportunity to visit us when she was at a conference in San Francisco in October. In 2010, she received recognition at the White House for her work in empowering women and met President Obama. She then wrote a book, From Gomba to the White House. She shared an African proverb: "When you walk fast, you walk alone. When you walk with others, you go far."
_______________

MAKING KIDS SMILE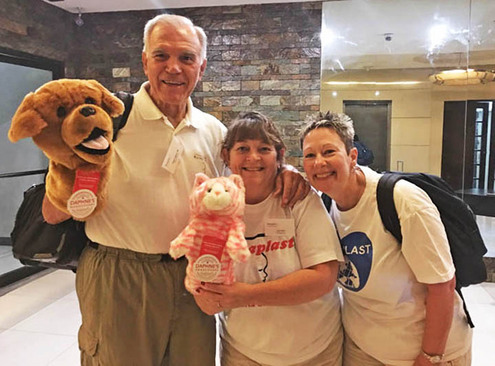 Marshall Gross donated two beautiful puppets that he won in a gift basket to Rotaplast's mission in Cebu City, Philippines. Dr. Angelo Capozzi (with the big dog) reports that the puppets are making kids smile every day before undergoing surgery, and the mission is going well.
______________

Tiburon Challenger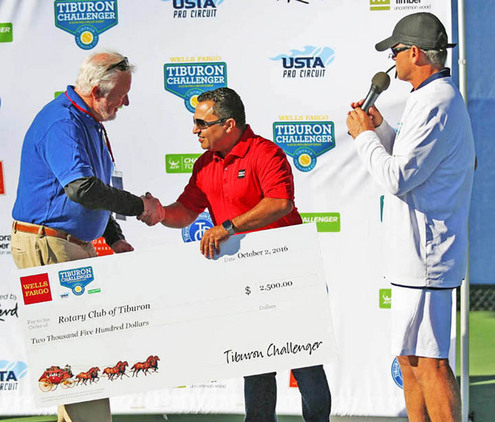 Charlie Oewel, representing the Rotary Club of Tiburon-Belvedere, accepted a generous check from Ashoo Vaid (middle) of Wells Fargo and tournament director Brendan Curry (right) at the conclusion of the Tiburon Challenger. The funds will go to the club's education projects. (Photo: Getty Images for Revd)
_______________

Rotary welcomes Kimberly Brooks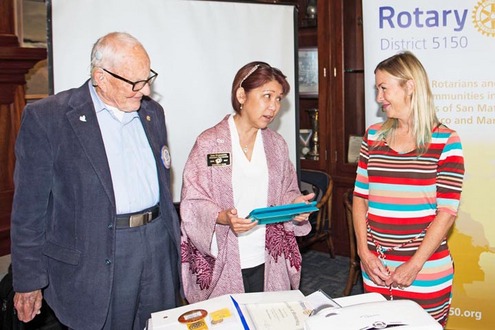 District Governor Jeri Fujimoto (center) inducted new member Kimberley Brooks (right) as Kimi's sponsor, Joe Lavigne, looked on. Photo: Marshall Gross
_____________________
DAY BEFORE LABOR DAY PARADE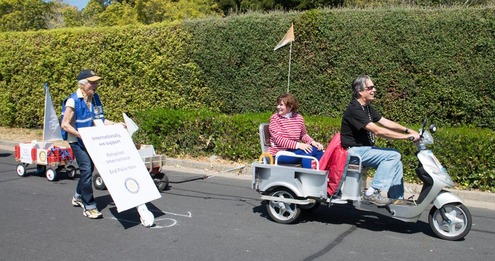 Tari Nix and friend pull wagons with books for kids from the Global Book Exchange, as Marianne Strotz walks alongside, wheeling a Rotary sign. (Photo: Marshall Gross)
To see more photos of the parade, go to www.tiburonrotary.org and click on "Photo Gallery."
____________________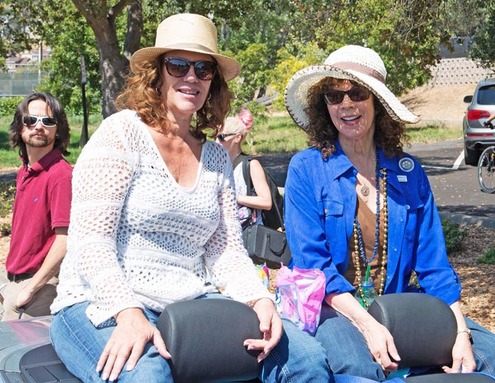 President Linda Emberson (left) of Tiburon-Belvedere and President Marilyn Nemzer of Tiburon Sunset hitch a ride with Michael Heckmann in the Day Before Labor Day Parade. (Photo: Marshall Gross)
Dana and Chester (left), making friends.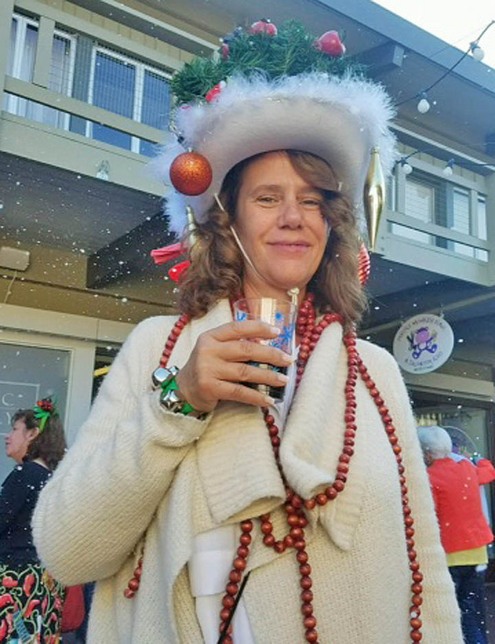 Winter in August was the theme of the Tiburon Peninsula Chamber of Commerce's mixer at the Boardwalk. President Linda Emberson took the prize for the most creative hat.

_______________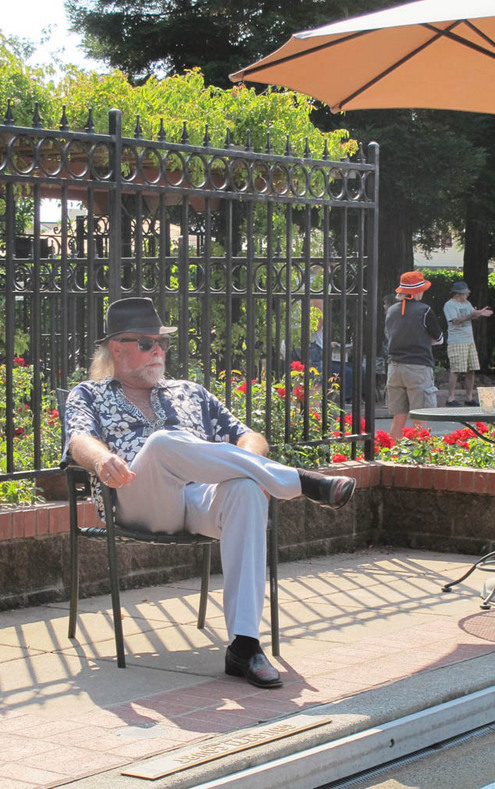 Jon Rankin views the on-court action at the annual Bocce Ball Tournament, a fundraiser for Rotaplast International. (Photo: J. Wilson)

_______________

Changing of the Guard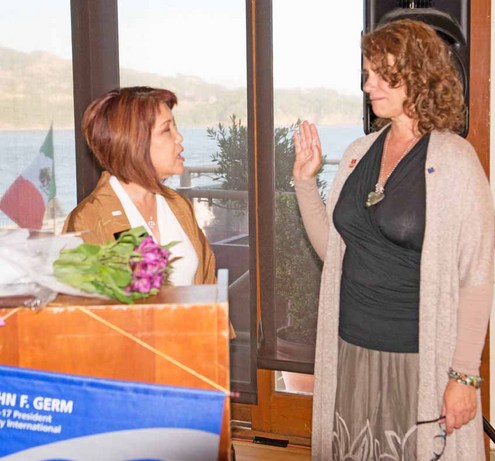 Thanks to President Marianne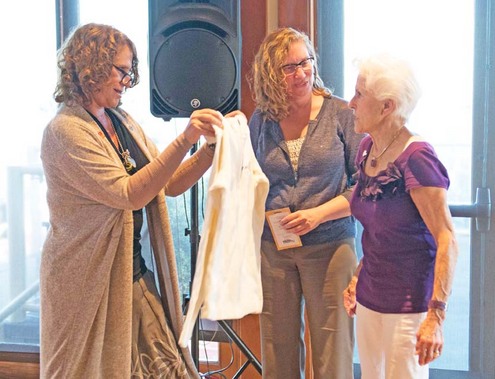 President Linda Emberson (left) thanks outgoing President Marianne Strotz (right) for her two outstanding years of leadership with a special Rotary jacket, as Karen Glader, the club's new secretary, looks on. (Photo: Marshall Gross)
____________________

Honors for Angelo
Dr. Angelo Capozzi (left) and Dr. John Kaufmann with a child who underwent surgery during a Rotaplast mission to Peru in May 2016. (Photo: Courtesy of Rotaplast International)
____________________
Service Above Self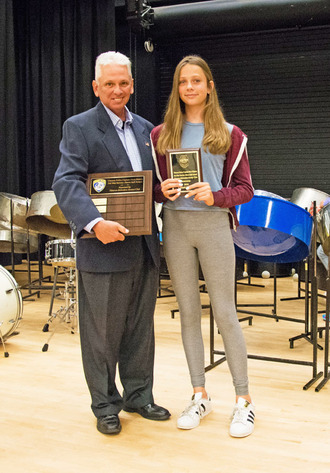 Dave Hutton presents the Capt. Dave Hutton Rotary Service Above Self Award to Kendall Hermann, graduating senior at Del Mar Middle School, for her outstanding performance in community service. The presentation took place at a special awards assembly in June. Photo: Marshall Gross
____________________
Teachers of the Year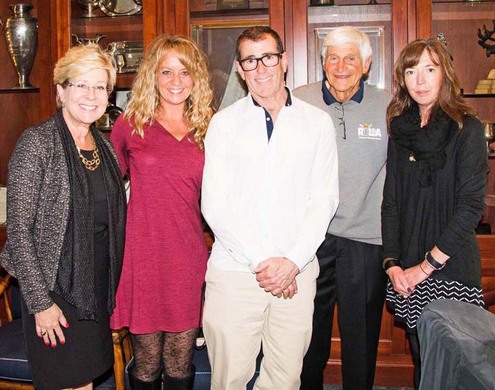 (Left to right) RUSD Superintendent Nancy Lynch, Bel Aire School's Kelly Morphy, Reed School's Ross Modlin, Rotarian George Landau and Erin Turner of St. Hilary School (photo: Marshall Gross)
____________________
Carnaval!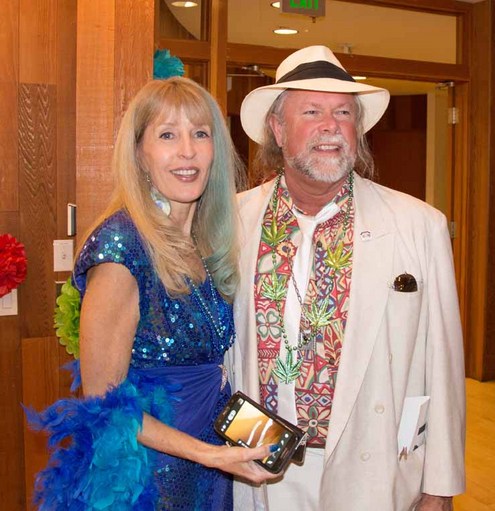 Mary Kaufmann and Jon Rankin got into the spirit of Carnaval, a fundraiser for the Rotary Club of Tiburon-Belvedere. For more, see the photo gallery at www.tiburonrotary.org. (Photo: Marshall Gross)
_______________