Welcome to Telli Marin! Sign in | Create a login

Rotary Club of Tiburon-Belvedere
Fellowship and Service
Address:
Sam's Anchor Cafe
Tiburon/Belvedere, CA 94920
Phone:
415-789-0161
ROTARY
Club of Tiburon-Belvedere

Monday, January 25, 2021

NEWS
Tiburon-Belvedere Rotary Newsletter, January 13, 2021
An uncle's intriguing past and a piece of little-know history prompted Leslie Barry to write the screenplay for upcoming movie Newark Minutemen. Thanks to her 95-year-old mother, who was becoming impatient as she waited for the film, Leslie turned the story into a book as well, and she spoke to us this week about the story and what inspired her to write it. A 30-year Tiburon resident, Leslie raised four children here, and they all attended local schools. She has a background in the entertainment and technology industries, and she worked for Turner Broadcasting and in the video-game business.
The idea for the story got its start at her mother's 90th birthday party. Her mother grew up in Newark, NJ, and the family invited 90 guests who were a melting pot of different people and ideals to the party. They started talking about the Great Depression and World War II, and they recalled her mother's brother Jerry, who was a boxer and beat up Nazis. Even though it was family history, Leslie had never heard the stories about her uncle, and she discovered that American Nazis were active in northern New Jersey in the 1930s. With her curiosity piqued, she began doing research and uncovered old FBI documents, diaries and records of interviews. A cousin also sent her a video of a film from the era, which was about a rally of German-American Nazis at Madison Square Garden on Washington's birthday in 1939, about six months before Hitler invaded Poland. It contained a scene of Fritz Kuhn, the self-proclaimed American Nazi Fuhrer, speaking. "The more you listen to the speech, the more shocking it is that it could be happening in America," said Leslie. "They called us the colony by the way." She added that the American Nazis trained with the NRA, which gave three guns to each person, and also with the National Guard.
Kuhn had six corporations, which included newspapers, and a real estate firm that bought land across the country and built 25 Nazi youth camps. "He was growing and growing and growing, but because of First Amendment rights we couldn't do anything," said Leslie. The government understood the threat but was unable to do anything about it. The mob had money and the power, however, so government representatives went to Meyer Lansky, who was prominent in organized crime, and asked for his help. He told them to look the other way, and he'd get the job done. Lansky went to Longie (Abner Zwillman), an associate who had a boxing organization, and he was able to get someone to do what they needed on a minute's notice. Her uncle was undercover and took pictures of what was going on in the camps, and he and the other boxers got $100 apiece every time they went out to fight Nazis.
Leslie's story is based on true events and is about German-American Nazis rising to prominence during the Great Depression and Jewish boxers—Newark Minutemen—who organized to oppose the German American bund. It has lots of action and a mixture of violence and unrest, and it also has a star-crossed love story that's doomed to failure. "The hero is driven by revenge," said Leslie, and she explained that she wanted to understand kindness, weakness and mistakes, and she wanted readers to understand some of the behavior at the time. "Why were people closing their eyes to what Hitler was doing in America?" she asked. "If it had come true, we'd be living a different history right now."
She launched the book during the pandemic, and it is available at Book Passage, other local bookstores and on Amazon. See more at https://newarkminutemen.com/.
Questions and Answers
"I'm kind of sad that there were no Italians," said Angelo Capozzi.
Leslie replied that the Fascists were against anyone who wasn't like them, and some of the boxers were Italians and Irish. "I'm amazed that none of this has come to the surface in the last few years," she said, adding that 200,000 people attended the rally at Madison Square Gardens, so it was a major event.
George Landau said that the Yorkville neighborhood in New York City had a thriving German community. "It was all out in the open. They had their own newspaper," he said, adding that The House on 92nd Street, a 1945 American spy film talks about the Nazi movement in the United States.
Leslie said that Kuhn was the movement's strength, and the government went after him like they did Al Capone, by investigating the Bund's taxes and discovering that he had embezzled a large amount of money. As a result, he went to jail and lost power.
"Americans had lost faith in democracy. We were very divided." said Leslie, and some people thought Fascism might work. The rally at Madison Square Garden, which was called Der Tag (the day), woke people up, and news people started writing about it. The organization started falling apart, and by 1941, "It was pretty much done," she said. "Americans understood the threat to the world by 1941."
Steve Melen recalled that Longie was friend of Lucky Luciano. "Lucky was Longie's boss," he said, and they were powerful because they were on the waterfront and smuggled in liquor during Prohibition.
"This was not a small cult," said John Kaufmann, who explained that at one point, they tried to shut down movie industry's negative portrayal of Nazis.
"I did a lot of reading on both sides," said Leslie, because she likes to see more than one perspective. One of her primary sources was Ancestry, and she used it to help create characters' lives. She found two brothers, German Americans from Chicago, Jim and John Metcalf. In 1936, they went undercover for six months and were tied into the inner circle. John wrote about his experiences, and Leslie found out that his writings were at the Hoover Institute at Stanford University. She said that they are incredibly detailed handwritten diaries, and he even wrote notes on restaurant tickets.
Yael, the protagonist is modeled on John Metcalfe, and the part that is most fictionalized is the love story.
Steve Ramirez asked Leslie if Japanese director Akira Kurosawa was an influence.
One of the techniques Kurosawa used is multiple narrators, and Leslie told her story through four narrators. She started writing the story as a young adult novel, but she needed a sensitivity editor to address certain issues, and she had too many problems and decided to do an adult book instead. She needed to find the right way to use multiple narrators and went to Book Passage, where she was paired with someone who could work with her. She was told to read The Hunger Games, and then she got it.
She wrote the screenplay first and then did the book, and she was able to find a publisher who didn't want the movie rights. Four guys from the UK and James Corden bought the movie rights.
"This Covid has to calm down before we can do the serious stuff," she said. "We've got to keep the Tiburon movie house open because that's where I want to premiere it." She mentioned that we have other filmmakers in Tiburon, including Sue Turley and Annie Roney.
Leslie had an enthusiastic audience. "We always love the history talks more than anything," said Kathleen Defever.
____________________
THOUGHT FOR THE DAY
 Revati Natesan shared a quote from Rabindranath Tagore (right), an Indian poet, writer and dramatist: "I slept and dreamt that life was joy. I awoke and saw that life was service. I acted and behold, service was joy." 
Tagore won the Nobel Prize for Literature in 1913 and was the first Indian to receive the award. Revati said that his work has had a very profound influence on her life. 
CONVERSATION
 George Landau observed Revati Natesan's lovely, snowy Zoom background and said he doesn't like to see snow, because it brings back unpleasant memories of his childhood in Siberia. If you'd like to learn more about George's experiences after his family was forcibly relocated to Siberia, you can see the documentary film "Lies and Miracles" on YouTube. It's 41 minutes long, so make sure you get the full-length version, not the trailer.
Angelo Capozzi attended a Del Mar Homeowners meeting, and DeAnn Biss of the Tiburon Peninsula Chamber of Commerce gave Rotary a nice plug for helping local businesses during the pandemic.
George Landau visited the little store that's the Chamber of Commerce's new home. "I recommend that you stop by," he said. It's on Main Street across the lane from Salt & Pepper, and the merchandise includes t-shirts that say Tiburon on them.
The subject of the Tiburon Playhouse came up, and Angelo Capozzi said plans to close it came before Covid-19, and no one has announced what's going to happen to it. However, some people in town are working to come up with a plan to turn it into a nonprofit venue, similar to the Lark, in Larkspur. People who want it to survive are discussing different ideas.
CLUB ASSEMBLY
For the first Club Assembly of 2021, we broke out into small groups in chat rooms to discuss a set of questions, and members shared their ideas for ways the club can move forward.
• When we can once again meet in person, what model would you prefer?
The general consensus was that we should adopt a hybrid model, with some meetings in person and some on Zoom. A Happy Hour on the fifth Wednesday was also a popular choice.
Geneva Michaelcheck pointed out that a hybrid model would allow more people to attend, especially working people, who might have challenges attending meetings in person.
Kathleen Defever suggested also using Zoom at in-person meetings to encourage attendance.

• What time would you like to meet?
Several people preferred 4 p.m., because it's easier for people who are working than taking time in the middle of the day.
Geneva Michaelcheck pointed out that meeting at a time when food is served is a primary concern, because without food, we might not be able to meet at a restaurant for free. If we could have hors d'oeuvres and drink at an off-hour at a restaurant, it also would be less expensive.
George Landau recalled that we met from 12:15 to 1:30 p.m. for many years, and it was the standard for Rotary clubs all over the world. We only began meeting at 11:30 a.m., because Sam's wanted us to leave by 1 p.m.
President Annette Gibbs pointed out that now Rotary International encourages clubs to be flexible and choose the meeting times and format that will work best for their members.
Bill Lindqvist said that we can be flexible now, but there was no way he could have attended lunch meetings before he retired.
Most members agreed that we should be flexible.
Bob Benbow responded by email to say that his preference is in-person meetings at 11 a.m.
 
• What kind of service projects would you like to do?
Older members thought that that doing tasks for seniors would be challenging for them; however, they liked the idea of community clean-up and serving food to the needy.
Bill Lindqvist said he would like us to continue serving lunch once a month at the St. Vincent de Paul Dining Room in San Rafael, which we did for many years under Mike Keran's leadership. He also mentioned that we have done beach clean-up with the Audubon Sanctuary in the past.
Angelo Capozzi suggested creating a program for delivering meals to the elderly in our own community. Marshall Gross said that if we were to prepare the food ourselves, we would have a problem with the health department. David Albert pointed that Whistlestop (now Vivalon) already does it. Geneva Michaelchek said that we could do it as individuals, but not as a Rotary project "If Whistlestop does it now, why would we want to compete with them?" asked Charlie Oewel.
Irene Sliskly said that she and Warren served food at Whistlestop's Thanksgiving Feast for Seniors and enjoyed it.

Charlie added that he would like us to continue our partnership with Bel Aire School, in which we support projects for their sister school in Liberia. Judy Wilson reported that the board has allocated funds in this year's budget, and we plan to continue the program, assuming Bel Aire does. She will contact the teacher to find out the status.
Revati Natesan said she'd like to help local businesses with a block party in late spring or summer. She also likes the idea of helping with school field trips.
We currently volunteer at the Global Book Exchange and help kids choose books, when they visit on school field trips. In addition, District 5150 has asked us to help on at least one field trip at Audubon Canyon Ranch to support the District Grant we received to underwrite the cost of field trips. District 5150 also wants us to volunteer at the food pantry at The Ranch as a condition of the grant we received to purchase produce boxes to donate to the food pantry.
 
• What kind of fundraising activities would you like the club to be involved in?
President Annette Gibbs reported that we will continue having a barbecue and bar at the Tiburon Classic Car Show and will help The Ranch with Beer Bash. We'll sell hot dogs ad pretzels, and is should be a big fundraiser. "People will be sloshing beer all day and won't have anything else to eat," she said. 
David Albert said he liked the fundraising events we've held. (Casino Night; the Pooch Pageant; SpaghettiStock; Festa Italiana; Carnaval; Crab, Chardonnay & Chocolate, Pajama Fashion Show)
George Landau said that the Pooch Pageant, which Maggie Champagne created, was extremely successful. Casino Night and SpaghettiStock were also moneymakers.
President Annette pointed out that fundraising events require a phenomenal amount of member participation and up-front funds. She looked into Casino Night at Strawberry Recreation Center and discovered that venue rental is expensive, as is contracting a company to run a casino. We also need members to go out and get sponsors for an event to be a financial success.
Members weren't enthusiastic about auctions and raffles, because they involve a lot of solicitation and organization.
Kathleen Defever pointed out that Angelo Capozzi sells popcorn at Friday Night on Main, and she wondered if we could add to that. Judy Wilson suggested that we collect the surplus of Meyer lemons that members of the community have each year and ask Homeward Bound's culinary division to make marmalade for us. That would give us a product with Rotary branding to sell at Friday Night on Main and events such as the car show.

• What kind of social activities would you like the club to offer?
Lata Setty said that Steve Ramirez was in her group and had some good ideas, such as karaoke night or a visit to a winery.
Steve added that he's a wine club member at Ram's Gate Winery, which is this side of Sonoma and one of the closest wineries to Marin County. We could use one of their big rooms.
Lata said that Rotaplast had a night at Trek Winery in downtown Novato, and that might be a possibility for a karaoke night. Judy Wilson said that Andy Podshadly, the owner, is a member of the Novato Sunrise Club and also hosts Paint Night, so he would probably be receptive to the idea.
Rotary's cruise on Opening Day on the Bay, April 28, 1985
George Landau suggested a cruise on San Francisco Bay, which would be local and could be in partnership with the Tiburon Peninsula Chamber of Commerce. "We had them in the past on Opening Day," he said. 
"It would be better to get our own boat," said Charlie Oewel.
"We can work with Maggie who owns the ferry," said Marianne Strotz. She added that we could get together with the Tiburon Sunset Club as well as the Chamber of Commerce and serve pizza and beer. She also thought the Pooch Pageant was a good event.
Photo at right: Passengers aboard the Opening Day cruise

President Annette asked which projects members would be willing to lead to get them off the ground. "I need you all with these ideas; think about which projects you are willing to lead and have come to fruition," she said.

• What are your suggestions for making the club more vibrant?
Most members believe the club needs more young people, and we need to reach out to young, dynamic professionals.
-------------------- 
Tiburon-Belvedere Rotary Newsletter, January 6, 2021
THOUGHT FOR THE DAY
 Angelo Capozzi shared the following thought from Pope Francis, which we've heard before, and "I just love it," he said. 
"Rivers do not drink their own water; trees do not eat their own fruit. The sun does not shine on itself, and flowers do not spread their fragrance for themselves. Living for others is a rule of nature. We are all born to each other, no matter how difficult it is. Life is good when you are happy, but much better when others are happy because of you."
VISITORS AND GUESTS
Brian Walker, a member of the Garberville Club and an honorary member of our club,was near the ocean. :It's just beautiful," he said.
Bill Goldberg's wife Gisella greeted us.
Lawrence Guinness dropped into Chat Room 2 to say hello to the ladies.
ANNOUNCEMENTS
 Sadly, George Landau's brother died on Monday. After briefly attending our meeting, he had to leave to deal with family business. Our condolences to George and his family.
THE MAIN EVENT
We focused on the attitude of gratitude and broke up into small groups in Zoom chat rooms to talk about our favorite part of the holidays for 15 minutes. 
Geneva Michaelcheck talked about her family Christmas at home in Belvedere. She and her husband usually spend the holiday elsewhere, but this year they stayed home and got to create their own Christmas for the first time. "We didn't have any of the stuff," she said. "We got to pick all our own stockings. They have all different personalities."
Her husband is Cuban, so on Christmas Eve, they had a traditional Noche Buena dinner. "We had this special Spanish nougat. It's traditional," she said. [If you'd like to try it, it's Turrón, and The Spanish Table carries it.]. They had an 8-foot tree and had to buy lights and ornaments. "We created Christmas from nothing. It was really fun," she said.
"My Christmas was great," said Norine Smith, explaining that her family had a wonderful Christmas dinner.
Revati Natesan has a rattan Christmas tree shape that she puts on the wall. "I looked for ornaments around the house," she said, and she used little Peruvian people of the type you can sew a sweater. "The grandkids loved it," she said. Her daughter lives in Tiburon a couple of miles away, and she has a Christmas tree. "I've given my ornaments to her. Each one has a history," she said.
Judy Wilson's husband had surgery at the end of December and had to spend New Year's Eve in the hospital in San Francisco. The outcome was good, making them grateful for a positive start to 2021.
"The Warriors are doing well," said Irene Slisky. Steph Curry had 62 baskets in one game, which provided some exciting action. 
____________________ 
Tiburon-Belvedere Rotary Newsletter, December 16, 2020
THOUGHT FOR THE DAY
Steve Ramirez, who reflected on friendship with a quote from Groucho Marx. "When you're in jail, a good friend will be trying to bail you out. A best friend will be in the cell next to you saying, 'Damn, that was fun:" 
VISITORS AND GUESTS
Angelo Capozzi welcomed Jacques Sochan, who intends to become a member.
ANNOUNCEMENTS
Holiday schedule. We do not have meetings on December 23 and 30. We'll resume our regular schedule on Wednesday, January 6, at 4 p.m. on Zoom.
Holiday Auction. The Holiday Auction raised $1,704. Thanks to everyone who participated by donating auction items, making bids or donating to George Landau's Holiday Auction Challenge. You made a big difference, especially in a year when we had to forgo our usual fundraising opportunities. We only have $800 to go to reach our target for the Library garden fund.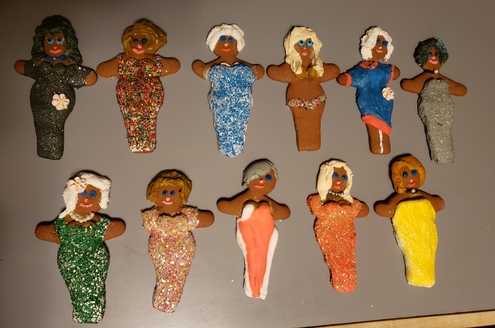 Geneva MIchaelcheck had the winning bid for Exotic Gingerbread Ladies in the Holiday Auction.

Assessment. The Tiburon-Belvedere Rotary Club's Foundation' annual assessment to support our charitable work is $250 and payable in January. However, if you pay before the end of the year, you get an early-bird special and can pay $200 and claim it on your tax return as a charitable donation. Linda Emberson,who is the president of the foundation, sent out a letter to all members. "If you can get your assessment in early, that would be wonderful," she said.
Electronic Payments. Please note that funds deposited via Zelle and Venmo go into the club account and have to be transferred to the foundation's account. If you're sending money to the foundation, please make a note to that effect so the club treasurer will know where it's supposed to go.

THE MAIN EVENT
Geneva Michaelcheck was a city kid who grew up in Manhattan. Her husband is Cuban-American, and her stepdaughter, Anamaria, just started high school. Her purpose and why she does what she does motivate her, and to embody her higher self, she does meditation.
Geneva Michaelcheck was a city kid who grew up in Manhattan. Her husband is Cuban-American, and her stepdaughter, Anamaria, just started high school. Her purpose and why she does what she does motivate her, and to embody her higher self, she does meditation.
Photo: Geneva in a festive hat at the Holiday Party
She started on that path 19 years ago, when she was 22. She studied Classics at the University of Pennsylvania and studied Latin and Greek scholars. After college, she wanted to go around the world, and the way she was going to pay for it was by writing a book. Then she got a call about a family member in the last year of high school who was struggling with depression. She decided to help her and moved to where she was and set up an apartment. Her family member was grateful for the help and was motivated to handle her problems on her own.
Geneva had canceled everything, and "My life was kind of a blank," she said. She had no plans or responsibilities and moved back home into her mother's spare room. She came down with the flu, was snowed in and no life plan. "I was a bit lost," she said, and something inside her broke. A voice inside told her that if she proceeded with her plans to travel, something inside her would burn out. "It was not the right plan for me," she said, and the realization was devastating, but the voice was telling her that she needed to make a big change. All of her big ideas swept aside, and she decided to take a couple of months to be quiet and listen to the voice. Mother had a place in the country where she stayed and took time to think. She gradually came back into the world and took a road trip with mother from New York all around the country. "When we hit Northern California, when we hit Monterey, something changed for me. … I knew I wanted to be here."
She saw an ad for a master's degree in consciousness studies in Northern California, left her preppy upbringing and came to a Hippie school in Northern California. She started the interdisciplinary program, which encouraged students to find a way to experience consciousness and find a path to experiment with the ideas they were studying. Then she found a school of meditation, and something clicked. She decided she'd found something that was for her. She began studying meditation, began teaching and ran a center in Berkeley for nine years as a volunteer.
The style of meditation she does is very specific and is an academic discipline as well as something she does personally. It increases blood pressure, releases stress and has a component of awakening that doesn't come with relaxation. Rather, it's about overcoming limitations and raising consciousness. "The mind becomes unusually acute," she said. Meditation sharpens the senses and allows you to know yourself in a way. The mind goes really quiet and allows one to get closer to something more and the higher self. "It's a way of orienting to my life, to be the best self I can be," said Geneva.
Her participation in Rotary is very connected to her practice of meditation. Others depend on adventure, but that experiences passes. The awakening is something inside that's lasting. "It's a completely different world that opens in front of you," she explained.
Questions and Answers
"Who were the philosophers you studied?" asked David Albert.
Geneva replied that the focus was overwhelming on philosophers with a sense of consciousness. She looked at texts of ancient religions and read the works of Confucius and different Christian mystics.
Linda Emberson asked her to describe her meditation practice.
Geneva replied that she gets up in morning, washes and does a 45-minute mediation. She goes to the Meditation Center in Berkeley for three hours on Monday night and also attends retreats, which include meditation as well as lectures, three times a year for one to two weeks.
She explained that meditation has two styles of meditation: One is very focused on the mind and might try things like observing thoughts. When a thought comes, you examine it. In the second style, you repeat a mantra as a way of giving the mind something to rest on. A third broad camp is focused on energy centers. You focus on one or more center of energy with the aim of cultivating energy centers. "It's about building a body of energy," she said.
Steve Ramirez observed that Geneva's experience in the country might have had an influence.
"How long did it take to be comfortable with the energy centers you describe?" asked Angelo Capozzi.
Geneva explained that the school has a total focus on the direct experience and does nothing to encourage people to adhere to a specific dogma. It's a direct, immediate experience, and the approach allowed her to have an agnostic experimental experience. "Even now, I take it as a kind of playful experimentation," she said.
Angelo has two sons who meditate and go to Spirit Rock. "Have you been there?" he asked.
"Yes, it's beautiful," she responded.
"How has it changed you?" asked David Albert.
"I dive deep into this. The school of meditation that I study with is designed to take students to a high level of training," she said. It's designed for people who want to dive deep, and "I do have that kind of personality," she said, explaining that she threw herself into the practices.
"I've had direct experiences with what you might call God or some kind of divine intelligence … a kind of support that's behind me. Being a person with those experiences, I'm a different person." She explained that she's kinder, softer, more intense and quieter. She has left behind fear, anxiety, despair and things that dragged her down.
Linda Emberson shared a thought from Buddha. "It's not what I got, it's what I got rid of." She observed that Geneva's experience reflects that.
"Does your husband join you in these actions and efforts?" asked David Albert.
Geneva explained that her husband was raised Catholic and feels a deep connection to his religion.
"Is your daughter into meditation?" asked Angelo Capozzi.
"She's at the stage of asking questions," she replied.
"Would the Geneva of 10 years ago have married Robert?" asked Angelo.
"No, no she wouldn't," said Geneva, who described herself as more rigid and pious 10 years ago.
Geneva explained that the school is a nonprofit but is not seeking donations. It has a one-page website and guided mediations. To find an Introduction to Meditation Online Course, go to https://clairvision.org/virtual-meditation-course/index.html.
Revati Natesan practices meditation, and "It's definitely made an impact on me as a person ever the years," she said, explained that it's made her feel more connected with people. "It's a journey that I've been on. I'm still working on it," she said. "Try to watch your mind as you're meditating. If you watch your mind, it does become quiet."
Jacques Sochan meditates twice a day, and his practice at 5:30 a.m. is a pranayama, a method of breath control used in yoga. "That's why I'm so powerful and happy with my life," he said.
"Why are you named after a Swiss city?" asked David Albert.
Geneva explained that her mother is from Texas and her father is from Tennessee. They traveled to Switzerland and fell in love with Geneva. "My mom put it in her back pocket," she said.
____________________ 
MARK YOUR CALENDAR
GREAT GUEST SPEAKERS
January 27, Jeff Teresi, motivational speaker and author of The 7 Key Abilities
Meetings will be on Zoom until further notice. If you'd like to attend a meeting
or be a guest speaker, please send an email to rotary@telli.com
  ____________________

NOTEWORTHY EVENTS
No events scheduled at this time
 ___________________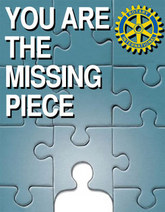 Meetings

All in-person Rotary meetings and events have been cancelled or postponed as a result of the COVID-19 pandemic. We will be meeting on Zoom at 4 p.m. on Wednesday until further notice. If you'd like to join us, we'd be delighted to meet you. Please go to https://us02web.zoom.us/j/81915154482?pwd=MDVHWWVjemovQ2ovdjJkZzczeW9qZz09,

Our usual meeting place is Sam's Anchor Cafe, and we gather at 5:30 p.m. for an early evening meeting on the first and third Wednesday of the month and for lunch at 12:15 p.m. on the second and fourth Wednesday of the month. Most weeks, either a guest speaker makes a presentation or we have a program. Attendance is $10. Food and drinks are no-host  We welcome guests. If you'd like to hear a speaker, offer to be one or find out more about Rotary, pay us a visit. We'd be happy to make your acquaintance.

Board of Directors Meetings
Meetings of the Board of Directors are open to all members and take place monthly at a time to be announced. For information, please send an email to judith@telli.com.

Contact us at rotary@telli.com.
If you'd like to be a guest speaker, please contact Marianne Strotz at properties@pacbell.net.

Send mail to Rotary Club of Tiburon-Belvedere, P.O. Box 220, Tiburon, CA 94920.


Follow us on Facebook: https://www.facebook.com/tbrotary. Hope you "like" us!
_________________________
Scroll down to see our photo gallery of Rotarians at work and play!
____________________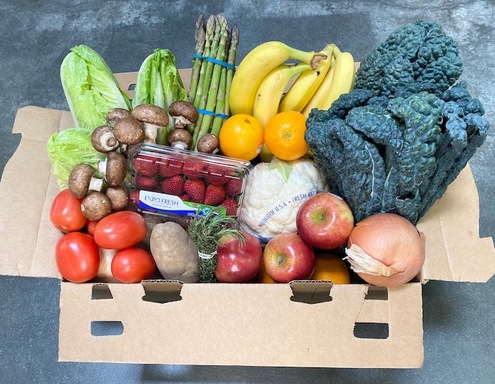 COVID-19 RELIEF

 ROTARY AT WORK

The Rotary Club of Tiburon-Belvedere supports a wide range of programs, with a focus on youth, literacy and community. We believe that reaching out to others makes a better world and encourage others to join us. Here's what we're supporting in 2019-2020

Youth—Investing in the Future
• Ambassadors of Hope and Opportunity: Support to provide a safety net of stable housing, guidance and community connections for young people 16 to 25, who are homeless or in danger of becoming homeless in Marin County.

• Bel Aire School's Liberia Project: Advice and support for the fifth-grade students' ongoing projects to help their sister school in Liberia, thus encouraging altruism at home and helping children in a disadvantaged country across the world.
• Dave Hutton Rotary Award for Service Above Self: An annual award to a graduating eighth-grader with a record of outstanding community service at Del Mar Middle School.
• Educator of the Year Awards: Annual awards to outstanding educators in local schools, whose unique projects give children a worldview that encourages them to become good citizens
• Global Book Exchange: Sup.port for the Global Book Exchange in San Rafael, which collects lightly-used books and redistributes them to teachers at schools with limited budgets, disadvantaged families and nonprofits that serve children, as well as schools throughout the world.
• Marielos Fund: A scholarship to send a young woman in El Salvador to medical school.
• Marin Youth Sympathy: Support for sending young musicians on a tour to perform in Europe.
• Musica Marin: Underwriting for scholarships for local students to attend events featuring classical music, fine food and a philanthropic purpose
• Rotaplast International: Support for volunteer medical teams to provide life-changing surgery for children with cleft-lip and palate in needy communities around the world.
• Rotary Youth Leadership Awards: Scholarships so high school sophomores and juniors can attend a special camp that guides them to develop their leadership skills.
• Young Performers International: Scholarships for kids to take music lessons and develop their performing skills. Music makes kids smarter!

Meaningful Projects—Service Above Self
• Marin Villages: Support for programs that help seniors age in their own homes. Members pay a small fee and can enjoy social get-togethers and access to volunteers for help with tasks such as getting to appointments, changing light bulbs or assisting with pets.

• Service to the Community Awards: Recognition for people who serve the community in meaningful ways, but don't often get acknowledgement.

• St. Vincent de Paul: Support for helping Marin's neediest residents obtain nutritious food, affordable housing, meaningful employment and a voice in the community.

• Whistlestop: Underwriting for Whistlestop's Thanksgiving Feast for Seniors.

District Designated Funds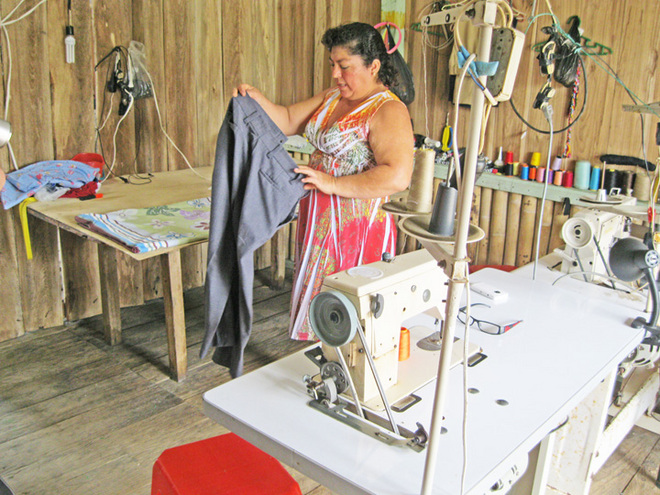 Rotary's District Designated Funds helped establish this sewing shop in Esmeraldas, Ecuador. Photo: Courtesy of Keith and Holly Axtell

Funds from the Rotary International Foundation's annual campaign earn District Designated Funds for our club. This year, we're contributing our international funds to the Rotary Club of Marin Evening's San Jacinto water project in Ecuador. For the past three years, we have contributed our funds to multi-club microcredit projects in Ecuador, Guatemala and Peru to train people in job and entrepreneurial skills and extend microloans to help them start small businesses and become self-sufficient.
District Designated Funds also support local projects, and this year our funds will go to underwrite the cost of school field trips to the Global Book Exchange and Audubon Canyon Ranch. In addition, we're donating portable bluetooth speakers to Canal Alliance so ESL teachers can fully implement the listening exercises that are part of the curriculum for English-language learners.

____________________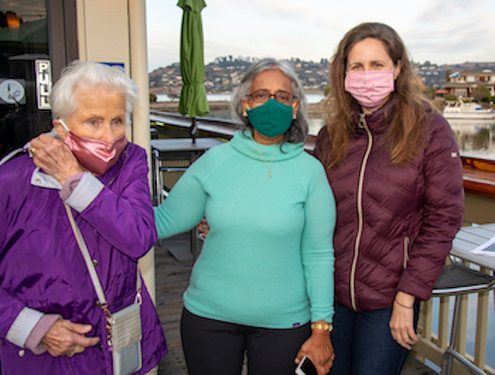 Marianne Strotz, Revati Natesan and Geneva Michaelcheck at Happy Hour at the Club at Harbor Point. Photo: Marshall Gross
_______________

Julie Aubrey visited from Rotary International's headquarters in Evanston, Illinois.
(l. to r.) Irene Russell, Kathleen Defever, Helen Lindqvist and Bill Lindqvist at the Tiburon Peninsula Chamber of Commerce mixer at the downtown Tiburon firehouse.
HELPING KIDS GO TO CAMP

President Annette Gibbs presented Jessica Hochkiss with a check for $1,000  for The Ranch from the club's foundation, which will help low-income children attend day camp. "We currently have two large summer camps going on," said Jessica, and she explained that they take kids to Angel Island every day. "The camp has gone on for 40 years," she said, and some of today's campers have parents who attended when they were young.
The Ranch is a nonprofit, and "Every little bit helps," she said, expressing her gratitude.
_______________

Past-president Linda Emberson and incoming President Annette Gibbs at the Installation Celebration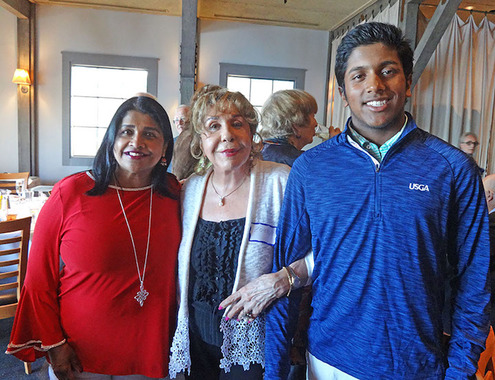 Lata Setty, Zohre Grothe and Lata's son, Deven Ramachandran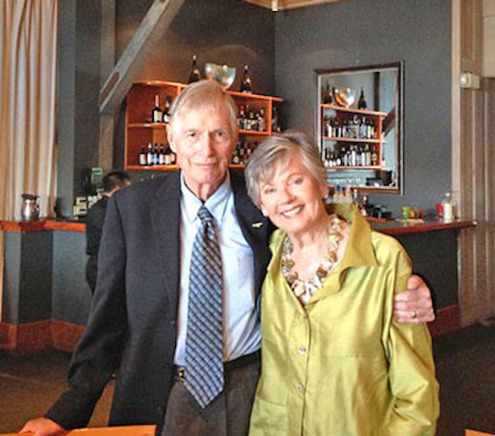 Warren and Irene Russell
_______________

Having fun at the Tiburon Classic Car Show!
Rotary in the community: Cindy Siciliano and Linda Emberson made it look easy, as they spent the day flipping burgers, hot dogs and corn on the cob for scores of happy customers.
____________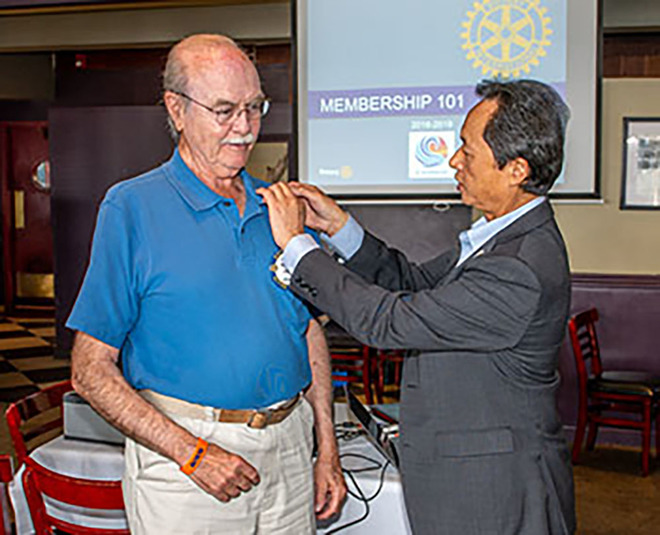 Past District Governor Ron Gin, now district membership chair, presents Mike Keran with a pin in honor of his being chosen Rotarian of the Month for District 5150.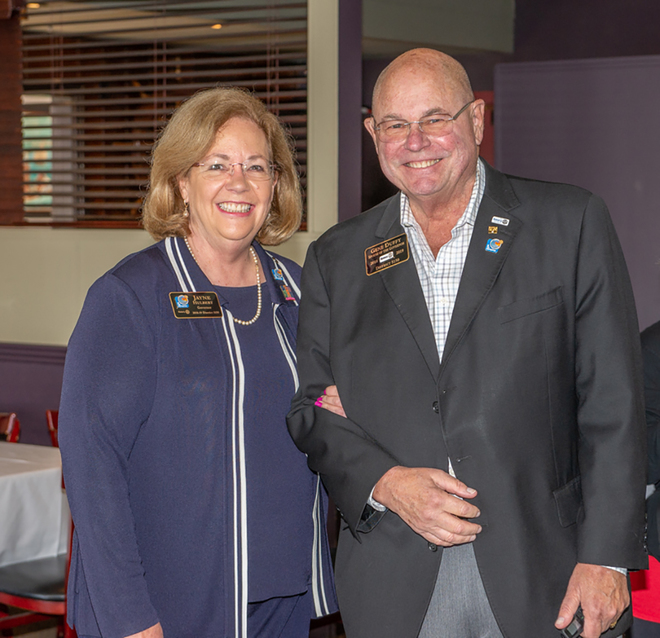 District Governor Jayne Hulbert and First Husband Gene Duffy paid the club a visit.
Cindy Siliciano of the Tiburon Sunset Rotary Club (left) and President Linda Emberson of the Tiburon-Belvedere club get ready to toss goodies to kids at the Labor Day weekend hometown parade. (Photo: Marshall Gross)
_______________

Welcome New Members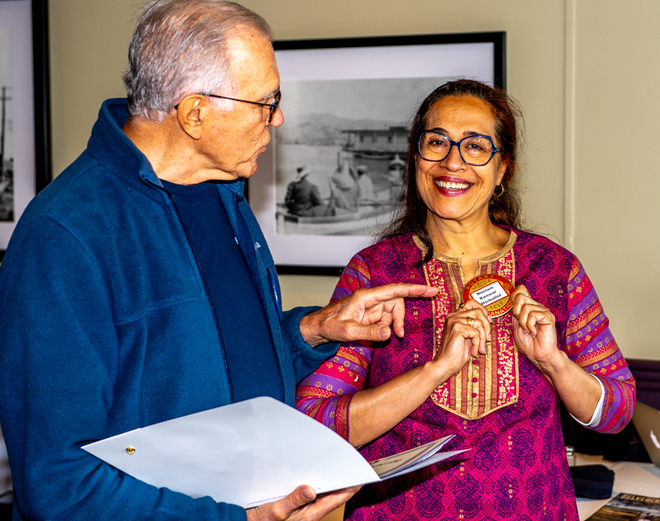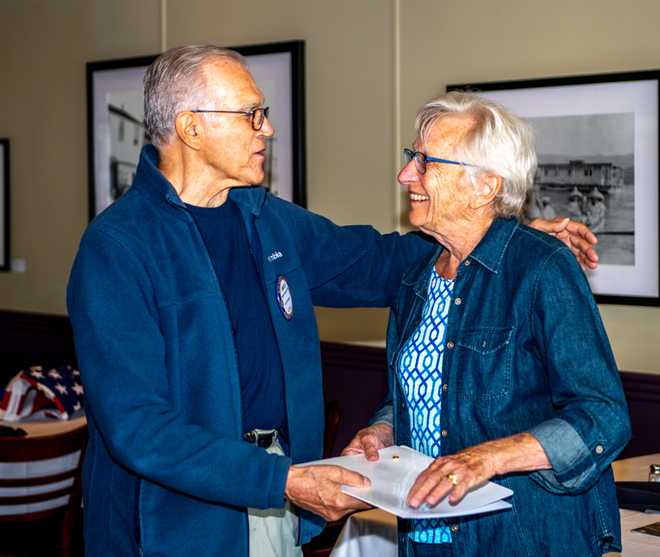 Membership chair Angelo Capozzi welcomed new members Neelam Kanwar (upper photo) and Lynn Spitler (lower photo).
_______________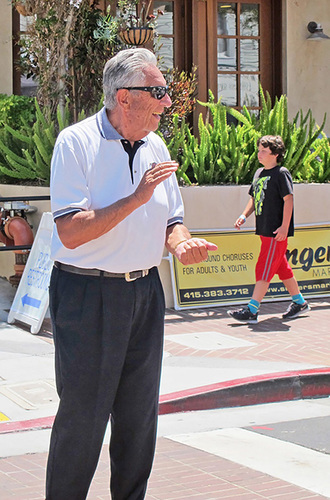 It is with profound sadness that President Linda Emberson announces the passing of beloved member Jim Deitz on Friday, July 13. Jim exemplified Rotary's motto, Service Above Self, and his altruistic spirit was a model for everyone. He was devoted to his family, loved dogs and was one of the best. We'll miss him terribly.
_______________

Good Work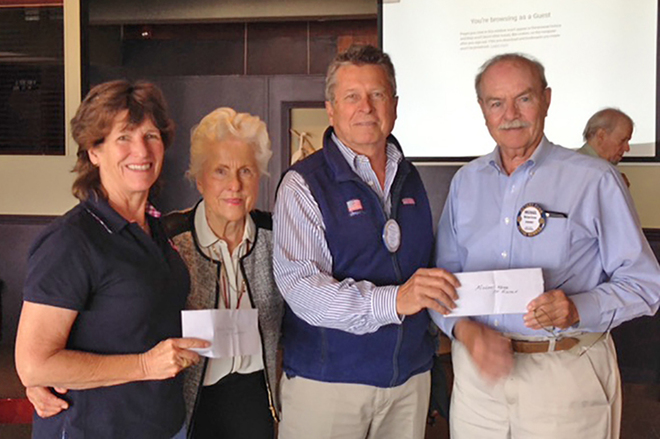 (l. to r.) Lisa Brinkmann of Marin Villages accepts a check from Marianne Strotz, and Michael Heckmann presents a check to Michael Keran for St. Vincent de Paul. Photo: Lynn Fox

_______________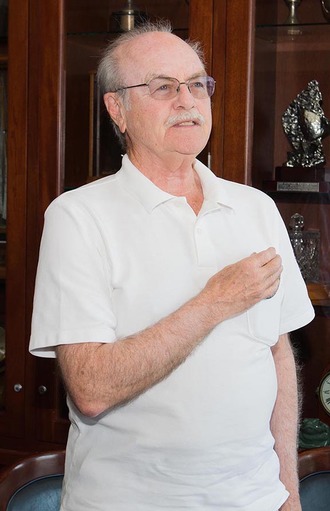 District 5150 named Michael Keran Rotarian of the Month for May. Mike's much-deserved honor is in recognition of his ongoing commitment to St. Vincent de Paul and helping the homeless in Marin County. In addition, he recruits a crew of Rotarians to serve lunch at the St. Vincent de Paul Free Dining Room in San Rafael every month. May marked the beginning of the 12th year of this service project.
_______________

Annette Gibbs (left) and Shelby Gross joined the Rotary contingent and got into the spirit
of this year's first Friday Night on Main
_______________

Celebrating Earth Day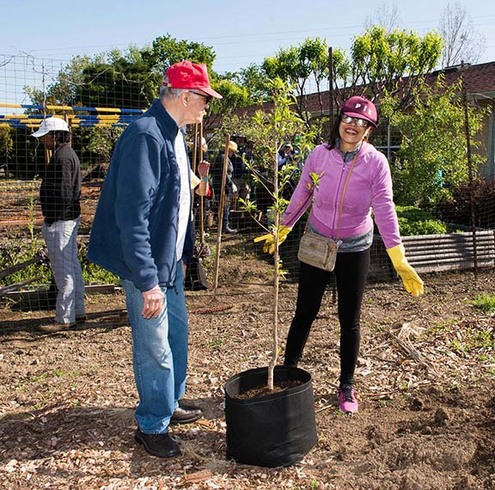 Having Fun at Friday Night on Main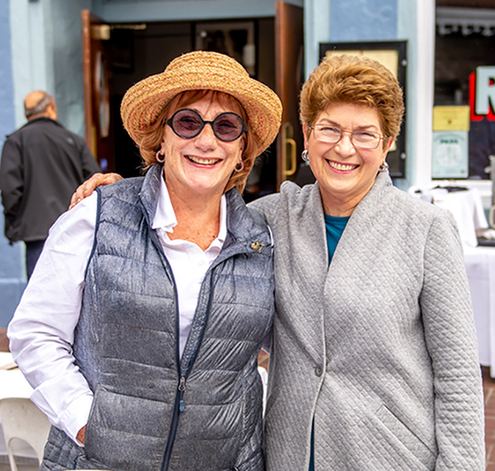 Angelo Capozzi (left) and Neelam Kanwar planted trees at Homeward Bound as part of Rotary International's initiative to plant one tree for every Rotarian. Photo: Marshall Gross
_______________
Lending a Hand at St. Vincent de Paul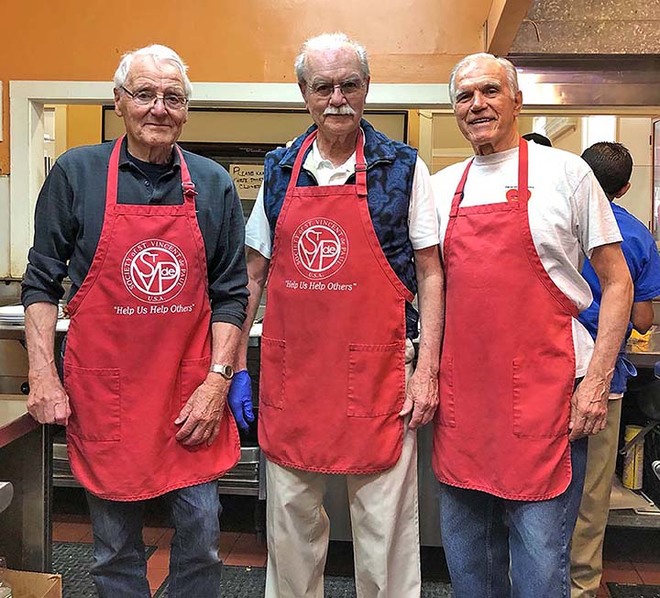 Stalwart volunteers (l. to r.) Klaus Meinberg, Michael Keran and Angelo Capozzi in the kitchen of the St. Vincent de Paul Free Dining Room in San Rafael. The Rotary Club of Tiburon-Belvedere serves lunch on the fourth Thursday of every month and will begin its twelfth year of volunteering, under Mike Keran's leadership, in May. Angelo is team leader for the club's participation in the REST program, and he and Klaus also served dinner to a group of homeless men at St. Hilary's Church the same day. Service Above Self at its best!
_______________

First meeting at Sam's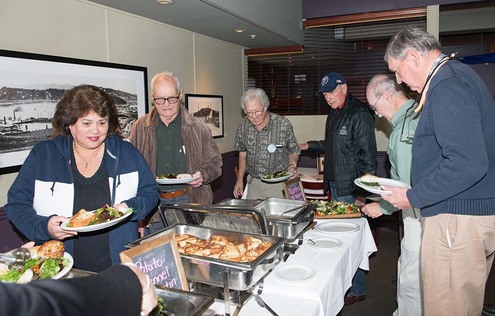 _______________

Rotary does REST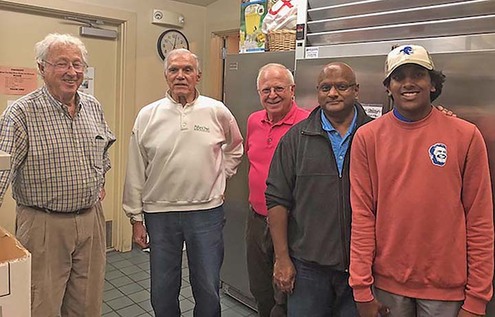 The Rotary Club of Tiburon-Belvedre hosted dinner for a group of 25 homeless men who were spending the night at St. Hilary's Church on Thursday, February 15, as part of the REST (Rotating Emergency Shelter Team) program.
Members of the Rotary crew (above, l. to r.), John Kaufmann, Angelo Capozzi, Brian Walker, Raja Ramachandran and Deven Ramachandran, took a break before serving dinner to guests in Tarantino Hall. Lata Setty, Annette Gibbs, Bill Goldberg, Zohre Grothe, Karl Hoppe and Lata Setty were also on hand to help. The evening featured good conversation, great appetites and uplifting camaraderie, as well as good food.which included homemade lasagna that Deven, Lata's son, helped prepare as a family Valentine's Day project, and Mary Kaufmann'a delicious oatmeal cookies and cupcakes decorated with hearts.
_______________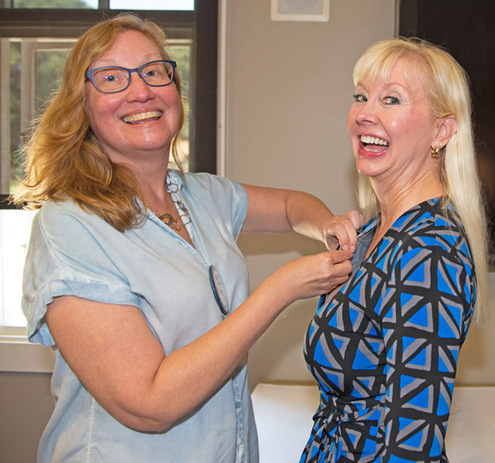 Karen Glader welcomes new member Valerie Marsh to the club and gives her a Rotary pin.
_______________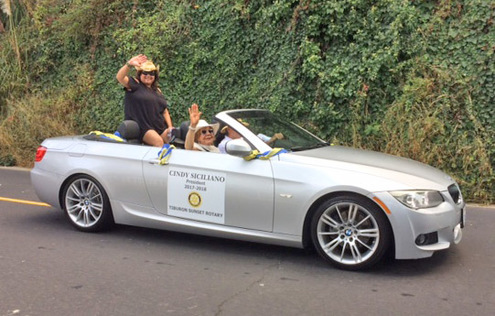 Rotarians have fun in the Day Before-Labor Day parade.
_______________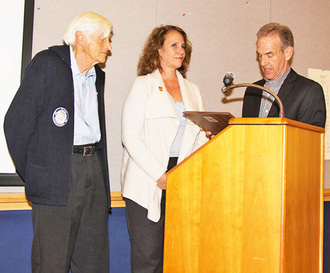 Proclamation
The Town of Tiburon issued a proclamation in honor of the Rotary Club of Tiburon-Belvedere's 40th anniversary, which we will celebrate in June, and the 100th anniversary of the Rotary International Foundation. Pictured, left to right, are George Landau, President Linda Emberson and Tiburon Mayor Jim Fraser. Photo: Marsall Gross.
______________
Visitor from Afar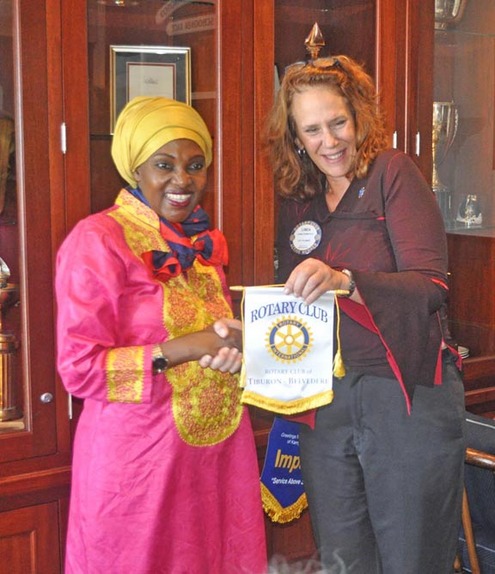 Rehmah Kasule (above left), with President Linda Emberson) is the Immediate Past President of the Rotary Club of Kampala/Impala in Uganda. She took the opportunity to visit us when she was at a conference in San Francisco in October. In 2010, she received recognition at the White House for her work in empowering women and met President Obama. She then wrote a book, From Gomba to the White House. She shared an African proverb: "When you walk fast, you walk alone. When you walk with others, you go far."
_______________

MAKING KIDS SMILE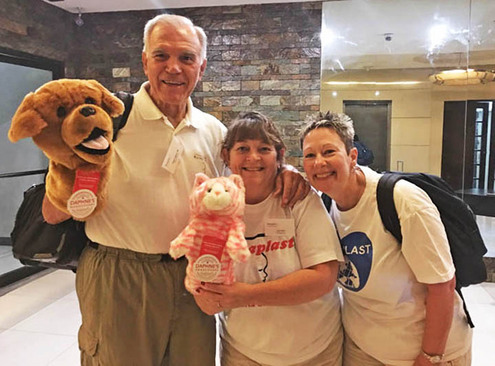 Marshall Gross donated two beautiful puppets that he won in a gift basket to Rotaplast's mission in Cebu City, Philippines. Dr. Angelo Capozzi (with the big dog) reports that the puppets are making kids smile every day before undergoing surgery, and the mission is going well.
______________

Tiburon Challenger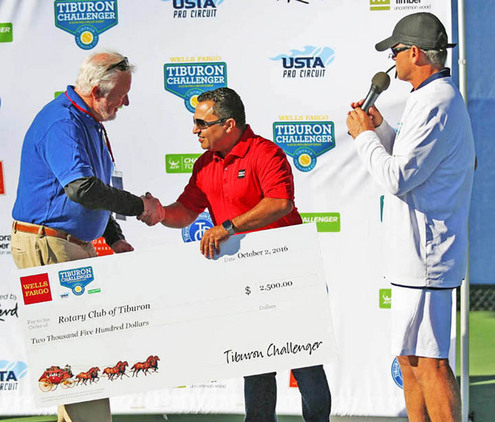 Charlie Oewel, representing the Rotary Club of Tiburon-Belvedere, accepted a generous check from Ashoo Vaid (middle) of Wells Fargo and tournament director Brendan Curry (right) at the conclusion of the Tiburon Challenger. The funds will go to the club's education projects. (Photo: Getty Images for Revd)
_______________

Rotary welcomes Kimberly Brooks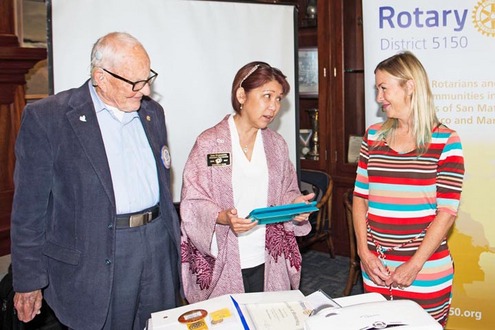 District Governor Jeri Fujimoto (center) inducted new member Kimberley Brooks (right) as Kimi's sponsor, Joe Lavigne, looked on. Photo: Marshall Gross
_____________________
DAY BEFORE LABOR DAY PARADE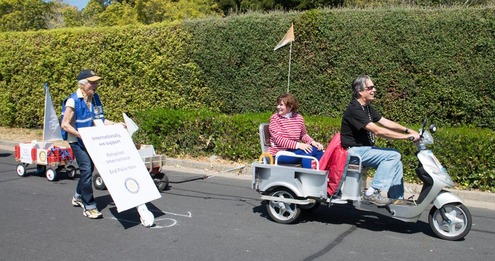 Tari Nix and friend pull wagons with books for kids from the Global Book Exchange, as Marianne Strotz walks alongside, wheeling a Rotary sign. (Photo: Marshall Gross)
To see more photos of the parade, go to www.tiburonrotary.org and click on "Photo Gallery."
____________________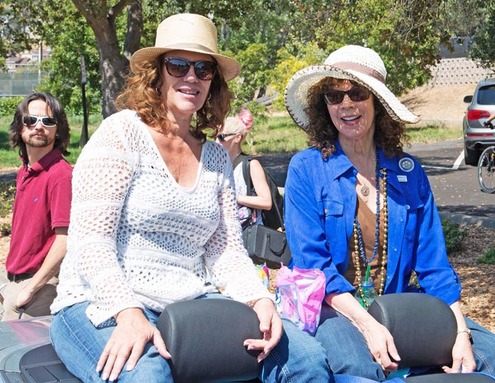 President Linda Emberson (left) of Tiburon-Belvedere and President Marilyn Nemzer of Tiburon Sunset hitch a ride with Michael Heckmann in the Day Before Labor Day Parade. (Photo: Marshall Gross)
Dana and Chester (left), making friends.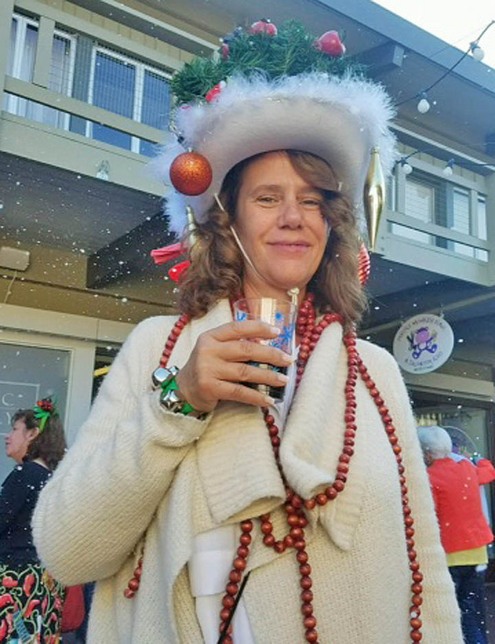 Winter in August was the theme of the Tiburon Peninsula Chamber of Commerce's mixer at the Boardwalk. President Linda Emberson took the prize for the most creative hat.

_______________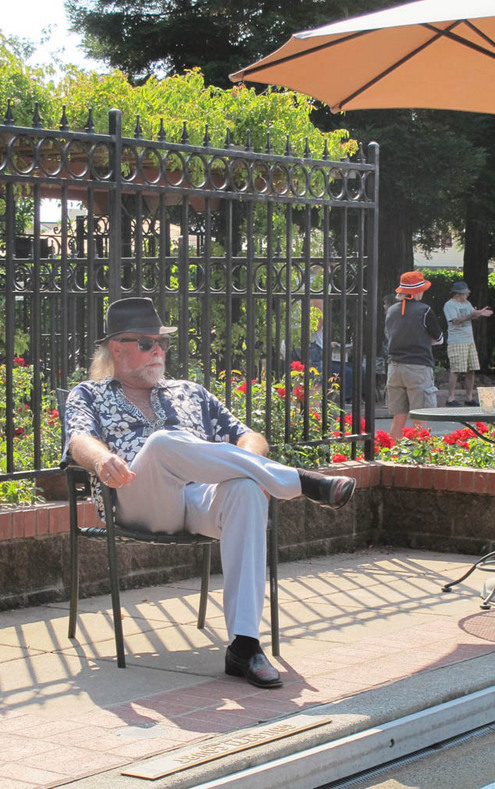 Jon Rankin views the on-court action at the annual Bocce Ball Tournament, a fundraiser for Rotaplast International. (Photo: J. Wilson)

_______________

Changing of the Guard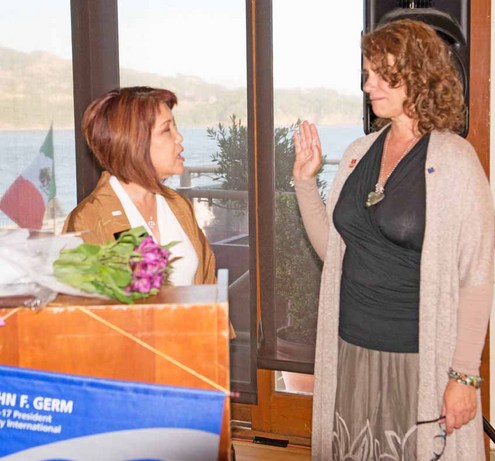 Thanks to President Marianne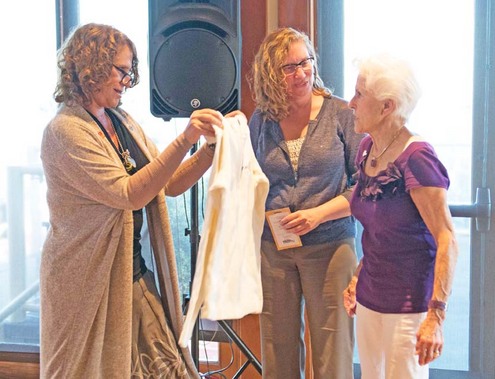 President Linda Emberson (left) thanks outgoing President Marianne Strotz (right) for her two outstanding years of leadership with a special Rotary jacket, as Karen Glader, the club's new secretary, looks on. (Photo: Marshall Gross)
____________________

Honors for Angelo
Dr. Angelo Capozzi (left) and Dr. John Kaufmann with a child who underwent surgery during a Rotaplast mission to Peru in May 2016. (Photo: Courtesy of Rotaplast International)
____________________
Service Above Self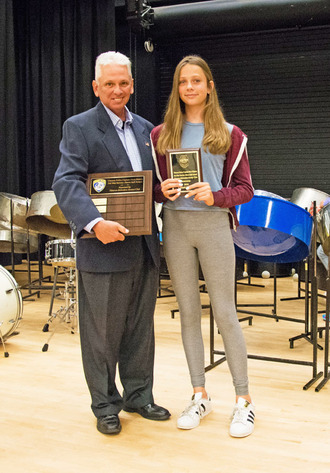 Dave Hutton presents the Capt. Dave Hutton Rotary Service Above Self Award to Kendall Hermann, graduating senior at Del Mar Middle School, for her outstanding performance in community service. The presentation took place at a special awards assembly in June. Photo: Marshall Gross
____________________
Teachers of the Year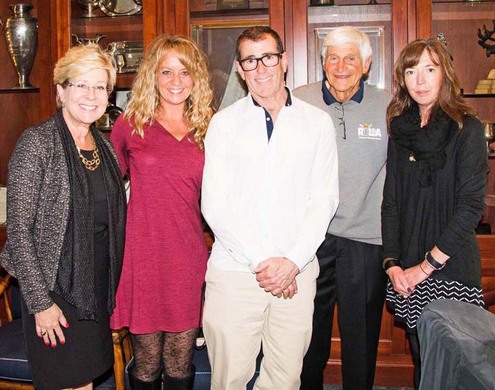 (Left to right) RUSD Superintendent Nancy Lynch, Bel Aire School's Kelly Morphy, Reed School's Ross Modlin, Rotarian George Landau and Erin Turner of St. Hilary School (photo: Marshall Gross)
____________________
Carnaval!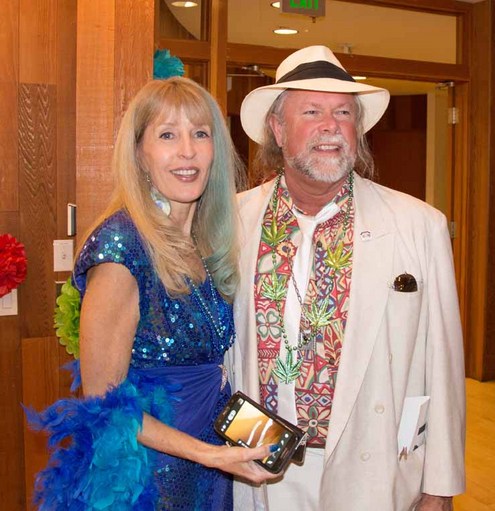 Mary Kaufmann and Jon Rankin got into the spirit of Carnaval, a fundraiser for the Rotary Club of Tiburon-Belvedere. For more, see the photo gallery at www.tiburonrotary.org. (Photo: Marshall Gross)
_______________

In 1976, Tim Severin decided to test the theory. He built a similar boat, in Bantry, where Tom's family is from, and he sailed it to North America, demonstrating that Brendan could have done it. [Severin wrote a book about his experiences, The Brendan Voyage, and it was made into a film.]
Severin also encountered a tribe of American Indians with white skin, brown and reddish hair and blue eyes. The name of the tribe was Duhare, a name that comes from ancient Celtic. Their carvings were the same as those in the west of Ireland, and the only person who reputedly reached North America early was Brendan, suggesting that he and the tribe are connected.
Tom's family coat of arms has a red hand, and legend has it that when the first Europeans came to North America, one of Tom's ancestors cut off his right hand and threw it to the shore so he could be the first to touch the new land.
"Was your ancestor called Lefty O'Neill?" quipped David Albert.
Terry Graham said she has done some research and discovered that when the first ships arrived from England, some of the tribes met the ships and tried to communicate with the sailors. Welsh sailors understood what the Indians were saying, leading to speculation the natives' language came from Ancient Welsh, which is also related to Hebrew.
Tom added that the Irish and Welsh languages are Gaelic, and the first people in England and Ireland were Phoenicians, who are from the Levant region of the eastern Mediterranean.