Welcome to Telli Marin! Sign in | Create a login

Rotary Club of Tiburon-Belvedere
Fellowship and Service
Address:
Sam's Anchor Cafe
Tiburon/Belvedere, CA 94920
Phone:
415-789-0161
ROTARY
Club of Tiburon-Belvedere

Saturday, October 17, 2020

NEWS
Save Monarch Butterflies

We're encouraging Rotarians and friends to plant native milkweed either in a garden or container to assist the Monarch butterfly during its annual migration this month. Monarch butterflies are an endangered species, and native milkweed is important, because it's the only plant the Monarch will lay its eggs on and the only plant its caterpillars will eat. To learn more about growing milkweed in Northern California, go to https://efotg.sc.egov.usda.gov/references/public/CA/TN_Biology_CA-21_CA-milkweed.pdf.
Tropical milkwood is available, but it's detrimental to Monarch butterflies, so be sure to plant native milkweed, Asclepias tuberosa. Local sources are the following:
Green Jeans, 690 Redwood Frontage Road in Strawberry has lots of plants in stock. One-gallon pots are $11; 4-inch pots are $5.
CNL Native Plant Nursery, 254 Shoreline Highway in Tam Junction has the one-gallon size for $14.99, four-inch pots for $8.50 and two-inch pots for $6.50.
California Native Plant Society, Mill Valley Chapter. CNPS has regular plant sales. Sign up for CNPS bulletins, and you'll receive announcements when their regular plant sales come up. The October sale should have plenty of native milkweed. https://www.cnpsmarin.org/, marincnpsplantsale@gmail.com
Annie's Annuals and Perennials, 740 Market Avenue, Richmond, CA 94801, Mail Order/questions: 1-888-266-4370, Nursery phone: 510-215-3301, https://www.anniesannuals.com/
_______________

Women and the World of Venture Capital
"I'm excited to be with you today," said Lata Setty. She started life as a scientist and then became a patent attorney in New York. For the last few years, she's worked in law start-ups that used American technology to provide legal and intellectual property services internationally. She's now involved with a new venture, How Women Invest.
She explained that men prefer higher-risk, high-reward investments like venture capital and hedge funds, which can have an average return of more than 25 percent annually. Women tend to invest in areas they consider safer, such as real estate, a 401K at work or the stock market, and one of HWI's goals is to get women who have never invested before to invest in venture capital. "One of the goals is to bring in first-time angel Investors," she said. The other is to provide funding for businesses founded or led by women.
Lata asked how many of us have invested in the stock market, and a large number of hands went up. Several have also invested in real estate. When she asked how many have invested in start-ups, however, only a couple of hands went up.
Historically, white males start businesses in the United States, and they attended universities such as Stanford, Wharton or Harvard. Big venture capital raises billions to fund tech start-ups, but even though women start 40 percent of new companies, only 2 percent of women-led companies get VC financing from Silicon Valley and big venture firms. That 2 percent goes to women who have great connections and went to high-profile schools. Only .02 percent goes to women of color, and Lata explained that people providing funds feel most comfortable working with people who talk like them, look like them and went to the same schools as them. They might see them at the yacht club or golf club and they feel comfortable providing them with funding. Diversity of thought, however, helps to create better solutions.
"We want to bring in women investors and train them to be angel investors," she said. She reported that the first fund has closed and was $10 million, although venture capital funds are usually much higher. "We also bring a network of 1,300 professional women who help to groom entrepreneurs and create a sense of community to help female founders," she said.
The founders of HWI are Julie Castro Abrams of How Women Lead, who was instrumental in passing California Senate Bill 826, which requires publicly-held companies to have female representation on their boards. Erika Kramer, who has an extensive background in banking and venture capital, is co-founder, and Lata joined them as the first founding limited partner. She's a deal flow advisor and does the due diligence on companies seeking funding.
"What is the means with which you have reached out to the community for pitch decks?" asked Charlie Oewel.
Lata explained that applicants find out about HWI from their connections, angel networks and venture capital firms, as well as presentations at conferences. Recently, she did due diligence on a company that has a new way to make tea. The company hasn't done any official marketing or PR with a marketing team but it has an amazing group of female founders. For a company to get funding from How Women Invest's Fund 1, it has to be tech-driven and based in the United States.
Marianne Strotz asked Lata if she has met Magdalena Yesil, who was the first investor in Salesforce. "She's quite an amazing woman." Lata replied that she has.
"Helen and I have jointly invested for 30 or 40 years," said Bill Lindqvist, who pointed out that lots of people invest jointly, but they aren't in Lata's analysis.
Lata responded that some male investors invested with their wives, but 90 percent of HWI's investors are women, which is important. "Investing in the stock market or start-up is a whole new world for me," she said. Historically, it's a male-driven venture capital world, and the idea is to introduce women to the venture-capital landscape.
Bill questioned the 25 percent return for male investors. He has friends who've had investments for decades but never reached 25 percent. He invests in mining start-ups, and most of them fail, but occasionally one hits the jackpot.
Lata clarified that she was taking about venture capital, not other kinds of investments.
To qualify for funding a company has to have an idea and a vision, as well a product that's generating income. HWI also circumvents anything that requires government approval and regulation. She explained that once new companies start earning revenue and are building, they often enter the Death Valley Gap. They are making money, but not enough to grow, and so they need bridge financing to get to the next stage. The initial $10 million fund is to provide capital in the amount of $250,000 to $500,000 for several companies.
Steve Ramirez said that it's admirable that HWI is marrying venture capital with diverse investors. "A lot of people are diversifying into things like private equity," he observed. "How do you work with you clients to make sure they're not investing too much of their portfolio in a high-risk venture?" he asked.
Lata explained that an accredited investor has to have a salary of $200,000 or net worth of $1 million, and assests cannot include real estate that's a primary residence. They also make sure people discuss an investment with their financial advisors.
"You have some strict criteria," said George Landau. "What advice do you have for women who haven't reached that cash flow level?"
Lata replied that the team includes six women who are seasoned venture capitalist who can offer advice. "Part of our excitement is bringing to the table what we've accomplished in our careers," she said. She added that they have turned down a number of proposals but have told the applicants to return when their pitch deck is developed better.
"When it comes to investing in venture capital or start-ups, the ones who have the most success bet on the people. If you bet on the right people, the good people, you're likely to do very well," said Bill Lindqvist. "How do you review proposals?"
Lata replied that they have do due diligence and have people who are analysts. "My job is to bring it in front of our deal team," she said. The team is composed of five brilliant women, who pitch, and then the team follows up with a detailed list of questions that might include sales strategy, algorithms and the competitive landscape. "We have a 20-page protocol on how we proceed," she said. "Five of us spend up to 80 hours, and 70 percent won't even make to Phase 1." Of the 125 companies, they've considered so far, they've only made one investment decision. "We wrote our check to a Chicago company," she said, and it was for $450,000 for a company that is in its third year of operation. It is using analytics and cloud technology to help healthcare systems lower the cost of care and make values-based decisions.
Irene Slisky has been in the finance business for 40 years and was one of the first females to be involved in the finance business. Most of her clients were women. "You ring a bell with what you're talking about," she said.
Lata said that in How Women Lead, women learn how to look at a business plan and raise their financial intelligence.
Irene deals with married couples, and she finds that women often tell her to talk to their husbands. "Women don't even know what's on their tax returns," she said. "It's very interesting to educate people, but some of the women just let the men do everything."
Lata observed that it's the traditional division of labor, which is the model many women grew up with. "But what if you're widowed or get divorced?" she said, pointing out the need for women to be self-sufficient.
Marianne Strotz had a progressive father. She was one of three girls, and each one had to have a profession. "He was ahead of his time," she said.
"Lata deserves a round of applause," said Bill Lindqvist.
"Be well, be safe. Thank you for your support," said Lata. "If any of you know female-founded companies, send them my way," she added.
To learn more, go to https://www.howwomeninvest.com/
_______________

Tom O'Neill in the spotlight
Tom O'Neill, founder of Tiburon Classic Car Show and the Chief Francis O'Neill Irish Musical Festival spoke to us from his house in Calistoga. His family was hoping their house survived the Glass Fire, and fortunately it did.
"We had to cancel the car show this year," he said, as a result of the pandemic, but it will be back next year with a celebration to mark its 20th anniversary. "It's kind of a special deal," he said, adding that they're planning to add more features.
A drive-in movie will be the highlight of Friday night, and it will be car-related. One problem is that will be on June 18, which is close to the longest day of the year, but they'll figure out the best way to do it. The car show's marque will be Ford, and "We've never featured Ford before," said Tom. Then, on Saturday evening, Main Street will be closed for a show of exotic cars that most people have never seen before. The show will take to the road on Sunday with a car rally.
Tom thinks Chief Francis O'Neill Irish Music Festival was the last significant event in the Bay Area before the pandemic forced the cancellation of all events. We can't count on anything reasonable by February 2021, so it won't happen next year.
When Tom was researching his family history, he learned about Niall of the Nine Hostages, who, according to legend, kidnapped a child from each of nine different tribes and raised them as his own children. He brought peace among the warring tribes and became a high king. Life changed in Ireland, however, when the Vikings arrived.
Tom also learned about Brendan the Navigator, who was born in the late 400s AD. He did a great deal of traveling around the British Isles, and he built a boat covered with leather skins with the help of 20 to 40 men and sailed it to North America. "If it's true, he probably was the first European to reach North America," said Tom. However, no artifacts exist to substantiate that he ever made it.
Tom has a friend who recently traveled to the Easter Islands, which is notable for its large stone statues. Somehow people got there and crafted stones that weighed tons and tons into statues. A monument in Ireland at Newgrange (above), west of Dublin is about 200 meters across. He also talked about a structure with big round walls and a domed ceiling made of stones fitted together without mortar. One wal has a slit, and at winter solstice, the sun shines directly through the slit and goes into the chamber below (right).
Civics
Shifting topics from history to current events, Tom said he had recently read A Warning. The author is anonymous but has to be a senior White House official. "I recommend it, not because of politics, but because of what it says about American democracy and our responsibilities," he said. He talked about complacency and pointed out that like thin ice, it can cause a person to slip away. He believes it's an apt analogy. He observed that democracy is a delicate thing, and the message he drew from the book is that everyone needs to vote, because it's our democratic duty.
He added that civics teaches the rights and duties of citizenship, and students also used to hear about the country's values "Civics is a completely unknown thing these days," he said, observing that average Americans today are unable to defend democracy, because they don't have the knowledge.
He shared an expression he learned 40 or more years ago: "Who you are echoes so loudly that I cannot hear or believe anything you say," and he reflected on whether or not what someone projects is what they are.
Comments
"I thoroughly enjoyed the car show last year and have for many years," said Bill Lindqvist. He then told us about a Scottish parliamentarian in the 1800s, who wrote a paper on the evolution and devolution of democracy. He believed that democracies don't last long, because governments take more and more from the public purse until it fails, and then a dictator takes over
Bill pointed out that globalization became popular, and people were excited, but it didn't bring its promise to the whole world. "Many people see the good life but no path to it," he said. Globalization has resulted in the disenfranchisement of many people," he said, and now autocratic governments have gained power around the world. After World War II, we had a fine operation going on but now …. "It would make me sick to think democracy has run its course," he said.
"We don't have a democracy; we have a republic," said Terry Graham, adding that the founding fathers loathed democracy. She explained that a republic allows a different kind of government, and the Electoral College makes sure large urban areas don't have all the power.
Angelo Capozzi observed that the meeting was becoming too political. "We're skating on thin ice," added Kathleen Defever.
Bill then challenged Tom to a duel, but Tom responded, "I'd rather have a Guinness."
Terry Graham is a member of the 5150 Foundation, a club for automobile enthusiasts in Novato. Members drive a route, and she suggested doing that here.
Tom explained that that kind of activity runs into some insurance and liability issues and would require dealing with Cal Trans and the police. "It's a complicated affair. That's why I've stuck with a stationary event." he said.
He observed that most of the people who are interested in classic cars are older, and so he thought about a class for young people in local high schools. He suggested the idea to Mary Jane Burke, Marin County Superintendent of Schools, and she loved it. It started as a car appreciation class in Terra Linda, and "We had a class with 26 kids," he said. He added that the Grand Jury did a report on young people who don't want to go to college and suggested providing more vocational education.
He believes that his class is successful, because kids attend out of choice. "Our class is like a volunteer army. … Man, they are eager," he said. He told students about an experience he had in Iowa, when he was young, which involved a contest with a motorcycle gang that pitted car vs. bike. "We won," he said and the motorcyclists were gracious. At the next class, he asked if it was an interesting story and was surprised to learn that students liked it. Some also talked about Rebel Without a Cause.
Marianne Strotz's grandson took the class, and Charlie Goodman invited him to his warehouse to see his collection of classic cars. Now he wants to go to the College of Marin to study automobile technology.
Tom ended by recommending  a delightful movie: The World's Fastest Indian, about a man who took his classic motorcycle to the Bonneville salt flats. "It's a jaunt into Americana," he said.
_______________

MARK YOUR CALENDAR
GREAT GUEST SPEAKERS
Meetings will be on Zoom until further notice. If you'd like to attend a meeting or be a guest speaker, please send an email to rotary@telli.com
  ____________________

NOTEWORTHY EVENTS
Road Rally for Polio: District 5150 is celebrating World Polio Day, Saturday, October 24, with a Rotary Road Rally to End Polio. It's like a treasure hunt, and each county in the district has its own route. It will be fun and socially distanced in accordance with state and local CIVID-19 guidelines. and clues will be funny, educational and about Rotary and its efforts to eradicate polio. You'll receive a box lunch at the end of the rally, and an awards presentation will take place on Facebook Live. A virtual option will be available for those unable to attend in person. The cost is $100 per person, and it is a direct donation to the Rotary Foundation Polio Fund.  To register, go to Rotary Road Rally.

 ___________________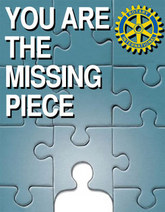 Meetings

All in-person Rotary meetings and events have been cancelled or postponed as a result of the COVID-19 pandemic. We will be meeting on Zoom at 4 p.m. on Wednesday until further notice. If you'd like to join us, we'd be delighted to meet you. Please go to https://us02web.zoom.us/j/81915154482?pwd=MDVHWWVjemovQ2ovdjJkZzczeW9qZz09,

Our usual meeting place is Sam's Anchor Cafe, and we gather at 5:30 p.m. for an early evening meeting on the first and third Wednesday of the month and for lunch at 12:15 p.m. on the second and fourth Wednesday of the month. Most weeks, either a guest speaker makes a presentation or we have a program. Attendance is $10. Food and drinks are no-host  We welcome guests. If you'd like to hear a speaker, offer to be one or find out more about Rotary, pay us a visit. We'd be happy to make your acquaintance.

Board of Directors Meetings
Meetings of the Board of Directors are open to all members and take place monthly at a time to be announced. For information, please send an email to judith@telli.com.

Contact us at rotary@telli.com.
If you'd like to be a guest speaker, please contact Marianne Strotz at properties@pacbell.net.

Send mail to Rotary Club of Tiburon-Belvedere, P.O. Box 220, Tiburon, CA 94920.


Follow us on Facebook: https://www.facebook.com/tbrotary. Hope you "like" us!
_________________________
Scroll down to see our photo gallery of Rotarians at work and play!
____________________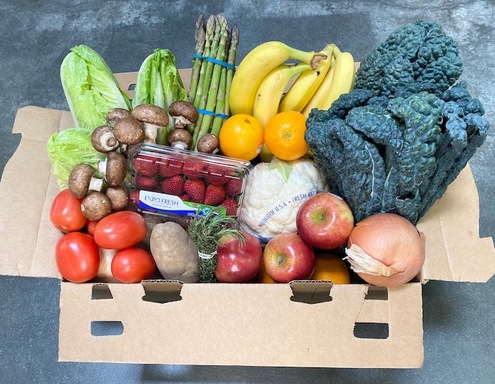 COVID-19 RELIEF

 ROTARY AT WORK

The Rotary Club of Tiburon-Belvedere supports a wide range of programs, with a focus on youth, literacy and community. We believe that reaching out to others makes a better world and encourage others to join us. Here's what we're supporting in 2019-2020

Youth—Investing in the Future
• Ambassadors of Hope and Opportunity: Support to provide a safety net of stable housing, guidance and community connections for young people 16 to 25, who are homeless or in danger of becoming homeless in Marin County.

• Bel Aire School's Liberia Project: Advice and support for the fifth-grade students' ongoing projects to help their sister school in Liberia, thus encouraging altruism at home and helping children in a disadvantaged country across the world.
• Dave Hutton Rotary Award for Service Above Self: An annual award to a graduating eighth-grader with a record of outstanding community service at Del Mar Middle School.
• Educator of the Year Awards: Annual awards to outstanding educators in local schools, whose unique projects give children a worldview that encourages them to become good citizens
• Global Book Exchange: Sup.port for the Global Book Exchange in San Rafael, which collects lightly-used books and redistributes them to teachers at schools with limited budgets, disadvantaged families and nonprofits that serve children, as well as schools throughout the world.
• Marielos Fund: A scholarship to send a young woman in El Salvador to medical school.
• Marin Youth Sympathy: Support for sending young musicians on a tour to perform in Europe.
• Musica Marin: Underwriting for scholarships for local students to attend events featuring classical music, fine food and a philanthropic purpose
• Rotaplast International: Support for volunteer medical teams to provide life-changing surgery for children with cleft-lip and palate in needy communities around the world.
• Rotary Youth Leadership Awards: Scholarships so high school sophomores and juniors can attend a special camp that guides them to develop their leadership skills.
• Young Performers International: Scholarships for kids to take music lessons and develop their performing skills. Music makes kids smarter!

Meaningful Projects—Service Above Self
• Marin Villages: Support for programs that help seniors age in their own homes. Members pay a small fee and can enjoy social get-togethers and access to volunteers for help with tasks such as getting to appointments, changing light bulbs or assisting with pets.

• Service to the Community Awards: Recognition for people who serve the community in meaningful ways, but don't often get acknowledgement.

• St. Vincent de Paul: Support for helping Marin's neediest residents obtain nutritious food, affordable housing, meaningful employment and a voice in the community.

• Whistlestop: Underwriting for Whistlestop's Thanksgiving Feast for Seniors.

District Designated Funds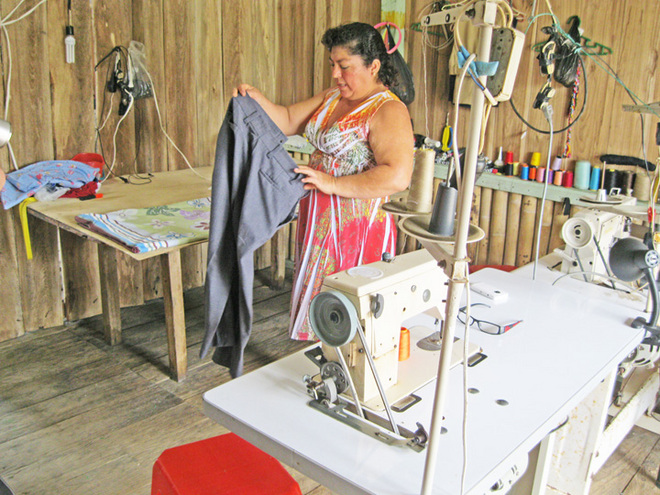 Rotary's District Designated Funds helped establish this sewing shop in Esmeraldas, Ecuador. Photo: Courtesy of Keith and Holly Axtell

Funds from the Rotary International Foundation's annual campaign earn District Designated Funds for our club. This year, we're contributing our international funds to the Rotary Club of Marin Evening's San Jacinto water project in Ecuador. For the past three years, we have contributed our funds to multi-club microcredit projects in Ecuador, Guatemala and Peru to train people in job and entrepreneurial skills and extend microloans to help them start small businesses and become self-sufficient.
District Designated Funds also support local projects, and this year our funds will go to underwrite the cost of school field trips to the Global Book Exchange and Audubon Canyon Ranch. In addition, we're donating portable bluetooth speakers to Canal Alliance so ESL teachers can fully implement the listening exercises that are part of the curriculum for English-language learners.

____________________
Julie Aubrey visited from Rotary International's headquarters in Evanston, Illinois.
(l. to r.) Irene Russell, Kathleen Defever, Helen Lindqvist and Bill Lindqvist at the Tiburon Peninsula Chamber of Commerce mixer at the downtown Tiburon firehouse.
HELPING KIDS GO TO CAMP

President Annette Gibbs presented Jessica Hochkiss with a check for $1,000  for The Ranch from the club's foundation, which will help low-income children attend day camp. "We currently have two large summer camps going on," said Jessica, and she explained that they take kids to Angel Island every day. "The camp has gone on for 40 years," she said, and some of today's campers have parents who attended when they were young.
The Ranch is a nonprofit, and "Every little bit helps," she said, expressing her gratitude.
_______________

Past-president Linda Emberson and incoming President Annette Gibbs at the Installation Celebration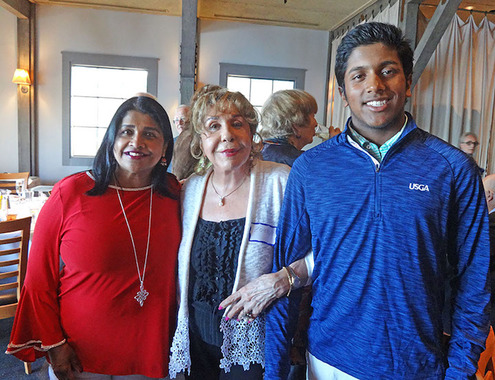 Lata Setty, Zohre Grothe and Lata's son, Deven Ramachandran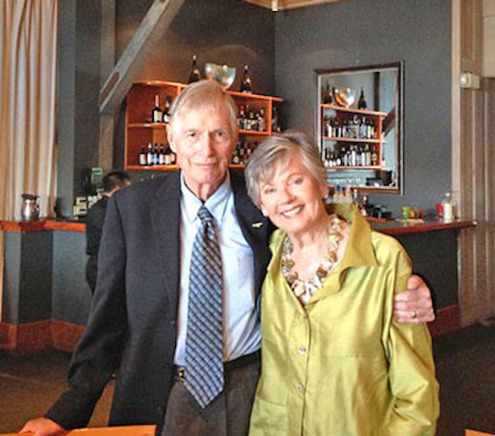 Warren and Irene Russell
_______________

Having fun at the Tiburon Classic Car Show!
Rotary in the community: Cindy Siciliano and Linda Emberson made it look easy, as they spent the day flipping burgers, hot dogs and corn on the cob for scores of happy customers.
____________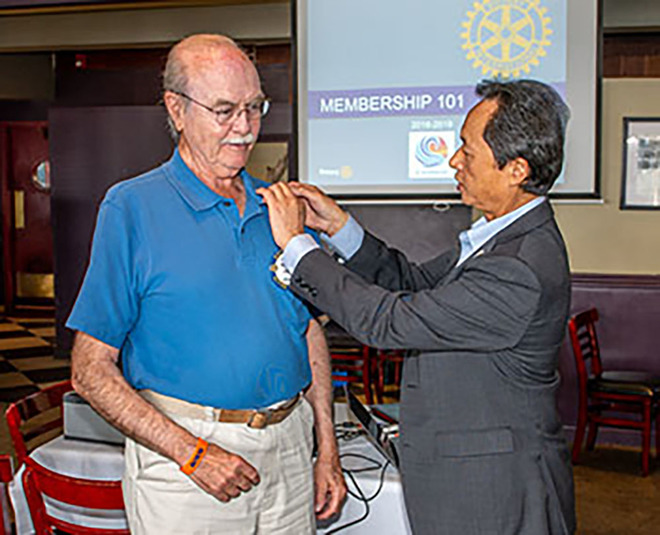 Past District Governor Ron Gin, now district membership chair, presents Mike Keran with a pin in honor of his being chosen Rotarian of the Month for District 5150.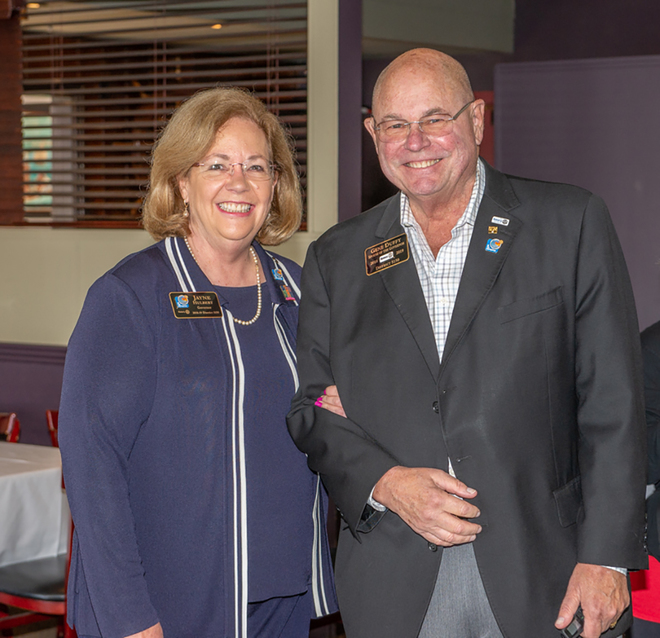 District Governor Jayne Hulbert and First Husband Gene Duffy paid the club a visit.
Cindy Siliciano of the Tiburon Sunset Rotary Club (left) and President Linda Emberson of the Tiburon-Belvedere club get ready to toss goodies to kids at the Labor Day weekend hometown parade. (Photo: Marshall Gross)
_______________

Welcome New Members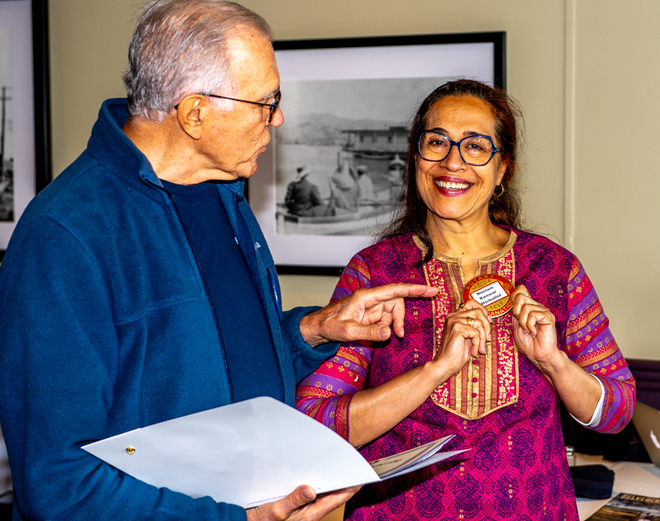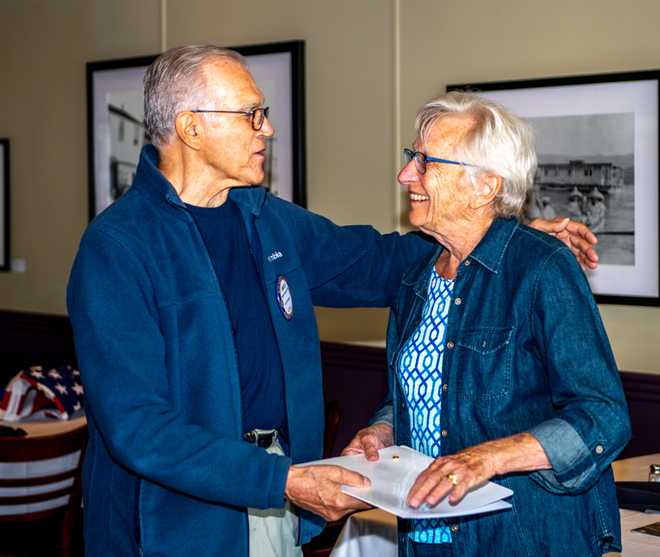 Membership chair Angelo Capozzi welcomed new members Neelam Kanwar (upper photo) and Lynn Spitler (lower photo).
_______________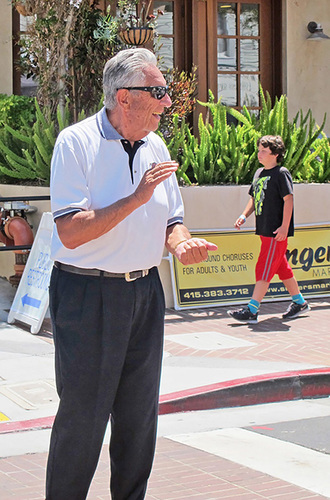 It is with profound sadness that President Linda Emberson announces the passing of beloved member Jim Deitz on Friday, July 13. Jim exemplified Rotary's motto, Service Above Self, and his altruistic spirit was a model for everyone. He was devoted to his family, loved dogs and was one of the best. We'll miss him terribly.
_______________

Good Work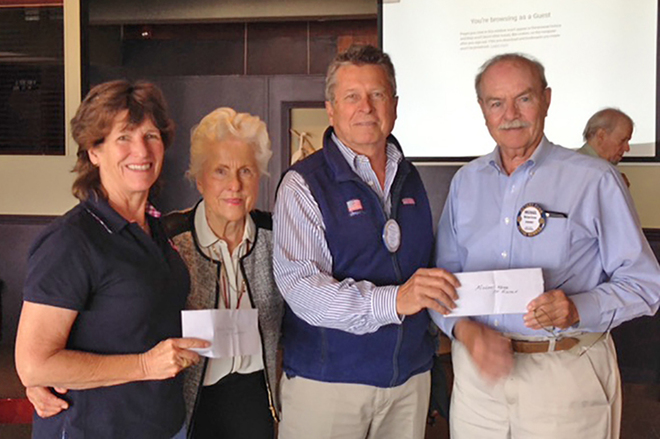 (l. to r.) Lisa Brinkmann of Marin Villages accepts a check from Marianne Strotz, and Michael Heckmann presents a check to Michael Keran for St. Vincent de Paul. Photo: Lynn Fox

_______________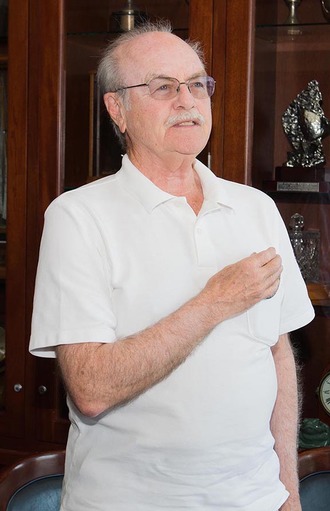 District 5150 named Michael Keran Rotarian of the Month for May. Mike's much-deserved honor is in recognition of his ongoing commitment to St. Vincent de Paul and helping the homeless in Marin County. In addition, he recruits a crew of Rotarians to serve lunch at the St. Vincent de Paul Free Dining Room in San Rafael every month. May marked the beginning of the 12th year of this service project.
_______________

Annette Gibbs (left) and Shelby Gross joined the Rotary contingent and got into the spirit
of this year's first Friday Night on Main
_______________

Celebrating Earth Day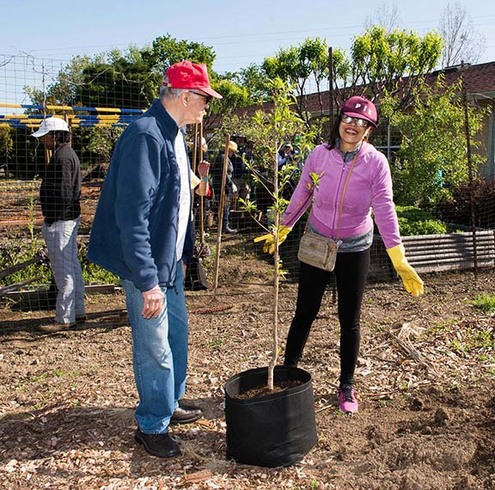 Having Fun at Friday Night on Main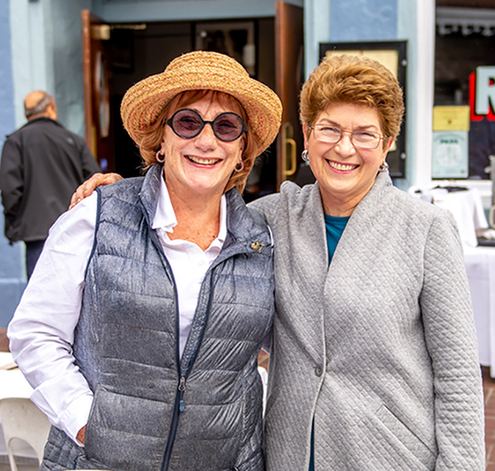 Angelo Capozzi (left) and Neelam Kanwar planted trees at Homeward Bound as part of Rotary International's initiative to plant one tree for every Rotarian. Photo: Marshall Gross
_______________
Lending a Hand at St. Vincent de Paul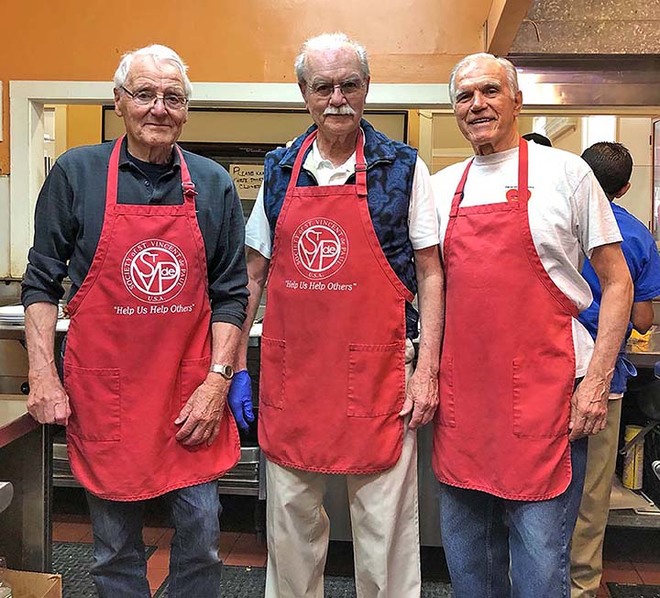 Stalwart volunteers (l. to r.) Klaus Meinberg, Michael Keran and Angelo Capozzi in the kitchen of the St. Vincent de Paul Free Dining Room in San Rafael. The Rotary Club of Tiburon-Belvedere serves lunch on the fourth Thursday of every month and will begin its twelfth year of volunteering, under Mike Keran's leadership, in May. Angelo is team leader for the club's participation in the REST program, and he and Klaus also served dinner to a group of homeless men at St. Hilary's Church the same day. Service Above Self at its best!
_______________

First meeting at Sam's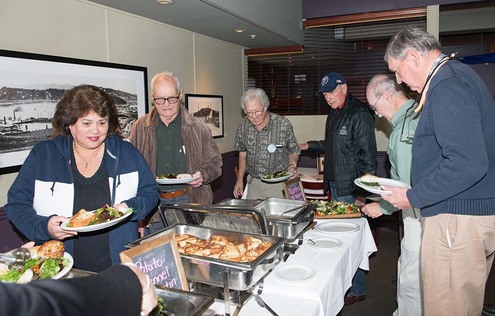 _______________

Rotary does REST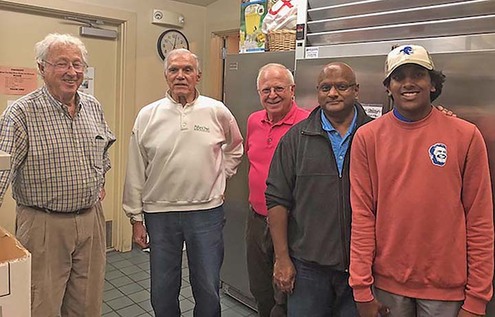 The Rotary Club of Tiburon-Belvedre hosted dinner for a group of 25 homeless men who were spending the night at St. Hilary's Church on Thursday, February 15, as part of the REST (Rotating Emergency Shelter Team) program.
Members of the Rotary crew (above, l. to r.), John Kaufmann, Angelo Capozzi, Brian Walker, Raja Ramachandran and Deven Ramachandran, took a break before serving dinner to guests in Tarantino Hall. Lata Setty, Annette Gibbs, Bill Goldberg, Zohre Grothe, Karl Hoppe and Lata Setty were also on hand to help. The evening featured good conversation, great appetites and uplifting camaraderie, as well as good food.which included homemade lasagna that Deven, Lata's son, helped prepare as a family Valentine's Day project, and Mary Kaufmann'a delicious oatmeal cookies and cupcakes decorated with hearts.
_______________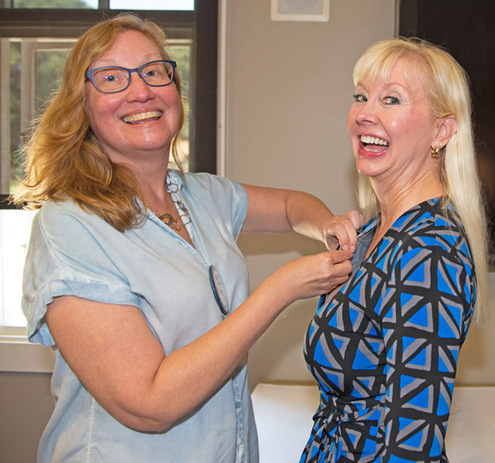 Karen Glader welcomes new member Valerie Marsh to the club and gives her a Rotary pin.
_______________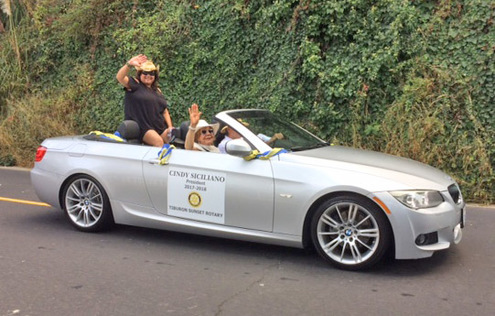 Rotarians have fun in the Day Before-Labor Day parade.
_______________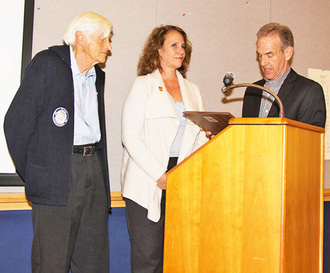 Proclamation
The Town of Tiburon issued a proclamation in honor of the Rotary Club of Tiburon-Belvedere's 40th anniversary, which we will celebrate in June, and the 100th anniversary of the Rotary International Foundation. Pictured, left to right, are George Landau, President Linda Emberson and Tiburon Mayor Jim Fraser. Photo: Marsall Gross.
______________
Visitor from Afar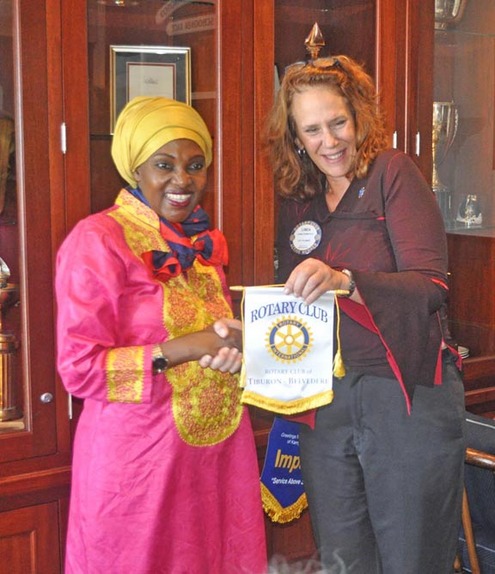 Rehmah Kasule (above left), with President Linda Emberson) is the Immediate Past President of the Rotary Club of Kampala/Impala in Uganda. She took the opportunity to visit us when she was at a conference in San Francisco in October. In 2010, she received recognition at the White House for her work in empowering women and met President Obama. She then wrote a book, From Gomba to the White House. She shared an African proverb: "When you walk fast, you walk alone. When you walk with others, you go far."
_______________

MAKING KIDS SMILE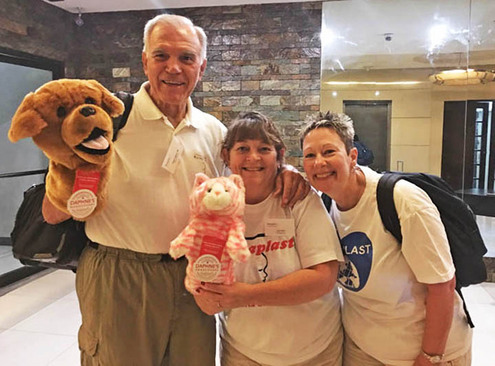 Marshall Gross donated two beautiful puppets that he won in a gift basket to Rotaplast's mission in Cebu City, Philippines. Dr. Angelo Capozzi (with the big dog) reports that the puppets are making kids smile every day before undergoing surgery, and the mission is going well.
______________

Tiburon Challenger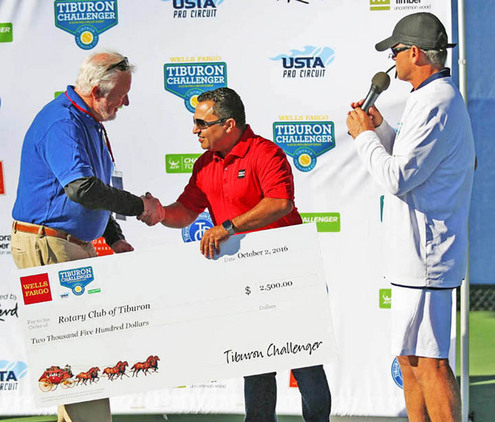 Charlie Oewel, representing the Rotary Club of Tiburon-Belvedere, accepted a generous check from Ashoo Vaid (middle) of Wells Fargo and tournament director Brendan Curry (right) at the conclusion of the Tiburon Challenger. The funds will go to the club's education projects. (Photo: Getty Images for Revd)
_______________

Rotary welcomes Kimberly Brooks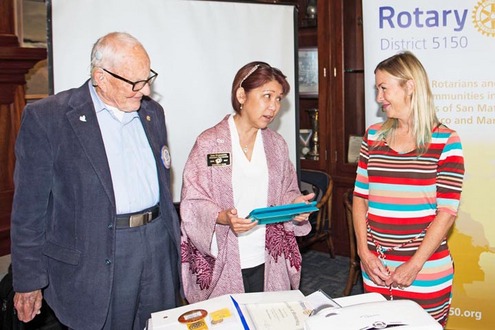 District Governor Jeri Fujimoto (center) inducted new member Kimberley Brooks (right) as Kimi's sponsor, Joe Lavigne, looked on. Photo: Marshall Gross
_____________________
DAY BEFORE LABOR DAY PARADE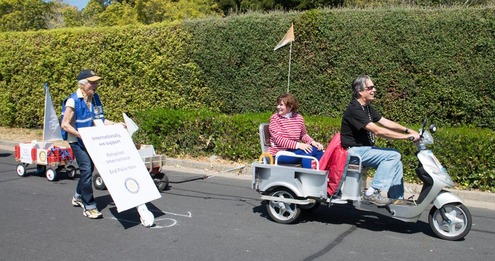 Tari Nix and friend pull wagons with books for kids from the Global Book Exchange, as Marianne Strotz walks alongside, wheeling a Rotary sign. (Photo: Marshall Gross)
To see more photos of the parade, go to www.tiburonrotary.org and click on "Photo Gallery."
____________________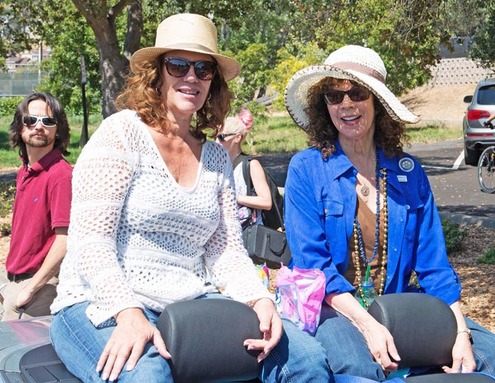 President Linda Emberson (left) of Tiburon-Belvedere and President Marilyn Nemzer of Tiburon Sunset hitch a ride with Michael Heckmann in the Day Before Labor Day Parade. (Photo: Marshall Gross)
Dana and Chester (left), making friends.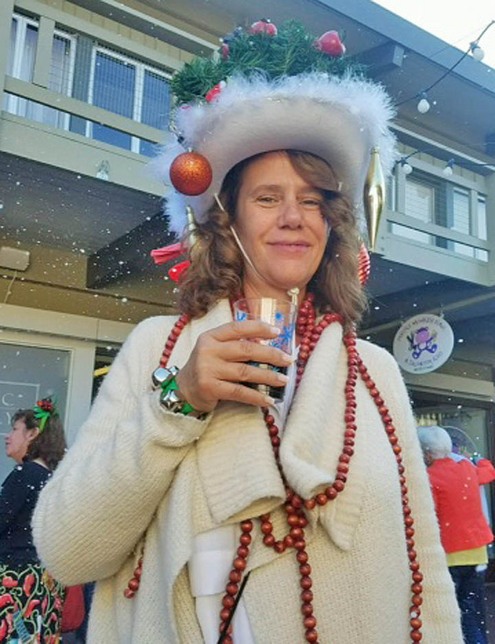 Winter in August was the theme of the Tiburon Peninsula Chamber of Commerce's mixer at the Boardwalk. President Linda Emberson took the prize for the most creative hat.

_______________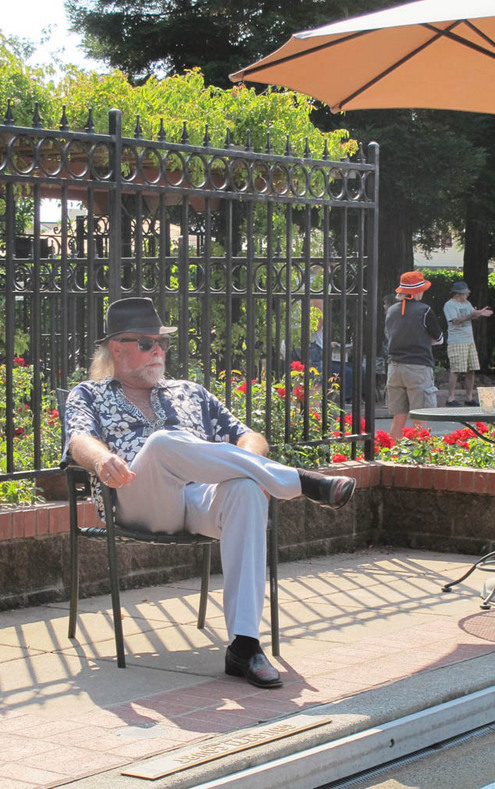 Jon Rankin views the on-court action at the annual Bocce Ball Tournament, a fundraiser for Rotaplast International. (Photo: J. Wilson)

_______________

Changing of the Guard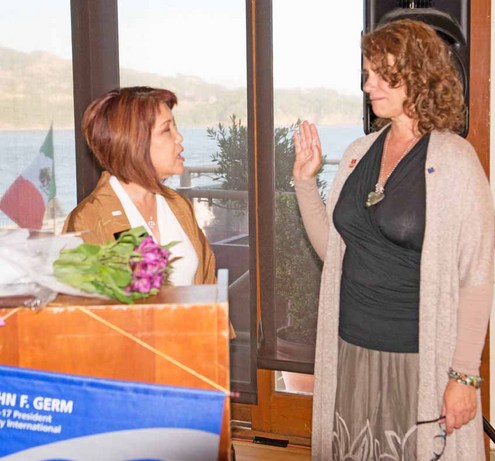 Thanks to President Marianne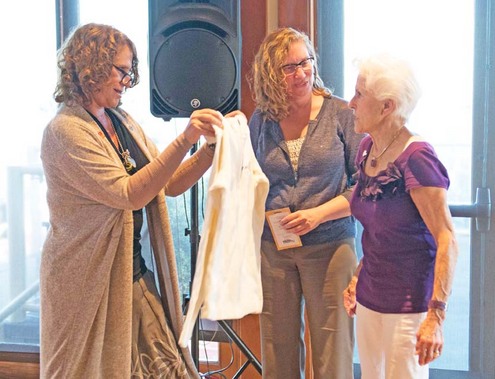 President Linda Emberson (left) thanks outgoing President Marianne Strotz (right) for her two outstanding years of leadership with a special Rotary jacket, as Karen Glader, the club's new secretary, looks on. (Photo: Marshall Gross)
____________________

Honors for Angelo
Dr. Angelo Capozzi (left) and Dr. John Kaufmann with a child who underwent surgery during a Rotaplast mission to Peru in May 2016. (Photo: Courtesy of Rotaplast International)
____________________
Service Above Self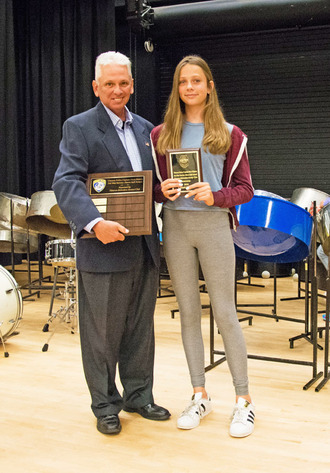 Dave Hutton presents the Capt. Dave Hutton Rotary Service Above Self Award to Kendall Hermann, graduating senior at Del Mar Middle School, for her outstanding performance in community service. The presentation took place at a special awards assembly in June. Photo: Marshall Gross
____________________
Teachers of the Year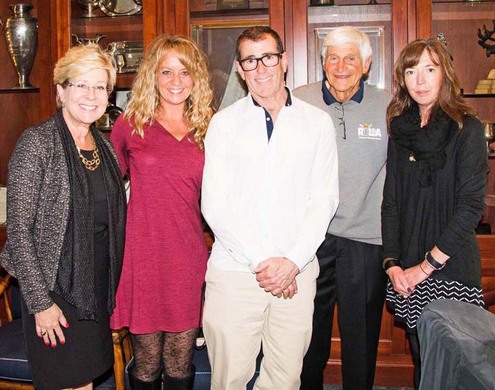 (Left to right) RUSD Superintendent Nancy Lynch, Bel Aire School's Kelly Morphy, Reed School's Ross Modlin, Rotarian George Landau and Erin Turner of St. Hilary School (photo: Marshall Gross)
____________________
Carnaval!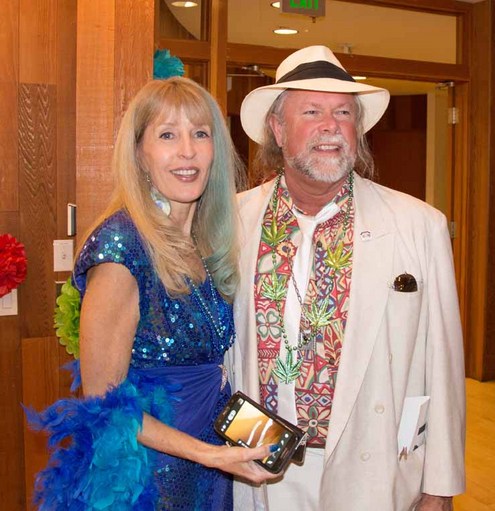 Mary Kaufmann and Jon Rankin got into the spirit of Carnaval, a fundraiser for the Rotary Club of Tiburon-Belvedere. For more, see the photo gallery at www.tiburonrotary.org. (Photo: Marshall Gross)
_______________

In 1976, Tim Severin decided to test the theory. He built a similar boat, in Bantry, where Tom's family is from, and he sailed it to North America, demonstrating that Brendan could have done it. [Severin wrote a book about his experiences, The Brendan Voyage, and it was made into a film.]
Severin also encountered a tribe of American Indians with white skin, brown and reddish hair and blue eyes. The name of the tribe was Duhare, a name that comes from ancient Celtic. Their carvings were the same as those in the west of Ireland, and the only person who reputedly reached North America early was Brendan, suggesting that he and the tribe are connected.
Tom's family coat of arms has a red hand, and legend has it that when the first Europeans came to North America, one of Tom's ancestors cut off his right hand and threw it to the shore so he could be the first to touch the new land.
"Was your ancestor called Lefty O'Neill?" quipped David Albert.
Terry Graham said she has done some research and discovered that when the first ships arrived from England, some of the tribes met the ships and tried to communicate with the sailors. Welsh sailors understood what the Indians were saying, leading to speculation the natives' language came from Ancient Welsh, which is also related to Hebrew.
Tom added that the Irish and Welsh languages are Gaelic, and the first people in England and Ireland were Phoenicians, who are from the Levant region of the eastern Mediterranean.