Welcome to Telli Marin! Sign in | Create a login

Rotary Club of Tiburon-Belvedere
Fellowship and Service
Address:
Sam's Anchor Cafe
Tiburon/Belvedere, CA 94920
Phone:
415-789-0161
ROTARY
Club of Tiburon-Belvedere

Tiburon's Railroad History
Steve Ramirez introduced Phil Cassou, Railroad and Ferry Depot Museum curator and president of the Belvedere-Tiburon Landmarks Society, who spoke to us about Tiburon's rich railroad history and showed us the scale model of downtown and the railroad yard, circa 1909.
"Without the railroad, Tiburon would have remained cows and sheep," he said, explaining that John Reed got a Mexican land grant in 1834 and owned about 8,000 acres from Mt. Tamalpais to thend of the Tiburon Peninsula. Tiburon was mostly dairy farms, and then Peter Donahue brought the railroad to town in 1884. The railroad came from San Rafael, and he had to build a tunnel from Corte Madera and a huge trestle to create a route to Tiburon. Phil showed us a photo of the trestle and the first Reed School, which was near the trestle. He explained that the original school was for the Portuguese children who milked the cows for John Reed, and they walked from the farm through the tunnel to school. A teacher walked them through, and when a train approached, she cried, "Hit the timbers!" and the kids flattened themselves against the tunnel wall until it had passed.
The model of downtown Tiburon and the railroad yard, circa 1909. Note the palm tree, which is still standing in the area where Tiburon Boulevard meets Paradise Drive.
The Rotary Club of Tiburon-Belvedere underwrote the cost of the model of the ferryboat "James M. Donahue."

The railroad yard is where Point Tiburon is now, and Donahue blasted the hill to get material to fill in the area. His son, James Donahue, brought houses from Donahue Landing for railroad workers. A ferry boat, the James M. Donahue, was named for him, and it is now at the end of the Richmond Bridge. When workers were building the bridge, they drove the pilings right through it.
The Tiburon Depot, which is now the Railroad and Ferry Depot Museum, was originally one building, and the second story was added later, in 1895. There was a big passenger shed nearby that was bigger than the one in San Rafael.
The ferry boat Ukiah, which eventually became the Eureka, was built in Tiburon in 1890 and served until 1922, when it was rebuilt to carry cars. It could carry 40 cars and 1,300 people.
In 1900, a big coal shuttle was built to provide fuel for the boats. Train engines, however, burned wood. A train's diamond-shaped smokestack showed that it was wood-burning, and the stack was shaped that way to catch embers, thus, reducing fire risk.
Phil showed us a photo of downtown Tiburon during the railroad's heyday, and it included a building belonging to Mary McDonough. It burned down and took just two months to rebuild.
A photo of Hilarita station showed the spot where the train stopped, in the area where the police station is now. The original sign is in the museum, and Phil explained that a later sign had distinctive Northwestern Pacific Railroad lettering. The Reed station was near Bel Aire School, off Blackfield Drive, and a dairy was in that neighborhood.
The railroad ran without any signals, because it was all done by schedules, which was somewhat risky, because the rail line was busy. "We had a lot of commerce going through Tiburon," said Phil.
A mechanism built in 1891 raised and lowered the apron that provided access to the ferries, using giant wheels. The Eureka and Del Norte were both launched in 1890, and the apron provided a way to deal with the tide change. The Eureka had a 1-cylinder engine, which was 5 feet across, and it used oil and steam. After the railroad left, the apron was removed, but the wheels (above) were saved and "They're right here in the garden," said Phil, adding that the largest are 9 feet in diameter and weigh 900 pounds each.
There was dirt, water and mud everywhere. "This was a very gritty town," said Phil.
He also told us about an engine that fell into the water while crossing a pier that was built in 1913. The engineer got stuck in the cab, and a fireman cut his overalls to pull him out. Shipworms, which are clams that rub their shells on wood, syphon up the pieces they rub off and digest them, had damaged the pier, and the accident happened only six months after it was built. Shipworms are also known as teredos, and they destroy piers all over the world. When workers pulled up the post that failed, the found shipworms had eaten the bottom. The rails were also bent, and "That was really impressive," said Phil, because rails are very hard to bend.
He also pointed out some of the landscape. The hill got blown up a second time to provide material to move the shore out. A drawbridge connected Beach Road and Corinthian Island, and Tiburon Boulevard didn't exist. People had to take San Rafael Avenue to Beach Road to get to and from downtown. Tiburon Boulevard was dedicated in 1936. "They oiled the dirt, and that's how we had a new connection to town," said Phil.
In addition, there were very few houses. Phil showed a photo with open land on the hills above Old St. Hilary's, and cows grazed there.
Al Capone was most famous passenger to pass through Tiburon, and he was being taken to Alcatraz, where he was one of the first prisoners. The military used Alcatraz before it became a prison.
When Southern Pacific ran the line to Tiburon, the depot was painted goldenrod and fawn, which were Southern Pacific colors. When the Landmarks Society took over the building, however, they scraped down the wood to find the original colors and painted the building as it was in 1885.
Over time the depot building has had lots of uses. It was a sail loft with store downstairs after the trains stopped running.
"Who ran the railroad before Southern Pacific," asked Angelo Capozzi.
Phil explained that when James Donahue died in 1890, he left the railroad to the Archdiocese of San Francisco, and a man called Markham and some other guys ran it. It was part of California Northwestern, and then Southern Pacific and Santa Fe bought it and some other railroads to form Northwestern Pacific Railroad.
Phil said that an apron was built near Pier 41 in San Francisco at the same time as the one in Tiburon, and "They called it roll on, roll off," he said, because that's how they transported rail cars across the bay.
He added that in World War II, people were told to leave Tiburon, because the military wanted to build a presidio. He showed pads in Belveron East and West, where the military planned to store munitions.
Other photos included one of a girl watching the train in 1951, whom Phil knew, and a trail with logs. He explained that there was a sawmill here and said, "It was a busy place." Another showed a Zebra engine, which was painted with thick black and white stripes to stop cars from running into them.
In 1962, kids set a fire on a San Rafael hill, and trains couldn't get through.
"When I was in fourth grade, I walked all the way through the tunnel to Corte Madera and back," said Karl Hoppe. "I never told my parents."
"Where was Jim Murray's office?" asked George Landau.
Phil said that it was upstairs, and a woman once lived upstairs as well.
Angelo Capozzi said that he came to Tiburon in 1968, the tracks were still here, along with a popular shop called Pandemonium, which Phil and some other members also remembered.
_______________

The Boy with Fire — The Inside Story
Lata Setty introduced Aparna Verma, who was born in India and is a brilliant first-time author. She graduated from Stanford last year during the pandemic with a BA in English and honors in arts. Her novel is titled The Boy with Fire, and Aparna takes a novel approach.
"We both have passion for golf and golf players," she added.
Aparna explained that she set the foundation for the story in her thesis, and The Boy with Fire is the first book in a trilogy. It is coming out at the end of the month and already has 200 reviews from early readers, with a 4.5-star rating on Goodreads. "It's getting a good response," she said.
Aparna is a proud Indian American, and "When you straddle two worlds, you enrich yourself by straddling two stories," she observed. "I've known since I was very young that I wanted to write," she added, and so she went to Stanford and learned what makes a story and how to write a compelling narrative that others can relate to. She's a Bollywood fan and comes from a rich culture and heritage, and she was inspired by Indian mythology and modern-day politics. She added that Dune, which is the same genre, is the biggest Sci-fi book of all time, and the upcoming movie has her psyched. Dune is one of my big inspirations for the book," she said.
The Research
Aparna was born in Rajasthan in northern India, which was her father's home. "I was inspired by Rajput and Rajasthani culture," she said. A character who particularly interests her is Kali Ma, a goddess in Indian mythology, whom she thinks is underrated.
"When I was doing research, one story really stuck out," she said, and it involved an epic battle involving Hindu gods, who had to beat a demon called Mahishasura. They created a goddess called Kali, who had black skin, a red tongue and skulls around her neck. She had an army of female warriors, and they went into battle and killed him, and then she drank his blood so he couldn't regenerate. Aparna found her interesting, because we don't usually see goddesses as destructive forces. "That really fascinated me, when I created the female character Elena," she said, explaining that Elena is constantly battling forces of good and evil, both external and in herself, and it's heightened, because she's a queen.
Some of the artwork is original, and an artist from Portugal created it. She had read the book and was excited about it, so she contacted Aparna.
The architecture is mogul inspired and blends Sci-fi and technology as well as modernity and tradition. It reflects what happens when a society rooted in the religious belief that everything comes from God clashes with a future tech society.
"In my own forays into literature and writing, I've had difficult with female characters, investing in them and bringing them to life. Have you had the same problems with male characters?" asked David Albert.
Aparna replied that she was a tomboy, and two of the main characters are males. However, when it came to writing male characters, she hit a roadblock." She had to write from the perspective of a 60-year-old father, and so she read material to reflect that point of view and had conversations with older men.
Publishing
"Did you self-publish or did you have a publishing company?" David asked.
 She explained that she has a hybrid publisher, New Degree Press. In traditional publishing, an author pitches a book to an agent, who pitches it to a publisher. In self-publishing, you put your own book on the Internet. The hybrid model, however, has the structure of a traditional publisher and the freedom of self-publishing. Thus, she had editors, marketing and the team you'd have in traditional publishing, but she has the rights to the book. She also got to pick the title, which you can't in traditional publishing. "I wanted to be very hands on," she said. She had a rough book, which she used to do a fundraising round by going to IndieGoGo, and offered investors a signed paperback copy of the book.
"How many copies are you printing?" asked Marshall Gross.
"It's print on demand," said Aparna. IndieGoGo funding paid for 200 copies, and she has 160 on her website. "I'll be signing all those copies and sending them out," she said. The publisher pays for shipping.
"What's in it for the publisher?" asked Sudha Kantor.
They get a portion of the proceeds from the original fundraiser to pay their team, Aparna explained, and after that, it's all hers. In traditional publishing, an author gets a book deal, and an agent takes a substantial cut, but in hybrid publishing, the sales are all hers.
Questions and Answers
"Do you have a day job?" asked Marshall, and she replied that she worked for Robin Hood but left and is going to a small tech start-up in September to be their social media marketer. Two engineers from Stanford started the company.
"Did leaving Robin Hood have anything to do with game stock?" asked Lata Setty, and Aparna explained that she left, because of the whole game stock fiasco. She couldn't balance her work with writing and decided to jump into doing the book.
She added that lots of new authors are getting deals through TikTok, and she has organized the first-ever TikTok book tour.
Angelo Capozzi asked if she plans to make the book available to Indian readers, and Aparna said yes, adding that various ways make it possible to get a book to international readers.
"Is your goal to be like the next Harry Potter or the Narnia chronicles?" asked Lata Setty.
"It's about creating a story I can be proud of," said Aparna. "This book has been part of me for 10-plus years." She got serious about it two years ago and is leaving a legacy for other Indian American girls who want to become writers.
"Will the book be translated into different languages?" asked Revati Natesan.
Aparna said yes, but finding ways to get good translations could be a challenge.
"Do you speak Hindi?" asked Revati, and Aparna said she can carry on conversations, although she has an accent.
Revati said that she is a Bollywood singer, and she has sung with Lata Mangeshkar, the biggest recording artist in India, who had sold more albums than anyone until Michael Jackson came along.
Lata Setty revealed that she was named for the singer and observed, "If you hadn't spoken today, we wouldn't have known that we have a rock star right her in Revati."
"How did you come up with The Boy with Fire? asked Lata, referring to the title.
"It's a huge plot point, but it's because it's a trilogy," said Aparna. She kept in mind what the next two books were going to be, when she chose the title. The next one will be a queen.
She explained that the book is written through three points of view: Elena; her father, who is a tyrant; and one more. Sometimes one character overpowers the others, and she kept three points of view for balance. "If one was gone, it wouldn't be this book," she said, adding that the boy allows what the story is really about to shine. "What defines you?" she asked. "It's your home, your land."
To preorder a book, go to her website, https://theaparnaverma.com/books. You'll also be able to order it on Amazon on August 31. Book signings will be online; she's unable to do live events because of COVID.
She added that 300 readers reviewed the book, and they were from a variety of countries, including Poland, the Czech Republic, the Philippines, Australia and Kazakhstan. She made it available worldwide, and people could get copies in exchange for a review
Lata thanked Aparna for her presentation and said, "What a fantastic young woman you are."
_______________

  ____________________

NOTEWORTHY EVENTS
Wednesday, September 15   4 p.m.,             Club Social, details to be announced.

Saturday, September 18   11 a.m. to 4 p.m., Tiburon Classic Car Show. Shoreline Park. Visit the Rotary barbecue and bar.
Saturday, October 2                                       Tiburon Wine Festival
_______________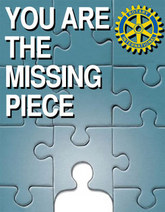 Meetings

All in-person Rotary meetings and events have been cancelled or postponed as a result of the COVID-19 pandemic. We will be meeting on Zoom at 4 p.m. on Wednesday until further notice. If you'd like to join us, we'd be delighted to meet you. Please go to https://us02web.zoom.us/j/81915154482?pwd=MDVHWWVjemovQ2ovdjJkZzczeW9qZz09,

Our usual meeting place is Sam's Anchor Cafe, and we gather at 5:30 p.m. for an early evening meeting on the first and third Wednesday of the month and for lunch at 12:15 p.m. on the second and fourth Wednesday of the month. Most weeks, either a guest speaker makes a presentation or we have a program. Attendance is $10. Food and drinks are no-host  We welcome guests. If you'd like to hear a speaker, offer to be one or find out more about Rotary, pay us a visit. We'd be happy to make your acquaintance.

Board of Directors Meetings
Meetings of the Board of Directors are open to all members and take place monthly at a time to be announced. For information, please send an email to judith@telli.com.

Contact us at rotary@telli.com.
If you'd like to be a guest speaker, please contact Marianne Strotz at properties@pacbell.net.

Send mail to Rotary Club of Tiburon-Belvedere, P.O. Box 220, Tiburon, CA 94920.


Follow us on Facebook: https://www.facebook.com/tbrotary. Hope you "like" us!
_________________________
Scroll down to see our photo gallery of Rotarians at work and play!
____________________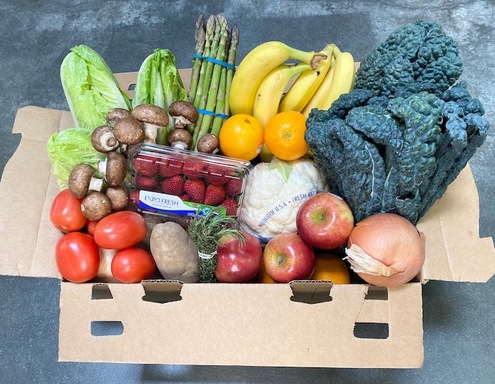 COVID-19 RELIEF

 ROTARY AT WORK

The Rotary Club of Tiburon-Belvedere supports a wide range of programs, with a focus on youth, literacy and community. We believe that reaching out to others makes a better world and encourage others to join us. Here's what we're supporting in 2020-2021

Youth—Investing in the Future
• Ambassadors of Hope and Opportunity: Support to provide a safety net of stable housing, guidance and community connections for young people 16 to 25, who are homeless or in danger of becoming homeless in Marin County.

• Del Mar Middle School's Liberia Project: Support for the students' service-learning projects to help their sister school in Liberia, thus encouraging altruism at home and helping children in a disadvantaged country across the world.
• Dave Hutton Rotary Award for Service Above Self: An annual award to a graduating eighth-grader with a record of outstanding community service at Del Mar Middle School.
• Educator of the Year Awards: Annual awards to outstanding educators in local schools, whose unique projects give children a worldview that encourages them to become good citizens
• Global Book Exchange: Support for the Global Book Exchange in San Rafael, which collects lightly-used books and redistributes them to teachers at schools with limited budgets, disadvantaged families and nonprofits that serve children, as well as schools throughout the world.
• Marielos Fund: A scholarship to send a young woman in El Salvador to medical school.
• Rotaplast International: Support for volunteer medical teams to provide life-changing surgery for children with cleft-lip and palate in needy communities around the world.
• Rotary Youth Leadership Awards: Scholarships so high school sophomores and juniors can attend a special camp that guides them to develop their leadership skills.
• Young Performers International: Scholarships for kids to take music lessons and develop their performing skills. Music makes kids smarter!

Meaningful Projects—Service Above Self
• Canal Alliance: Support for a population that includes many of Marin County's essential workers, who have been disproportionately impacted by COVID-19 pandemic.

• Marin Villages: Support for programs that help seniors age in their own homes. Members pay a small fee and can enjoy social get-togethers and access to volunteers for help with tasks such as getting to appointments, changing light bulbs or assisting with pets.

• Service to the Community Awards: Recognition for people who serve the community in meaningful ways, but don't often get acknowledgement.

• St. Vincent de Paul: Support for helping Marin's neediest residents obtain nutritious food, affordable housing, meaningful employment and a voice in the community.

• Vivalon: Underwriting for Whistlestop's Thanksgiving Feast for Seniors.

District Designated Funds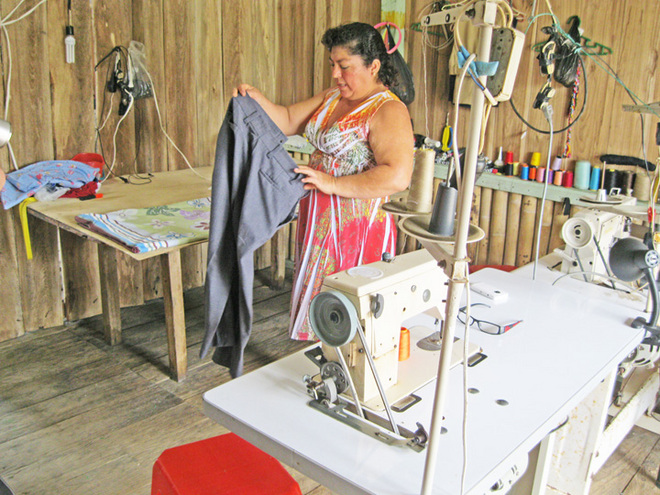 Rotary's District Designated Funds helped establish this sewing shop in Esmeraldas, Ecuador. Photo: Courtesy of Keith and Holly Axtell

Funds from the Rotary International Foundation's annual campaign earn District Designated Funds for our club. This year, we're contributing our international funds to the Rotary Club of Marin Evening's new microcredit project in Ecuador and the Rotary Club of Mill Valley's greenhouse project in the high Andes n Peru.
District Designated Funds also support local projects, and this year our funds purchased boxes of produce for the food pantry at The Ranch.

____________________
District Governor Danielle Lallement, Assistant District Governor Anne Sands, President Kathleen Defever (2021-2022) and Past-President Annette Gibbs (2019-2021)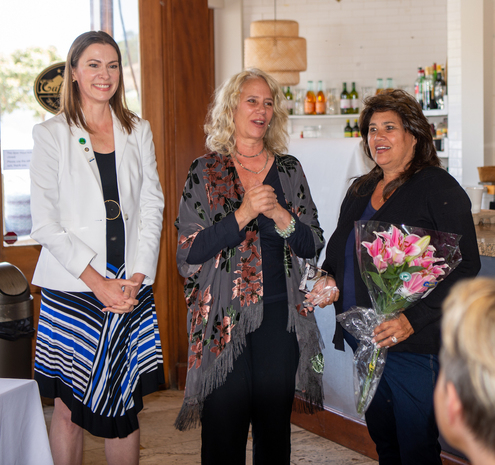 Linda Emberson and President Kathleen presented Cindy Siciliano with a Service to the Community Award for her work helping the homless.
"She is tireless in assisting people who are needier thank herself," said Linda. "She identifies a need and just jumps in and does it."
The Rev. Christine Trainor of St. Stephen's Church assisted in presenting a Service to the Community Award to Sunny Lyrek. "She goes above and beyond and always has a sunny disposition," said Christine, explaining that Sunny helps those at the margins of our community and does it with love and devotion. She has been providing meals for 85 need families since March 2020 and has also been helping the homeless.
Angelo Servino helped with presentation of a Service to the Community Award to brothers Natale and Vittorio Servino of Servino Ristorante and Caffè Acri. "I'm so proud of them," he said. They earned recognition for pivoting the business to create a market and offer items such as hand sanitizer and toilet paper, which local residents were unable to find. They also donated boxes of fresh produce to a local food pantry during the pandemic.
_______________

President Kathleen Defever thanked Annette Gibbs for her service and presented her with native milkweed seeds, a butterfly house, a book about butterflies and a gift certificate so she can create a habitat for Monarch butterflies in her garden. Linda Emberson gave Annette a bouquet of flowers.
District Governor Danielle Lallement gives Kathleen the oath of office. Among the requirements she asked her to repeat: "I will promise to keep healthy, ask for support and above all have fun."
"We wish you an amazing 2021-2022 Rotary year," said DG Danielle. "It is my pleasure to introduce to you your president for the 2021-2022 year."
Angelo Capozzi picking up groceries from the food pantry at The Ranch to deliver to residents of The Hilarita.
Cindy Siciliano, of the Rotary Club of Tiburon Sunset, has been helping the residents of the homeless encampment at Dunphy Park in Sausalito. Linda Emberson and George Landau of the Rotary Club of Tiburon-Belvedere joined her on Sunday, March 7, to prepare and serve a pancake breakfast.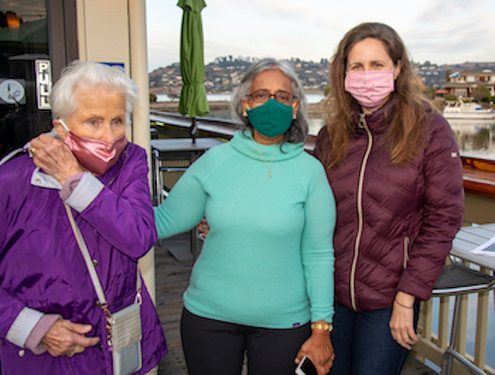 Marianne Strotz, Revati Natesan and Geneva Michaelcheck at Happy Hour at the Club at Harbor Point. Photo: Marshall Gross
_______________

Julie Aubrey visited from Rotary International's headquarters in Evanston, Illinois.
(l. to r.) Irene Russell, Kathleen Defever, Helen Lindqvist and Bill Lindqvist at the Tiburon Peninsula Chamber of Commerce mixer at the downtown Tiburon firehouse.
HELPING KIDS GO TO CAMP

President Annette Gibbs presented Jessica Hochkiss with a check for $1,000  for The Ranch from the club's foundation, which will help low-income children attend day camp. "We currently have two large summer camps going on," said Jessica, and she explained that they take kids to Angel Island every day. "The camp has gone on for 40 years," she said, and some of today's campers have parents who attended when they were young.
The Ranch is a nonprofit, and "Every little bit helps," she said, expressing her gratitude.
_______________

Past-president Linda Emberson and incoming President Annette Gibbs at the Installation Celebration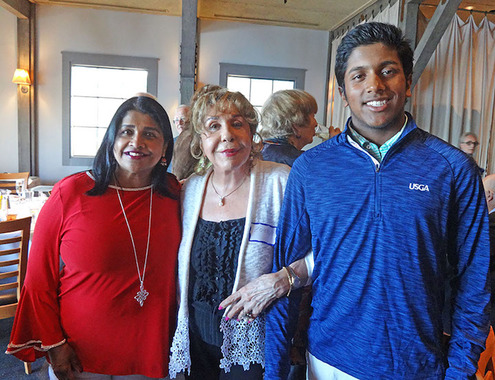 Lata Setty, Zohre Grothe and Lata's son, Deven Ramachandran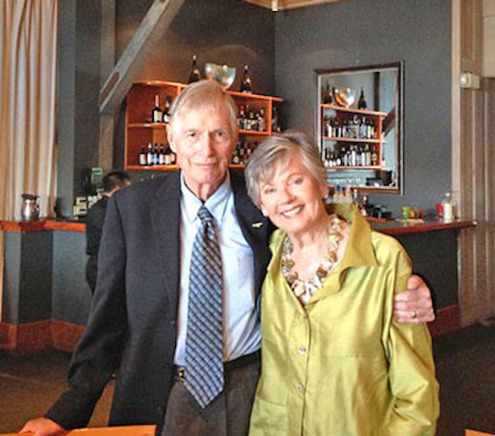 Warren and Irene Russell
_______________

Having fun at the Tiburon Classic Car Show!
Rotary in the community: Cindy Siciliano and Linda Emberson made it look easy, as they spent the day flipping burgers, hot dogs and corn on the cob for scores of happy customers.
____________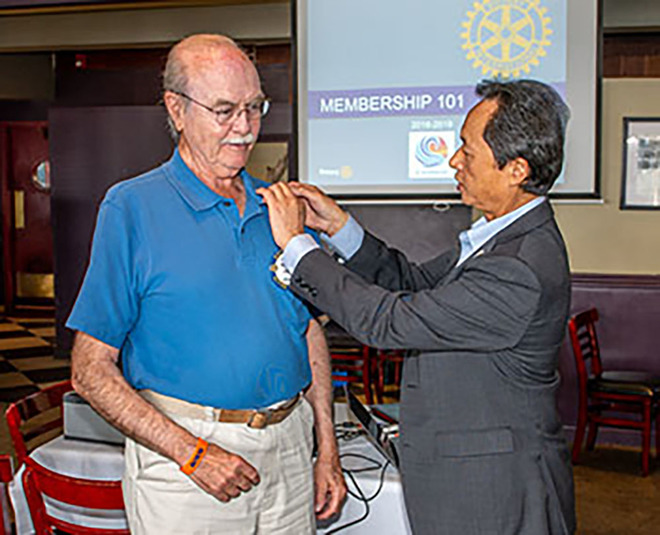 Past District Governor Ron Gin, now district membership chair, presents Mike Keran with a pin in honor of his being chosen Rotarian of the Month for District 5150.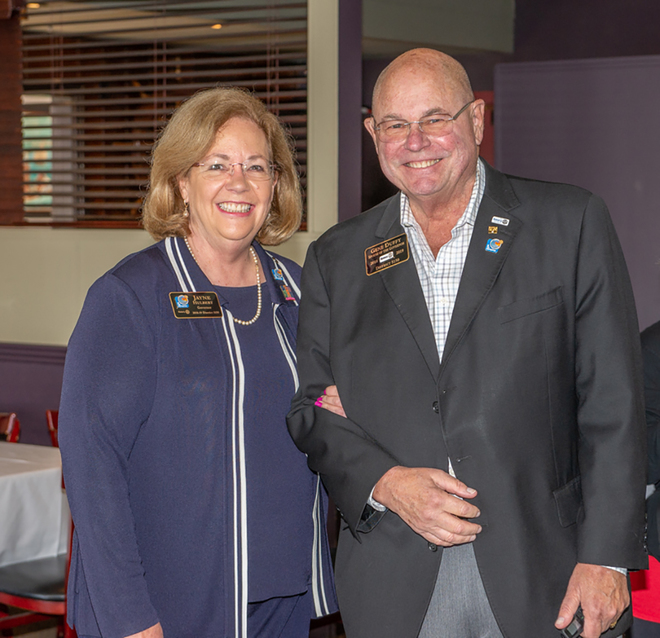 District Governor Jayne Hulbert and First Husband Gene Duffy paid the club a visit.
Cindy Siliciano of the Tiburon Sunset Rotary Club (left) and President Linda Emberson of the Tiburon-Belvedere club get ready to toss goodies to kids at the Labor Day weekend hometown parade. (Photo: Marshall Gross)
_______________

Welcome New Members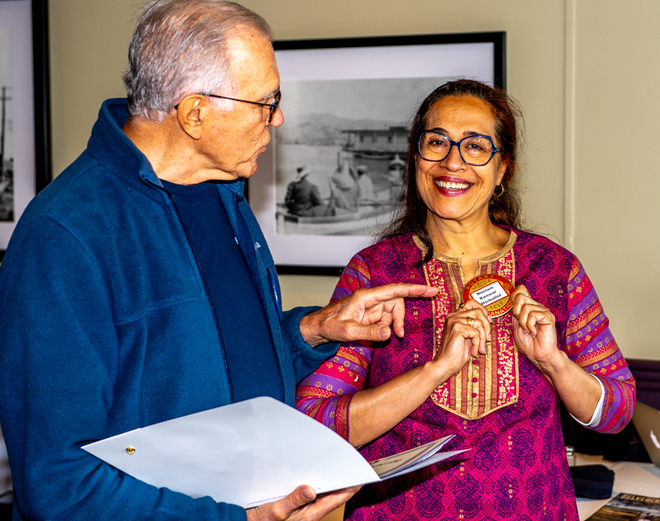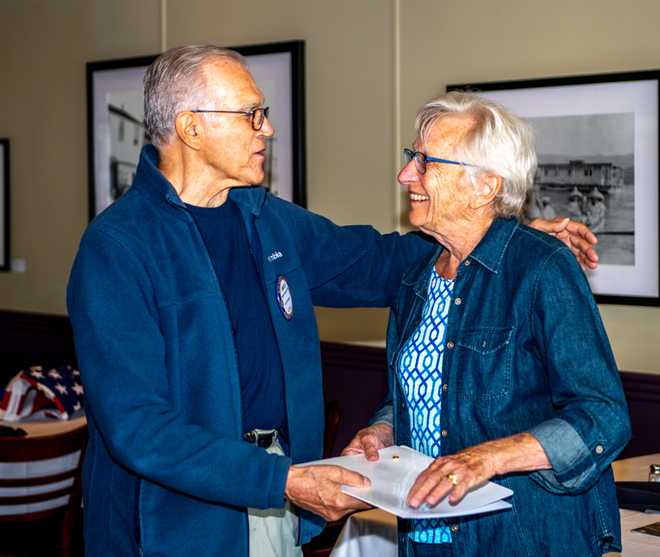 Membership chair Angelo Capozzi welcomed new members Neelam Kanwar (upper photo) and Lynn Spitler (lower photo).
_______________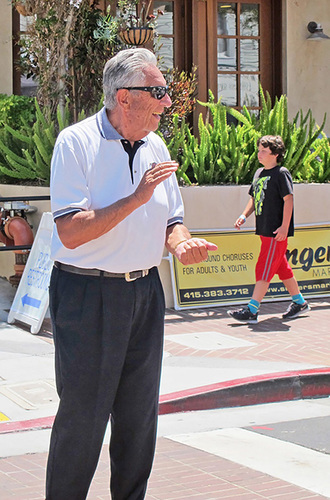 It is with profound sadness that President Linda Emberson announces the passing of beloved member Jim Deitz on Friday, July 13. Jim exemplified Rotary's motto, Service Above Self, and his altruistic spirit was a model for everyone. He was devoted to his family, loved dogs and was one of the best. We'll miss him terribly.
_______________

Good Work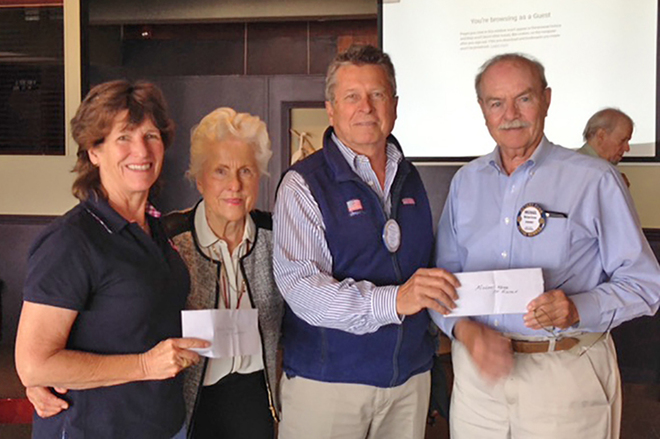 (l. to r.) Lisa Brinkmann of Marin Villages accepts a check from Marianne Strotz, and Michael Heckmann presents a check to Michael Keran for St. Vincent de Paul. Photo: Lynn Fox

_______________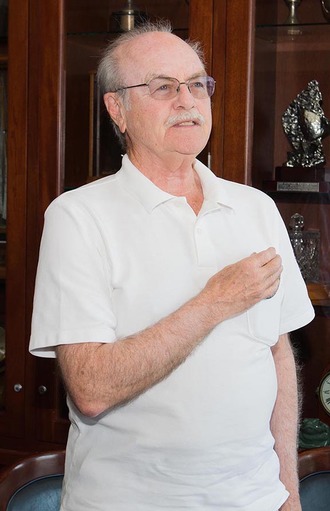 District 5150 named Michael Keran Rotarian of the Month for May. Mike's much-deserved honor is in recognition of his ongoing commitment to St. Vincent de Paul and helping the homeless in Marin County. In addition, he recruits a crew of Rotarians to serve lunch at the St. Vincent de Paul Free Dining Room in San Rafael every month. May marked the beginning of the 12th year of this service project.
_______________

Annette Gibbs (left) and Shelby Gross joined the Rotary contingent and got into the spirit
of this year's first Friday Night on Main
_______________

Celebrating Earth Day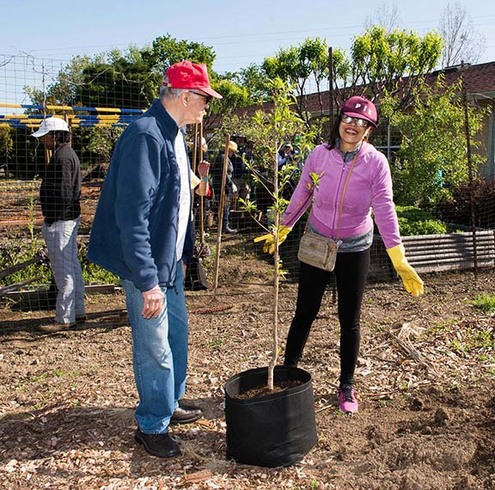 Having Fun at Friday Night on Main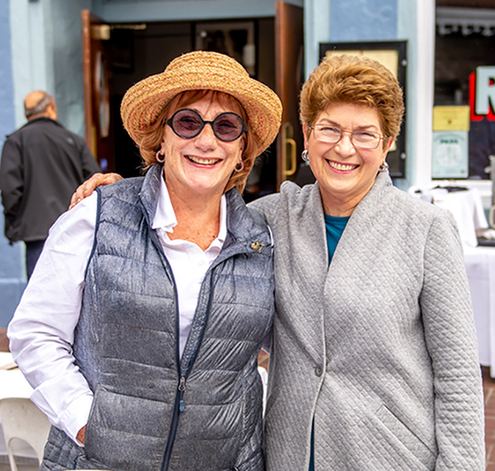 Angelo Capozzi (left) and Neelam Kanwar planted trees at Homeward Bound as part of Rotary International's initiative to plant one tree for every Rotarian. Photo: Marshall Gross
_______________
Lending a Hand at St. Vincent de Paul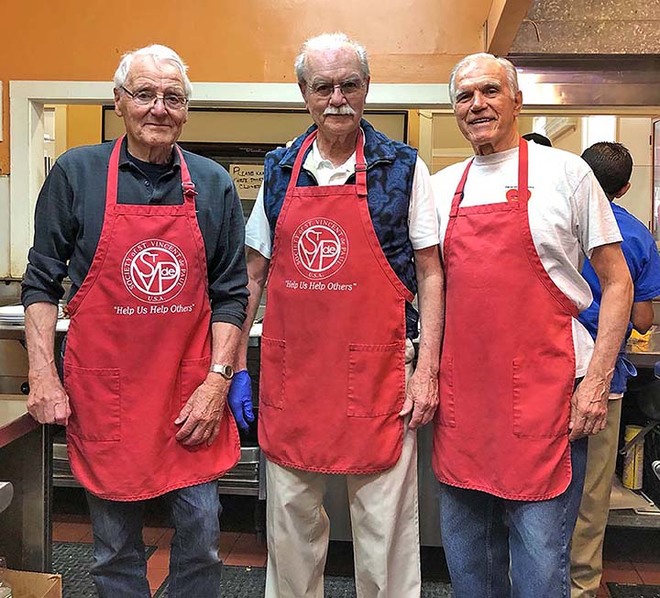 Stalwart volunteers (l. to r.) Klaus Meinberg, Michael Keran and Angelo Capozzi in the kitchen of the St. Vincent de Paul Free Dining Room in San Rafael. The Rotary Club of Tiburon-Belvedere serves lunch on the fourth Thursday of every month and will begin its twelfth year of volunteering, under Mike Keran's leadership, in May. Angelo is team leader for the club's participation in the REST program, and he and Klaus also served dinner to a group of homeless men at St. Hilary's Church the same day. Service Above Self at its best!
_______________

First meeting at Sam's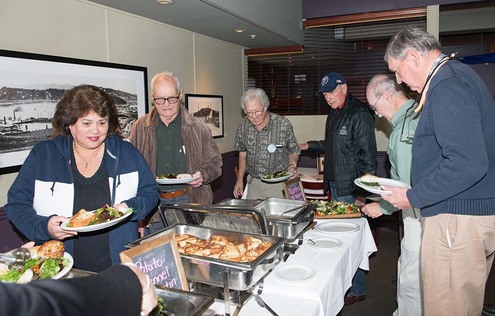 _______________

Rotary does REST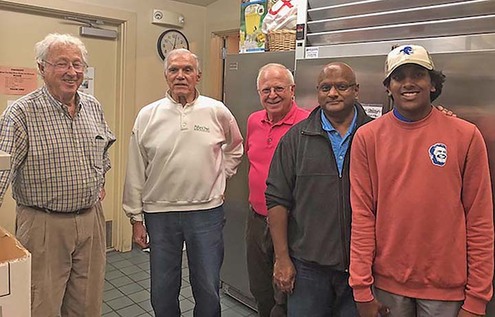 The Rotary Club of Tiburon-Belvedre hosted dinner for a group of 25 homeless men who were spending the night at St. Hilary's Church on Thursday, February 15, as part of the REST (Rotating Emergency Shelter Team) program.
Members of the Rotary crew (above, l. to r.), John Kaufmann, Angelo Capozzi, Brian Walker, Raja Ramachandran and Deven Ramachandran, took a break before serving dinner to guests in Tarantino Hall. Lata Setty, Annette Gibbs, Bill Goldberg, Zohre Grothe, Karl Hoppe and Lata Setty were also on hand to help. The evening featured good conversation, great appetites and uplifting camaraderie, as well as good food.which included homemade lasagna that Deven, Lata's son, helped prepare as a family Valentine's Day project, and Mary Kaufmann'a delicious oatmeal cookies and cupcakes decorated with hearts.
_______________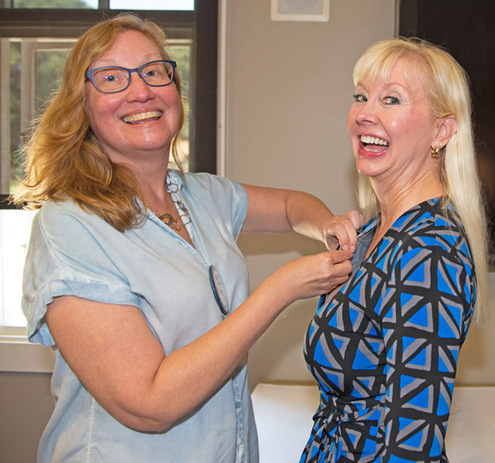 Karen Glader welcomes new member Valerie Marsh to the club and gives her a Rotary pin.
_______________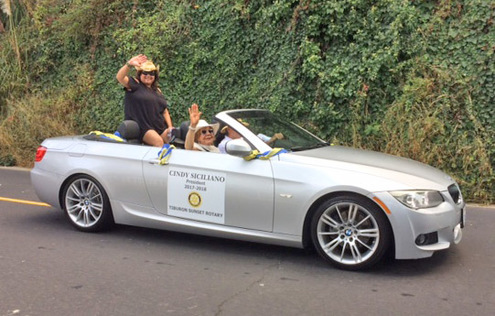 Rotarians have fun in the Day Before-Labor Day parade.
_______________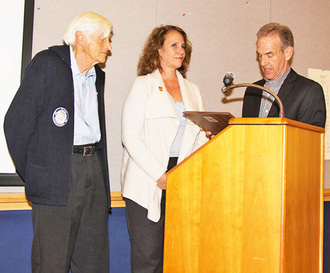 Proclamation
The Town of Tiburon issued a proclamation in honor of the Rotary Club of Tiburon-Belvedere's 40th anniversary, which we will celebrate in June, and the 100th anniversary of the Rotary International Foundation. Pictured, left to right, are George Landau, President Linda Emberson and Tiburon Mayor Jim Fraser. Photo: Marsall Gross.
______________
Visitor from Afar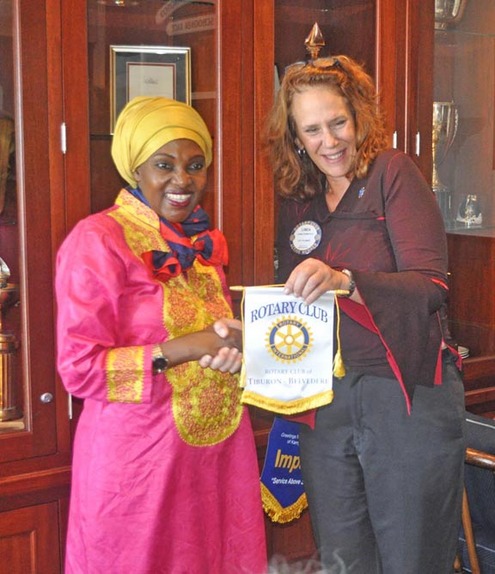 Rehmah Kasule (above left), with President Linda Emberson) is the Immediate Past President of the Rotary Club of Kampala/Impala in Uganda. She took the opportunity to visit us when she was at a conference in San Francisco in October. In 2010, she received recognition at the White House for her work in empowering women and met President Obama. She then wrote a book, From Gomba to the White House. She shared an African proverb: "When you walk fast, you walk alone. When you walk with others, you go far."
_______________

MAKING KIDS SMILE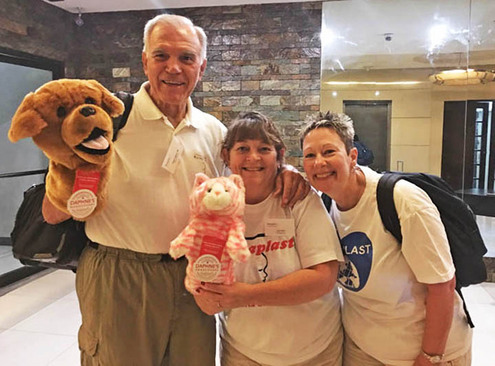 Marshall Gross donated two beautiful puppets that he won in a gift basket to Rotaplast's mission in Cebu City, Philippines. Dr. Angelo Capozzi (with the big dog) reports that the puppets are making kids smile every day before undergoing surgery, and the mission is going well.
______________

Tiburon Challenger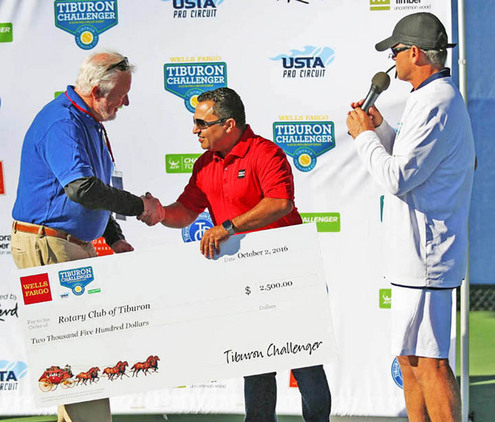 Charlie Oewel, representing the Rotary Club of Tiburon-Belvedere, accepted a generous check from Ashoo Vaid (middle) of Wells Fargo and tournament director Brendan Curry (right) at the conclusion of the Tiburon Challenger. The funds will go to the club's education projects. (Photo: Getty Images for Revd)
_______________

Rotary welcomes Kimberly Brooks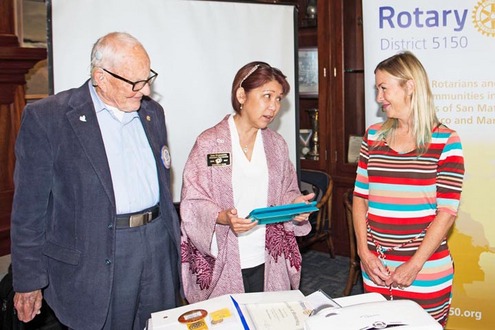 District Governor Jeri Fujimoto (center) inducted new member Kimberley Brooks (right) as Kimi's sponsor, Joe Lavigne, looked on. Photo: Marshall Gross
_____________________
DAY BEFORE LABOR DAY PARADE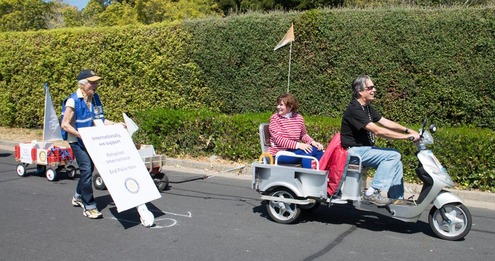 Tari Nix and friend pull wagons with books for kids from the Global Book Exchange, as Marianne Strotz walks alongside, wheeling a Rotary sign. (Photo: Marshall Gross)
To see more photos of the parade, go to www.tiburonrotary.org and click on "Photo Gallery."
____________________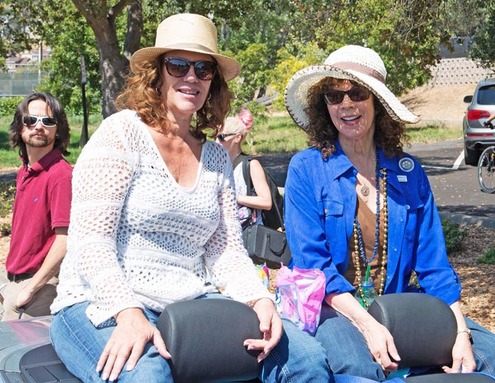 President Linda Emberson (left) of Tiburon-Belvedere and President Marilyn Nemzer of Tiburon Sunset hitch a ride with Michael Heckmann in the Day Before Labor Day Parade. (Photo: Marshall Gross)
Dana and Chester (left), making friends.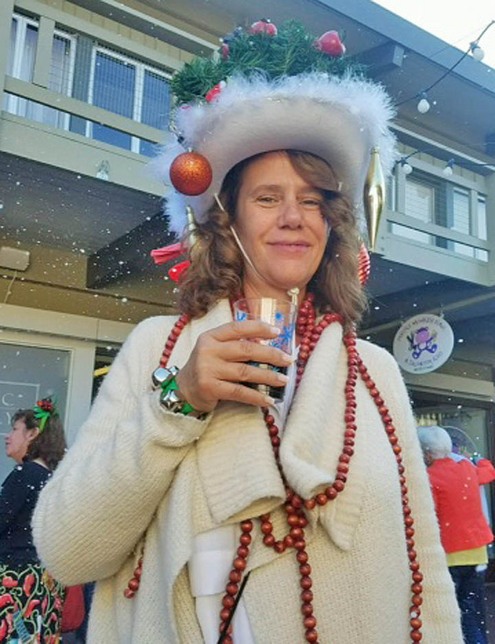 Winter in August was the theme of the Tiburon Peninsula Chamber of Commerce's mixer at the Boardwalk. President Linda Emberson took the prize for the most creative hat.

_______________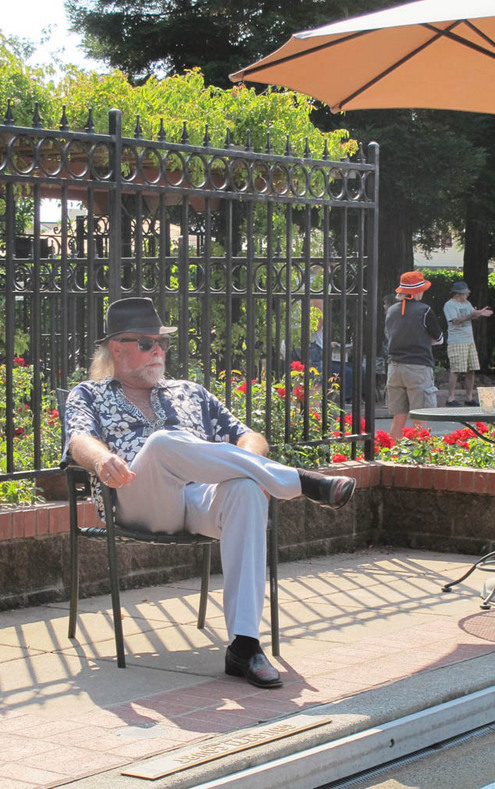 Jon Rankin views the on-court action at the annual Bocce Ball Tournament, a fundraiser for Rotaplast International. (Photo: J. Wilson)

_______________

Changing of the Guard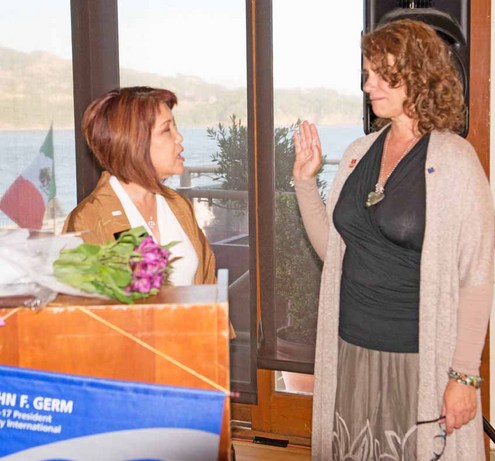 Thanks to President Marianne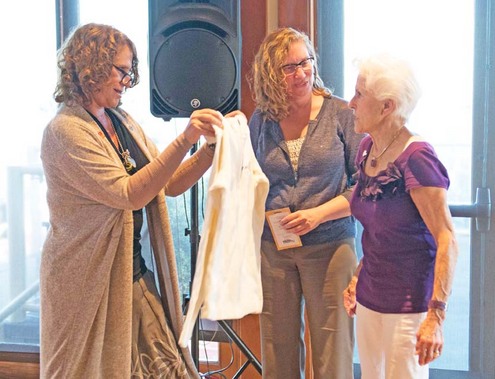 President Linda Emberson (left) thanks outgoing President Marianne Strotz (right) for her two outstanding years of leadership with a special Rotary jacket, as Karen Glader, the club's new secretary, looks on. (Photo: Marshall Gross)
____________________

Honors for Angelo
Dr. Angelo Capozzi (left) and Dr. John Kaufmann with a child who underwent surgery during a Rotaplast mission to Peru in May 2016. (Photo: Courtesy of Rotaplast International)
____________________
Service Above Self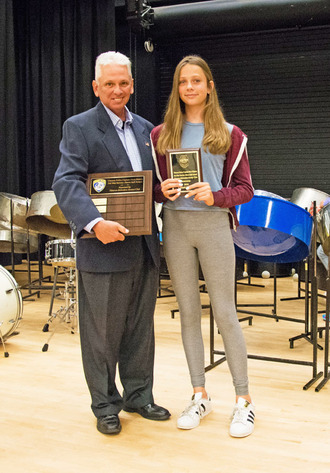 Dave Hutton presents the Capt. Dave Hutton Rotary Service Above Self Award to Kendall Hermann, graduating senior at Del Mar Middle School, for her outstanding performance in community service. The presentation took place at a special awards assembly in June. Photo: Marshall Gross
____________________
Teachers of the Year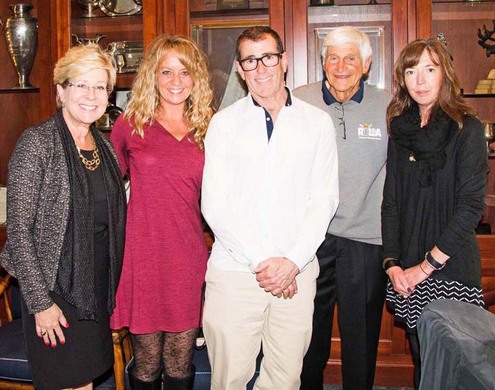 (Left to right) RUSD Superintendent Nancy Lynch, Bel Aire School's Kelly Morphy, Reed School's Ross Modlin, Rotarian George Landau and Erin Turner of St. Hilary School (photo: Marshall Gross)
____________________
Carnaval!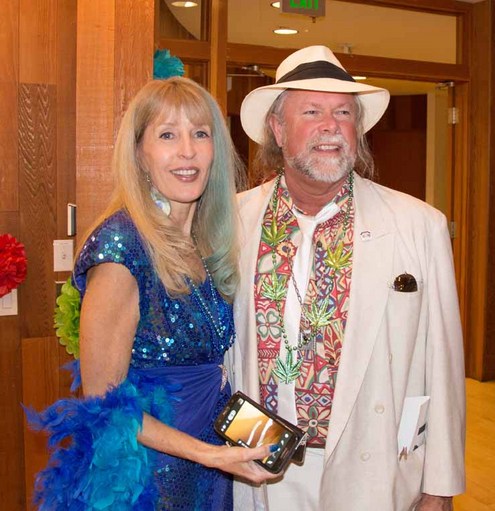 Mary Kaufmann and Jon Rankin got into the spirit of Carnaval, a fundraiser for the Rotary Club of Tiburon-Belvedere. For more, see the photo gallery at www.tiburonrotary.org. (Photo: Marshall Gross)
_______________

In 1976, Tim Severin decided to test the theory. He built a similar boat, in Bantry, where Tom's family is from, and he sailed it to North America, demonstrating that Brendan could have done it. [Severin wrote a book about his experiences, The Brendan Voyage, and it was made into a film.]
Severin also encountered a tribe of American Indians with white skin, brown and reddish hair and blue eyes. The name of the tribe was Duhare, a name that comes from ancient Celtic. Their carvings were the same as those in the west of Ireland, and the only person who reputedly reached North America early was Brendan, suggesting that he and the tribe are connected.
Tom's family coat of arms has a red hand, and legend has it that when the first Europeans came to North America, one of Tom's ancestors cut off his right hand and threw it to the shore so he could be the first to touch the new land.
"Was your ancestor called Lefty O'Neill?" quipped David Albert.
Terry Graham said she has done some research and discovered that when the first ships arrived from England, some of the tribes met the ships and tried to communicate with the sailors. Welsh sailors understood what the Indians were saying, leading to speculation the natives' language came from Ancient Welsh, which is also related to Hebrew.
Tom added that the Irish and Welsh languages are Gaelic, and the first people in England and Ireland were Phoenicians, who are from the Levant region of the eastern Mediterranean.