Welcome to Telli Marin! Sign in | Create a login

Mill Valley Chamber Music Society Presents Telegraph Quartet
Venue:
Mt. Tamalpais United Methodist Church
410 Sycamore Ave.
Mill Valley, CA 94941
Phone:
415-381-4453
Dates:
Nov 10th, 2019
Times:
5:00 PM - 7:00 PM
Cost:
Free to $40
Free 18 & under. 15 & under must be accompanied by an adult. General admission $40.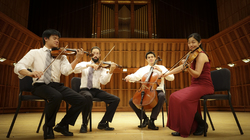 Mill Valley Chamber Music Society presents its 2nd concert of the 47th season with the award-winning Telegraph Quartet. The Bay Area-based based quartet (Eric Chin and Joseph Maile, violins; Pei-Ling Lin, viola; Jeremiah Shaw, cello) formed in 2013 with an equal passion for standard and contemporary chamber music repertoire. Described by the San Francisco Chronicle as "…an incredibly valuable addition to the cultural landscape" and "powerfully adept…with a combination of brilliance and subtlety," the Telegraph Quartet was awarded the prestigious 2016 Walter W. Naumburg Chamber Music Award and the Grand Prize at the 2014 Fischoff Chamber Music Competition.