Welcome to Telli Marin! Sign in | Create a login

Hiroya Tsukamoto at Old St. Hilary's
Venue:
Old St. Hilary's Landmark
201 Esperanza
Tiburon, CA 94920
Phone:
415-435-1853
Dates:
Nov 18th, 2018
Times:
4 pm
Cost:
$15-25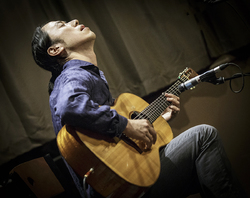 A one of a kind composer, guitarist and singer-songwriter from Kyoto, Japan presents a hypnotic blend of folk, jazz and world music. Earlier this year Hiroya placed second at the 2018 International Finger Style Guitar Championship in Winfield, KS.
"His music is earthy, organic and an amalgam of elements imported from diverse genres". "Hiroya Tsukamoto plays with fluid mastery, pristine tone, and great warmth."
Watch excerpts from Hiroyas last performance at Old St. Hilary's at:
www.vimeo.com/249206573.
Presented by: Belvedere-Tiburon Landmarks Society with generous support from The Tiburon Heritage & Arts Commission, The Allen Family Foundation and Bank of Marin.
Tickets $20, general & 15, seniors/youths: advance purchase available at the Landmarks Office, Tiburon Town Hall and Brown Paper Tickets:
http://www.brownpapertickets.com/event/3745739
Tickets available at the door (if not sold out) will be $25 & $20, starting at 3:30 p.m
There is no parking at Old St. Hilary's. Please park at the Boardwalk Shopping Center, 1550 Tiburon Blvd. and take a shuttle to the concert. Shuttle service begins at 3:30 p.m. in front of Rustic Bakery.