Welcome to Telli Marin! Sign in | Create a login

Loren Jones at Old St. Hilary's Landmark
Venue:
Old St. Hilary's Landmark
201 Esperanza
Tiburon, CA 94920
Phone:
415-435-1853
Dates:
Sep 16th, 2018
Times:
4 p.m. - 6 p.m.
Cost:
$15-25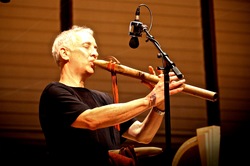 Loren Jones - composer, singer, songwriter and multi-instrumentalist, will be performing new music for guitar, voice, piano and Native American flute, from Americana to Classical. He will be playing his own compositions as well as musical adaptations of poems by Emily Dickinson, William Yeats, Langston Hughes and George Sterling.
"Loren Jones music is always fresh and inspired, and shows genuine and authentic assimilation of a wide variety of styles, from the Beatles to Aaron Copland." David Conte, Chair of the Composition Department, San Francisco Conservatory of Music.
"Loren's music is mesmerizing." Andrew York, Grammy Award winning guitarist, and composer.