Welcome to Telli Marin! Sign in | Create a login

Transcendence Reviews
Address:
P.O. Box 1088
Tiburon, CA 94920-7008
Phone:
415-747-5828
Broadway in Wine Country
Transcendence Theatre Company's outdoor stage in the ruins of an old winery at Jack London State Historic Park
Musical theater is making a comeback at Jack London State Historic Park, as Transcendence Theatre Company prepares to welcome audiences to its Wine Country venue, giving them a chance to experience the energy and magic of live in-person shows once again. The theater company transitioned to streaming and drive-ins during the pandemic, and when the 2021 summer season kicked off early in June, it was with My Hero, a drive-in production that was live streamed on a giant screen. The show, which ran at the Petaluma Fairgrounds and BR Cohn Winery in Glen Ellen, was a tribute to front-line workers and was a way of expressing gratitude for their selfless work.
Left, Arielle Crosby in Road Trip! Photo by Brian Janks
Road Trip!

Road Trip!, the season's second show, opens on August 6 and marks the return of Broadway Under the Stars to Transcendence's open-air theater in Jack London State Historic Park. An epic musical tour with performers as guides, it's cause for celebraton for the cast as well as fans.  Some of the performers, many of whom come from New York for a summer stint in Sonoma County, will be working for the first time since the pandemic started, and "They're excited it's live," says artistic director Amy Miller.
The show celebrates America with tunes that include Born in the U.S.A., California Dreamin', Viva Las Vegas and Route 66. Susan Draus is the conceiver/music director, and Jessica Lee is the choreographer for a production with diverse styles that include pop, patriotic, jazz, funk, Broadway favorites, Disney and more. "I'm thrilled and honored to be part of Road Trip!, the first show back in the park," says Draus. "We wanted to create a show that reminded us of all the good in our country. It has been a rough year and now it's time to celebrate our great nation and each other."

Shows run Friday through Sunday and begin at 7:30 p.m. The site opens for pre-show picnics at 5 p.m., and food and beverages will be available for purchase. Tickets are $49 General Admission (reserved seating) and $129 for VIP tickets, which include parking, a designated VIP area, drink tickets and VIP seating. COVID-19 protocols, following guidance from Sonoma County health officials, will be in place.
A special program offers people the opportunity to buy tickets for this year's shows for healthcare workers to show gratitude for their work during the pandemic. "We're getting a good response," says executive director Brad Surosky. "The FPI Group sponsored a whole bunch of tickets for healthcare workers, and as a company, we decided go comp some."
The Gala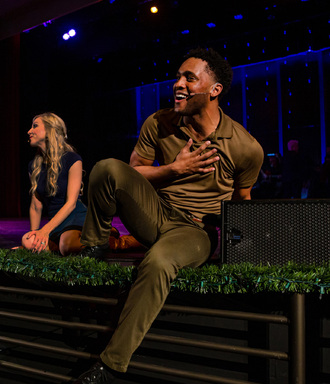 September's big event will be The Gala, a celebration of Transcendence's 10th anniversary in Sonoma, and will feature Broadway favorites and a tribute to the community that welcomed a group of itinerant performers a decade ago and allowed them to make a dream come true.

Planning a season with SARS COV-2, the novel coronavirus that causes COVID-19, lurking on the sidelines, created challenges, but the shows will go on. The biggest factor was the unpredictability. "We still don't know completely. We don't what the capacity will be when we go back to the park," Surosky says. Thus, they started with five different budgets to fit different scenarios, and those five turned into 10. The key is having staff and everybody knowint that they have to be on their toes to make quick changes, he explains, adding, "We're so lucky that we're coming back. We're ready."
For tickets and more information, go to www.bestnightever.org.
Above right: Deleon Releford in Road Trip. Photo: Ray Mabry

See a preview of the 10th Anniversary season.