Welcome to Telli Marin! Sign in | Create a login

Transcendence Reviews
Address:
P.O. Box 1088
Tiburon, CA 94920-7008
Phone:
415-747-5828
Marking a milestone
The cast of Transcendence Theatre's Gala on stage at Jack London State Historic Park. Photo: Rob Martel

When Amy Miller and Brad Surosky arrived in Sonoma County with a group of friends and a dog in 2011, the band of itinerant performers was roaming the country in an RV, scouting for a place to put on some shows. The country was still suffering through a recession that year, and California was going through hard times, but that presented a unique opportunity. When the players discovered that Jack London State Historic Park in Glen Ellen was slated to close, inspiration struck. What if they were to put on shows in the park in return for a share of the ticket sales? The park agreed to the plan, and the pairing turned out to be serendipitous.  Transcendence Theatre Company has so far given more than $527,000 to keep the park open and thriving, and the company found a home and has become a beloved fixture in the community. Now, Transcendence Theatre Company is celebrating the 10th anniversary of its founding with a Gala that honors its success and is raising funds to meet a new goal: creating the best theatrical experience in Wine Country.
The cast performs A Friend Like Me from Aladdin in one of the highlights of the 10th anniversary Gala. Photo: Rob Martel

Reflecting on the past 10 years, Miller says what Transcendence Theatre Company has done has more than met her expectations. "We had this idea of creating kind of like a Hollywood Bowl," she says. Audiences would have food and drink alongside pre-show activities and be able to enjoy a complete experience built around a show. It's a dream come true, and Miller attributes TTC's success to top-of-the-line talent and the beautiful outdoor environment in the ruins of a historic winery. "We've done more than 100 shows," she says, and she adds that while building a theater company has been a challenge, it's also brought significant rewards. Among them is the chance for people to make memories. "We've had people get engaged on stage," Miller reports, and others celebrate anniversaries and birthdays by watching Broadway Under the Stars. Performers come from Broadway and Hollywood for a stint in Sonoma County, and many say it's their favorite place to perform. A major accomplishment was producing "A Chorus Line," the company's first full musical in 2019.
(l. to r.) Emilio Ramos, Rosharra Francis and Meggie Cansler Ness in The Gala. Photo: Rob Martell

Sponsors help make theater under the stars possible. "Our support from donors and sponsors is amazing," says Surosky. Some have been sponsors for years, and "They love what we do for the community,' he explains. "It's essential to keep us going."
Miller and Surosky are looking forward to the next 10 years. They expect to do a full musical once a year after the pandemic has passed, and they plan to continue community engagement. And their dream is to become known nationally and internationally as entertainment in California's Wine Country so that Transcendence Theatre Company will be part of the Wine Country experience. "It can grow, and more people can know," says Miller.
When they arrived in Sonoma, the travelers who founded the theater company didn't know what to expect. And they fell in love with the county, stayed, founded a theatre company and are enormously grateful. "A big thank you to the community," says Miller. "We moved up here and didn't know a single person. There are no words that can express our gratitude for the generosity."
To find out more about Transcendence Theatre Company, check out plans for the upcoming special holiday show or make a donation, go to transcendencetheatre.org.
Kyle Kemph performs Waving Through a Window from Dear Evan Hansen in The Gala. Photo: Brennan Chin
_______________


Love Among the Ruins
Maria Bilbao (center) with "Road Trip" cast perform "Rhythm is Gonna Get You."
"Road Trip Photos by Ray Mabry

Review by Judith M. Wilson

"Summertime and the livin' is easy" claims the Ella Fitzgerald song, but while summer is high season for vacations and a chance to hit the road to explore the country's wonders, these days, travel isn't so simple. Transcendence Theatre Company, though, offers a solution. Head for Jack London State Historic Park in Glen Ellen and treat yourself to a musical exploration of the country, with tunes that take the audience from California to New York and back in an exuberant and joyful return to live musical theater under a star-filled sky.
Conceiver/music director Susan Draus envisions travel in various ways in "Road Trip," including the traditional family vacation with cleverly configured chairs that scoot across the stage with mom and dad clicking closed their seatbelts in the front seat and bickering kids in the back. With catchy tunes and an engaging and energetic cast of seasoned Broadway performers, it's all in good fun and is a chance to enjoy the country's diversity, as the onstage travelers imagine visiting famous spots from the beaches of Southern California to the hills and valleys of Virginia to the plains of Oklahoma and beyond, conveying their magic through memorable songs.
l. to r. Maria Bilbao, Collin Campbell McAdoo, and Kyle Kemph

Act I opens with a spirited medley that captures the spirit of summer on the road, starting with a heartfelt salute to America in "This is my country," followed by "Route 66," in a nod to the historic highway that stretches from California to Illinois and is sometimes known as the Main Street of America. The journey starts at the country's western-most edge, with "California Dreamin'" and "Ventura Highway," and then makes its way across the country. Among the highlights, Billy Cohen delivers a moving rendition of "Rocky Mountain High" just as the sun sets behind the Sonoma Valley hills. The pure energy of the ensemble's "Dancin' in the Street" has the audience swaying to the rhythm in a medley dedicated to the Midwest, while "Gaston," from "Beauty and the Beast" is a salute to Orland's Disney World. Maria Bilbao shines in "Miami", with a rocking Salsa beat that reflects South Florida's Latino population.
l. to r. Kyle Kemph, Belinda Allyn, Arielle Crosby, and Billy Cohen
New York City is the starting point for Act II, and the medley dedicated to the city includes "America" from "West Side Story" and Arielle Crosby delivering a tribute to the city in "New York, New York."  From there, it's back across the country. A stop in Texas features Meggie Cansler-Ness, who draws the laughs with "All My Exes Live in Texas." From there, it's back home to Northern California and a show-stopping tribute to Wine Country from a troupe of performers who hail from all across the country.

L. to r. Alaina Mills and Collin Campbell McAdoo with "Road Trip" cast
"Road Trip" is a well-designed and choreographed production that draws in the audience and holds its attention from the outset, in a credit to the creative team, which includes Jessica Lee Coffman, who is director and choreographer, as well as Draus. In a change for Transcedence Theatre Company, the five-member band is onstage and fits right in, adding visual interest and giving some members the opportunity to join the action at the front of the stage.
Transcendence Theatre Company is celebrating its tenth year in Sonoma Valley, and it's become a Wine Country favorite for good reason. Its productions at Jack London State Historic Park, on an outdoor stage amidst the ruins of a historic winery, are infused with love—for performing, for the community and, most of all, for humanity. Music has a magical ability to lift the spirit and soothe the soul, and in a year filled with challenges, "Road Trip" is just the ticket.
"Road Trip" runs Friday, Saturday and Sunday through August 29, at Jack London State Historic Park, 2400 London Ranch Road, Glen Ellen. Shows start at 7:30 p.m., and pre-show entertainment, wine-tasting and picnicking begins at 5:30 p.m. For more information, go to www.bestnightever.org or call the box office at 877-424-1414. Please be sure to check the website for the current COVID-19 protocol.
Transcendence Theatre Company's stage among the ruins of a historic winery at Jack London State Historic Park in Glen Ellen. Photo by Robbi Pengelly.
_______________

Broadway in Wine Country
Transcendence Theatre Company's outdoor stage in the ruins of an old winery at Jack London State Historic Park
Musical theater is making a comeback at Jack London State Historic Park, as Transcendence Theatre Company prepares to welcome audiences to its Wine Country venue, giving them a chance to experience the energy and magic of live in-person shows once again. The theater company transitioned to streaming and drive-ins during the pandemic, and when the 2021 summer season kicked off early in June, it was with My Hero, a drive-in production that was live streamed on a giant screen. The show, which ran at the Petaluma Fairgrounds and BR Cohn Winery in Glen Ellen, was a tribute to front-line workers and was a way of expressing gratitude for their selfless work.
Left, Arielle Crosby in Road Trip! Photo by Brian Janks
Road Trip!

Road Trip!, the season's second show, opens on August 6 and marks the return of Broadway Under the Stars to Transcendence's open-air theater in Jack London State Historic Park. An epic musical tour with performers as guides, it's cause for celebraton for the cast as well as fans.  Some of the performers, many of whom come from New York for a summer stint in Sonoma County, will be working for the first time since the pandemic started, and "They're excited it's live," says artistic director Amy Miller.
The show celebrates America with tunes that include Born in the U.S.A., California Dreamin', Viva Las Vegas and Route 66. Susan Draus is the conceiver/music director, and Jessica Lee is the choreographer for a production with diverse styles that include pop, patriotic, jazz, funk, Broadway favorites, Disney and more. "I'm thrilled and honored to be part of Road Trip!, the first show back in the park," says Draus. "We wanted to create a show that reminded us of all the good in our country. It has been a rough year and now it's time to celebrate our great nation and each other."

Shows run Friday through Sunday and begin at 7:30 p.m. The site opens for pre-show picnics at 5 p.m., and food and beverages will be available for purchase. Tickets are $49 General Admission (reserved seating) and $129 for VIP tickets, which include parking, a designated VIP area, drink tickets and VIP seating. COVID-19 protocols, following guidance from Sonoma County health officials, will be in place.
A special program offers people the opportunity to buy tickets for this year's shows for healthcare workers to show gratitude for their work during the pandemic. "We're getting a good response," says executive director Brad Surosky. "The FPI Group sponsored a whole bunch of tickets for healthcare workers, and as a company, we decided go comp some."
The Gala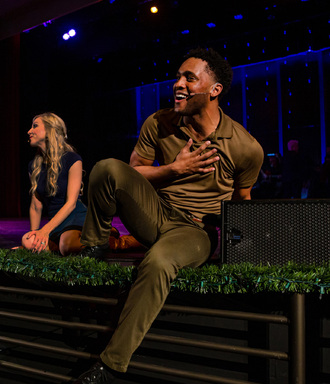 September's big event will be The Gala, a celebration of Transcendence's 10th anniversary in Sonoma, and will feature Broadway favorites and a tribute to the community that welcomed a group of itinerant performers a decade ago and allowed them to make a dream come true.

Planning a season with SARS COV-2, the novel coronavirus that causes COVID-19, lurking on the sidelines, created challenges, but the shows will go on. The biggest factor was the unpredictability. "We still don't know completely. We don't what the capacity will be when we go back to the park," Surosky says. Thus, they started with five different budgets to fit different scenarios, and those five turned into 10. The key is having staff and everybody knowint that they have to be on their toes to make quick changes, he explains, adding, "We're so lucky that we're coming back. We're ready."
For tickets and more information, go to www.bestnightever.org.
Above right: Deleon Releford in Road Trip. Photo: Ray Mabry

See a preview of the 10th Anniversary season.