Welcome to Telli Marin! Sign in | Create a login

Hairspray Review
Address:
2961 16th St.
San Francisco, CA 94103
Phone:
415-340-2207
"Hairspray" — Fancy Footwork
Scott DiLorenzo (left) as Edna and Cassie Grilley as Tracey in Bay Area Musicals' production of Hairspray.
Review by Judith M. Wilson
Photos by
A TV dance party and 1960s hairstyles lend a touch of lighthearted nostalgia to Hairspray, and the name itself suggests superficiality. Appearances, though, can be deceiving, and the stage musical, currently at the Victoria Theater in San Francisco, goes deeper, exploring attitudes and prejudices during an era on the cusp of change, while its heroine defies stereotypes to prove that good people can make a difference. Essentially, the message it conveys is that the qualities within are what really count.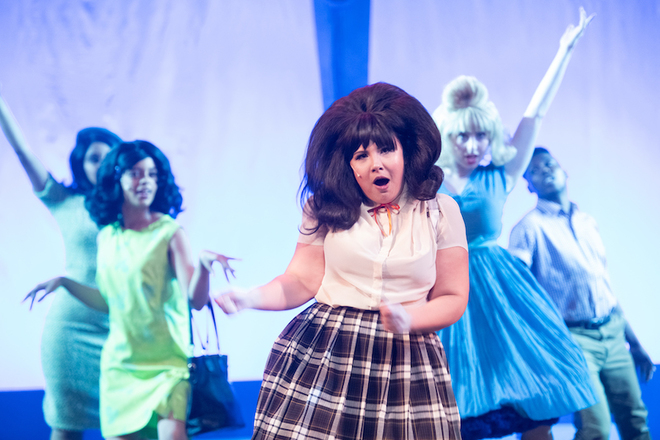 Cassie Grilley as Tracy Turnblad

Tracy Turnblad is an overweight teenager in 1962 Baltimore, and she's a fan of the Corny Collins Show, an American Bandstand knockoff that features the city's cool kids. When she hears that the show is auditioning dancers, she decides to follow her dream, and, against the odds, she wins a spot on the show. At the same time, she meets and makes friends with Seaweed J. Stubbs, a fellow student at her high school and a dancer who is a master at fancy footwork and has all the right moves. He can't audition, however, because he's African American, and although the  Civil Rights was well under way, segregation was still common practice. (President Lyndon B. Johnson signed the Civil Rights Act in 1964.) Tracy finds the exclusion disturbing and wants everybody to be able to dance together and so she begins to seek a solution. With discrimination, a sense of entitlement and bullying among the themes, the show reflects the times more than 60 years ago, but it's still fresh and relevant today, perhaps because human nature is timeless and always topical.
Tracy leads a protest.

Dave Abrams as Seaweed J. Stubbs
Hairspray is a Bay Area Musicals production, and Matthew McCoy is director as well as choreographer. His is a sure hand, and he infuses the production with energy and enthusiasm, doing credit to a show that won 10 Tony Awards, including one for Best Musical. Cassie Grilley is Tracy, and she has a kind of charisma that makes it easy to understand how she becomes a leader rather than a follower—despite the efforts of certain other characters to sideline her. Dave Abrams plays Seaweed, and his dance steps are impressive. Kamren Mahaney portrays Link Larkin, a musician on the show, and he goes from being an initially superficial character to a young man with substance once he's fully pulled into Tracy's orbit. Scott DiLorenzo is Edna Turnblad, Tray's mom, in a hilarious portrayal that includes an ample amount of maternal concern and some very funny lines. Paul Plain shows what unconditional love looks like as Wilbur Turnblad, Tracy's dad, and Scott Taylor-Cole plays Corny Collins, who turns out to have more empathy than one might expect. (Above, Scott DiLorenzo as Edna Turnblad (left) and Paul Plain as Wibur Turnblad, Tracy's parents.)

The songs and dance routines, with music direction by Jon Gallo, make the show shine. The cast makes the most of them to move the story forward, starting with Good Morning Baltimore to set the tone and show Tracy's positive attitude. One of the show's highlights is Mama, I'm a Big Girl Now, which is clearly a play on words but makes its point.
The Corny Collins Show
Hairspray is heavy on style, but that's a big part of its appeal, and it has substance too. The result is a a fun-filled, energetic show that delivers an important message in an easy way and leaves the audience with something to think about. And that's musical theater at its best.
Dancing up a storm in Hairspray
Hairspray is at the Victoria Theatre, 2961 16th Street, San Francisco,  Thursday to Sunday through August 11. For tickets, go to www.bamsf.org or call 415-340-2207. Bay Area Musicals is a nonprofit theatre organization. For more information on how to give your support, go to www.bamsf.org.