Welcome to Telli Marin! Sign in | Create a login

Jimmy Dean Review
Reflections
Address:
5420 Nave Drive, Suites C & G
Novato, CA 94949
Phone:
855-682-8491
COME BACK TO THE FIVE AND DIME, JIMMY DEAN, JIMMY DEAN
Reflections on life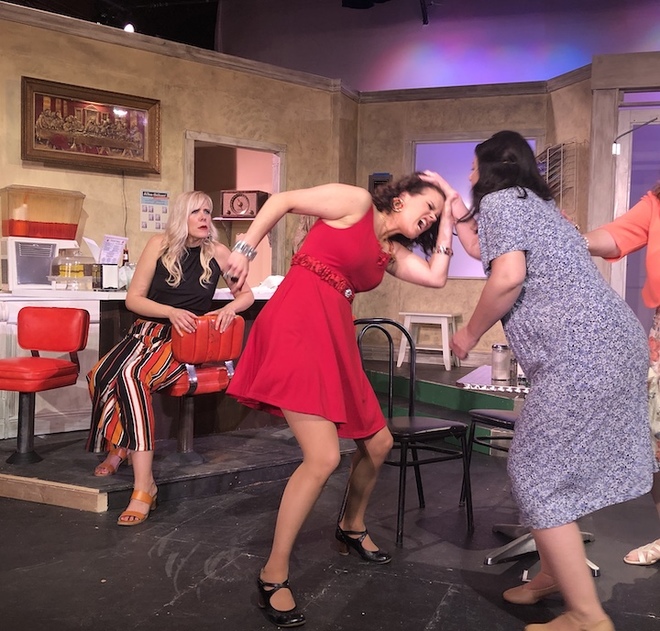 (l. to r.) Jayme Catalano as Joanne, Margot Biehle as Sissy and Angela Squire as Mona.

Review by Judith M. Wilson
Photos by Aaron Yoffe
Memories aren't always what they seem, and it's something a group of women in their thirties discover firsthand, when they meet to reminisce about their teen years. The late film idol Jimmy Dean (1931-1955) looms large in Come Back to the Five and Dime Jimmy Dean, Jimmy Dean, the Novato Theater's current production, but he never appears. The focus instead is on a group of friends who called themselves the Disciples in their adolescent years, when they were members of a Jimmy Dean fan club, and one of them had a fleeting encounter with Dean in nearby Marfa. Marfa is a culinary destination these days, but in 1955, it was the setting for the film "Giant,"  a western drama that also starred Elizabeth Taylor and was released a year later.
Karen Clancy as Stella, Margot Biehl as Sissy, Lindsay John as Edna and Jayme Catalano as Joanne.
The story begins in 1975 in McCarthy, Texas, as Juanita, the widow who operates the coffee shop in Kressmont's, the local five-and-dime store, prepares to welcome the women, who are gathering for a reunion. Meanwhile, Mona, who was instrumental in planning the get-together, is fretting over her son, Jimmy Dean, whose whereabouts are a mystery. He is key to the action, as is Joanne, a stranger who's come to town in a bright yellow Porsche, and they are the catalysts as the gathering becomes more fractious, and the women are forced to shed the layers of pretense and self-deception they've cloaked themselves with over the years.
(l. to. r.) Ben Simpson as Joe, Claire Fogarty as Sissy and Gwendolyn Phair as Mona in a scene from 1955.
Angela Squire plays Mona, and Margot Biehle is her best friend Sissy, who stayed in McCarthy, while Karen Clancy as Stella, and Lindsay John as Edna are the friends who moved away and are returning for the eagerly anticipated reunion. Jayme Catalano is Joanne (left), whose identify is a mystery at first but eventually becomes clear, as she rounds out the group in an unexpected way. The chemistry among the friends rings true, as they remember past events and then become irritated and start to challenge each other about their recollections.
Scenes from their teen years are interspersed, and they feature a trio of talented young actors: Claire Fogarty plays Sissy, Gwendolyn Phair is Mona, and Ben Simpson portrays Joe. Kristine Ann Lowry is Juanita, who has her own moment confronting the past. The reality is brutal at times, but it also brings out the kindness and understanding that make friendships endure.
Ed Graczyk wrote the play, and it premiered in Columbus, Ohio, in 1976. It's well-crafted and holds up over time, partly because it deals with universal truths about people and relationships that never change. Kim Bromley takes the script and directs a well-paced production that delivers laughs, reveals heartache and shows how people can delude themselves to make difficult times bearable. The play never lags, and while the first act doesn't seem to have a clear direction, it sets the scene with crucial details, and it's worth the wait to see the way the second act unfolds.
Mark Clark is the set designer, and Cindy Morris was responsible for properties, and they've created a scene that's true to both time and place and accommodates actions 20 years apart effectively. Bruce Vieira's sound also plays an important role, because it conveys activities through sound that the audience can't see. Janice Deneau's costumes are a fitting reflection of the varying personalities of the characters.
Come Back to the Five and Dime, Jimmy Dean Jimmy Dean, features strong acting, a steady hand in directing and a well-honed script. It's the grand finale for Novato Theater Company's 2018-2019 season, and if this season is any indication, the next one will be one to look forward to.

Come Back to the Five and Dime Jimmy Dean, Jimmy Dean plays through Sunday, June 9, at Novato Theater Company, 5420 Nave Drive, Novato. For tickets and more information, go to www.novatotheatercompany.org or call 855-682-8491.