Welcome to Telli Marin! Sign in | Create a login

Moll Flanders Review
A wicked life
Address:
30 Sir Francis Drake Blvd - Barn Theatre at the Marin Art & Garden Center
Ross, CA 94957
Phone:
415-456-9555
"INCIDENTS IN THE WICKED LIFE OF MOLL FLANDERS"
Adventures Galore

Jack Klendenen as Christopher, Amber Collins Crane as Moll and Stephen Dietz as the Banker

Review by Judith M. Wilson
Photos by Robin Jackson
Moll Flanders is a colorful character and clear proof that truth is often stranger than fiction. With all her ups, downs and a clever mind to devise strategies to get her out of tight situations, one would certainly think she was a figment of novelist Daniel Defoe's rich imagination, but, in fact, he based the heroine of his 1722 novel, The Fortunes and Misfortunes of the Famous Moll Flanders, on a real-life woman. She was born in Newgate Prison in London, and the story of her life borders on the unbelievable, with multiple husbands, stints in jail and several crossings of the Atlantic, which was quite a feat in the days of sail travel. And now it's reached the stage in Jennifer Le Blanc's adaption, Incidents in the Wicked Life of Moll Flanders, which captures the novel's excitement with charmers, shady characters, highway men and more than one long-lost mother in what proves to be an ideal medium.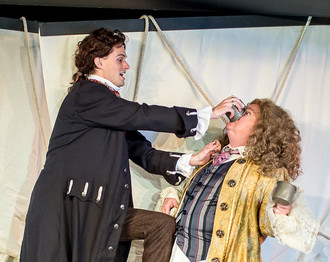 Ross Valley Players' current production of the play is engaging and fun, with Ellen Brooks at the helm as director. "Moll Flanders bursts with energy, mischief and resourcefulness," she says." Her ending is a complete surprise—even to herself." Brooks directs with a sure hand. The pacing never lags, and she takes full advantage of a set designed by Ron Krempetz that serves as Newgate Prison, a ship, various bed chambers and more, with action that sometimes tumbles off the stage. Brooks is also the lighting designer, and the lighting is an important element in helping to create the appropriate environment for each locale. Richard Lane is the fight director; Jack Clendenen, who also plays Christopher, is the fight captain, and Sonia Gambhir, who appears as the Lady, is the dance captain, and they take full advantage of the spacious stage to choreograph the action.
Amber Collins Crane is the star of the show as the always upbeat Moll. She appears in every scene, with dialog as well as narration to bridge the jumps in time, and her performance is a joy to watch, as Moll uses her wits to confront each challenge and wiggle out of unsavory situations. It's a very capable cast, with Stephen Dietz in a funny turn as a lusty banker, Carolyn Beach as Moll's realistic mother and Robert Molossi as Jemy, who has his own schemes. Everyone except Crane plays multiple roles.
With sound production values, attention to detail and fine acting, "Incidents in the Wicked Life of Moll Flanders" is Ross Valley Players at its best, and it gives audiences a chance to simply sit back, relax and enjoy the action.
Incidents in the Wicked Life of Moll Flanders runs through Sunday, June 16, at the Barn Theatre at the Marin Art & Garden Center in Ross. For tickets or more information, visit www.rossvalleyplayers.com or call 415-456-9555.