Welcome to Telli Marin! Sign in | Create a login

Art and Innovation
Thoughts on the Magic Theatre
Address:
2 Marina Blvd, Fort Mason, Bldg, 2, 3rd Floor
San Francisco, CA 94123
Phone:
415-441-8822
THE GANGSTER OF LOVE
Cultural Mix at the Magic Theatre

Cast of The Gangster of Love: (l. to r.) Lawrence Radecker as Rick, Sean San José as Marlon, Lance Gardner as Zeke Golda Sargento as Rocky, Chuck Lascon as Basilio, Sarah Nina Hayon as Milagros, Lisa Hori-Garcia as Fely and Jed Parsario as Voltaire.

Review: Judith M. Wilson
Photos: Jennifer Reiley

The immigrant experience is one of life's big adventures for many people. It offers opportunities and a new beginning, but it also means leaving behind family, friends and everything familiar to start over in a place where the culture, customs and even the language are often foreign. Playwright Jessica Hagedorn takes on the subject in The Gangster of Love, now playing at the Magic Theatre, and she does it by looking at three members of one family and showing how each individual responds to new circumstances, thus giving insight into the various degrees of assimilation. The play is an adaptation of Hagedorn's book, The Gangster of Love, which is based on firsthand observations. She and her family came to the United States from the Philippines in the 1960s.
The story focuses on the Rivera family—Milagros, who is fleeing from a broken marriage; her daughter Raquel, who is known as Rocky; and her troubled son Voltaire—and it shows how their lives evolve after they emigrate to the United States from Manila in 1970. At the time, the Philippines was in the midst of President Ferdinand Marcos' long dictatorship, and the country was under martial law. Corruption, human rights violations and a stagnant economy made it a dangerous place to live, and the chance to move to the United States was as much an escape as an opportunity. And so as the play opens, we see the Rivera family aboard a ship (photo at left), about to enter the Golden Gate, as they come to the end of one journey and are about to start another. They have relatives and an apartment waiting to ease the transition, but they don't really know what to expect, and it soon becomes apparent that their lifestyle will be significantly different from the one they enjoyed in Manila. From there, the play, with direction by the Magic's artistic director Loretta Greco, shows how each character copes with the challenge of adapting to a new home, with varying degrees of success.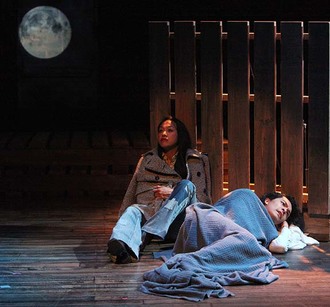 Much of the play's strength lies in the characters. Milagros, played by Sara Nina Hayon, is an artist, and she's colorful and spirited, with emotional outbursts and some resentment for what she's lost. She's resourceful, but she never truly leaves the Philippines behind, and that longing prevents her from making the most of the opportunities offered to her. Voltaire, with Jed Parsario in the role, (photo at left, with Rocky) has challenges, and it eventually becomes clear that he has insurmountable problems that will prevent him from ever finding a place where he truly feels at home. Golda Sargento is Rocky, and she's the one in the spotlight as she goes from learning English and writing poetry to developing her talents as a writer and musician and fully embracing the American lifestyle, even creating a rock band called The Gangster of Love and moving to New York City.  Milagros' sister Fely and Fely's husband Basilio, portrayed by Lisa Jori-Garcia and Chuck Lacson, respectively, are well established and comfortable in America, as is the flamboyant Uncle Marlon, who visits to celebrate Rocky's birthday.
The set is rather simple, in keeping with the Rivera family's new circumstances, but projection onto a backdrop and accompanying sounds are effective in creating a sense of time and place. In the first scene, Milagros and her children are aboard a ship with waves lapping against the side, the cries of seagulls and the Golden Gate Bridge in the distance, giving them their first glance of America. Similarly, the lights and sounds of busy city streets recreate New York City's frantic pace. In addition, music is an important part of Rocky's story, and a live rock band appears on stage under the direction of El Beh, so the set accommodates the musicians' equipment as well as a piano.
Hagedorn includes a wealth of details that reflect the times: the I Hotel in San Francisco's Manilatown, the City Lights Book Store, the Fillmore and the death of Jimi Hendrix among them. In addition, several conversations make reference to a cadre of influential writers, including Lawrence Ferlinghetti, Federico García Lorca and Harold Robbins, who make an impression on Rocky, as she works to forge a career as a writer. A current of Filipino culture is also present throughout, and so Tagalog phrases, references to food—especially lumpia—and memories of life in Manila keep coming up. And they're all cultural experiences that help to define Rocky as both a successful individual and artist.

The Gangster of Love presents a linear series of events, and as such, it doesn't have a great deal of complexity. However, it makes up for it by personalizing immigration and showing the individual impact. The intersection of poetry and music with the blending of cultures has value as well, showing how determination, intellect and personal history can come together to create something unique and meaningful. And that makes diversity something to celebrate.
The Gangster of Love runs through Sunday, May 6, at the Magic Theatre, Fort Mason Center, 2 Marina Blvd., Bldg. D, San Francisco. Performances are Tuesday through Sunday. More more information and to order tickets, go to www.magictheatre.org or call the box office at 415-441-8822.
____________________


Magic Theatre—Magic Masquerade

"I believe in my mask-- The man I made up is me
I believe in my dance-- And my destiny"
—from "Crow's Song," Tooth of Crime by Sam Shepard, 1972
John Marx—Thoughts on Art and Honors
Sam Shepard was an icon in the world of American theatre. Playwright, actor and director, he reinvented the stereotypical picture of the American west to make it gritty and realist, even surreal, while confronting human dilemmas. And for a significant part of his career, he had a special relationship with San Francisco's Magic Theatre, where he spent 10 years as artist-in-residence, giving both actors and audiences the opportunity to experience drama in new ways.
Innovation and Involvement
John Marx, vice-president of the Magic's board of directors, got a taste of Shepard's work firsthand in 1983, when he saw Fool for Love at the Magic Theatre, with Shepard directing and Ed Harris and Kathy Baker in the roles of the leading characters, Eddie and May. It was a production with so many things happening that it was difficult to keep track of them, forcing the audience to make choices. "That was fascinating. I was hooked on the Magic," he recalls. The theatre at Fort Mason has been part of his life ever since, and at its Magic Masquerade Gala, a fundraising event on March 9, he received an inaugural Sam Shepard Legacy Award for his contributions.
Fool for Love is a play that defines the Magic for Marx. In addition to seeing Shepard's classic production, which went on to New York and won several Obie Awards, he saw it in 2017, this time with artistic director Loretta Greco directing. "When Sam did it, it was not a comedy," says Marx, explaining that it was about a power struggle between a man and a woman and was entirely serious. In the 1980s, "It was the nature of what things were," he observes. "Loretta did a 21st century version," he explains, pointing out that some of the lines can seem silly today, and so humor was an element in Greco's interpretation, reflecting how changing times can influence a play. It's not possible to change as much as a word without the playwright's permission, so, Greco changed the power dynamic between the two characters instead, giving the work a new, contemporary reading. "That's an amazing aspect of the Magic," says Marx, observing that it's a place to break new ground and be experimental, innovative and fearless.
With a desire to support groundbreaking drama, Marx and his wife became supporters, and that led to a deeper relationship with the Magic Theatre. One year, they made a commitment to host a donor dinner, but changes to the sponsorship structure eliminated the dinners, and they got pushed up to the Producer's category instead, allowing them to be involved in one play. It was Triptych by Edna O'Brien, and they got to attend rehearsals, spend time with the playwright and actors and just be there, which he found amazing. The move to a higher sponsorship level didn't require paying more, but their enthusiasm was such that they increased their donation to the higher level. "The experience was just that wonderful," he says, explaining that usually in philanthropy, a donor receives a generic letter, but the Magic does more. "We've been producing ever since, and now we're season's producers, which means we get to go to all the plays," he says. It's a small gesture by the theatre, but it's effective, because it's meaningful for a philanthropist to be involved and develop a relationship with the actors.
Marx believes fundraising for the arts is essential, partly because the government keeps pulling back, but also because private fundraising allows the arts to maintain their independence. "I remember when the National Endowment for the Arts was first attacked," says Marx, recalling the reaction to Immersion (Piss Christ) by Andres Serrano. It was one of a series of photographs Serrano did in 1987 showing statuettes in liquid, and conservatives asked why taxpayers' money was funding sacrilegious work. Marx also remembers a play at the Magic that required tearing up a Bible on stage, and he points out that it might be a protest, but it's within the context of the play. "To have art be really effective and work, it needs to be independent," he says, adding that artists shouldn't have to worry about the government pulling funding if it doesn't like something. Corporate America also provides some funding for the arts, but it has to be safe and suits its purposes, and it carries the risk of commercialization.
Only one-third of the Magic Theatre's revenues are from ticket sales, and the balance comes from donations, institutions and foundations. Crafting and development takes more time than stage time, and it's expensive, so "Private philanthropy is essential," he says, adding that if plays are to be edgy and controversial, they need private funding.  Otherwise a theatre can't afford to take a risk.
Marx believes that culture and the arts are essential, because they are a way to inspire people to live better lives, and live theatre, in particular, allows people to develop a sense of community and kindness through participatory art. "We need cultural shifts, and art is one of the strongest places cultural shifts can occur," he says, giving Burning Man as an example. He explains that what makes it work is the range of art from museum-quality pieces to a bejeweled unicorn doll. " People know the difference, but view the intention as equal. I believe in going forward, we need to create this sense of range," he says, adding that the Magic is at the top and is doing some of the best work in the world. We need, however, to extend the range. "It doesn't change the artistic direction, but you're involved," he says.
Receiving the first-time Sam Shepard Legacy Award has special meaning for Marx. As a noted architect, he's received many high-profile architecture awards, but this one is personal. He explains that professional awards are something one actively pursues, and they include a financial motive, so they're intentional. "With the Magic, it's the exact opposite. It's one of the absolute best ones I've ever won," he says. "It comes from pure love."
Magic Theatre's Magic Masquerade Gala took place on Friday, March 9, at the Julia Morgan Ballroom in San Francisco. It featured a Sam Shepard Tribute Performance and presentation of the inaugural Sam Shepard Legacy Award to two worthy individuals—Marx and retired attorney Toni Rembe Rock (right), who also serves on the board of directors.