Welcome to Telli Marin! Sign in | Create a login

The Children's Hour Review
Words Hurt
Address:
30 Sir Francis Drake Blvd - The Barn, Marin Art & Garden Center
Ross, CA 94957
Phone:
415-456-9555
The Children's Hour
Words, Whispers and Evil Intent

The full cast of the Ross Valley Players' production of Lillian Hellmam's The Children's Hour.
Back Row) Ruby Elizabeth Jobe (Evelyn Munn/Grocery Boy), Jordana Meltzer (Peggy Rogers/Helen), Claire Fogarty (Rosalie Wells), Tamar Cohn (Mrs. Amelia Tilford). Seated: Emily Kalish (red cardigan, Lois Fisher), Layla Snipes (pigtail braids, Catherine), Rachel Kayhan (Mrs. Lily Mortar), Loren Breidenbach (red hair), Alexandra Fry (blue nightgown, Rosalie Wells), Maya Ezekiel (high pigtails in blue ribbon, Evelyn Munn), far right: Saskia Baur (Agatha), Elliott Hanson (Joseph Cardin), Laura Peterson (Karen), Joanna Cretella (seated, Martha), Chloe Wales (in uniform, Mary Tilford), Heather Davis (nightgown, Mary Tilford)
Review by Judith M. Wilson
Photos by Greg Le Blanc, Cumulus Light Photography
The Children's Hour tells a disturbing tale about intolerance. And that, no doubt, is what Lillian Hellman intended. Her powerful play, which shows the consequences of a cruel lie, had its premiere in 1934, and its reference to a lesbian act would have been scandalous at the time. When it comes to sexuality, attitudes have changed, but malevolent acts, whispers and the destructive power of gossip endure, and that makes Ross Valley Players' current production relevant and timely.
The story revolves around two female teachers, Karen Wright and Martha Dobie, who have a cadre of young girls from wealthy families in their care at a small, respected boarding school. Among them is Mary Tilford, a strong-willed student who resents losing a privilege after she breaks one of the rules and sets out to get revenge. A small lie grows as Mary becomes more manipulative, and before long, it's out of control.
Photo: Laura Peterson as Karen with (l. to r.) Jordana Meltzer as Peggy Rogers, Claire Fogarty as Rosalie Wells and Chloe Wales as Mary Tilford.
Women form the backbone of the play with characters that director Neiry Rojo describes as complex and dynamic. She points out that a young female character has a great deal of power and uses it. "This is so rare nowadays [and] even more impressive that this was written in the 1930s," she says. The combination of Hellman's willingness to tell a difficult story and strong acting, despite the youth of several actors, makes the play memorable. Heading the cast are Laura Peterson as Karen and Joanna Cretalla as Martha (l. to r., photo at left), who convey the devastating emotional impact of having their lives destroyed, going from disbelief and anger to depression and a feeling of hopelessness. The roles of four of the schoolgirls are double-cast. Chloe Wales played Mary on opening night, and she delivered a chilling performance as a young person unfettered by conscience, who is determined to get what she wants. Claire Fogarty portrayed Rosalie, a schoolmate who finds herself at Mary's mercy and has an anguishing decision to make as she weighs morality and truth against self-preservation. Double casting has its challenges, and one of Rojo's main concerns was ensuring that she gave each actor the space to make her character her own. She points out that because the actresses alternate performances, audiences at the different shows will see slightly different details, textures and energetic qualities. "That is also the gift of directing so many actors. I got to see characters painted differently, and so will the audience, "she says.
Elliot Hanson as Dr. Joseph Cardin is the only male character and is something of a moral compass. He pegs Mary correctly, but is subject to the fallout her lie generates nevertheless.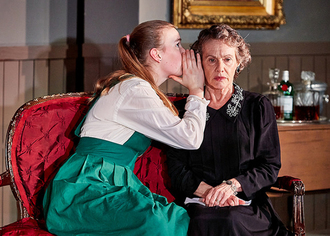 The play is set in the 1930s, and for Rojo, the time period raises questions, given the state of the country and the world in which Hellman wrote the play. Thus, she wonders how events such as the Great Depression and World War I might have affected the characters' behavior, perhaps creating a survival mentality that affected their view of the world and their relationships with others. She explains that in the RVP production, the focus is on the impact of gossip and whispers rather than the accusation of lesbianism, and that reflects prevalent attitudes in our own community and makes the play accessible for today's audiences. "It was important that the primary focus be the malicious intent," she says. "Words can be used against anybody, and it is how we respond to this that shapes our stories."
Photo: Heather Davis (left) as Mary Tilford and Tamar Cohn as Mrs. Amelia Tilford

The play does have a weak point, and it lies in the script, which challenges the audience to accept as credible the behavior of Mrs. Amelia Tilford, played by Tamar Cohn, who rapidly goes from doubting to Mary's story and suspecting her motives to inexplicably believing it. It's a major turning point in the plot, but lacks any evidence to justify it. Nonetheless, the play makes its key points and gives the audience plenty to think about, especially in today's political environment, where it's difficult to discern the truth, and a technology-driven world that makes it so easy to distort facts and spread falsehoods and innuendo. RVP has taken a classic and made it appeal to current sensibilities while retaining its truth and dramatic value, and it's an impressive accomplishment.
The Children's Hour plays Thursday through Sunday until February 11. For the availability of tickets and more information, go to www.rossvalleyplayers.com.
Ross Valley Players will be collecting donations for the Trevor Project.