Welcome to Telli Marin! Sign in | Create a login

Secret Garden Review
The Power of Love
Address:
215 Jackson Street - Gateway Theatre
San Francisco, CA 94111
Phone:
415-255-8207
The Secret Garden
(l. to r.) Michael Mohammed, Anjali Blacker, Ryan Henry, Amanda Johnson, Terrence McLaughlin, and Corinne Rydmann in a scene in India in 42nd Street Moon's The Secret Garden
Review by Judith M. Wilson
Photos: Ben Krantz Studios

42nd Street Moon's The Secret Garden is a holiday delight. Adapted from Frances Hodgson Burnett's beloved novel, which was published in 1911, this version is a Tony-Award-winning musical based on a book and lyrics by Marcia Norman and music by Lucy Simon. It's not a faithful adaption of Burnett's book, but it retains its spirit, with the basic concept the same: the willingness to open one 's mind to new possibilities despite overwhelming obstacles can lead to miraculous change. Dyan McBride directs; Lauren Mayer is the music director; and Robyn Tribuzi is the choreograher.
(l. to r.) Scott Hayes as Ben Weatherstaff and Katie Maupin as Mary

The story revolves around young Mary Lennox, played by Katie Maupin, who loses her parents suddenly and is forced to leave her home in colonial India to live with her guardian in a joyless house in Yorkshire, in the English midlands. She has to face life in an environment without the love and warmth she's used to, but she finds purpose when she discovers a neglected garden. As she tends the plants she thought were dead and watches them come back to life, she undergoes a transformation that also changes the lives of those around her. It's a demanding role, but 12-year-old Maupin is an accomplished singer and dancer as well as an actress, and she turns in an engaging nuanced performance with a stage presence and maturity that belie her age.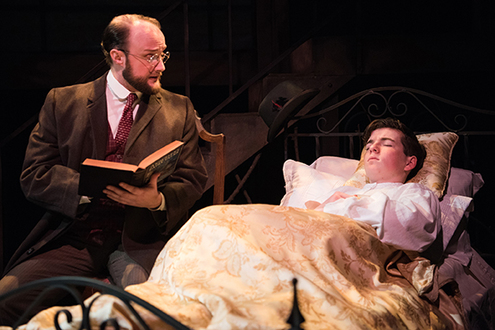 (l. to r.) Brian Watson as Archibald Craven and Tyler Groshong as Colin

As Mary changes, so do the characters around her. Tyler Groshong plays a pivotal role as Colin Craven, whose life changes significantly after Mary's arrival, and Brian Watson is Archibald Craven, who get a new perspective and finds purpose in his life thanks to the actions of Mary and Colin. Sharon Reitkerk plays Lily, a loving woman who gives substantial meaning to the story.
The set is relatively small, and the audience never sees the actual garden, but pictures projected onto windows on either side of the stage show the flowers and plants as they change with the seasons, giving the audience a sense of  the garden with technical effects that work nicely. The spirits of characters who have passed on also appear in the windows, putting them out of reach for those they left behind, but conveying a strong presence that influences and explains many of the actions of the living characters.
The lighting also underscores the transformation that takes place, getting brighter as the garden blooms, and the characters find enlightenment. Photo, left: Katie Maupin as Mary, admiring a rose from the garden.

The Secret Garden doesn't have any show-stopping tunes, but the songs are well delivered and enhance the story, lifting the spirits and retaining the message without allowing it to be too heavy, thus making it a good choice for family fare. In addition, the audience can faintly see Mayer working her magic on a piano behind the stage, adding a detail that's fun for kids.
What love really means and the need to engage fully with the people we care about with open hearts and minds are at the heart of A Secret Garden. It's a timely message for the holidays, but also true all year for every season.

(l. to r.) Sharon Rietkerk as Lily and Brian Watson as Archibald Craven
42nd Street Moon's The Secret Garden runs through Sunday, December 24, at the Gateway Theatre, 215 Jackson Street, San Francisco. www.42ndstmoon.org